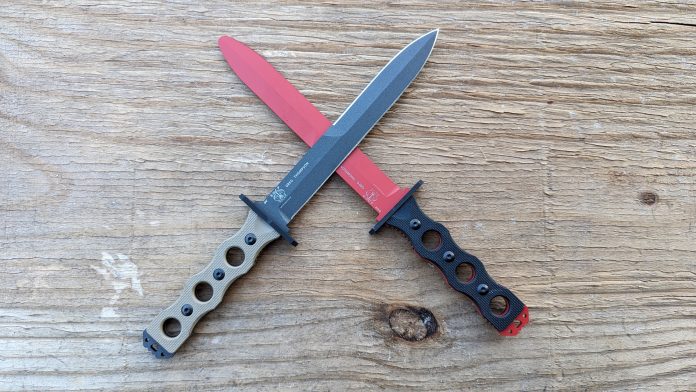 I really love knives, but I don't consider myself a knife guy. Knife guys are often weird, and while I'm weird, it's not for knives. Most of my knife interest relates to historical fighting knives around the mid-1800s up until World War 2. This was a time when fighting knives were used fairly often, not commonly, but the melee struggle was certainly more likely. As a fan of these traditional fighting knives, I was drawn to the SOCP designs, which to me, represented the modern fighting knife.
The original SOCP was a small dagger designed for immediate defense in close quarters. It seemed to be the perfect modern defensive fighting knife for soldiers and Marines. Since then, the SOCP line has continued, and it's expanded into today's subject, the SOCP Fixed Blade. This is no micro-sized dagger but a full-on fighting knife. Before we go too deep, it might be smart to explain what SOCP means.
The SOCP Idea
SOCP is a martial arts system designed specifically for special operations personnel. The idea is to build a modern martial arts system that works around being in full kit and even being able to use that kit in the fight. It's an acronym and stands for Special Operations Combatives Program.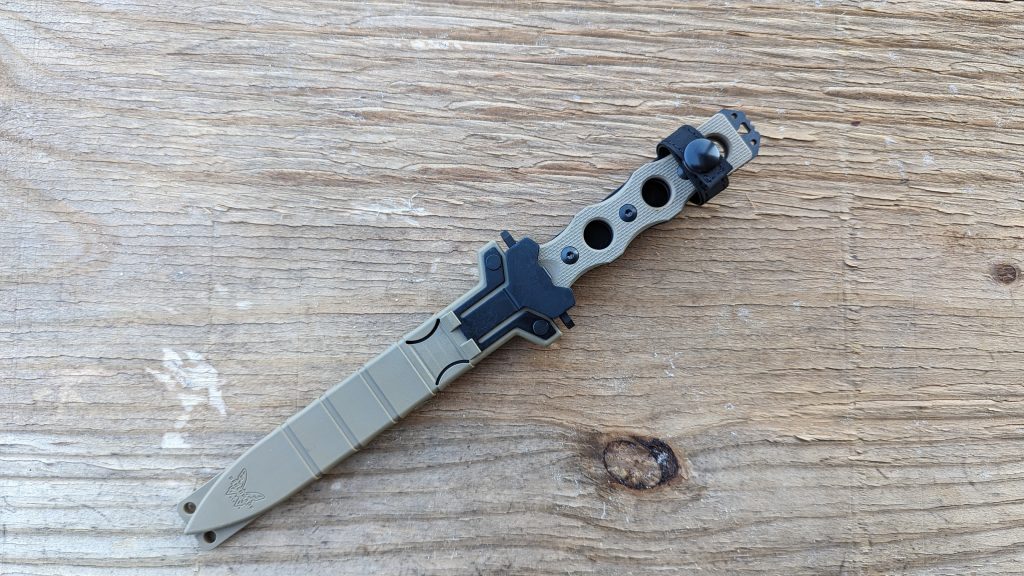 It's been adopted and taught to all special Forces groups, as well as the Rangers, MARSOC, PJs, and many more. It was created by martial artist Greg Thompson after 9/11. Greg is a highly accredited martial artist with an extensive background in various belts and championships. He's also the designer of the SOCP daggers, including the SOCP Fixed Blade.
Enter the SOCP Fixed Blade
What drew me, as a historical knife nerd, to the fixed blade SOCP is the overall design. To me, it harkens back to the daggers of World War 2 and the Interwar period. In many ways, it reminds me of the Syke Fairbairn dagger, which was quite popular amongst commandos in World War 2 and influenced the Marine Raider Stiletto. It even gives off those EK Model 4 and Gerber Mk2 vibes. The historical fighting knife it mainly resembles is the M3 trench knife.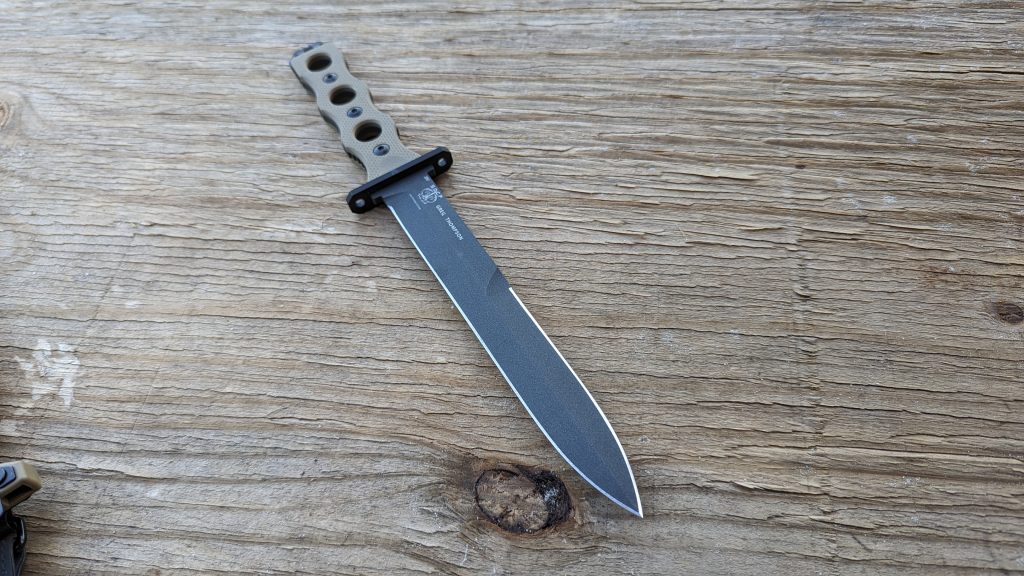 A dagger design that's thin and lithe with a long blade meant to reach those valuable internal organs. The idea certainly hasn't changed, but the implementation has. The SOCP Fixe Balde uses a rugged straight dagger design with just a slight gradual thinning to the blade. More traditional stilettos used a gradually sloping design towards the tip.
The SOCP Dagger's straight design keeps the knife smaller and lighter while using modern steel to ensure its rugged design. Gone is a washer or leather-wrapped grip. In its place are G10 grip scales over a full tang, one-piece knife blade. The scales are heavily textured, as is the grip they cover. It's quite modern all the way around but still uses what's been proven to work over and over.
The included sheath is made from polymer and features a variety of mounting options. It can be lashed down, worn on the belt, flak, or whatever else you need to toss it on. The sheath even offers an active retention device that's modern and easy to defeat with a single hand.
A Pure Fighting Knife
This is not a bushcraft or survival knife. It's not even a KA-BAR designed to be both utilitarian and provide a decent fighting knife. It's designed for modern fighting forces and for fighting, so there are sacrifices and design details we wouldn't see on more utilitarian knives.
The grip is easy to criticize if you want something comfortable for long days accomplishing bushcraft tasks. The handle is rather thin and aggressively textured. It's not comfy for working tasks. While it can accomplish some, it's really for stabbing bad guys as they try to take your rifle. The grip reflects that.
The SOCP fixed blade is a dagger design and offers one full edge and one-half edge. At the rear of the half-edge, you have a thinner portion of the blade that likely adds another place to press in a close quarter's fight. It really resembles the M3 in this regard. The blade is a hair over seven inches long.
The blade is made from CPM-3V, which is a tool steel. It's rugged and very durable and is mainly known for its impact resistance. That seems critical if you're tangling with an enemy soldier who might be wearing body armor and other hard surfaces the knife can contact. It won't chip when it bounces off a bone.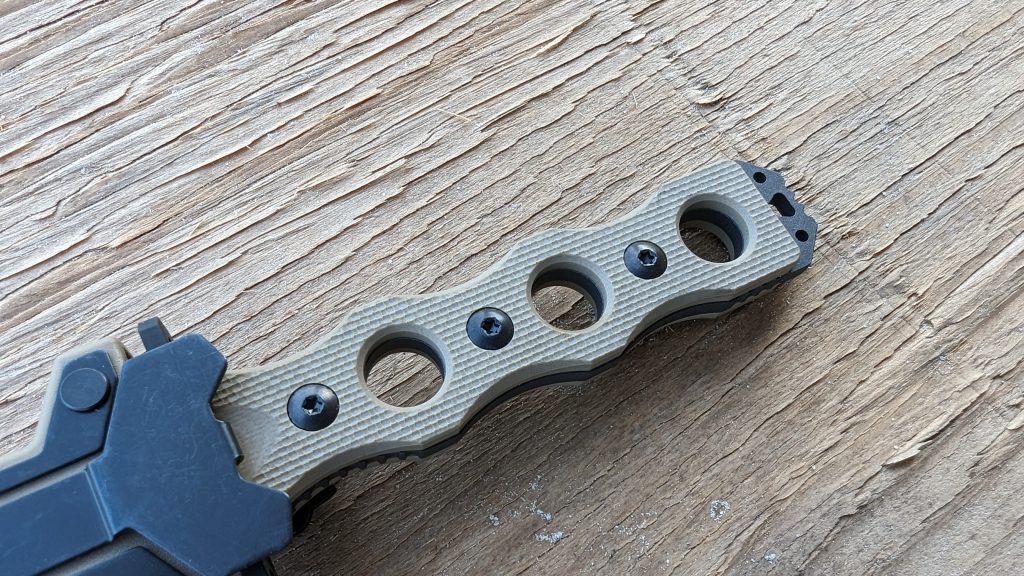 No Expert Knife Fighter
I'm no knife expert, but I was an infantryman, so its light and thin design is appreciated. At 5.78 ounces, it won't add much weight to your loadout. The thin nature of the knife means it won't take up much room on your gear, and you'll have plenty of room for everything else.
I think the term knife fighting often fills people with visions of action movie-fueled fantasy fights. Two guys square off and take swipes at each other until the hero wins. That's not what I think really happens. This type of knife is an emergency tool for when a soldier or Marine gets into a melee. If some guy being searched at a checkpoint tries to grab your rifle, you use one hand to hold the gun and another to pull the knife and poke the guy until he lets your rifle go.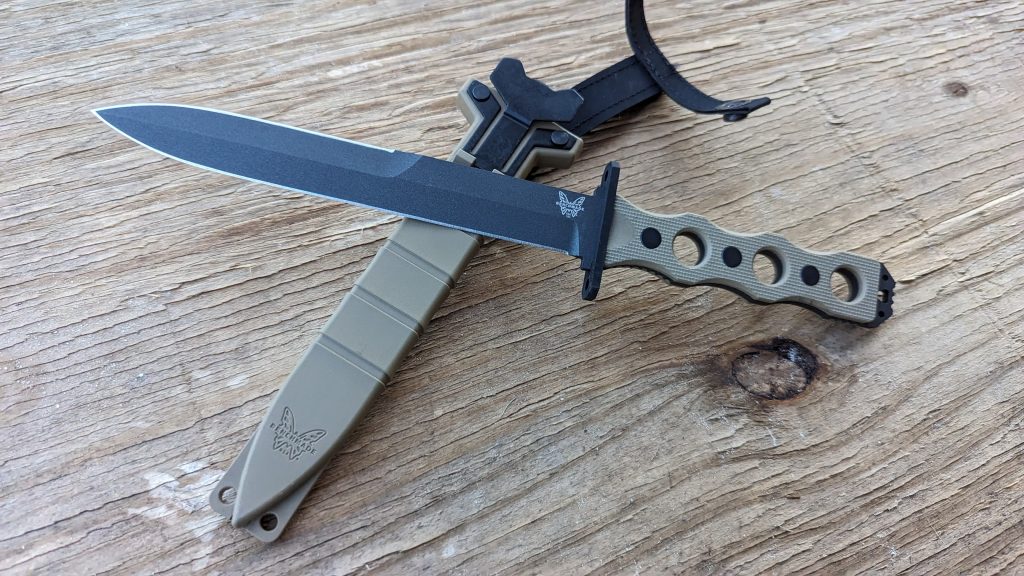 That's what I imagine a knife fight looks like, a close-range, melee struggle where a gun isn't immediately accessible. You use the knife until there is enough room to shoot them. In this situation, the SOCP Fixed blade offers a tough knife with a long blade that increases your reach and likelihood of hitting something important.
That's where the SOCP Fixed blade shines.