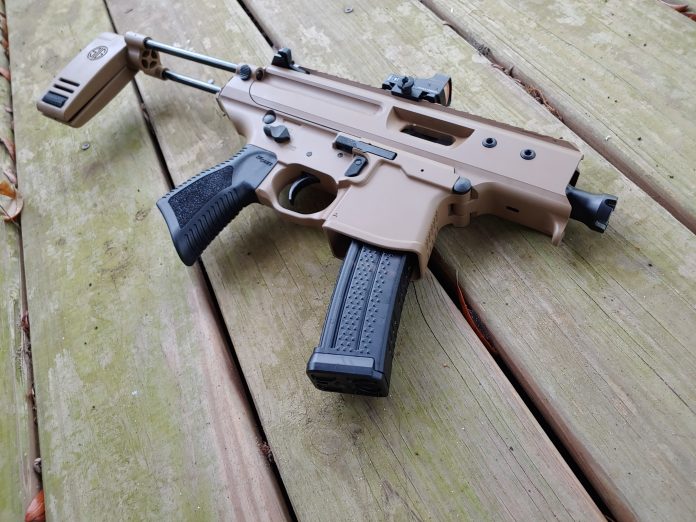 In some German/Swiss lab, a mad man whispered quietly…. Make it smaller. Clearly, he knew that small guns were in and big guns were out. While Duke Nukem would be disappointed a good portion of the gun community seems to be in love with short rifles, shotguns, and big pistols that want to be SMGs. Look at the rise of SBRs everywhere, or AR pistol braces bringing AR pistols to the mainstream. Hell, even the Army bought a compact SMG. Let's not forget that the SMG wannabe crowd is also getting a little smaller. First, we had the CZ Micro Scorpion and now we have the SIG Copperhead.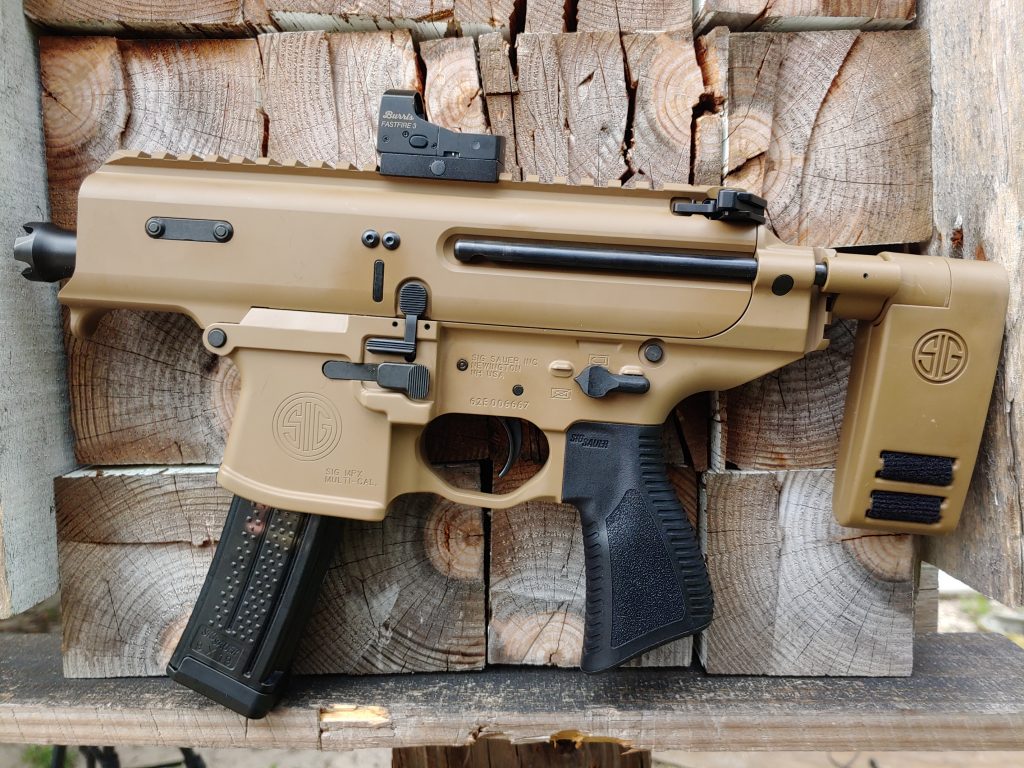 The SIG Copperhed is the K model to the K model MPX. SIG introduced the 4.5-inch MPX as the K model and that mad scientist said to make it smaller. That gave us the new Copperhead, although that German/Swiss scientist was likely an American at SIG USA. Contrary to popular belief the Copperhead was not SIG's entry into the Army SMG contest, but a product made for the civilian market.
What is the Copperhead?
The Copperhead is actually supposed to be the cheaper MPX model. It retails for $1,579.99 while the MPX K model with a brace goes for 1829.99. It's also the smallest SMG wannabe currently on the market when you consider the brace. The SIG Copperhead has a 3.5-inch barrel with a fixed muzzle device. Also, the upper and handguard are monolithic to reduce length a hair more as well.
The Copperhead also features SIG's new PCB brace. The pivoting Contour Brace can rotate left and right to make using the brace wrapped around your arm easier and more comfortable. This brace setup is a very short PDW style collapsing system. The bars fit flush across the upper receiver and the package is 14.5 inches long with the brace collapsed fully. The PCB is my favorite brace in terms of comfort and it allows me to shoot in multiple positions much easier than older braces.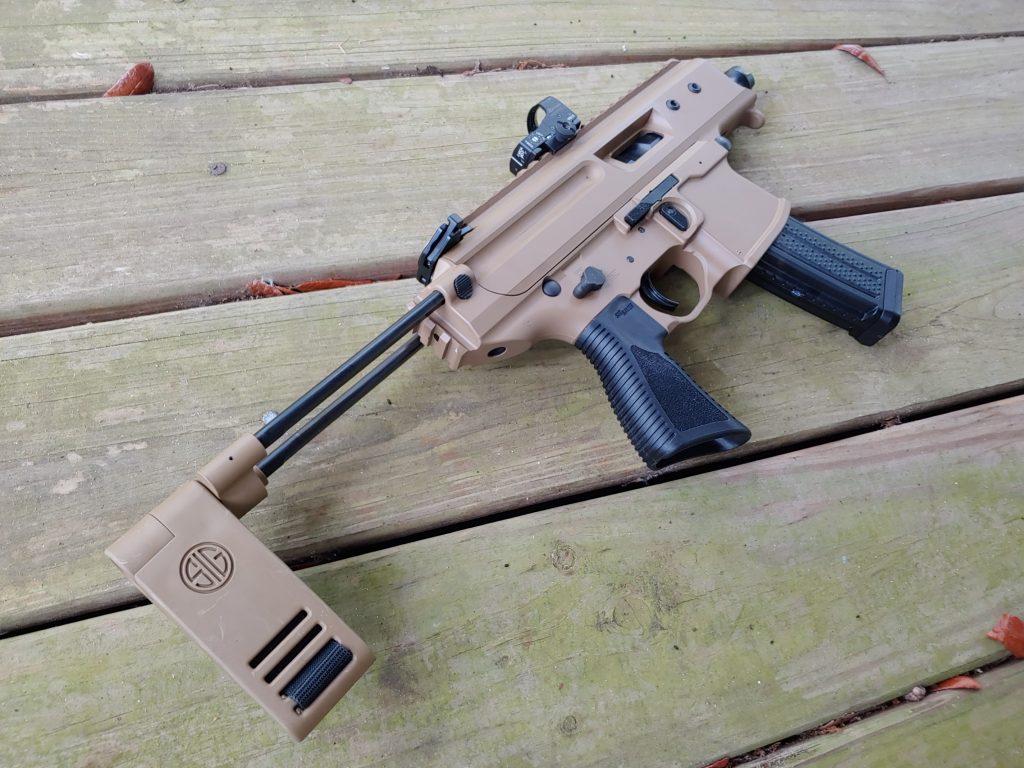 The Copperhead also sports the Rattler grip, and if you aren't familiar it's a much slimmer and thinner grip designed to be snag-free. It's quite thin, and has a slight awkward feel but nothing you'll notice once you start slinging lead.
It comes with a single 20 round magazine and I will say 30 round magazines look goofy in it. They look too long for such a little gun. Lancer makes the magazines and they are very well made, but man are they expensive. I wish we could have gotten at least one more with this gun. The gun also doesn't come with sights of any kind, and that's a gripe too. $1,579.99 is a lot of money and a set of sights should be included.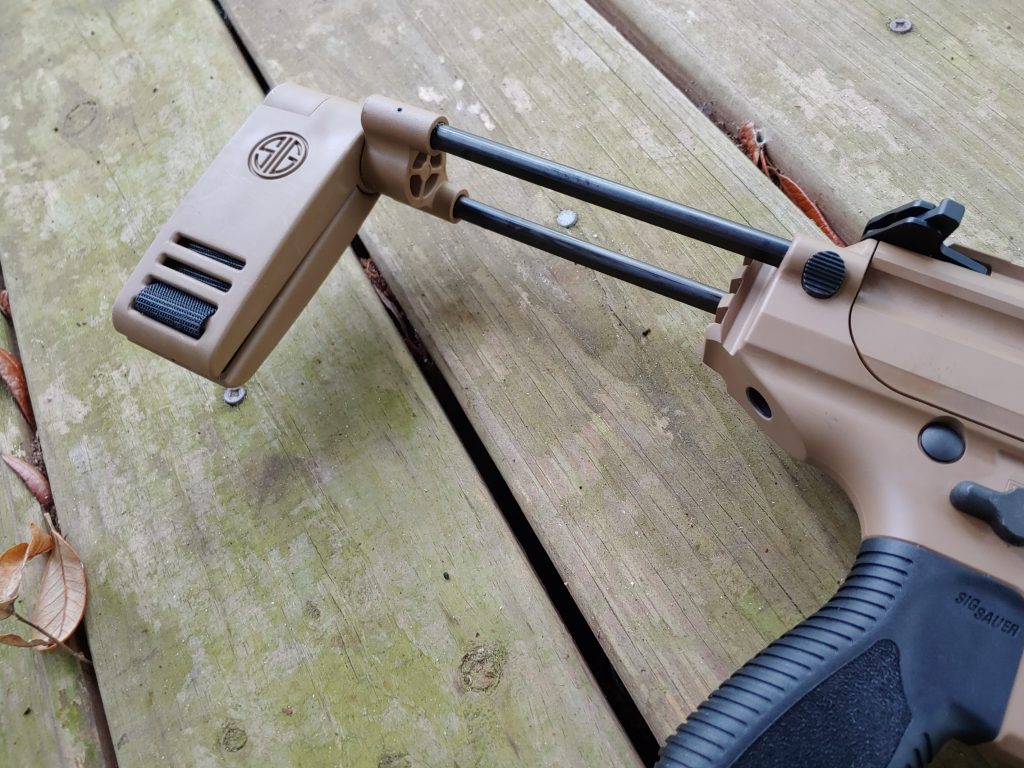 The top optics rail does leave room for your own optic and I went with my often abused, but beloved Burris Fastfire 3.
When the Lead Meets the AR 500
I was quite excited to get some range time with this little fella and I hit the range with a bag full of Remington UMC 9mm and some ill intentions for paper and steel popper targets. The magazine loads easily and because it's transparent it appears as if the magazine is only half loaded when it's fully loaded. It's odd when you keep loading because the magazine looks half full and realize it's full.
Control-wise the SIG Copperhead mimics the AR 15. It's completely ambidextrous and uses an AR-style charging handle as well. The brace can be pulled into action without the need to press a release. It's well suited for concealment in a laptop bag.
Unlike most PCCs and SMG wannabes, the Copperhead is short-stroke gas piston system. The plus side is this allows the gun to be much smaller and lighter than blowback options. It does not require the heavy-duty bolt blowback guns have. This also decreases recoil since that bolt isn't flying back and delivering more rearward momentum.
This makes the gun very pleasant and very controllable. The barrel has an attached flash hider that's quite effective and likely necessary if you start throwing some 124 grain NATO loads through the gun.
The magazine well is rather wide and this makes funneling a magazine into the weapon easy breezy. It's an intuitive setup and well laid out for quick and easy mag swaps. Better yet the ergonomics are excellent all around. They are all easy to reach and to control and they allow you to easily manipulate your weapon regardless of your positioning. Plus I guess it makes wrong handers happy.
Throwing Lead
Once I got the brace deployed and properly sighted I was ringing steel like I was beating a drum. Sure it's only a 3.5-inch barrel, in a very compact package, but sight radius doesn't matter when you have a red dot. If I wanted to punch a paper target in the head 20 times I damn sure could, at 25, 35, and 50 yards like someone was paying me to.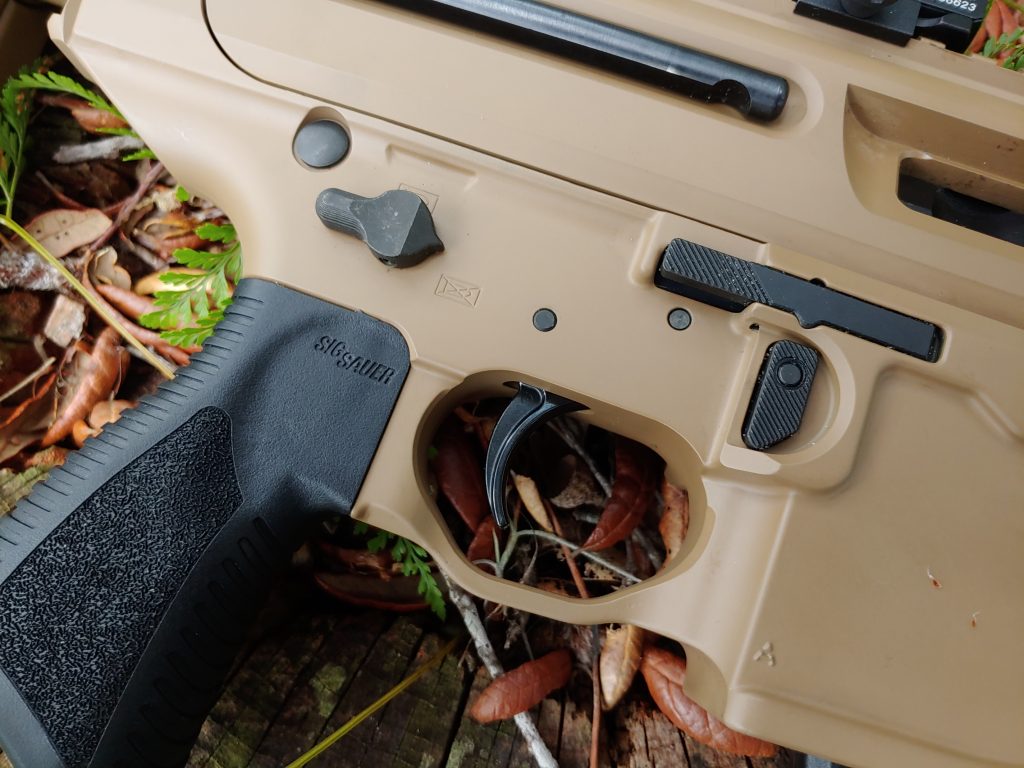 It's a very accurate gun, and the lack of much recoil makes it very easy to control. If I open up to just hitting the torso of a target I can back off to a 100 yards and land shots in the chest area. The trigger is one of the best triggers I've run into on PCC style rifles and handguns. It's crisp and light with a very short pull overall. You get a positive and short reset.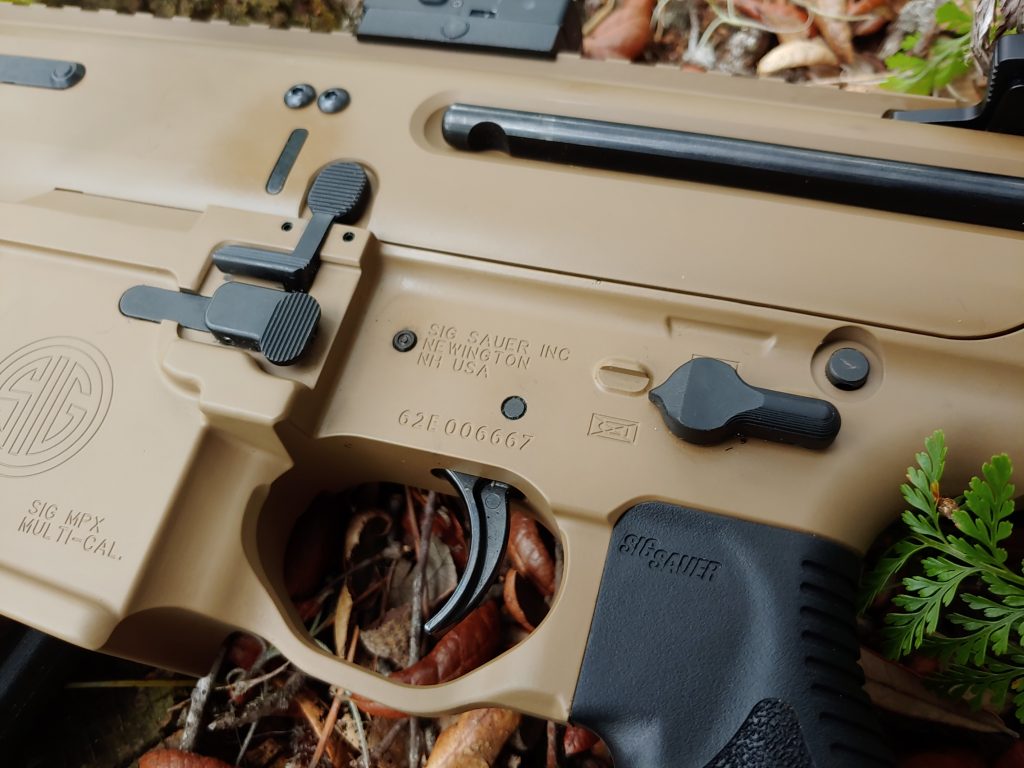 One of my favorite drills is snap drills. Hold the weapon at the low ready and engage with one round to a vital area as fast as you can. My Pocket Pal 2 acts as a timer. It's a simple, but important drill. I started at 25 yards and aimed for under a second on chest shots. It took me a little practice, but it's doable.
A Gun For All
The PCB is a hard plastic that comes together to conceal the velcro strap. This allows it to have a very clean look and snag-free design. It also makes it comfortable to shoulder or to use as a cheek rest. It's a very short gun and I feel like a troll trying to shoulder it. I can, but it's not as comfortable as a regular braced AR.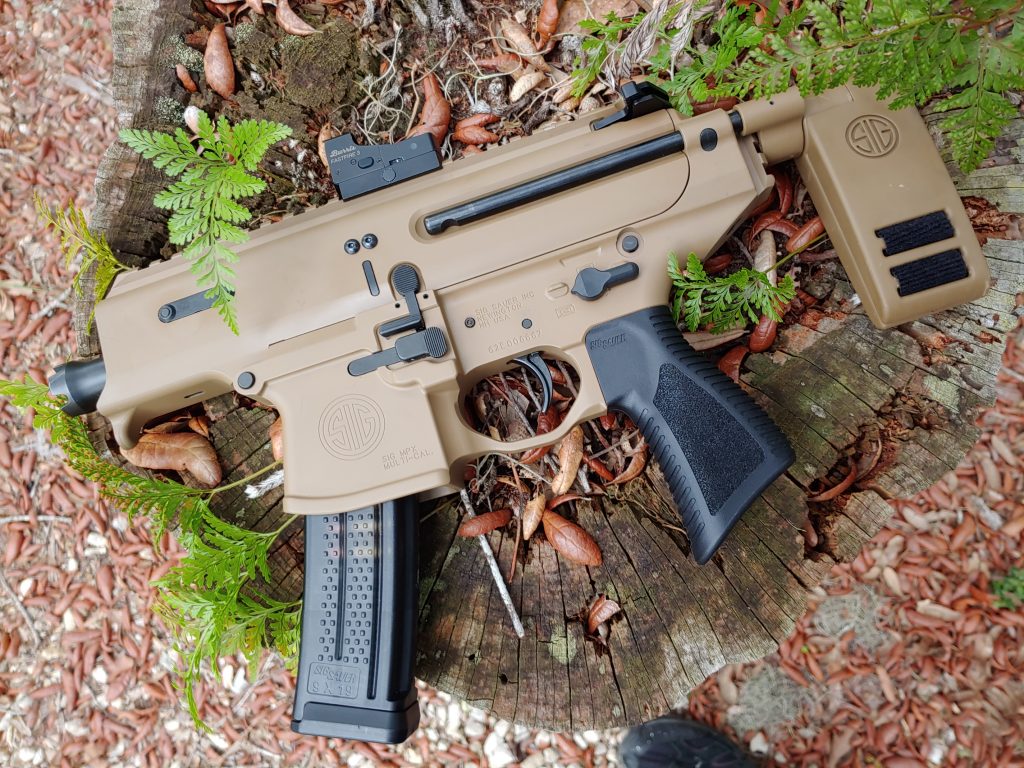 The gun eats brass cased ammo like nobody's business and ammo is cheap enough that I haven't put much steel-cased through. That being said it ate steel case too when I put it to the test. That terrible Winchester American Forged crap fed perfectly fine. It also fed a variety of JHPs without issue. These JHPs are a bit of a grab bag of random ammo I've collected over the years. They do include Ranger, Speer, and SIG ammo as well.
Is the Copperhead for You?
This is a teeny tiny gun, but for smaller people who may have issues with other weapons, this could be an answer to them. It's very light and the small size would make it easy for petite people or even older folks who can't handle heavier weapons.
At only 4.5 pounds it's quite manageable. Add in the low recoil and you have a winner for home defense for smaller people. It's designed to be concealed and compact so it may be a great weapon for road trips when you want something a little easier to shoot than a handgun.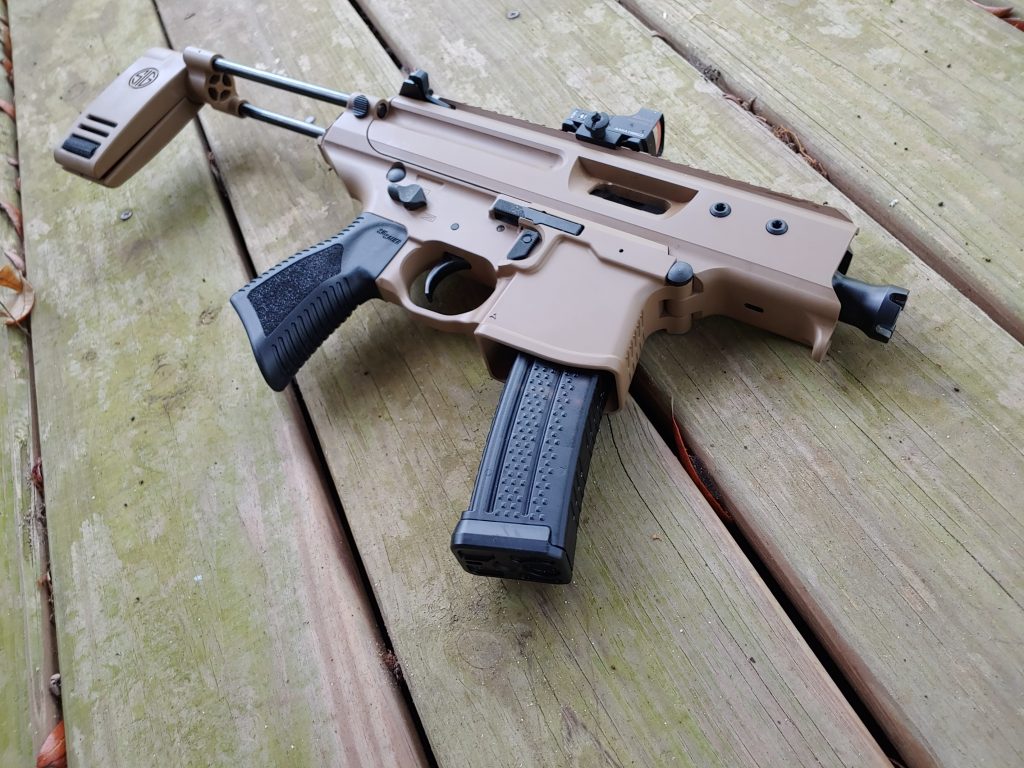 For me, it's a fun plinker. It's a gun I could carry in a laptop case if I was inclined to do so. It's a fun shooter and sometimes that's all I need a gun to be. It's more than a handgun, less than a rifle and fulfills a small niche for those needing the smallest defensive firearm that's bigger and better than a pistol.