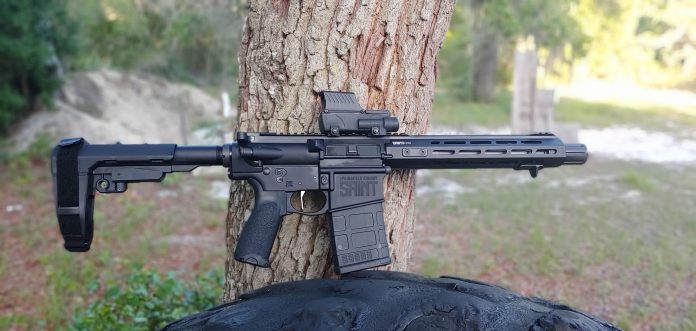 What is not to love about taking a full-powered rifle cartridge like the 308 and shoving it into a AR-10 pistol? The AR-10 platform is an old one, but it is seeing a bit of a resurgence as of late. Maybe people are getting bored with AR-15s, or perhaps they bought all the AR-15s they can handle. Springfield has recently added a AR-10 pistol to heir lineup. The Saint Victor AR-10 pistol is the newest AR in the family, and Springfield was happy to send me one. 
The Victor lineup is a level above the average Saint and comes stock with a flat-faced nickel boron trigger, a free-floating M-LOK handguard, and typically BCM Gunfighter furniture. With the Saint Victor AR-10 pistol, the grip is BCM all the way, but there is no stock. Instead, we have an SBA3 arm brace. The SBA3 is by far my favorite AR-based brace. It's a collapsing brace that allows for lots of adjustment, it's comfortable regardless of how you use it, and it even has a sling point.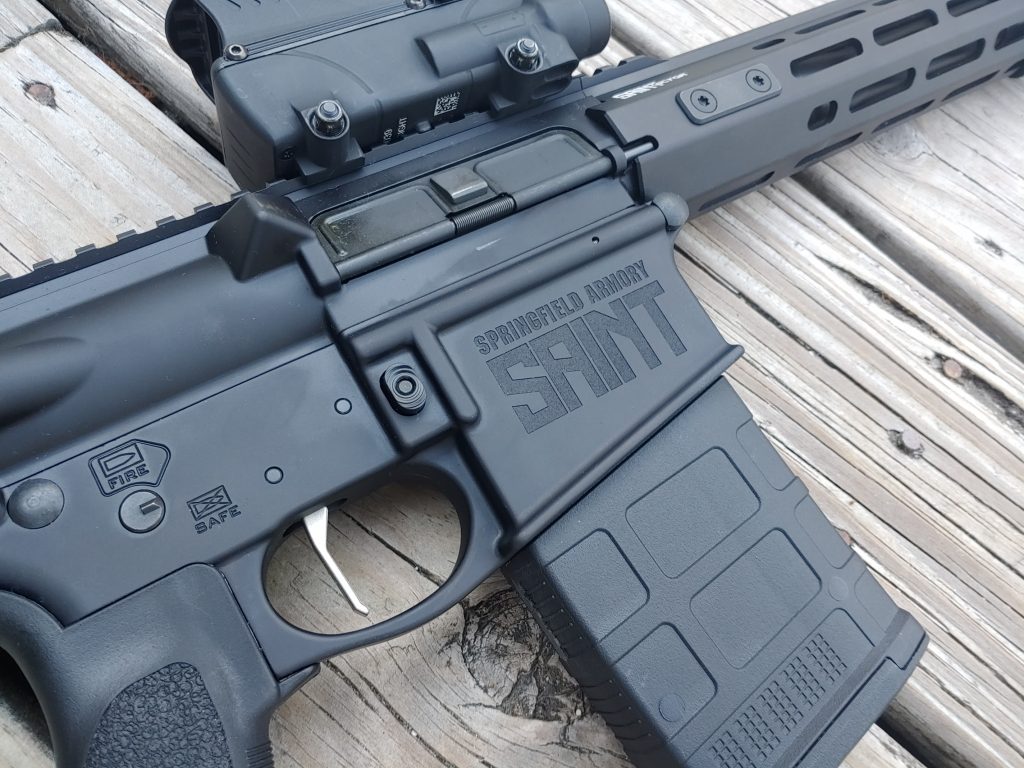 Other changes from the Victor line is a lack of included iron sights. This gun is most certainly designed for a red dot optic. With that in mind, it seemed like an excellent chance to put the Meprolight Foresight to good use. 
An AR-10 Pistol? Why? 
As soon as the Saint Victor AR-10 pistol was announced, a lot of people were wondering why? Why does such a thing exist? 308 is a full-powered rifle round and does best from longer barrels. That's an excellent question to ask. I may not have every answer, but I can say shooting a 308 caliber AR-10 pistol is a ton of fun. The fun factor is most certainly alive and well. It's loud, it jumps and kicks, kinda like a super deadly baby.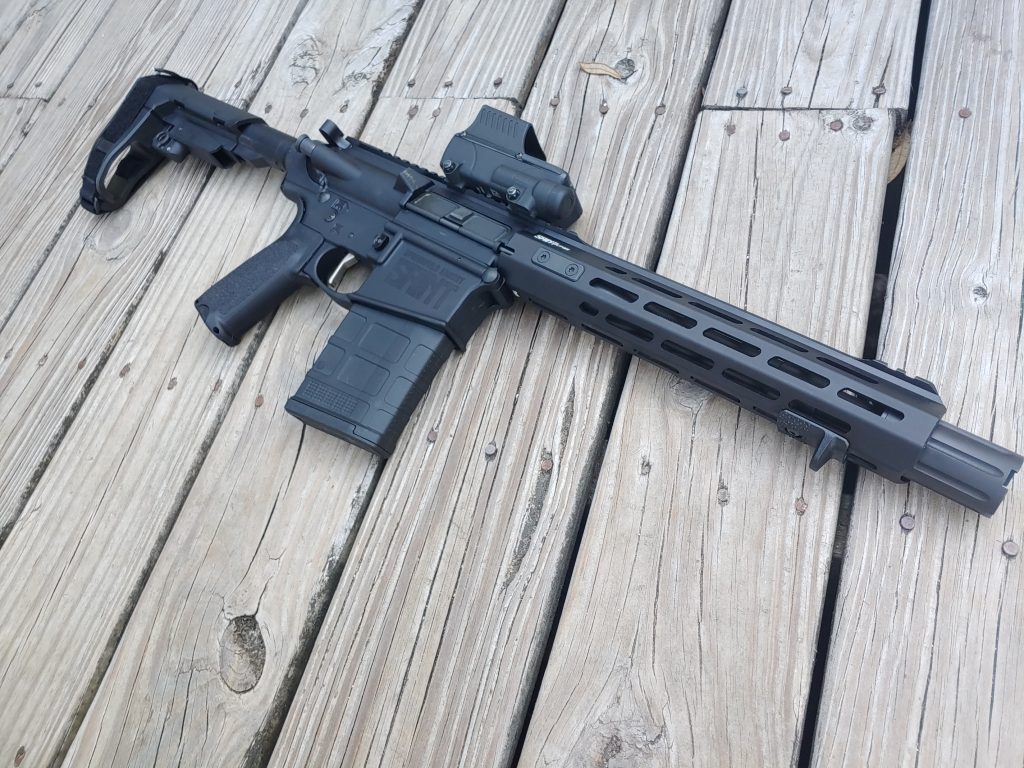 I could also see a good argument for this to be an outdoor gun. A hiking gun, one you keep on the ATV or side by side. It's small and lightweight, so it's easy to store, but also easy to carry without exhausting yourself. You still get the 308 power for stopping threats quickly with a lot more oomph than a 223 round. More oomph means you get a little more forgiveness on shot placement for coyotes, wild dogs, even bears. You also get a lot of penetration and some excellent expanding loads. 
Plus, like a handgun, it's likely less restricted for carrying purposes than a rifle. That's a bonus. It's a big pistol, but still legally a pistol. 
Saint Victor AR-10 Pistol Ergonomics 
The ergonomics and controls are like every other AR-based weapon on the market. The magazine release, charging handle, and safety are all placed for easy and quick access. There is nothing different than a standard AR.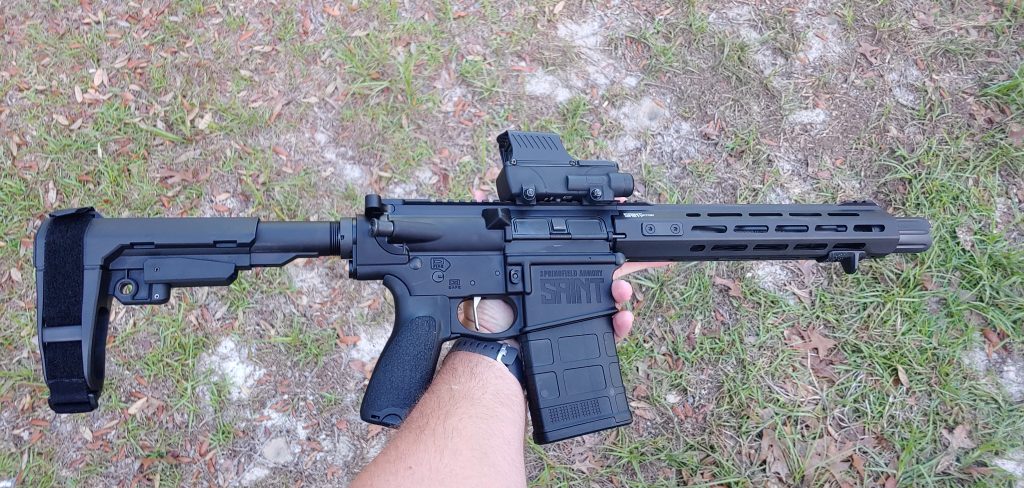 What is different is obviously the size and weight of the weapon. The gun is 28inches overall with the brace entirely collapsed. That's a compact weapon. The length with the brace extended to its max it is 30.5 inches. The gun is 8 pounds 6 ounces, which makes it a bit hefty, but still handy. The weight is centered since the weapon is so small, and this makes it easy to hold up for long periods of time. 
To the Range (with an Earsplitter)
Holy Crap is this thing loud! It also spits literal fire. What else can you expect from a 308 with a 10.3-inch barrel? There is quite a bit of powder left unburned, so you get a bright flash. The Saint Victor AR-10 pistol is equipped with a two-piece forward blast diverter, and it's essential. It does an excellent job propelling the gas and blast forward. The blast and concussion does stay away from the shooter, which makes the weapon comfortable to fire. You just might want to double up on ear protection.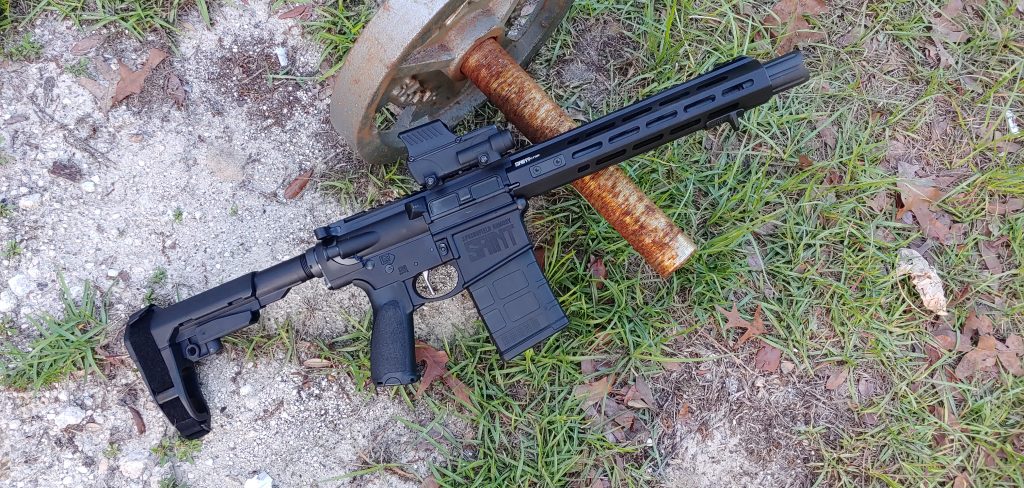 Recoil is present, and you know you are firing a 308, but it's not painful or distracting. Muzzle rise is the more significant issue with a double-tap pulling you up pretty high. It's a weapon that would aim low to mag dump high. The brace does a decent job of providing a stable platform for aiming the weapon, and inside of 50 yards, you can be quite accurate with the brace strapped around your forearm. 
If you choose to misuse the brace is one way or another, you'd be able to step out well beyond that range, and the gun is impressively accurate. The Saint Victor AR-10 pistol is no DMR rifle, but hitting with proper torso shot placement is no issue at 200 yards.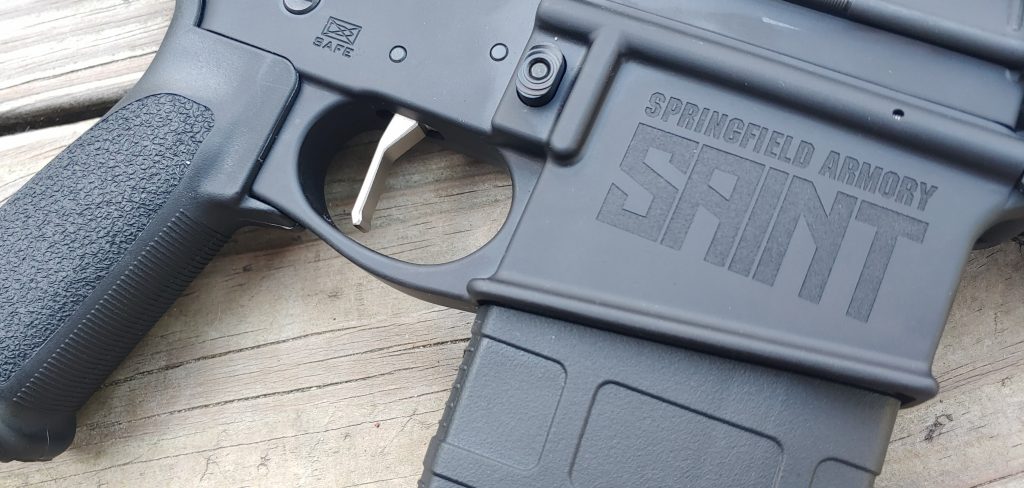 You'll be punching the big holes in the little targets with a good optic and trigger time. Speaking of triggers, the Springfield Victor trigger is excellent. It's very smooth, with roughly the same weight as a duty style trigger. The flat-faced trigger makes it easy to reach and gives you excellent control over the trigger. If you wear gloves while you shoot, you'll also likely find the flat-faced trigger more comfortable. 
Does it Eat? 
Ammo has been hard to scrape up lately, so the good news is this gun got a wide variety of 308 to eat. This includes M80 ball, some 168 grain Armscor FMJs, and a handful of various hunting loads with ballistic plastic tips and soft point ammo. It had no problems eating anything I put through it.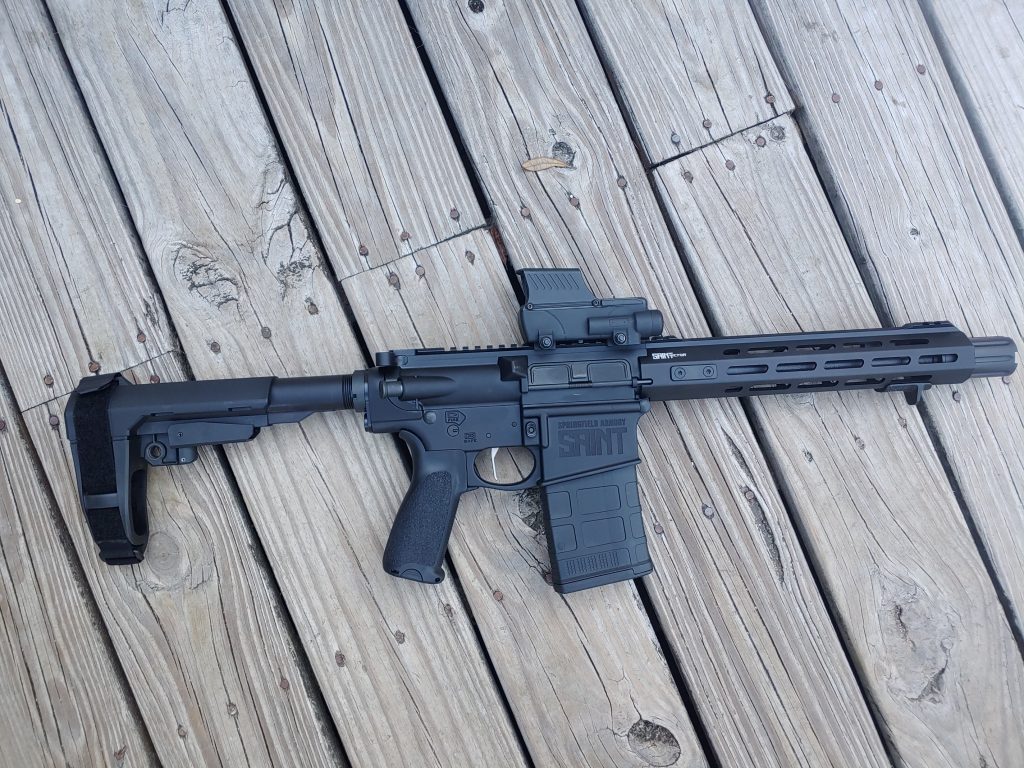 The 168 grain gave me the brightest fireball, so if you are after that there, you go. The M80 ball seemed to be the best for both mild recoil and flash. The gun comes with a PMAG, and the PMAG had no issues feeding any of the different types of ammo either. 
Big Round – Little Gun 
The Saint Victor AR-10 pistol most certainly has a real cool factor to it. It's like a stout little fighter, the Gimli of ARs if you would. It's a distinct weapon in both looks and feels, and it's a ton of fun to shoot. It may have a niche use compared to most AR-10s, but that's the same for any Warhammer. It's not for everyone, but if it's a gun that appeals to you, you should know it's well made, accurate, reliable, and most certainly a lot of fun.