It will be a long time before we get one universal footprint for duty-sized handgun optics. Trijicon, SIG, and Leupold seem to be fighting for supremacy in that realm. Luckily, the small dots market has decided that the Shield RMSc footprint is the way to go! Except for the RMRcc, both you and I forgot that it exists until right now. One such optic competing for small optic supremacy is the budget-priced Riton 3 Tactix MPRD 2.
One of the best ways to make use of my time and ammo is to try and review multiple products at the same time. I'm currently reviewing the Taurus 856 Defender TORO, and since it's optic-ready, I installed the MRPD 2. Tell me that's not synergy! Let's dive into this little optic and see if its budget-ready price point is worth the squeeze.
The 3 Tactix MPRD 2
That's quite the name. The 3 Tactix MPRD 2 fits the Shield RMSc footprint, which made it simple to attach to the 856 Defender TORO. While the MPRD 2 is budget-priced, the quality is surprisingly nice. It's an all-metal body with glass lenses. Typically, affordable optics offer you polymer lenses with polymer bodies, but that isn't the case here.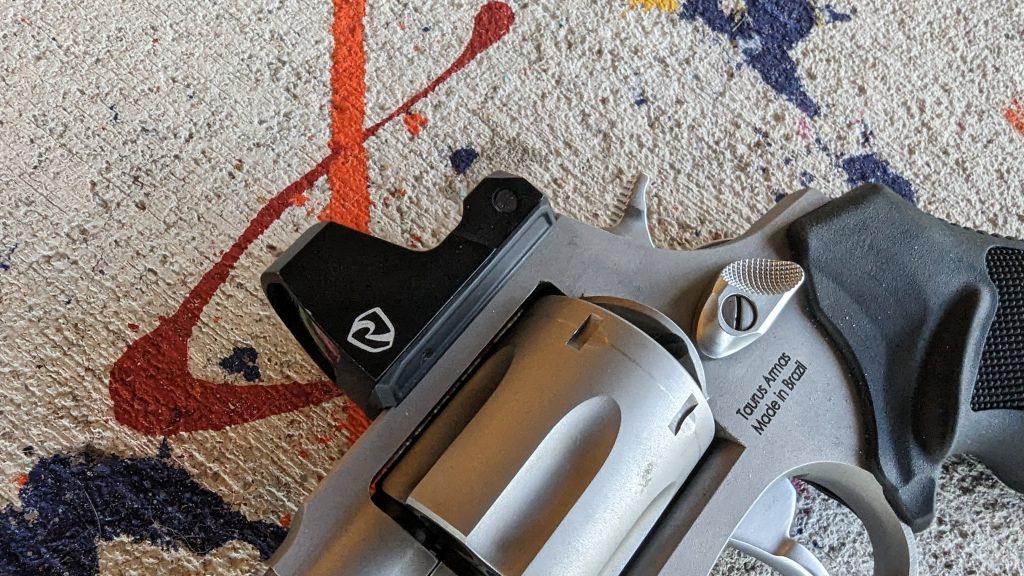 A quick look will reveal an absence of buttons present. This optic has none. Adjustments are made automatically by reading the ambient light around the optic. This works fine most of the time. Where you'll run into issues is being in a dimmer environment and being forced to aim into a brighter environment.
This makes it tough to see the reticle. That reticle is a bright 3 MOA dot. It's fairly crisp and round. It's surprisingly nice for a budget optic. The reticle itself can dim to night vision levels and get bright enough to be easily seen in the high noon of Florida. The optic lasts 50,000 hours and does have an auto-shutoff, shake-awake feature. This shuts the optic off after three minutes with no movement. The feature set is a good mix of what we expect from budget optics and quite a few we expect to see from higher quality options.
Optics on Revolvers
The 856 Defender TORO prevents an odd problem with optics. Because it sits so high above the bore, it can be tough to get zeroed. You need enough elevation to get it done, and luckily, the MPRD 2 provides that.
I had no issues getting the optic zeroed to the gun, and before I knew it, I felt like a high-tech Private Eye sending round after round of .38 Special into a variety of targets. The adjustments are a bit of a pain. There are no tactile or audible clicks. This makes adjustments more of a feeling than an exact science. Luckily, I zeroed in at twenty yards, and it wasn't too difficult to get some Speer Lawman into a palm-sized group.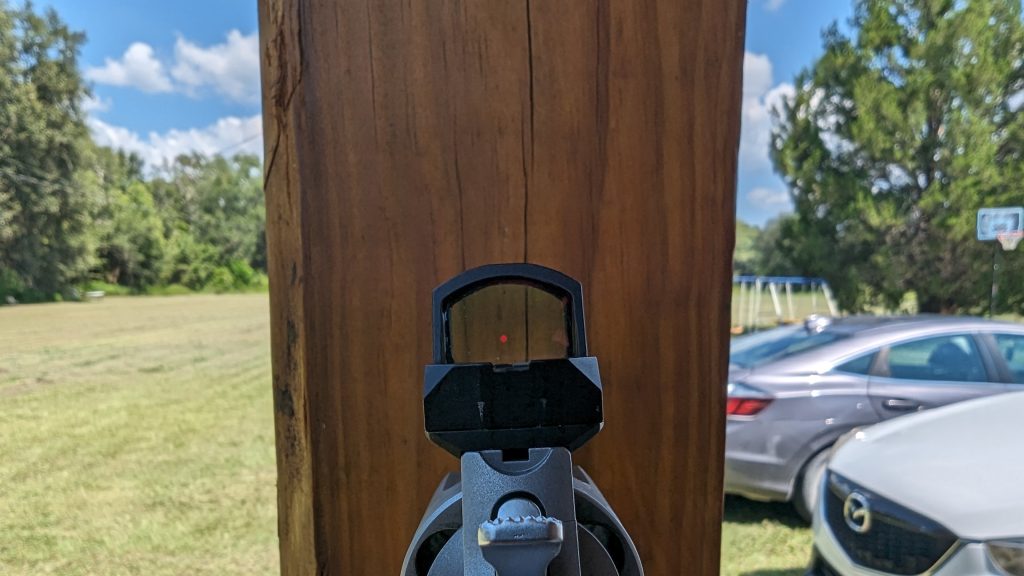 Once zeroed, I had a blast sending lead downrange with the 856. It was quite a learning experience. The MPRD 2 held zero without a problem. On a revolver, there is no slide to cycle, so the optic doesn't suffer from aton of Gs. However, even if it did, I'm positive the Riton could handle it.
Blasting Away
The Taurus 856 Defender TORO and the Riton MPRD 2 and I have taken quite the trip together. It's been subject to plenty of live fire with both hands and one at a time. I've bench-rested and rapid-fired. I've worked double taps and well-aimed headshots. Regardless of why I did it or how fast I did it, the Riton MPRD 2 held it together.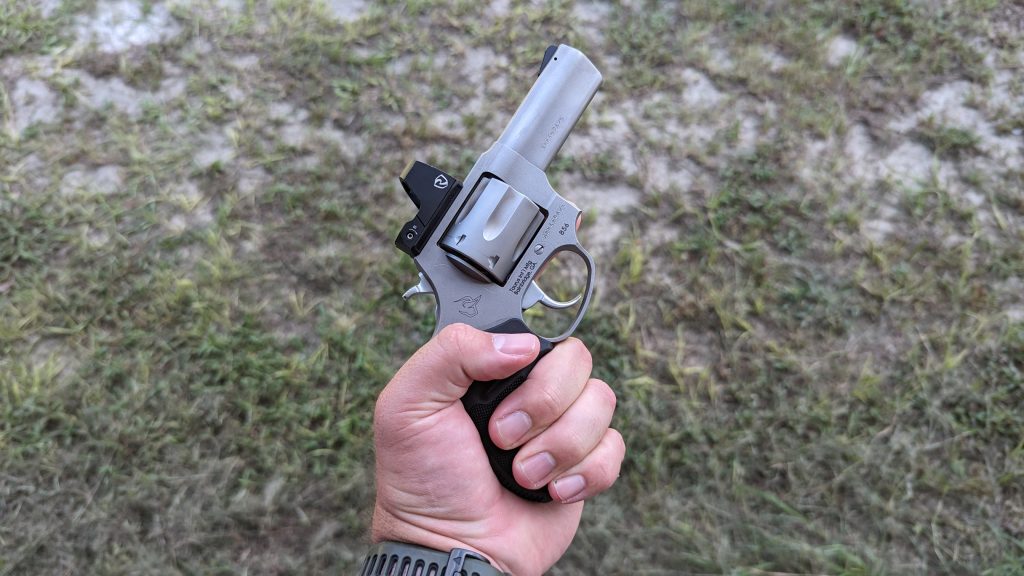 The dot's zero never shifted, and with a lot of practice, the gun and I became quite familiar with each other. As I learned the double-action trigger, I became quite accurate, and after a shot was fired, I could tell where it was by where the dot rested after the recoil impulse. Every time, it was dead on. A 3-inch barrel leaves some burning gunpowder, and it tends to gather on the lens. A quick wipe makes that a non-problem.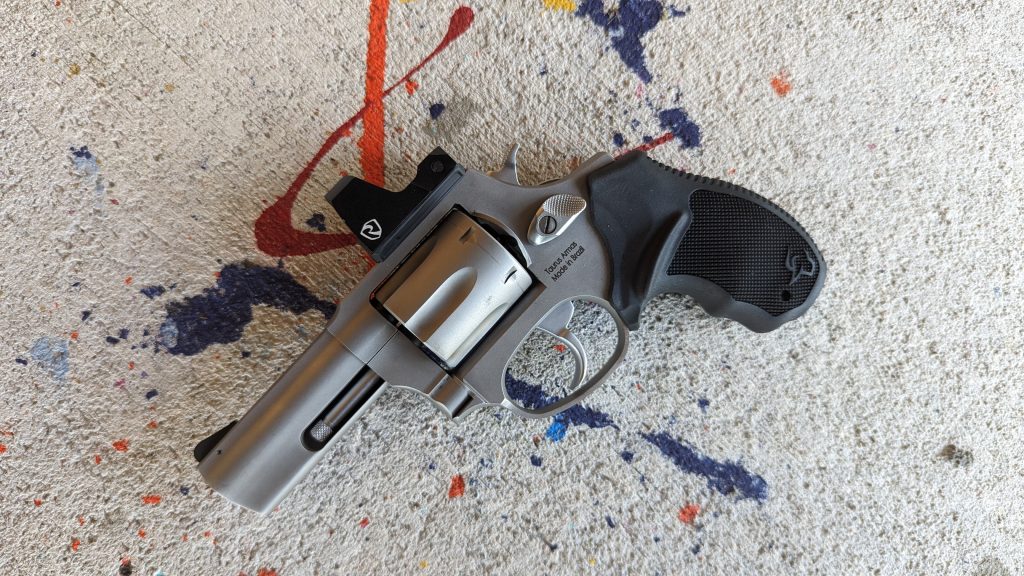 Speaking of, the clarity is quite nice. There is a blue tint, but it's not obstructive. Seeing the dot is simple, and that dot stays consistently round at all but the dimmest night settings. At the lowest settings, it gets a little blurry, but I don't shoot in the dark much.
Worth the Change
A few hundred rounds later, the MPRD proved to be quite well made. It surpassed my expectations by quite a bit. Sure, the lack of manual controls isn't my favorite, but the optic proved functional. The brightness adjusted easily and quickly with light changes. The metal body and glass lenses are a nice touch, and it's a well-put-together optic for very little money. It certainly works well enough to be mounted on a concealed carry revolver.