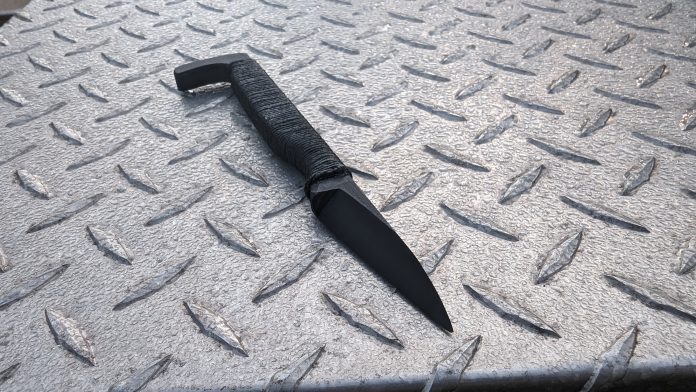 A little while back, we reviewed a Sharpie with a G10 stabby tip for discreet self-defense. A little company called Revenant Corps created and appreciated our review. Enough so they sent me a few more knives to take for a spin. One is known as the IMP, and IMP stands for Impale Maim and Puncture, which describes this shiv quite well. Specifically, it's the IMP with a hook, and the hook is at the bottom of the grip for aided retention.
Much like the Sharpie, the IMP is made entirely from G10. This makes it undetectable when it comes to dealing with metal detectors. This doesn't mean breaking the law because that's a great way to find yourself behind some very metal bars, for a very long time, possibly with a very high fine. That being said, there are plenty of places that might have metal detectors and have no force of law regarding carrying weapons. G10 is great for that.
It's also super lightweight, making it lighter to carry than a metal weapon. With a fixed blade sticker, the IMP is lighter and easier to tote when carried daily. G10 is quite tough and makes a good stabber, and while it can slice, it's really all about the sticking and impalement.
Breaking Down the IMP
The handle of the IMP is just long enough to fill your hand and be entirely enclosed by your hand. The IMP's handle is wrapped with hemp twine and done so quite tightly. That hemp is then epoxied and hardened. It forms a dense material that adds texture to the IMP. It's rough and sticking, which helps ensure the blade doesn't move in your hand. Even with wet or sweaty hands, the IMP stays put.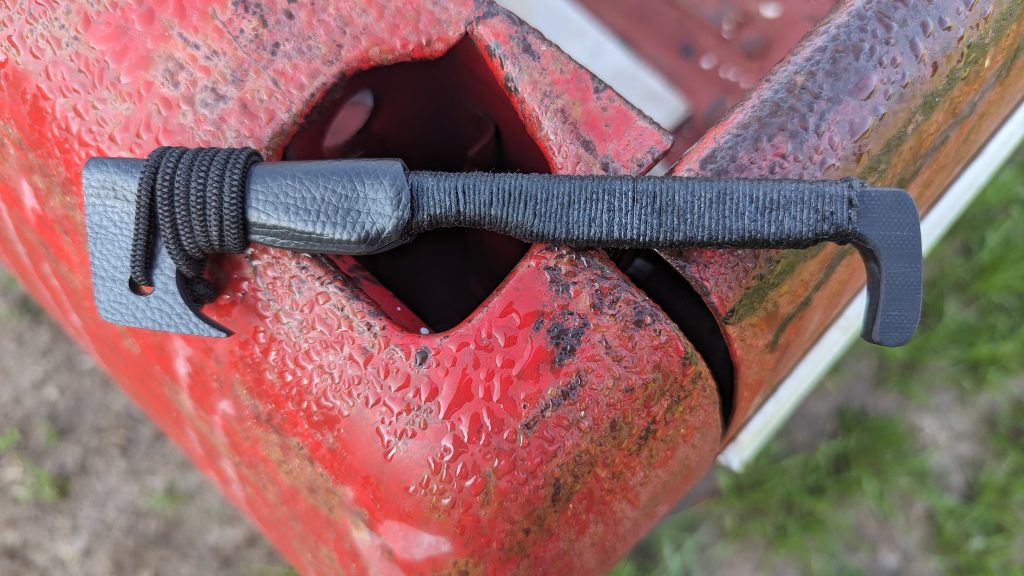 This model has the hook, and there is a nonhook version as well. The hook makes it easy to draw from a sheath and helps retain the weapon when doing something like an ice pick grip. The hook is fairly handy but does add some slight bulk. Not a big deal in my usage. I do prefer the hook, especially when it comes time to draw the knife.
The sheath system is also nonmetallic and made from rigid polymer. The sheath has a pocket hook and a status line. It can be worn tight to the body, and the static line makes it really easy to mount it wherever you want it along your belt line. The really lightweight nature of the G10 knife ensures it doesn't rotate, even though it's fairly long.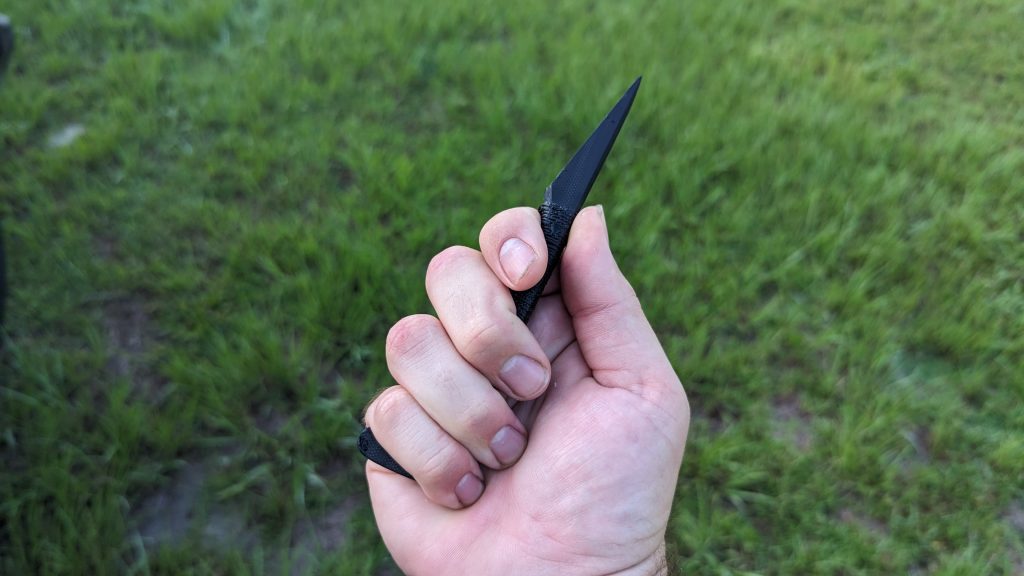 If you pocket carry the IMP, you have a hook to catch on your pocket as you draw the knife. Alternatively, you can tie the static line to your belt and allow it to pull the sheath off as it leaves your pocket. The only problem there is when you draw, you have to pull the sheathed knife out quite far before the blade is ready for professional poking.
The IMP In Action
The blade of the IMP is an odd shape. I'm not exactly sure how to describe it. The blade is somewhat triangular-shaped. The design gives the IMP a more rigid design that allows it to be quite durable and more capable of penetrating when used. The blade itself is quite pointy, and while it has a rudimentary slashing edge, it's certainly more for shiv work than cutting an apple open.
In fact, while most knives offer a more versatile tool-like design, the IMP is just for stabbing things. It's a self-defense tool, something to give you an edge. Or, rather, a point. Drawing the IMP can be done very quickly from a multitude of positions. Grabbing it and stabbing with it takes no time at all.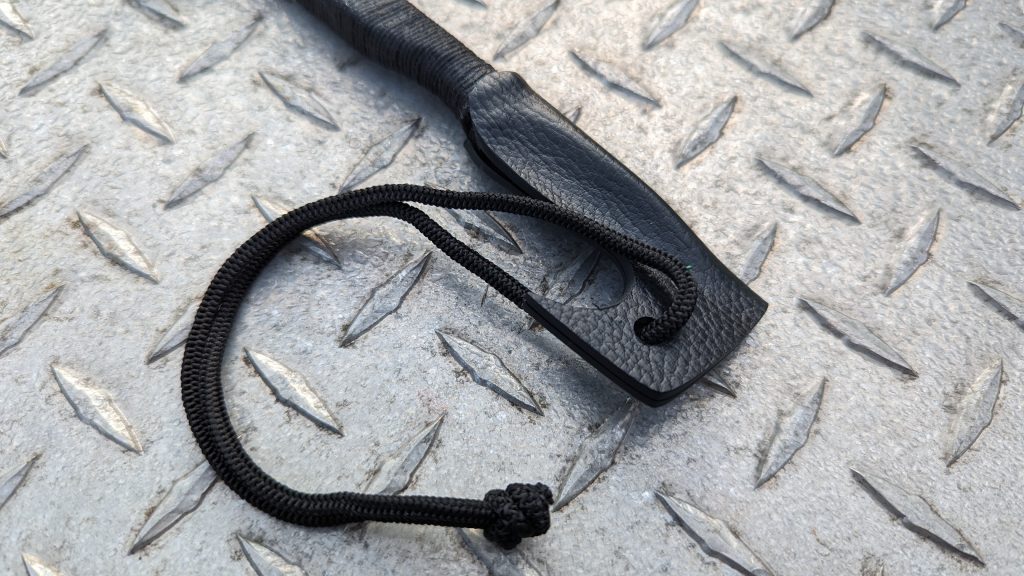 The handle is naturally ergonomic. As mentioned, the hook helps with retention. The grip is small and grippy. Plus, there is a natural index point near the tip of the blade. It locks in tight and won't slip your grip when stabbing and poking. The IMP is little but mean and acts as a great last-ditch tool for self-defense. Plus, your local freedom-hating venue can't do much to prevent G10 from being carried IWB as you move and groove.