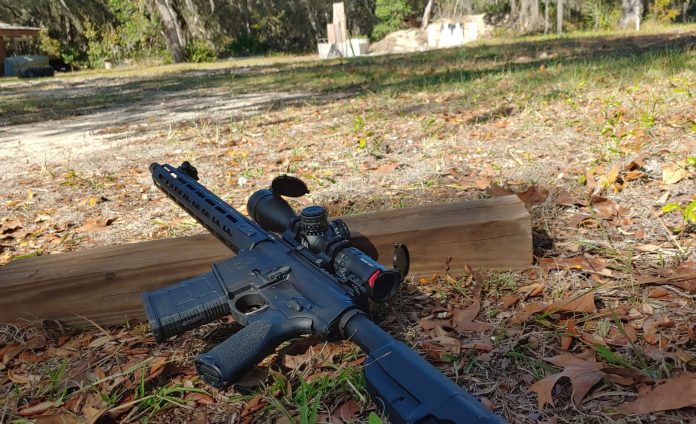 The Primary Arms GLx 2.5-10X is one of the nicer optics I've gotten my hands on. I'm not a huge long-range optics guy, and I see most of these awesome optics as above my experience level. However, in the spirit of learning and evolving, I've dipped my toe into higher-end, long-range optics. The Primary Arms GLx 2.5-10X is an excellent starting point for folks like me. It's well priced and provides you with a fantastic optic for the money. 
Primary Arms GLx 2.5-10X Specs
The Primary Arms GLx 2.5-10X is a big optic. It's got some weight to it, and at  22.5 ounces, it feels like a solidly built optic. The scope is 12.5 inches long, has a 44mm objective lens, and a 30mm tube.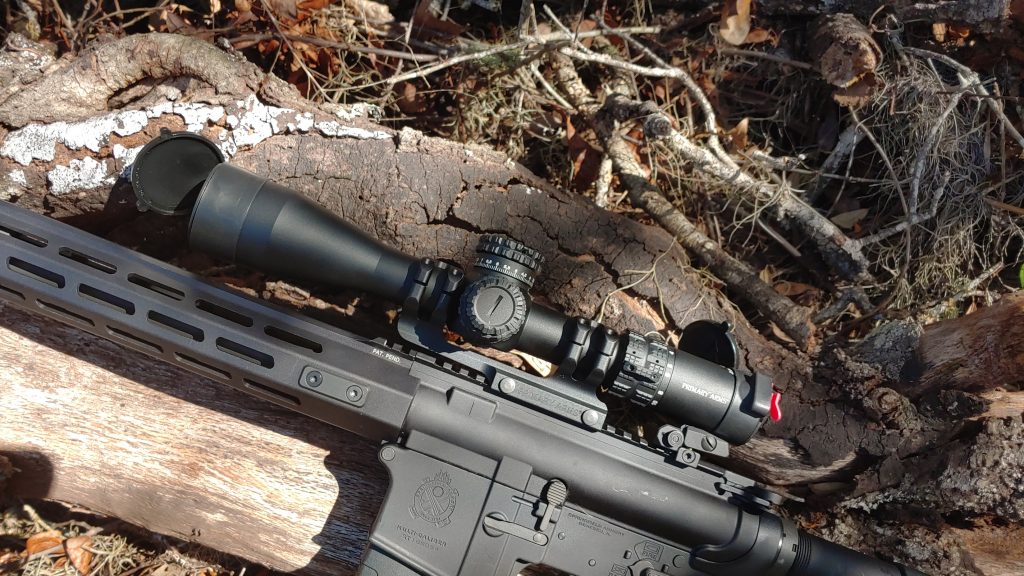 The scope is a first focal plane model outfitted with the ACSS Griffin MIL reticle that features partial illumination with ten brightness settings. The optic comes with a nice set of Butler Creek lens covers. I've attached the optic to my Springfield Armory AR 10 with a GLx mount. 
Clarity 
Clarity at 100 yards is truly brilliant. I can see the shot holes in my VTAC Tactical targets from 100 yards easily. I could see them so clearly that I could make adjustments just off of looking at the target. One hundred yards performance with a 10X scope isn't much, but still, that level of clarity is impressive to me.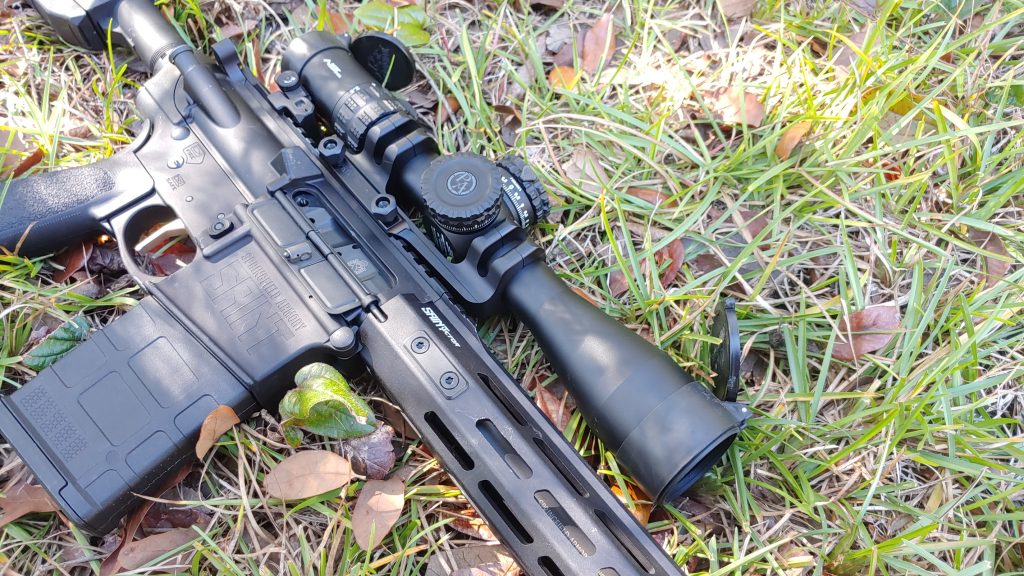 Moving back to 500 yards with my AR 10 and GLx 2.5-10X scope, I got to light up several targets. The clarity was still outstanding. I could see the target with ease and could tell everything I was looking at. I couldn't see bullet holes, but I could see the eyes of my VTAC target. Even small targets like rifle gongs were easy to see. When I rang a gong with a 308 caliber pill, I could track its movement as it swung back and forth.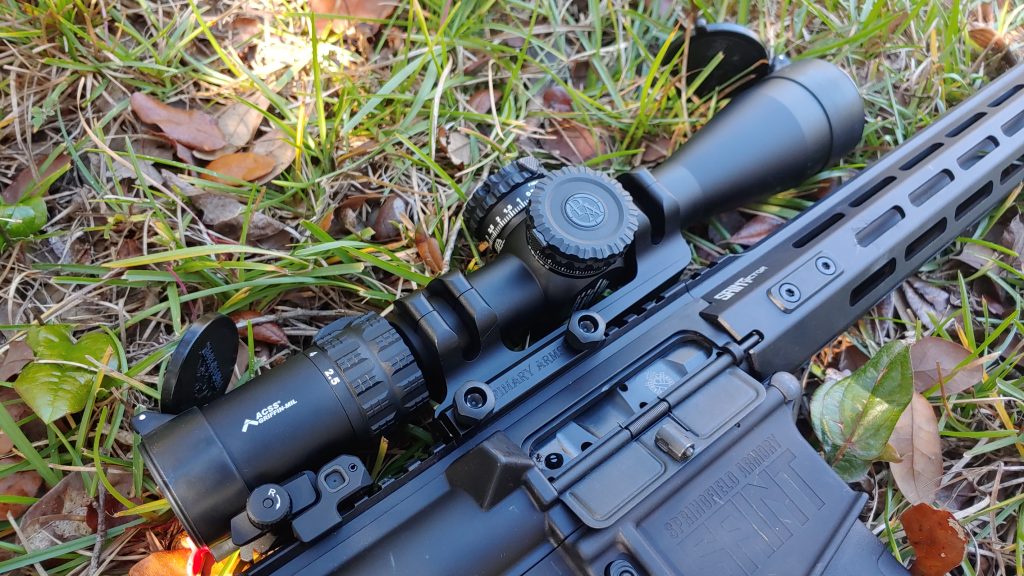 Five hundred yards was as far as I could shoot, but with the optic dismounted, I was able to gaze 800 yards down a local dirt road that is as straight as a nail. At 800 yards, I could see the terrain and make out various terrain features. I could spot street signs, specific plants, rock mounds, and more were visible and easy to differentiate from each other. 
Exploring the Reticle 
The GLx 2.5-10X reticle is one of the more complicated variants of the famed ACSS reticles. The Griffin Mil reticle features the donut of death style ¾ quarter-circle ACSS reticle, as well as a complicated and robust drop pyramid. This pyramid style mil grid allows for bullet drop and wind calls at various ranges. There are moving target leads, a MIL Stadia ranging tool, ranging ladders, and an illuminated chevron reticle.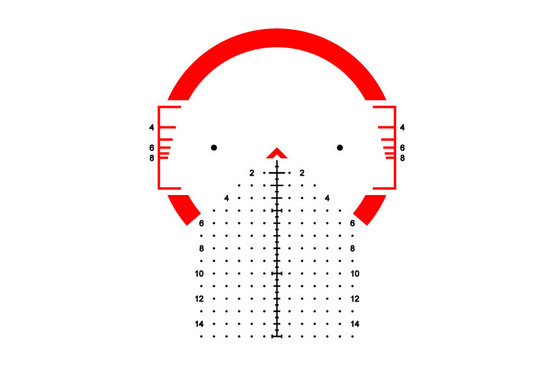 The reticle has a lot going on, but once you are looking at it, the ACSS Griffin reticle doesn't seem overly complicated or obnoxious. Everything has a place, and I can see how fast a shooter could become with the ACSS Griffin reticle. It would allow for rapid bullet drop compensation even in windy conditions. Align your target with the right dot, and boom it's going down.
As a man used to simplistic reticles, it took me some time to learn the Griffin reticle. Once the complicated reticle made sense, shooting became simpler overall. The illuminated chevron gets quite bright, and even in the brightest part of the day, the chevron is easy to see. You get ten settings for illumination, and between each setting is an off position.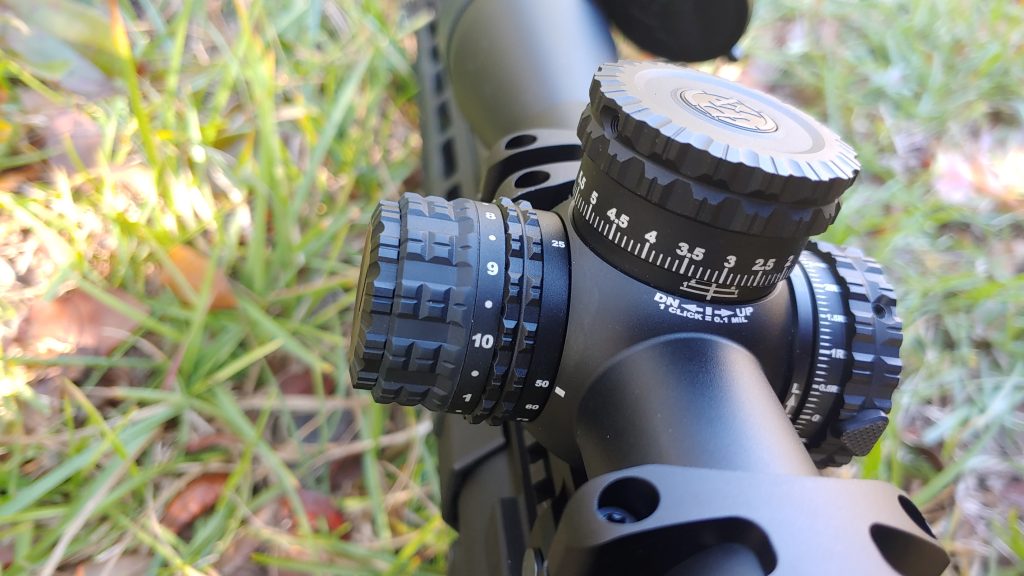 I adore this feature. It makes it easy to find the sweet spot illumination wise and then instantly turn it off and on at the brightness level you prefer. 
Turrets and Adjustments 
The adjustment value of the Primary Arms GLx 2.5-10X is a very fine .1 mil. It's a precision rifle optic, so precision adjustments should be the norm. Luckily I didn't have to make too many adjustments to get my AR 10 on target. The turrets are fantastic. They are huge, offers tons of room for adjustment, and are very easy to see.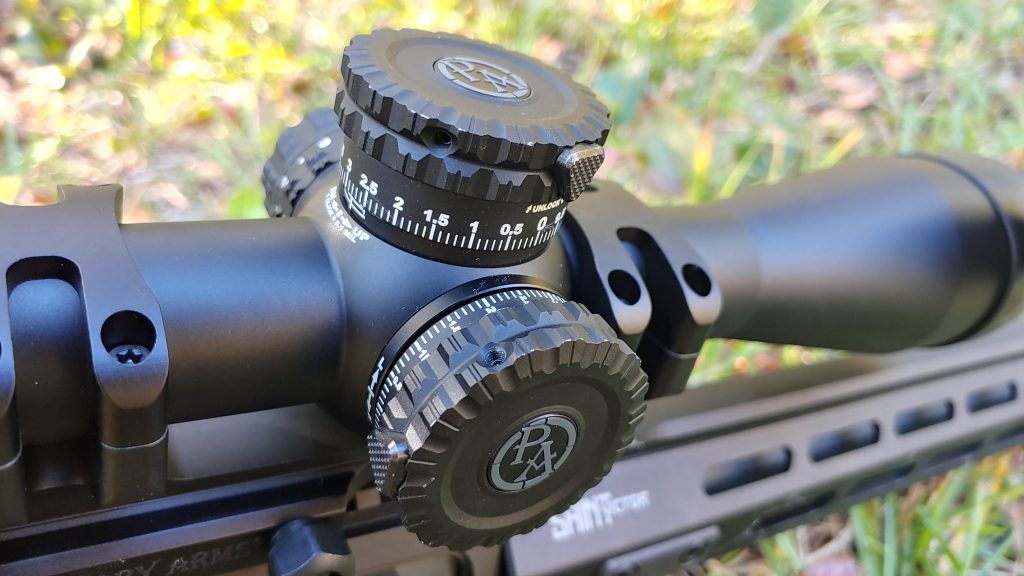 The Primary Arms GLx 2.5-10X has very aggressively textured turrets. They are scalloped for an easy grip, and the adjustments are all very tactile. The scales implemented on the turrets make it easy to track your adjustments. The turrets and adjustment scale are both big enough that they can be seen and used without breaking your firing position. 
The Shooting Experience 
The Primary Arms GLx 2.5-10X might be too much scope for my experience level. Long-range shooting and I have never been best buddies, not due to anything other than a lack of opportunity. That being said, the GLx has forced me to learn something new, and I can always appreciate that. It's also given me a little more interest in pursuing some shooting beyond 500 yards.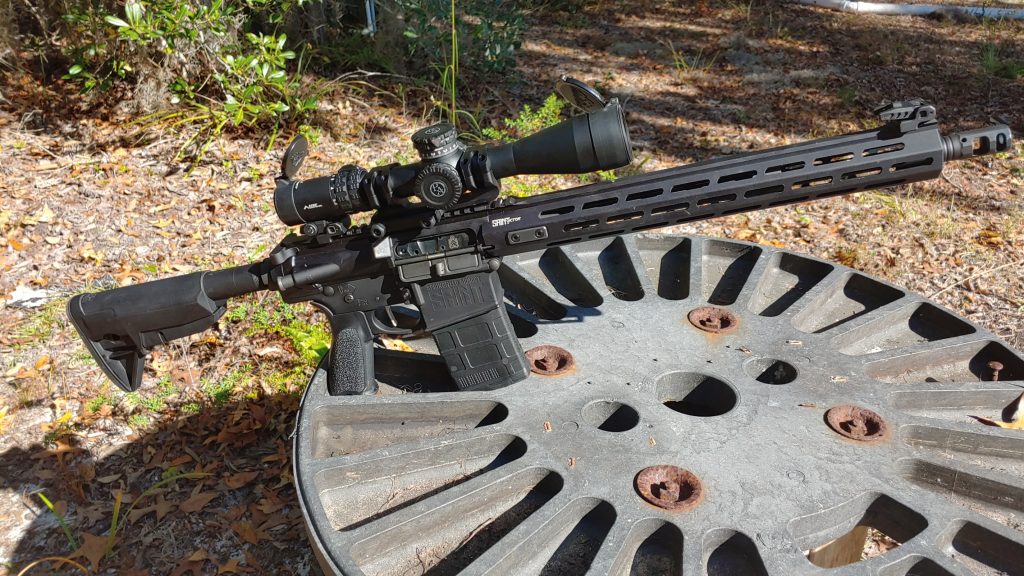 When I get the chance, I'm hauling myself, my Primary Arms GLx 2.5-10X, and my AR 10 out to somewhere I can stretch my legs and try to learn a little more about long-range precision rifle shooting. The optic certainly has the ass to do it, the big is, do I?