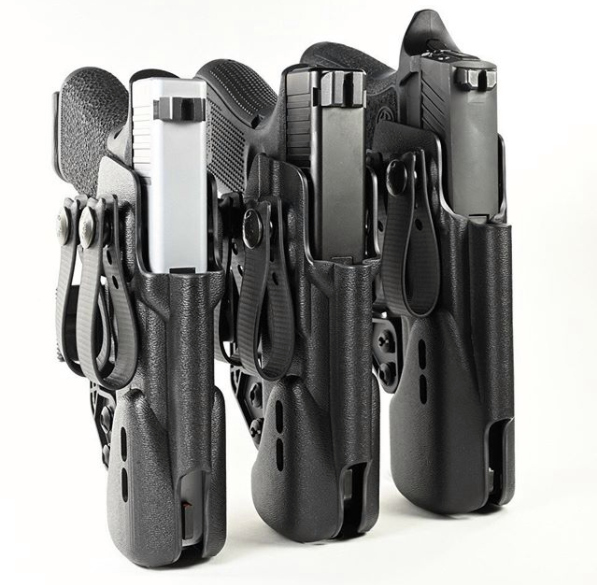 Off duty carry, a thing that many law enforcement agencies struggle with. Whether it is off duty or plain clothes carry, many agencies don't know what type of holster, let alone the specific company that can give a trustworthy product. They may choose the "cheapest" or "most popular" brands, or just the one their procurement officer likes. This leads to officers installing parts incorrectly, ill retention, or dangerous locking mechanisms. Any one of these issues can then lead to people getting hurt, whether it's due to their own accidents or an incident in the field.
Insert the PHLster Pro Series. This holster is made to assist the Law Enforcement Officer (LEO) with ease of installation, comfort, and performance.
Compatibility
The PHLster Pro Series is compatible with any optic, suppressor high sights, threaded barrels, and compensators. It is not compatible with weapon mounted lights (WML). Many LE agencies still have not hopped on that train despite the numerous sources of data that prove why it's needed for the safety of LEOs, but I digress..

Currently there are three different models of holster. The SIG P320, GLOCK 43/43x/48, and GLOCK 26/19/17/34.
[Sidenote: If you do run a WML, PHLster has you covered there too. Check out the Floodlight.]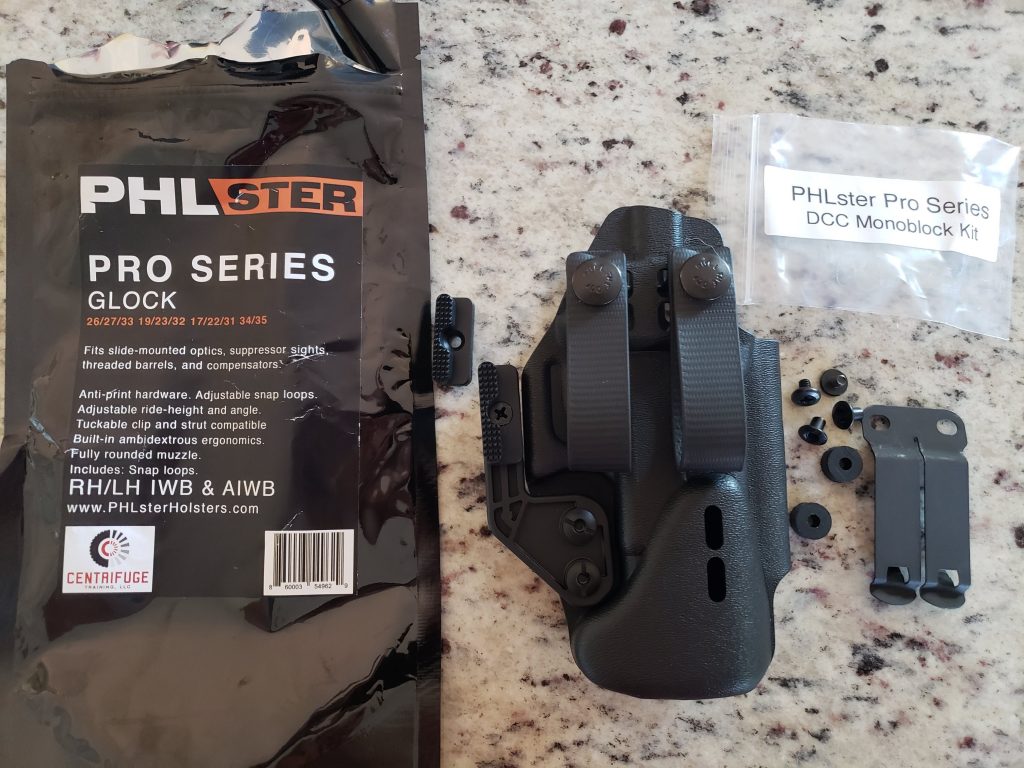 Hardware
The holster comes with snap loops using Pull the Dot snaps or Discreet Carry Concepts (DCC) Monoblock Kit if added.
Pull the Dot Snaps can be stiff at first,which ultimately ensures a longer lasting and safer type of belt hardware. The snaps are directional. Ensure that you are lining up the bottom of the snap and pressing hard on the bottom before hearing it snap on the top. Please watch PHLster's instructional 2 minute video before becoming pissed and breaking your loops. You have to "roll" the snap bottom to top.
DCC Monoblock Kits can also be added for a different type of mounting hardware. These clips come with 2 sterile clips (no logo), two bushings, and four mounting screws. They are very easy to install. Ensure that the bushing is installed between the holster and the clip to avoid damage. Through experience these clips have shown great retention due to the inverted notch on the bottom. A tip to install these on your belt or jeans is to lift up on the bottom of both clips, slide all the way down to where you need, and then release the clips. The Monoblock is a much faster on/off the belt system than the snaps.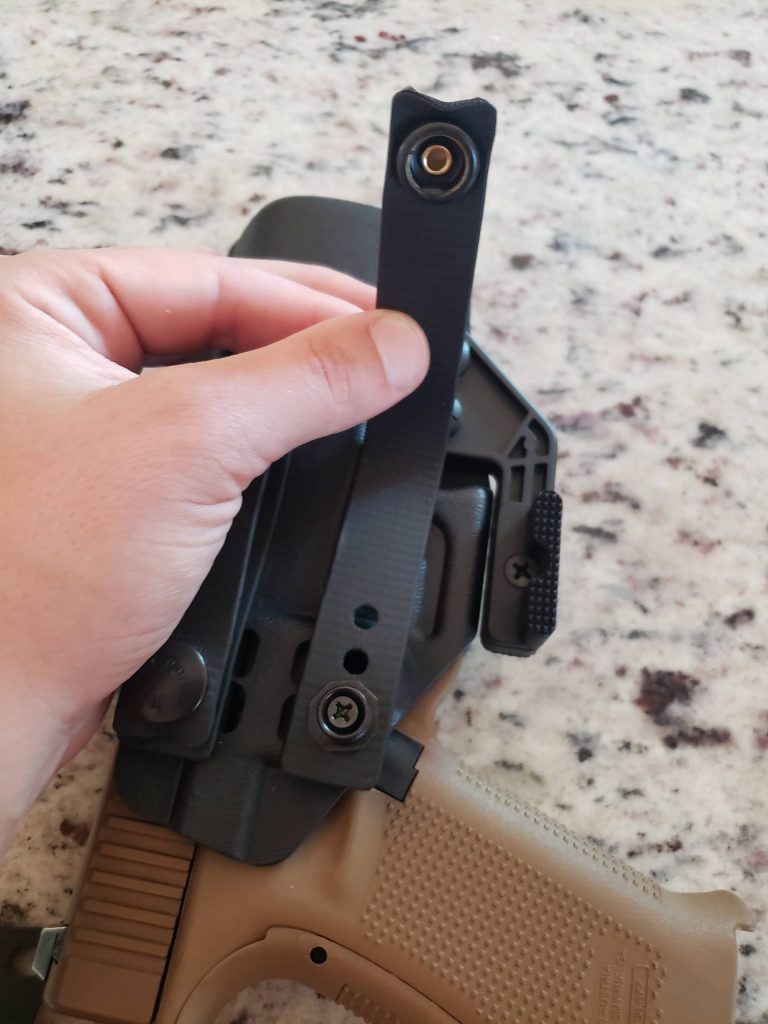 Retention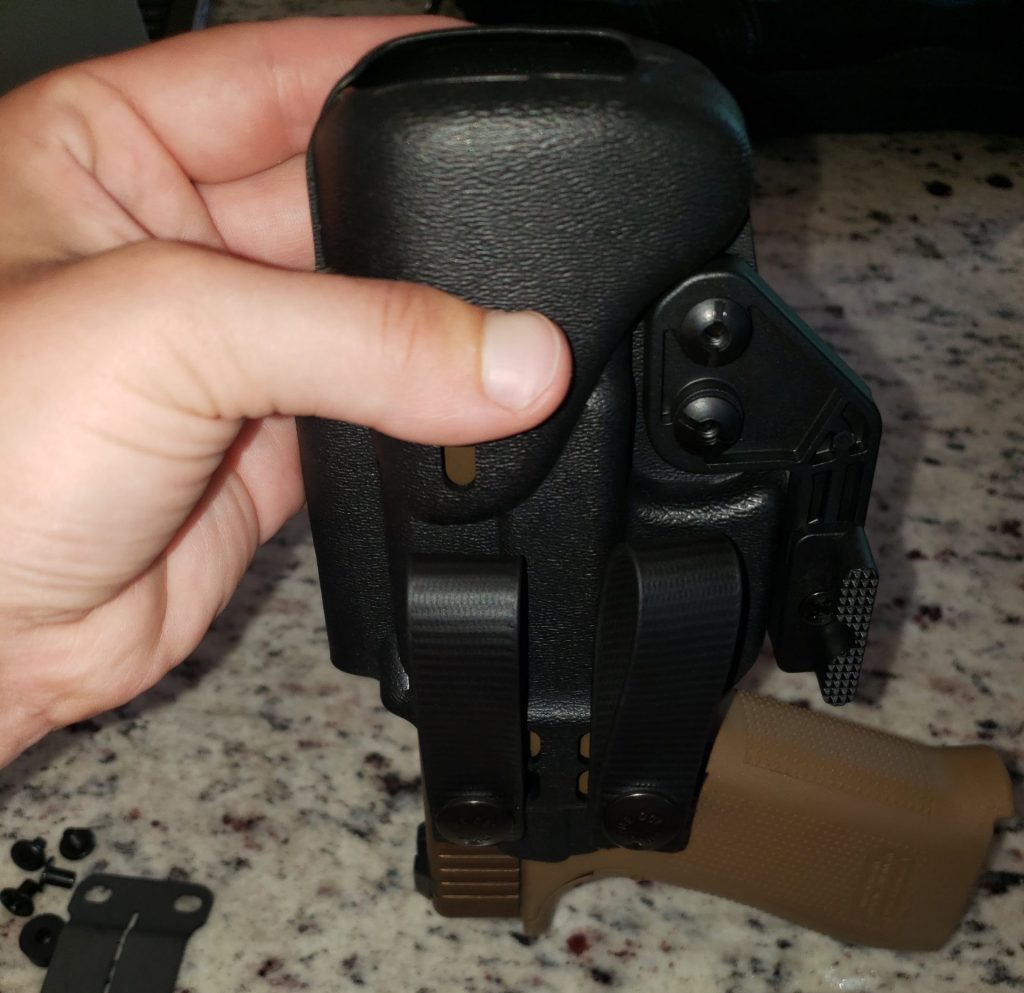 The holsters are also made using compression molding, which not many kydex companies do. This allows CAD design to be used to form holsters which then ensures consistent quality for each holster. Due to the Pro Series being a non-light bearing holster, adjustable retention is not needed as the holster can now create a more crisp fit.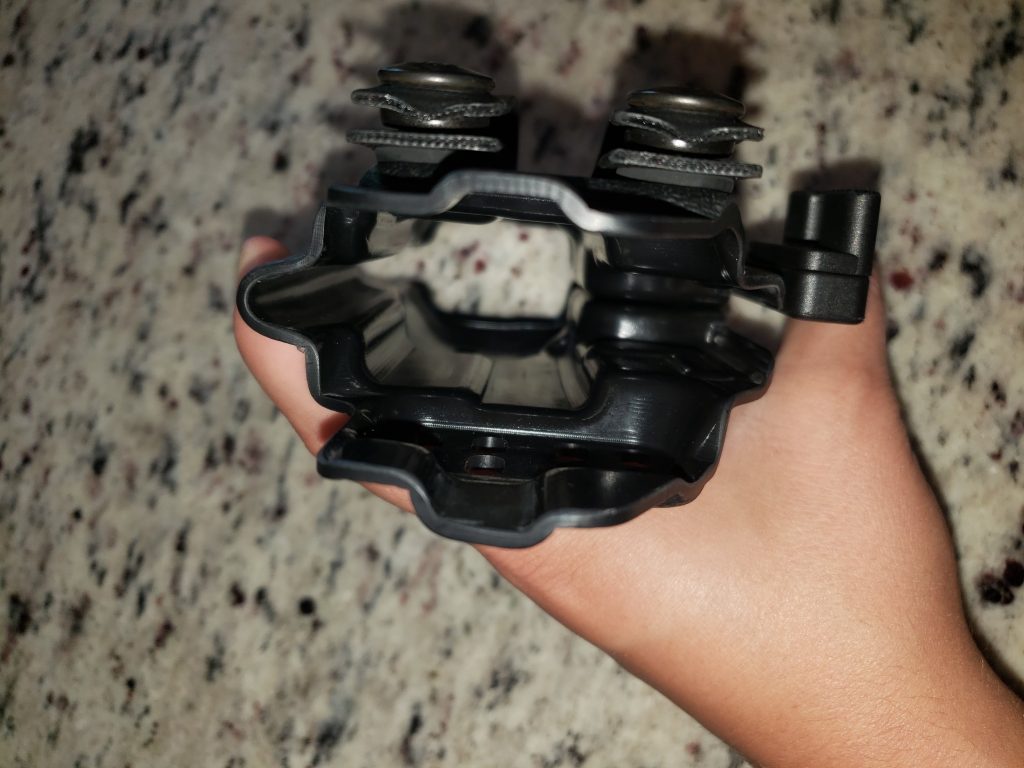 Customization
This is key in any holster world and PHLster nails it. This holster features adjustability for both ride-height and angle. The holes for the hardware are on each side allowing ambidextrous carry and draw. The holster also accepts any IWB hardware on the market. Meaning LE and average consumers alike can buy the same type of holster and hardware but still make it their own no matter where and how they carry and no matter their hardware preference.
It comes with two different sized wings due to different body types. The wing is meant to "claw the angle the grip of the gun inward, reducing conspicuous printing when worn in any carry position."-PHLsterholsters.com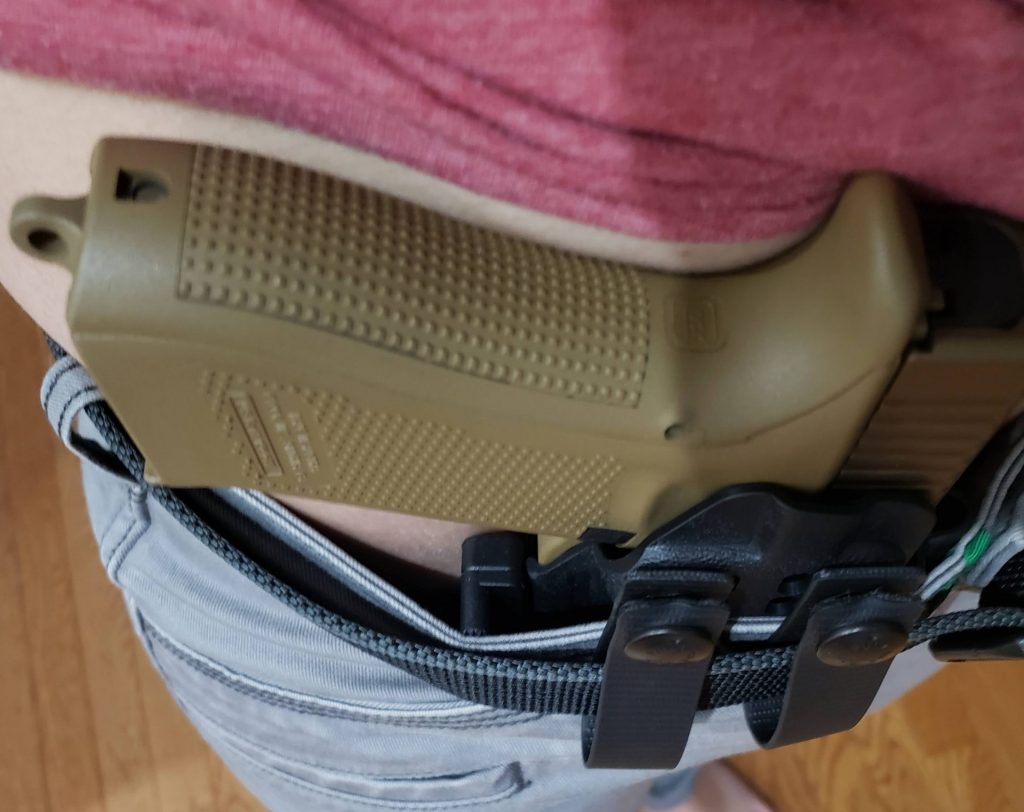 Comfort
Last but certainly not least..comfort. Comfort is the main thing that people look at when it comes to holsters. Everyone has that box in their basement that has 10+ holsters that just didn't work. A large reason that they didn't work is due to finally finding out through prolonged wear that they frankly hurt. Specifically when it comes to doing uncomfortable things like a long shift in their squad car or sitting all day at the office. The Pro Series design changes that with a couple things.
Rounded Muzzle End
The holster has a rounded edge on the muzzle end. This gives relief of hot spots. A feature that you didn't even realize you wanted.
Wedge
The wedge is meant to allow the gun to be away from the body and not digging. It is pronounced enough to work but not too pronounced that it induces printing itself.
From PHLster
"since no holster is perfect for everyone, given the variations of human anatomy and different thresholds for comfort, we've kind of come to the conclusion that an IWB holster is a lot like a prosthesis. You start with a manufactured platform, and then some part of it is custom fitted to the individual physiology. The Pro Series is our best jumping off point for that. We focused on making a zero-hot-spot holster mold which keeps sharp corners and seams away from the body, but without having too pronounced of a molded wedge, favoring instead a smooth, gentle radius which is stand-alone comfortable and aids concealment, while providing a generous surface area for the attachment of user-supplied foam wedges to adapt the holster to their individual bodies. We also paid special attention to reducing carry fatigue, which can come from long periods of sitting, driving, or wearing a holster which has overly-assertive concealment features built into it. And beyond the forming, we made sure that the holster would accept pretty much whatever hardware you prefer, and in whatever configuration you need. So anyone can make the adjustments or customizations necessary to accomplish the level of concealment and comfort they require from the holster."
Backed by Law Enforcement Entities
PHLSTER has already had approval of trustworthy support from many LE entities. Centrifuge Training, a law enforcement training and consulting company has put the stamp on PHLster as being a trustworthy company in which their holsters will perform.
LEO/MIL Discounts available, official work email needed
And as always, all the features that make this an impressive option for LE IWB carry makes it just as useful, perhaps more so, for the EDC types.