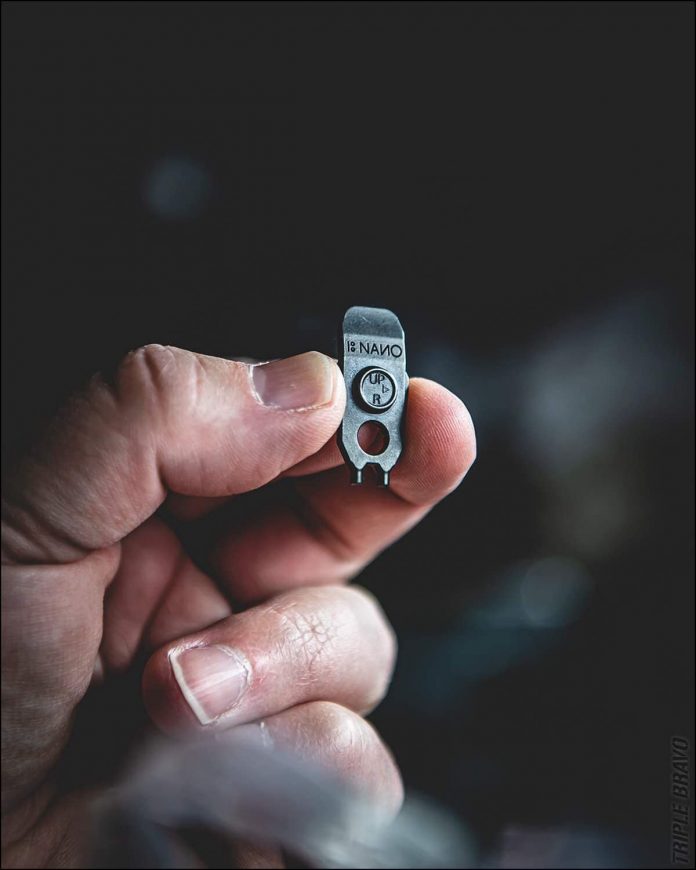 "The idea came to me drinking a can of Asahi in Kyoto." Says the Owner and Creator of the Multitasker Tools. Oftentimes useful products come from simple aspects of everyday life. The Multitasker NANO fits into your everyday life and makes what should be easy tasks actually easy, due to the right tool.
The Company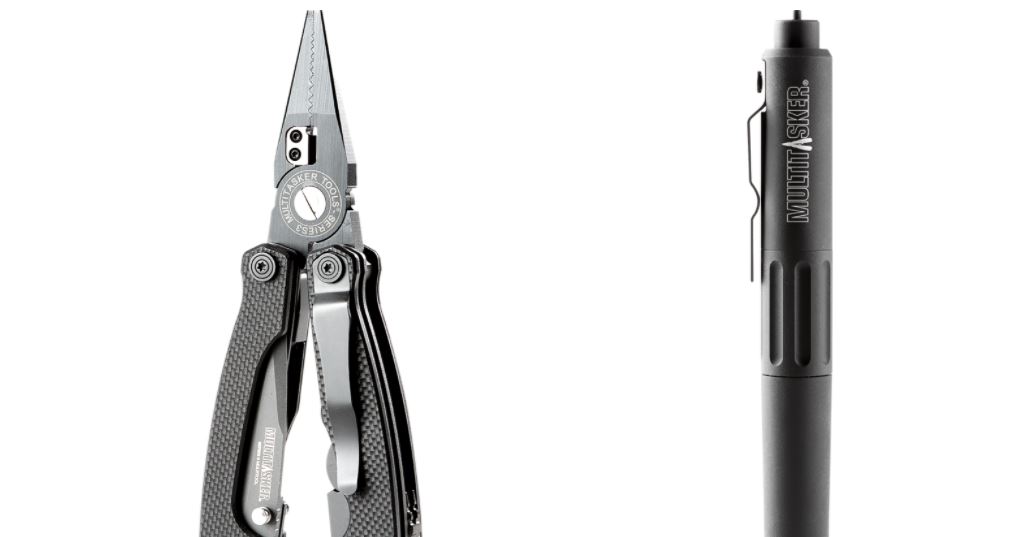 Multitasker Tools is a company that is known for using durable materials and genius design when creating their firearm tools. First making the Multitasker Series 3, a firearm multitool that uses Solid Billet Steel. Then creating the Multitasker Twist, "Packed into the size of a permanent marker you'll find an Aimpoint Micro sight adjustment tool, dental pick, 3/32′ pin punch, carbon scraper, pocket clip slotted screwdriver, front sight tool, Ten 1/4′ hex bits, and 8-32 thread adapter also compatible with pull-thru style cleaning kits."–Mutitaskertools.com.
Now, the Multitasker Tools NANO.
What is it?
The Multitasker Tools NANO is the all in one tool that you're going to want both for your range days and firearms work at home. Created to be held in the Magpul PMAG Gen3 MagPod, it is sleek and small in design. The NANO is an easy to grab tool to make adjustments on all issued carbine optics and aiming lasers.
Why do we need it?
When users are issued or buy an optic it often comes with its own adjustment tool. A small known fact about these adjustment tools, yes fact, is that the company simply does not put as much time into the adjustment tool as they do the optic. Many times the adjustment tools are flimsy due to being made out plastic and too bulky. Multitools that users have on hand often have ill fitting screw driver blades are just not meant for optic adjustments. They will do more harm then good. The NANO allows you to forget about each of those thrown in adjustment tools and carry your own single and practical tool that was made with a tool design focus. Use it with gloves or without, it makes life easy.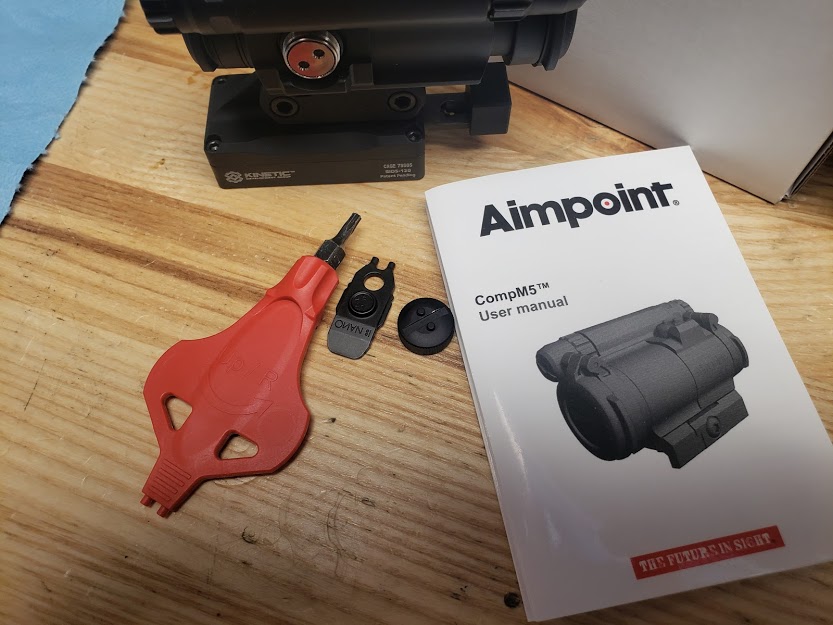 Uses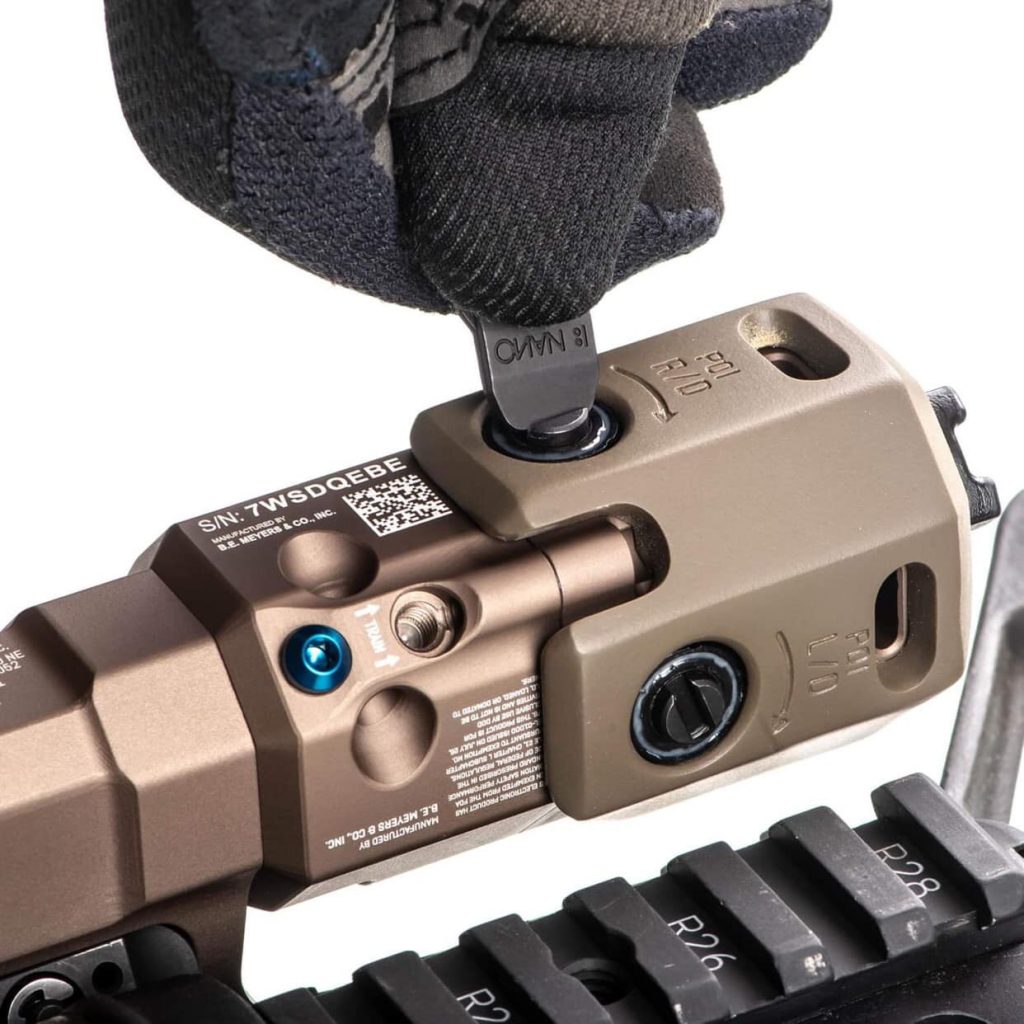 The Multitasker NANO adjusts all issued optics including the Aimpoint CCO, Micro T1/T2/CompM5, Eotech EXPS-3, the older Trijicon ACOG w/slotted turrets, as well aiming lasers like the BE Meyers MAWL and PEQ-15. Including being able to remove any caps on the equipment.
Carrying It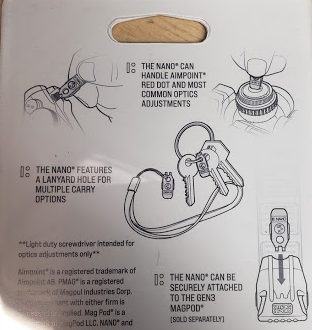 The small and easy to carry NANO is built to lock into the upcoming Gen3 MagPod. With testing and evaluation still going on with the MagPod users are using other methods to carry it too, the hole that is cut in the center of the NANO. Some are carrying it on a lanyard or keychain. Bill Blowers from Tap-Rack-Tactical is seen putting Velcro on the back of the NANO and a piece on the stock of his gun for safe keeping. Another company is currently working on making a M-LOK mounting plate for it to store on your rail.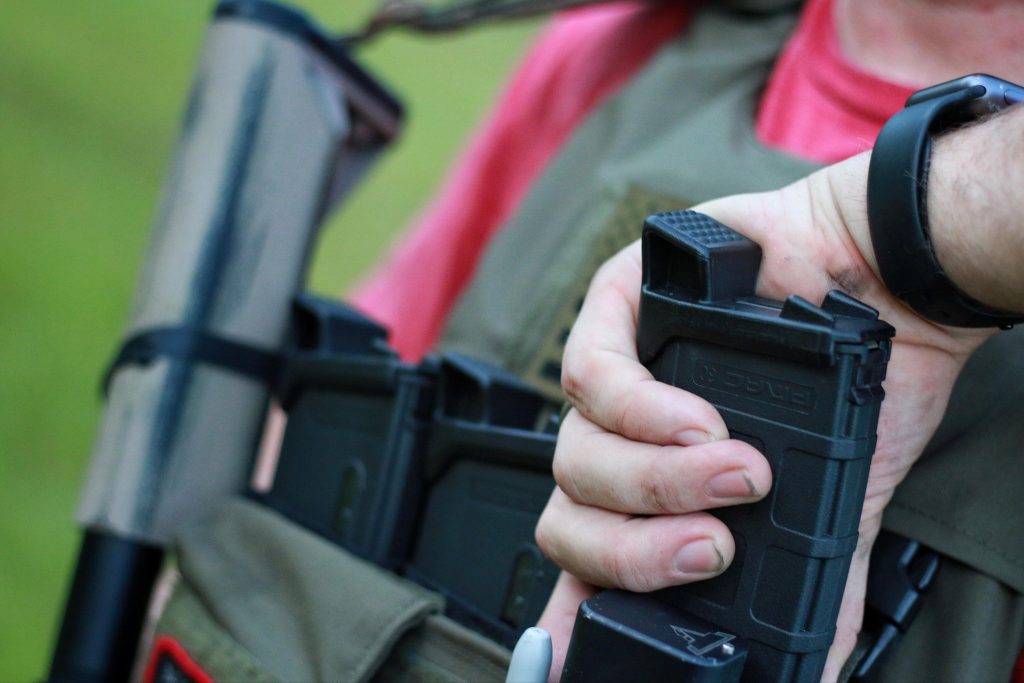 Specs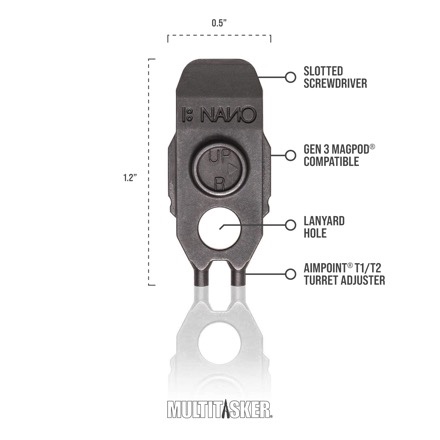 The Multitasker NANO was originally made out of nylon however testing proved that using nylon wouldn't allow the NANO to be strong enough. Nothing is worse than using a tool that bends and breaks as you're using it for what it is made for. The NANO is now made from 420 stainless steel with a Melonite finish. It is a small 1.2″ long and 0.5″ wide and weighs less than an ounce. The NANO features the Aimpoint T1/T2 turret adjusters, a slotted screwdriver, a lanyard hole, and the directional markings for the T1/T2/CompM5. The two wings on the sides will lock into the Gen3 MagPod slot. (Soon to be released)
To keep up with MagPod updates follow https://www.facebook.com/MagPod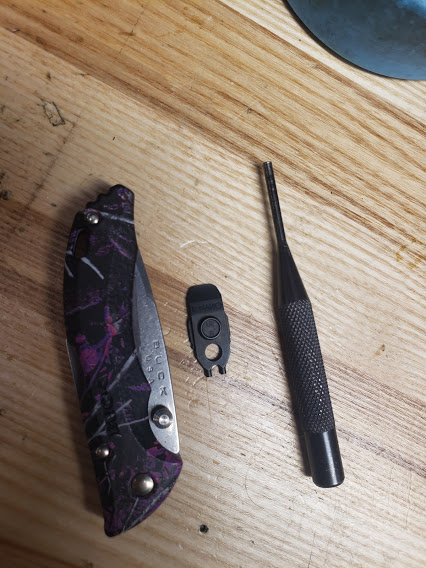 The Future
Multitasker Tools plans to make a second NANO that is meant for pistol Red Dot Sights. It will have a smaller screwdriver and a T10 Torx. For use on the Holosun, RMR, DeltaPointPro, and Aimpoint ACRO.
Dealers
and others..