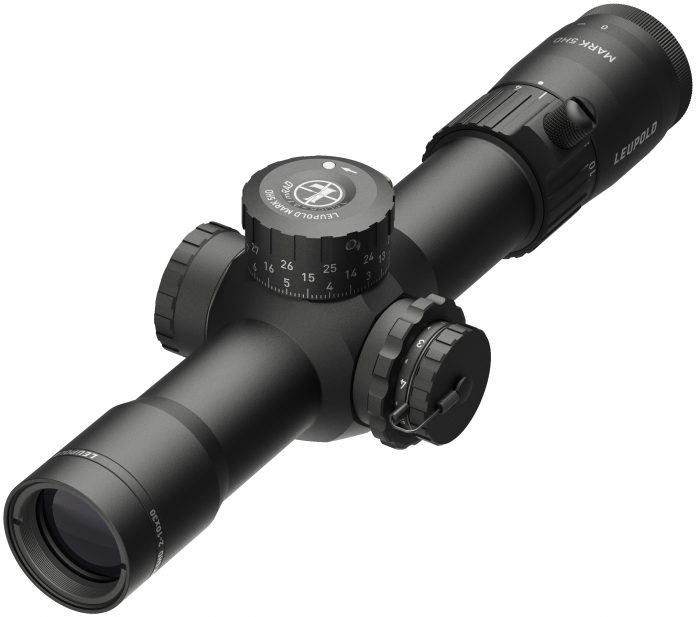 The Leupold Mark 4 MR/T 2.5-8x was the DMR optic of choice for the Mk12 MOD1s we were fielding. It was a peerless piece of glass at the time and allowed those 12's to reach 600 with ease. It blew our ACOGs away on clarity and distance.
But we're more than a decade passed the time when that optic was the cutting edge of the precision tactical melding that DMRs like the Mk12 were giving to troops. Optics have evolved but the role, that capability range is now able to be filled by an increasingly competent field of glass.
Leupold is back to stake their claim to the space they owned once again. the Mark 5HD line has multiple places in the precision distance world already, melding it into the precision tactical space where their Mark 4 line performed so well is a logical place to excel.
Here's the release.
BEAVERTON, Ore. — Leupold & Stevens, Inc., provider of the world's most rugged,
lightweight, and clear sport optics, is pleased to announce the introduction of the new Mark 5HD 2-10×30 riflescope.

The 2-10×30 further expands Leupold's award-winning Mark 5HD family. The Mark 5HD redefines accuracy, precision, and optical performance for shooters–and does so in a package that embodies rugged reliability. The 2-10×30 delivers on those same traits, but in a shorter, lighter scope that's ideal for carbines and designated marksman rifles.

"The 2-10×30 is still the same game-changing scope that shooters across the country have adopted," said John Snodgrass, Tactical Product Line Manager for Leupold & Stevens, Inc. "It has the unparalleled optical performance, it has the Three-Turn ZeroLock adjustments, and rare for a 2-10x, it has side focus. It's got it all. We're excited to announce that, going forward, the Mark 5HD's industry-leading feature set will be compatible with even more rifle builds and platforms."

The Mark 5HD redefines accuracy, precision, and optical performance for long-range shooters. Get behind one and you'll see the difference, from its superior edge-to-edge clarity to its extreme low-light performance. With three revolutions of elevation adjustment, the Mark 5HD was made to max out the performance of the latest long-range rifles and ammunition. It features Leupold's Professional-Grade Optical System, which offers unmatched light transmission that's designed to outperform in the most challenging lighting conditions, industry-leading glare reduction for a clear image in harsh, direct light, and the resolution and clarity that professional guides and shooters
demand in the field.

The Mark 5HD 2-10sx30 itself is 11 inches long and weighs 24 ounces. Three models will be available at launch, all in FFP: One with a TMR reticle and milliradian adjustments, one with an Illuminated TMR reticle and milliradian adjustments, and one with a PR1-MOA reticle and MOA adjustments.

The Mark 5HD is designed, machined, and assembled in the USA, and is covered by Leupold's Full Lifetime Guarantee.
For more information on Leupold products, please visit us at Leupold.com. Join the discussion on Facebook at Facebook.com/LeupoldOptics, on Twitter at Twitter.com/LeupoldOptics, or on Instagram at Instagram.com/LeupoldOptics.
Founded in Oregon more than a century ago, Leupold & Stevens, Inc. is a fifth-generation, family-owned company that designs, machines, and assembles its riflescopes, mounting systems, tactical/Gold Ring spotting scopes, and performance eyewear in the USA. The product lines include rifle, handgun, and spotting scopes; binoculars; rangefinders; mounting systems; and optical tools, accessories, and pro gear.
Leupold & Stevens, Inc., P.O. Box 688, Beaverton, OR 97075-0688, U.S.A.
Phone: (800) LEUPOLD or (503) 526-1400 • Fax: (503) 352-7621 • www.leupold.com