I never let an opportunity go to waste. While I sat in the eye of Hurricane Idalia, I saw plenty of opportunities to test gear. I tested boots, chest rigs, flashlights, and one of the handiest tools I had, the Montana Knife Company Hellgate Hatchet. The Hellgate Hatchet was released only recently, and the hurricane gave me plenty of opportunities to give it a trial by fire.
MKC, or Montana Knife Company, is a small American-owned business that is owned and operated by one of the most talented bladesmiths in the industry. This small company has developed a dedicated following due to its useful designs and extremely well-made blades. The Hellgate is their first Hatchet, and oh boy, did it become an instant success. I'm pretty sure it's still sold out at the time of this writing.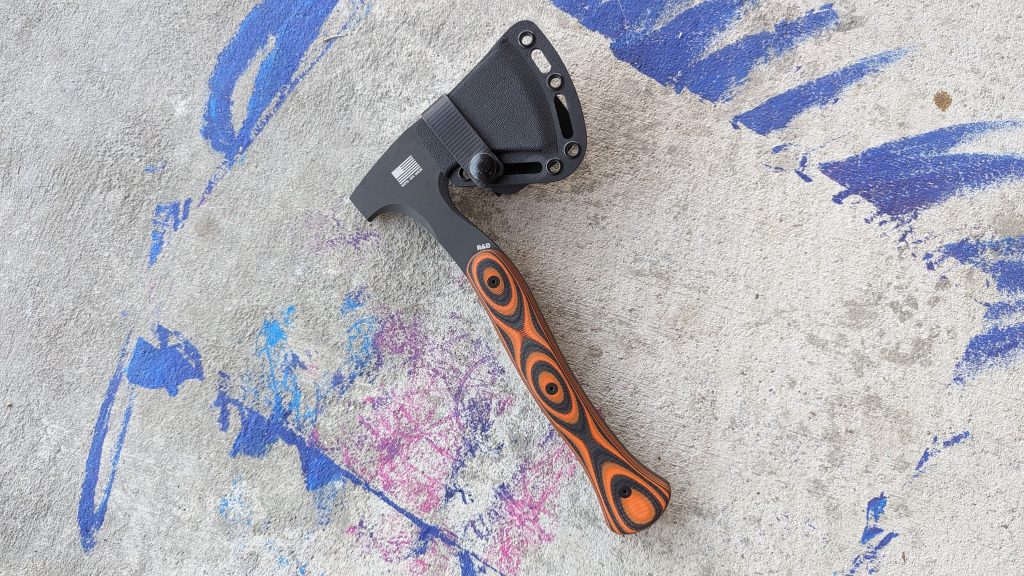 The Hellgate is designed to be compact and easily carried but also made for heavy-duty use. It's supposed to punch above it's weight. That weight is only 14.9 ounces. It's a little longer than 10 inches overall. The Hatchet is made from 52100 ball-bearing steel, which, according to knife nerds, is a very rugged steel. It doesn't chip or break easily, and it can get quite sharp.
The blade is capped with a modern polymer sheath complete with a modular option for carrying it in all different manners. The handles are G10 scales and come in a variety of shapes and sizes.
Raising Hell With the Hellgate
My home survived the hurricane without issue. I was very lucky to only have the power go out. I'm not complaining, but I did have a few dozen trees down and hundreds of limbs across my yard of all sizes. When it came time to clean up, chainsaws and tractors were used. However, I did use several of the downed trees as cutting fodder for the Hellgate.
When you're given the perfect opportunity to test a chopping tool, you get at it. The first thing you realize about the Hellgate is how lightweight it is. It feels more like a hammer than a hatchet. In fact, the grip and angle are more hammer-like than Hatchet. It swings easily with a single hand.
That's great for when the other hand needs to get things done. The blade takes not only bites out of the wood but also chomps. Big swings took big bites. Since the Hellgate is so light and balanced, I could take quick swings without getting tired and cut through the limbs quickly. It was crazy how fast I could swing and cut through some decently thick branches. I made several that were too heavy to move into more manageable pieces.
My hand got tired well before the rest of me. It really was more of an issue with grip strength than the Hatchet. Chopping big things with a little hatchet isn't easy, regardless of how nice the Hatchet is. My forearm became numb, but my hands never hurt or blistered when using the Hatchet. My grip also never slipped, even though it's Florida and in the summer.
Packing a Piece of Steel
This is a nontypical use for a hatchet. You'd typically want a heavier tool for this kind of work. However, it worked fairly well for its small size. Given the choice, I'd take the power tool or full-sized axe, but it proved what the Hellgate could do.
I have used the Hatchet to trick broken limbs, split wood for the pile, and perform similar tasks, and it performed perfectly. That's the work something like this is more accustomed to. It's bow season, so hitting the field and trimming spots for a tree stand has been on the list. The Hellgate's lightweight design and easy-swinging nature made it easy for me to hold onto the tree and swing it above my head and effectively clear a good spot to sit in my stand.
The Hellgate Hatchet was super easy to tote while walking. I hooked it up to my Skyweight chest rig, which is basically a fanny pack for your chest. The lightweight design and actively secured buckle kept it in place and gave me a hatchet that was easy to access without being stuck to my waist.
The Hatchet
Like many young men, I read the book Hatchet and longed for my own adventure and sharp mini ax. I have the Hatchet. Now, I need to find the adventure. The Hellgate is plenty suited for any variety of adventures. Primitive and standard camping, fishing, hunting, and even yard work. It's light, well-made, and scary sharp. It's a premium-grade tool, and if you want one, I'd sign up for in-stock notifications from MKC.