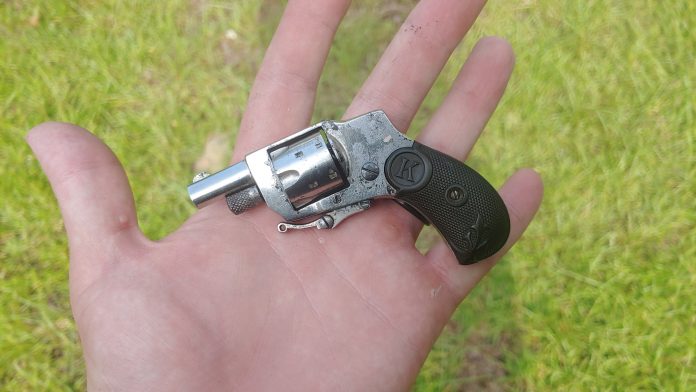 Who doesn't love tiny guns? I've always had a thing for the little NAA .22 revolvers. Say what you will about their effectiveness, but they are well made. I also have an interest in the early days of small carry guns. Vest and pocket pistols are fascinating to me. When I ran across a Kolb Small Frame First Model at a local gun show at a low price, I jumped on it. It's a great mix of all the things I love. 
The History of Kolb 
The Kold Small Frame First Model is an early concealed carry weapon that weapons like the NAA were certainly inspired by. These guns date back to the first few decades of 1900, and they have a rather complicated history. It starts with a gun company called Foehl & Weeks. They made small, inexpensive revolvers and had the first patents that would lead to the Kolb. After a few years in business, they went bankrupt.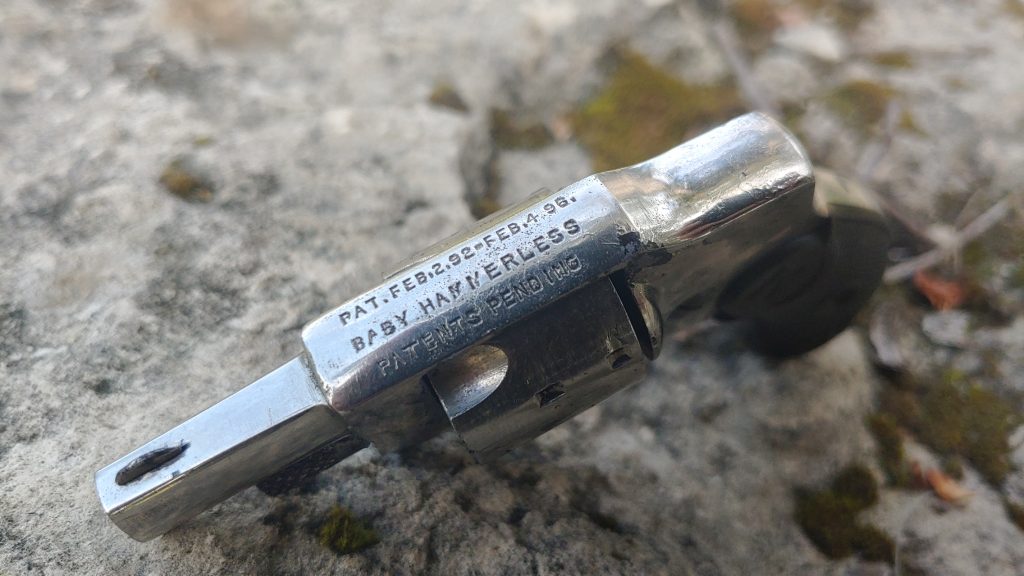 In a rather shady business move, the bankruptcy referee for Foehl & Weeks purchased the company and retitled it Columbia, and began producing firearms. They produced the same guns Foehl & Weeks produced and may have produced the first few super small 22 revolvers. Although this is unconfirmed and Columbia went out of business in 1898.
Henry Kolb came around in 1910 and began producing guns. He never occupied the same facility as Columbia, and there is no information he purchased their equipment or machinery. However, he began producing the Kolb Small Frame First Model, which was identical to the early versions of the gun that lacked a manufacturer's mark. Foehl from Foelh and Weeks worked with Kolb, and the two took out patents on several of the mini-revolvers features.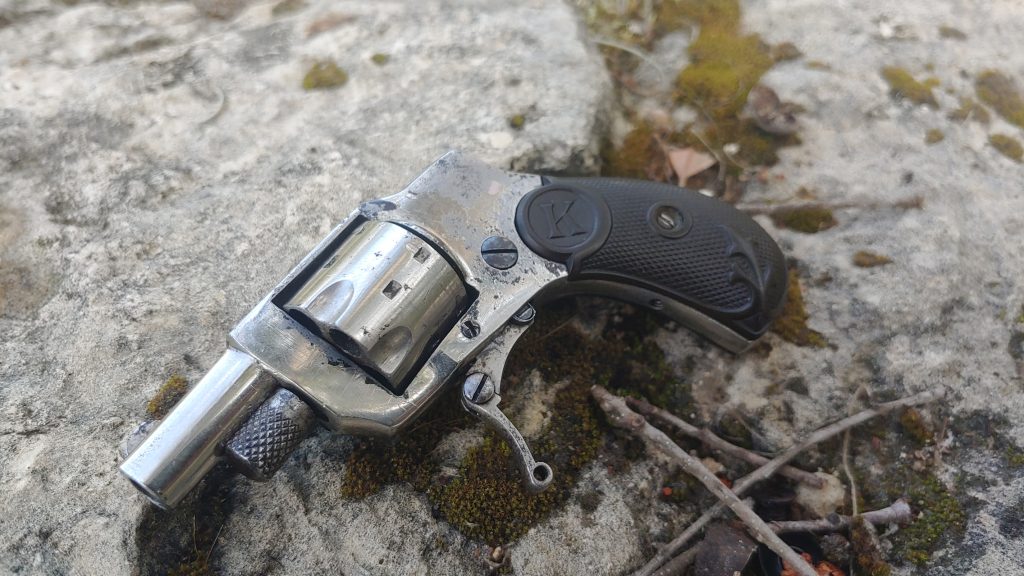 Kolb made the majority of these mini-revolvers. The smallest is my example, the Small Frame First Model. They also produced a Large Frame, but take Large with a grain of salt. It's Large compared to the small, but it was still a pocket pistol. 
The Little Kolb That Could 
The Kolb Small Frame revolver was an interesting little firearm. The Baby Hammerless lacked a hammer and, like most hammer-free revolvers, had a pronounced humpback at the rear of the gun. These were double-action-only guns. The cylinders held six rounds of .22 Short and were tiny little guns. 
A small loading gate allowed you to load the gun a round at a time, but the process to do so doesn't reflect modern, safe gun handling procedures. To unlock the cylinder, you have to place a little bit of pressure on the trigger. This unlocks the cylinder and allows you to rotate and load the cylinder.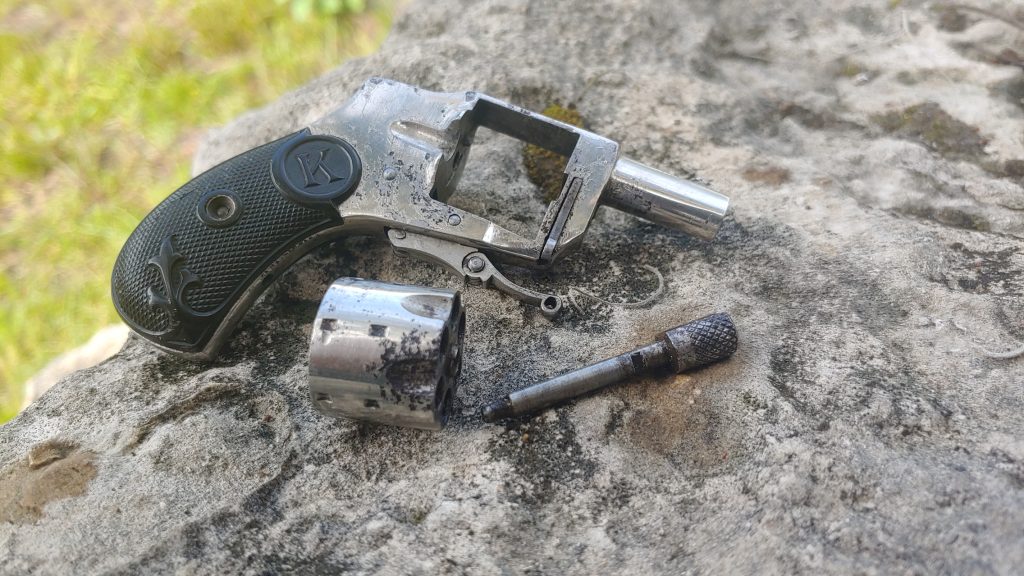 To unload (and safely load) the gun, you can just remove the cylinder. In front of the cylinder and on the frame sits a small release. Hit the release, and you can remove a pin. With that pin removed, the cylinder just pops out. The pin can also be used to punch out the spent rounds. 
The trigger is rather interesting. It folds forward and out of the way, much like the old Velo Dog guns. The folding trigger and lack of a trigger guard make the weapon incredibly compact. It can squeeze into the coin pocket of my jeans. 
The Kolb is 4.125 inches long, .8 inches thick, and 3 inches tall. It's super small, and I could easily see it drop into a vest pocket. Across the front is a very optimistic front sight, but hey, it's something to adorn the 1-inch barrel. 
The .22 Short Conundrum 
The gun was made for self-defense. It could disappear, be unseen, but heard when necessary. With that said, how much oomph does .22 Short offer? Well, not a whole lot. It most certainly lacks serious penetration and won't reach established standards. The little 29-grain round moves at less than 1,000 fps from a decent barrel. I imagine it's just chugging along from the 1-inch Kolb barrel.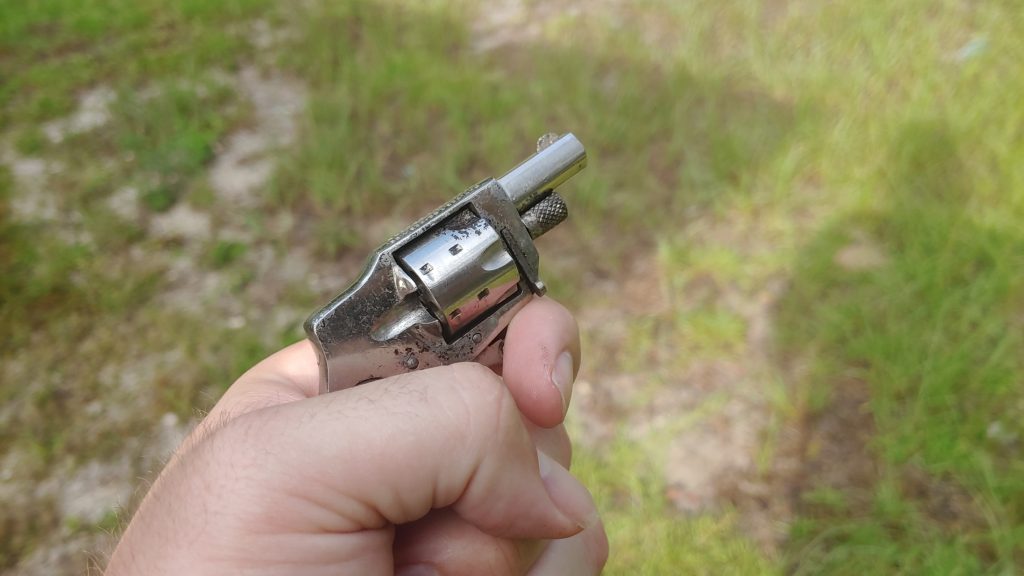 It certainly stings and could still be lethal. Even so, I wouldn't trust the cartridge for anything more than squirrels. Even the .22LR runs laps around this cartridge. Although I probably wouldn't want to shoot anything larger than 22 Short through the Kolb. 
The cylinder gap sits right above your finger, and the Shorts produce such a little bang that it doesn't singe your finger. It doesn't get your trigger finger nice and dirty. 
To The Range 
This over-a-century-old gun isn't a spring chicken, so I only fired 24 rounds through it. Impressively the gun fired every round without issue. They all went bang. It's not quiet, but it's got a cute burp to it. The little gun moves a slight bit, but there isn't real recoil. 
The trigger pull is a very long and heavy one. At ten pounds, it's no Ruger LCR. It's not exactly a great trigger, either. There is probably a ¼ inch of takeup before we get to the ultra-stiff double action.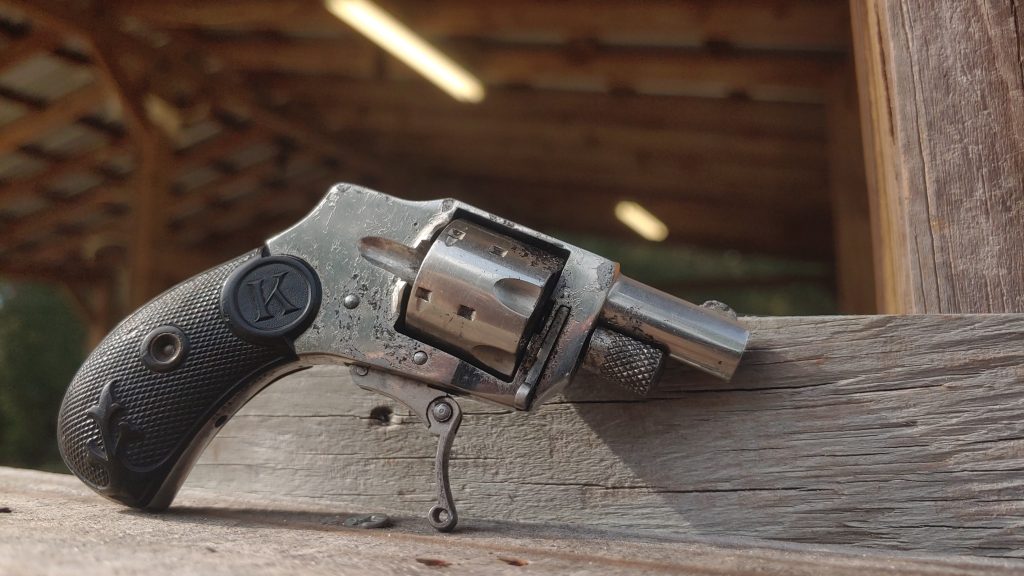 Accuracy…well, if the bad guy was right in front of me and I jabbed it into his belly, I'd likely hit him. I exaggerate, but it's not an exceptionally accurate gun. It doesn't group…it patterns. Still, it's a fun little gun. 
I probably won't shoot it much, but it's a great conversation starter. The little gun is seriously cute and an interesting part of concealed carry history. Is it a great choice today? Oh no, but it's an interesting curiosity.