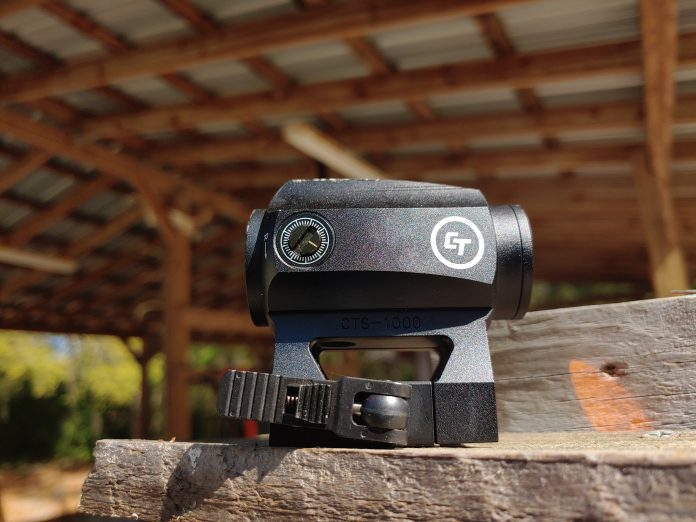 Red dot technology has almost reached its peak. These days a budget quality red dot kicks the tar out of a similarly priced optic ten years ago. It's quite impressive what you can get for a little over 100 bucks. You can get a competent and reliable red dot that could easily be a home defense-worthy option. The CTS-1000 from Crimson Trace aims to be just that. 
Crimson Trace is that laser company we all know and love. Red dots on targets are their business, but this is a very different type of red dot. Crimson Trace is very well known for its innovative visible laser sighting systems like the laser grips and Railmaster sights. A departure into red dot sights isn't too dramatic, but they remain unproven. Today I hope to either make or break the CTS-1000.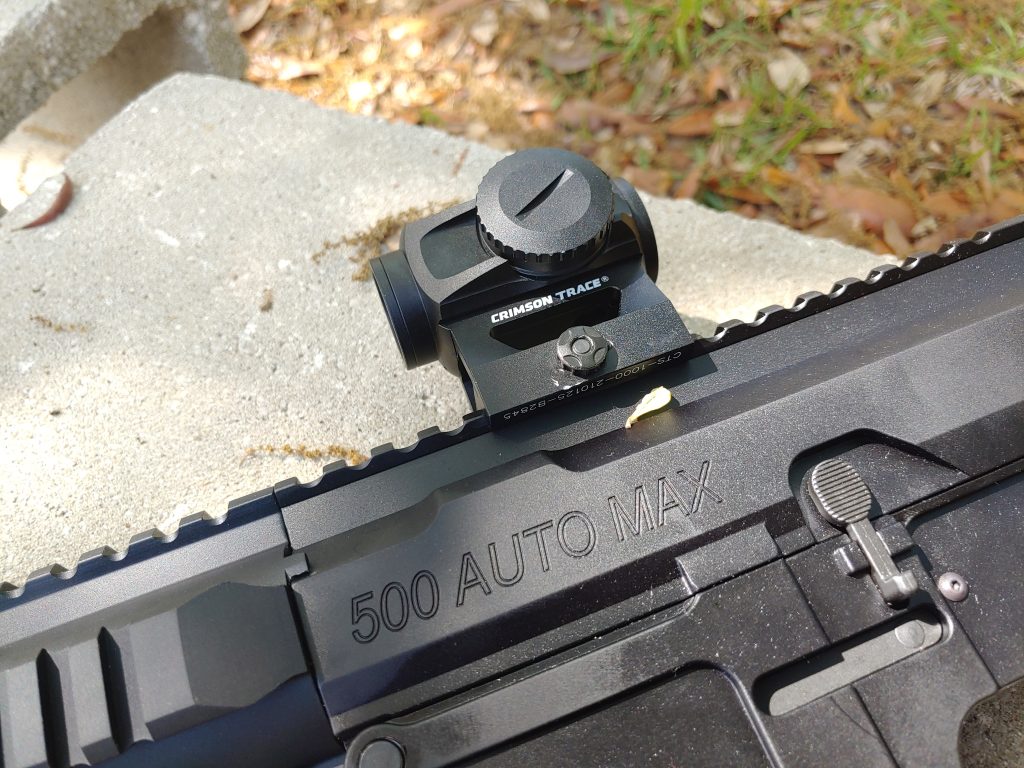 Our goal is to take this simple red dot sight and see if it's up to the rigors of general use. The CTS-1000 is a fairly compact red dot sight that's AR height and equipped with a QD mounting system. The CTS-1000 is a tubular optic with a 2 MOA reticle that rocks a 20K hour battery life. Like every other Crimson Trace product, you even get free batteries for life. Fairly simple, but we will find out if simple holds up. 
Crimson Trace claims its IPX7 waterproof, shock, and fog-resistant. I'm going to test those claims. 
The Big Gun and the CTS-1000 
Recoil is the base level of force resistance required for an optic to work. If it can't shake off recoil, it can't shake off anything. So, let's start there.
What is the worst recoiling weapon I have? I have a few shotguns that hit hard and hurt in the recoil department. However, I have a weapon I'm reviewing at the moment that fits the bill. It's the Big Horn Armory AT500 500 Auto Max AR pistol. 
The 500 Auto Max is a rimless 500 Smith and Wesson cartridge. It's a hard-hitting, semi-auto, shoulder beating weapon designed to tenderize your shoulder and destroy whatever is in front of you. I tossed the CTS-1000 on and hit the ground running. I carefully zeroed the weapon shooting the $4 dollar per shot cartridges carefully. Measurements were made and then adjustments dialed in.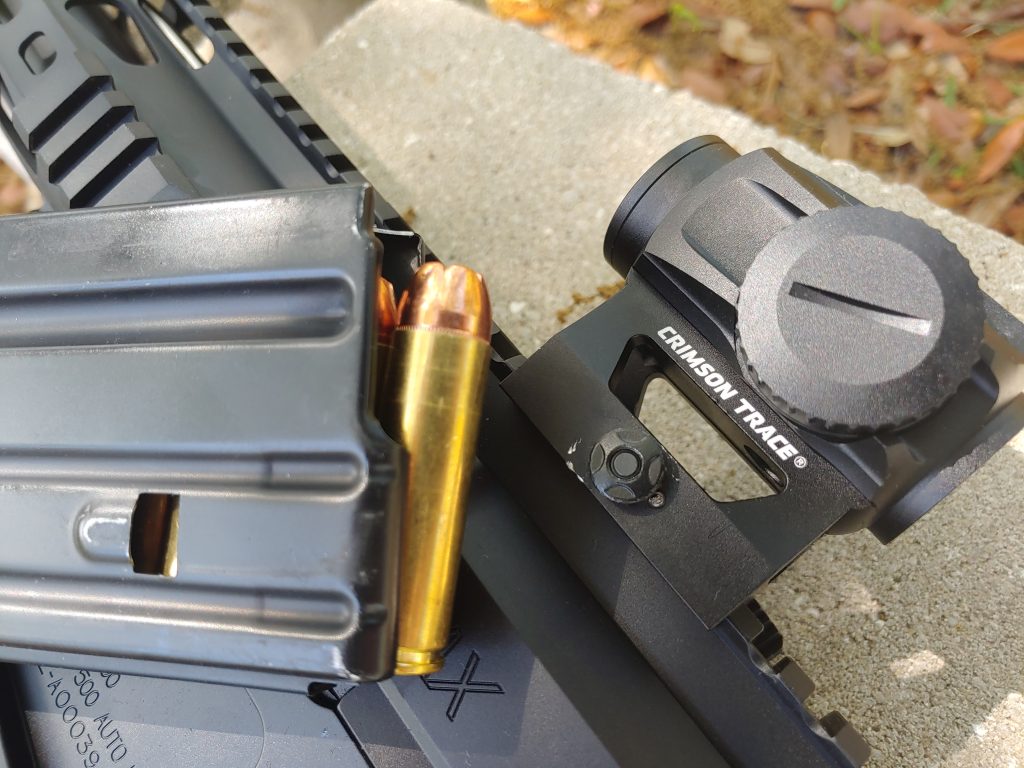 The CTS-1000 has 1 MOA adjustment per click, and they seem damn accurate. I zeroed it at 50 yards, did the MOA math, and clicked them into place. I zeroed quickly with just measurements and clicks without issue. 
After 75 rounds of 500 Auto Max, the CTS-1000 held zero. The dot stayed put, and the zero didn't shift. It held tight and hit hard, punching half-inch holes in B8s. So it can take recoil, but that's only one part of shock testing. 
Toss It, Drop It, Hit It 
I notated where the optic sat on the AR500 and popped it off. I'm not dropping my expensive, overpowered pistol on the ground. Instead, we tossed the optic onto a polymer dummy rifle. This added some weight to the fall and made it more realistic for these drop tests. 
With the optic mounted, I dropped it on the hard-packed ground, limestone to be specific. It's a medium format for drop testing. The CTS-1000 took a fall at multiple angles. I made sure it fell on both sides and the top of the optic. I repeated the drops and then dropped the gun barrel and stock first for a little momentum test.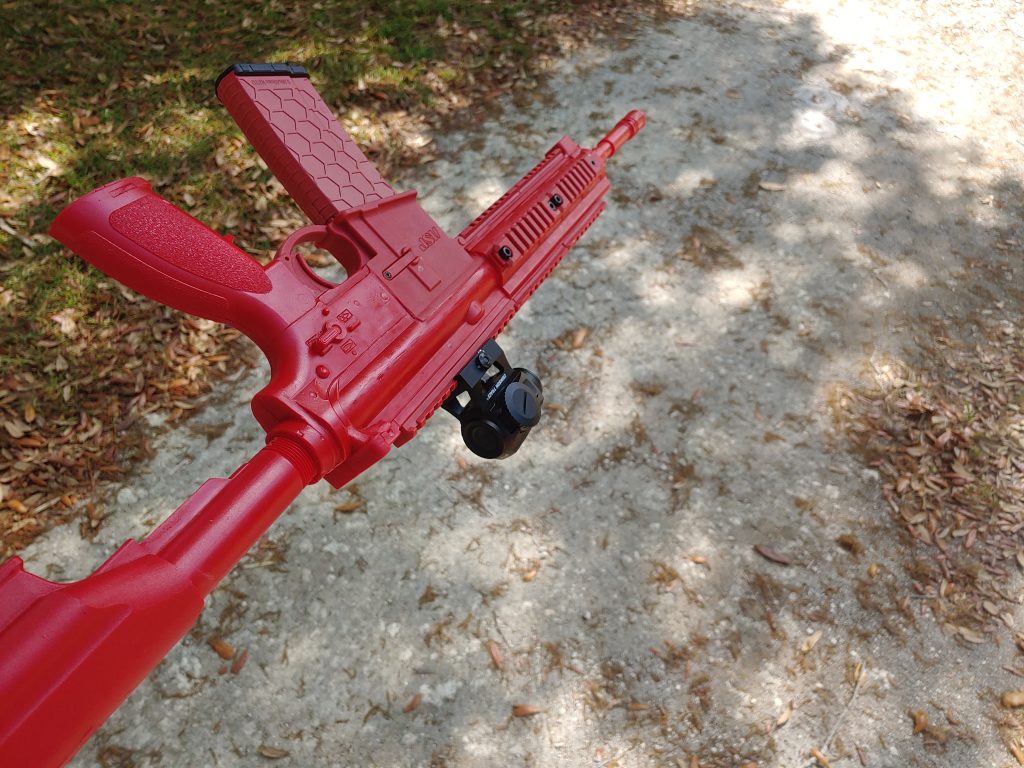 Each side got its comeuppance, and the optic took some abuse. Limestone found its way into the parts and pieces of the optic, but no damage was done. The little red dot remained on. I dismounted and remounted the optic to the AR500 and fired another ten rounds. The optic held zero, and there wasn't a noticeable shift. 
Soak It In Water 
Since I got it all dirty, I figured I might as well clean it up and test that IPX7 claim. IPX7 means it should be capable of withstanding immersion into water, up to a meter, for 30 minutes. A deep sink sits in my utility room. It's not quite a meter deep, but it's deep enough.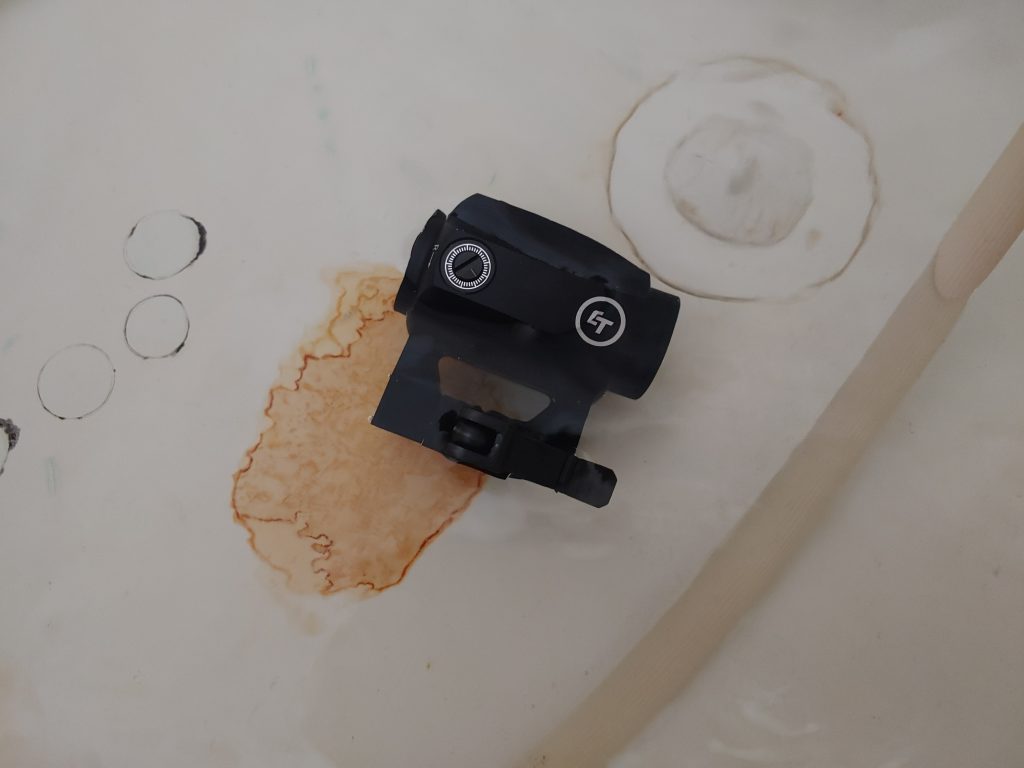 I dropped the optic in, filled it up, and went to watch TV for the next half an hour. Technically I was testing the optic, so I wasn't just wasting time. Let's set a timer, eat some pizza rolls, and wait patiently. At the loud beep, I went elbow deep and retrieved the new, freshly cleaned optic.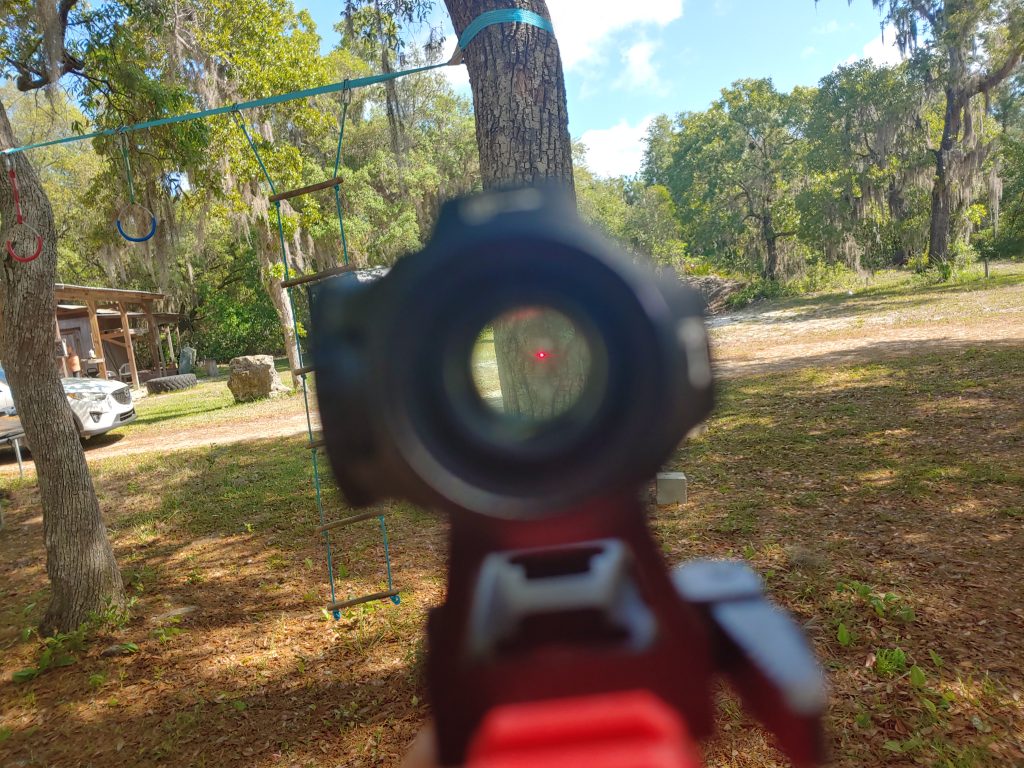 A peek through it revealed the dot remained on. I remounted the optic to the gun and fired my remaining 15 rounds. The zero remained, and the optic stood up to the water without complaint. 
The CTS-1000 and You 
The CTS-1000 is surprisingly robust. I was pleasantly surprised by the fact it held up to recoil, drops, and water without complaint or a shift in zero. I wouldn't say it's ready for the next Fallujah, but for home defense, hunting, and competition, the CTS-1000 seems worthy of taking the beating required by serious use.