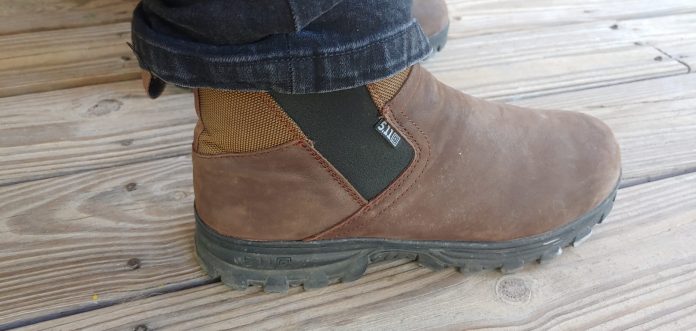 When I say 5.11 Tactical, most people probably think about their overt tactical clothing. High-quality cargo pants, uniform items, and assorted gear. You might be surprised to know they dived into the realm of more covert clothing in the last five years or so. With the success of the Defender jeans, it made sense to provide the same high-quality gear to the everyday person, not just the range and training junkies.
Footwear, in particular, can be tricky. When you want something that looks nice but still performs, it's a tough compromise. Recently I picked up the Company 3.0 boot from 5.11 Tactical and found it to combine elements of both. 
Following our previous theme, when I say 5.11 Tactical boot, you are likely assuming a military or police-style boot that's far from covert. Well, you'd be wrong. The Company 3.0 boot looks like a dress boot. A subtle, laceless, medium height boot that fits more with a suit and tie than a pair of tactical pants. While it looks like a dress boot, it performs like a tactical boot.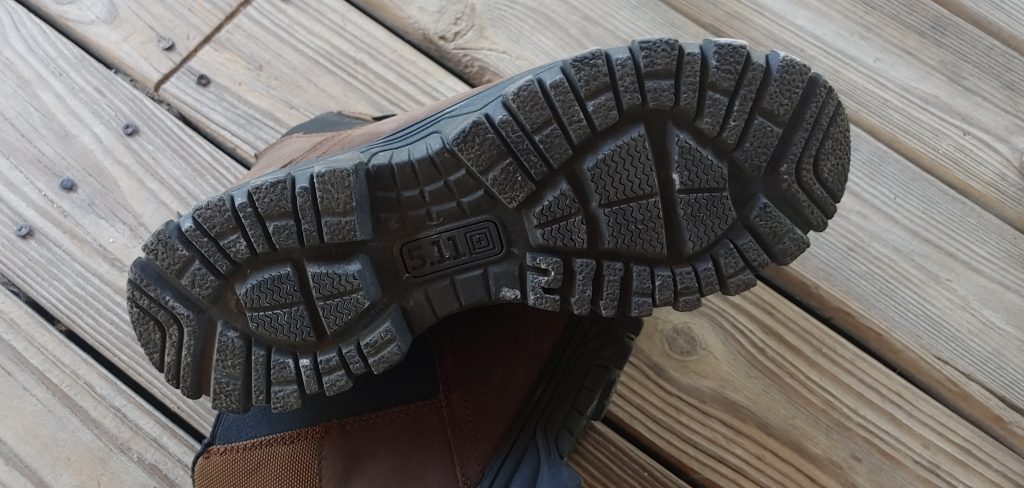 Below the brown (or black) leather sits a heavy-duty rubber sole that packs the traction you'd get from a hiking boot. To me, that's magic. I like shoes that look nice, but I can't stand when nice shoes are basically useless. A fancy dress shoe is like a prized chihuahua. It might look cute, but it's useless. I like boots that can work, climb, run, and beyond. The Company 3.0 boot provides me everything I need from a high-quality boot. 
The Company 3.0 Boots and Wedding Bells
How did I come across these boots? Well, I was marrying the most beautiful woman in the world, and we were finding clothes for me. I did not like the idea of spending a hundred bucks on shoes I'll wear once that are basically useless. I searched high and low and found the Company 3.0 boots out of a stroke of luck. They were the color I needed, and they had a formal appearance that blended in well with the semi-formal affair that was my wedding.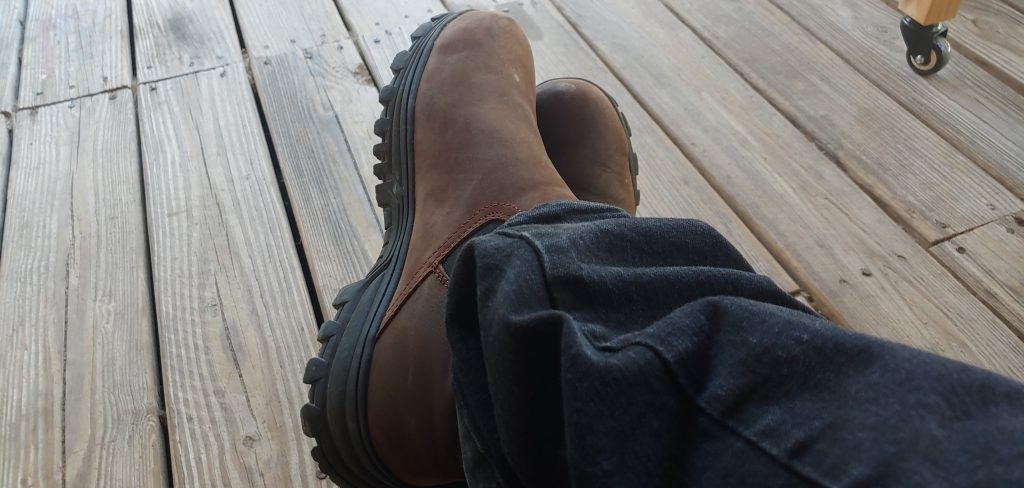 I was sold, and so was she, so here we are. My wedding was in the beautiful city of Savannah, and most of our long weekend was spent exploring the historic city. I'm not bringing a dozen different pairs of shoes with me, plus I knew this was the perfect opportunity to test and review the boots.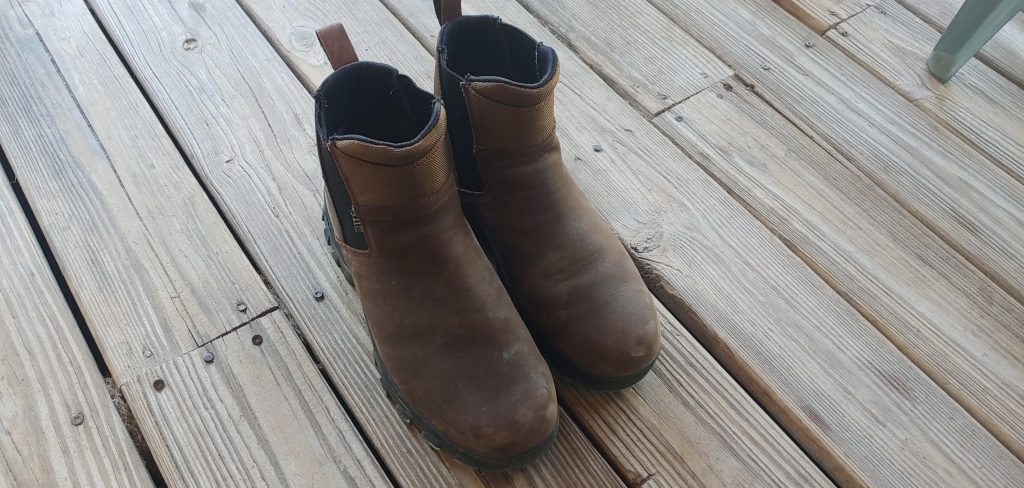 I dived into our weekend feet first. Day 1 saw over 20,000 steps as we walked the afternoon and night away. Day 2 brought down 17,000 steps, day 3 was only 12,000, and day 4 was actually a light day of mostly driving, and I only crossed the 10,000 step goal because I tried too. After all that walking and standing for the wedding, I think I have a solid grip on how the Company 3.0 boots perform. 
Fit and Size 
Fit was perfect for my size 12 feet. My feet are slightly wide but not wide enough for an E size. I found the fit to be true and to be comfortable. Previously I had issues with 5.11 shoes being rather tight. It took me quite some time to get the Norris shoes to fit, but the Company 3.0 and Atlas boots were a perfect fit.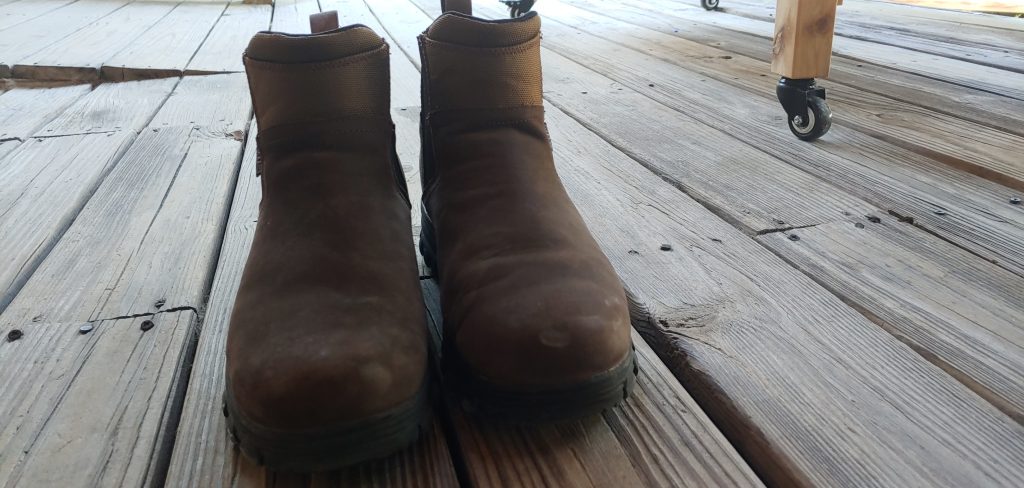 The break-in period was quite present, and my feet felt punished after day 1. Twenty thousand steps translated to about ten miles total. My feet were screaming after day 1, but ten miles seemed to fast forward the breaking in process. The next few days flew by without issue. Some residual cramping from day one resided, but it got better instead of worse.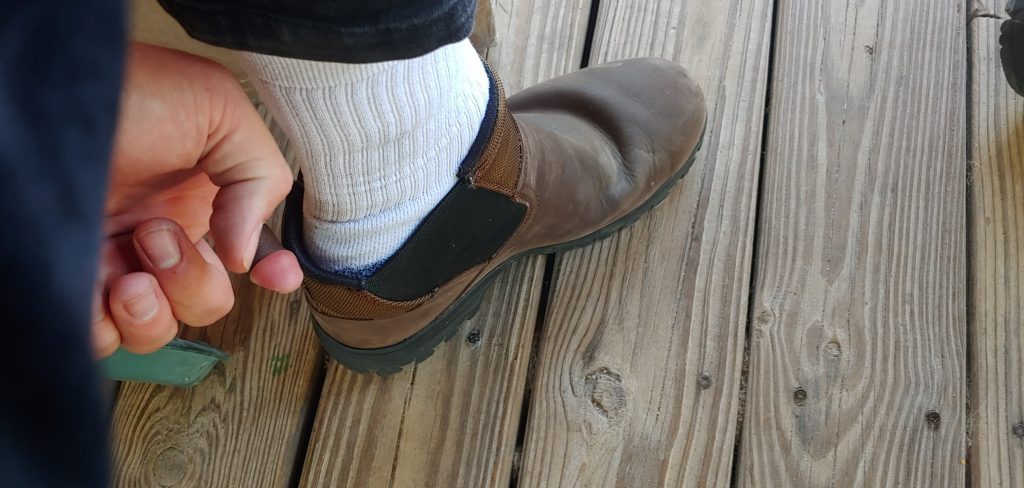 Inside the Company 3.0 boot is a very comfortable sole. Nothing painful inside, and the foam cushioning provides a brilliant degree of fit and comfort. Your feet are well cushioned and cared for like pre-revolution French nobles. 
While my feet cramped, they never blistered. That's a feat upon itself. Most break-in periods require some form of blister. Good quality boots and socks helped prevent it, I'm sure. At first, the boots were tough to get on with their laceless, elastic sleeve design.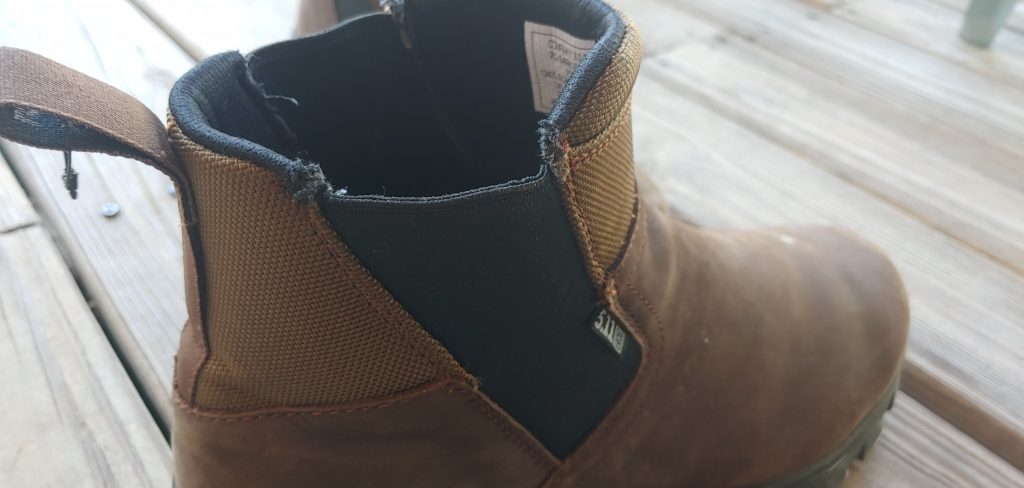 Over time this tight port loosened up and made it easy to don and remove the boots. As of today, I can jump right into these Company 3.0 boots without issue. I don't even have to bend over to pull them on. 
Durability? 
Oh, man, I bought these because they looked somewhat fancy. They are formal in appearance, and I worried a little about scuffing them, but my issues were quickly abated. I got some smudges, but they wiped right away with a wet rag. It took no effort to spin back up into wedding shape.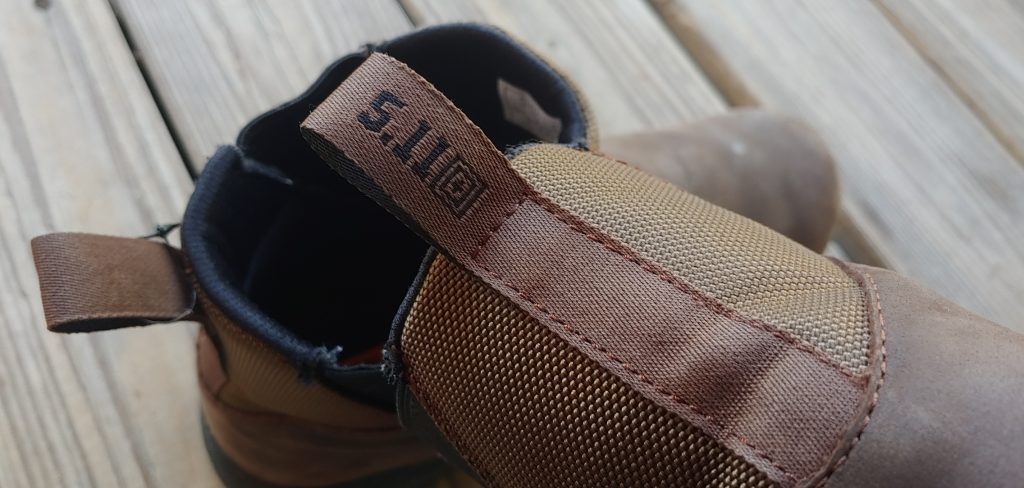 The Company 3.0 boots held together over nearly 50 miles of wear in their first week. They had zero issues in the durability department inside or out. The soles inside hold together well, as did the external sole. 
Speaking of, the thick rubber sole dug into the slick old streets of Savannah. Spring brings pollen, and rain makes pollen slick. You can moonwalk without issue in the slick and slimy southern pollen. It's easy to fall but tough to do so with the Company 3.0 boots.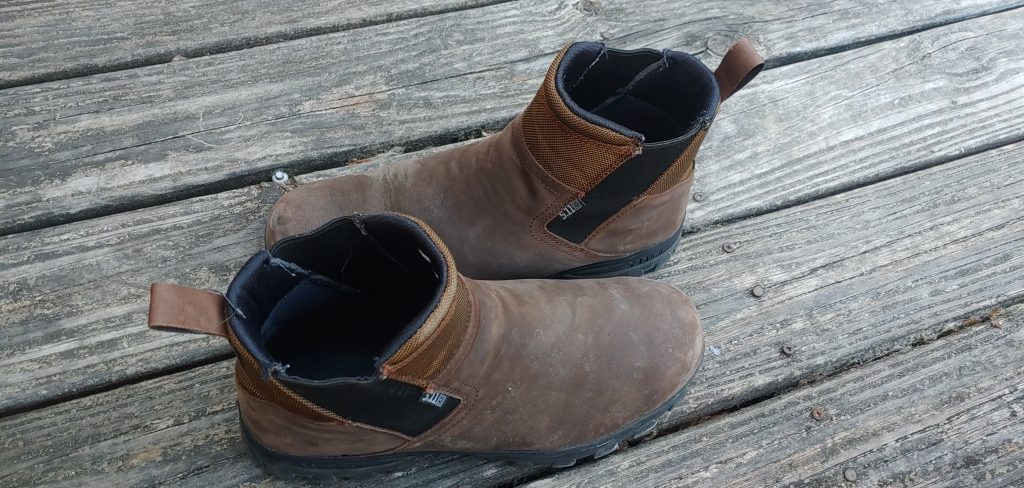 Those aggressive soles dug into the cement, concrete, and mud and delivered me from evil, at at least a bruised ass. The Company 3.0 boots provide the same tactical performance you get from the more obvious tactical boots. 
Company 3.0 Boots – Inside and Out
Even post-wedding, I find myself jumping into the Company 3.0 boots. They are super comfy, take zero time to don, and provide me with a tactical performance with a classic formal appearance. If you need low-profile gear that performs like tactical gear, give 5.11 Tactical a look. The Company 3.0 boots are one piece of gear in a massive catalog for low-profile, high-performance clothing.