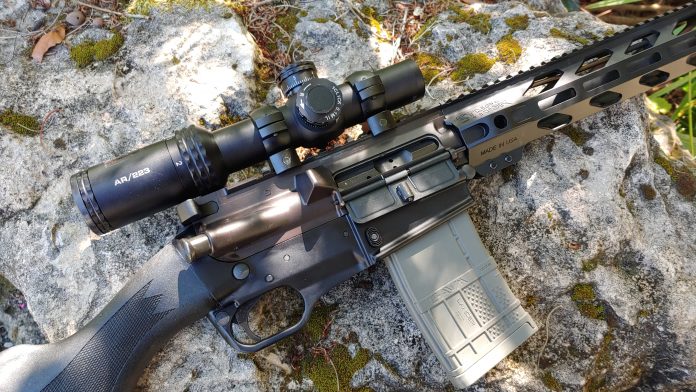 The LPVO world is massive and chock full of impressive optics at every price point. Well, at seemingly every price point. The Bushnell AR optics LPVO 1-4X is likely the cheapest Low Power Variable Optic made under a well-known brand. It retails for under 150 bucks at most retailers. I paid free.99 from a fried and was given this particular model because it's a slightly beat-up demo. I don't want to say I got what I paid for, but I'm not sure of the best way to describe it otherwise.
Let's dive into it, and you'll see.
Breaking the Bushnell AR Optics Down
What's important to remember is that there are three Bushnell AR Optics LPVOs in the 1-4 range, and they are all quite different. The BTR-1 and BTR-300 are both FFP scopes and are of considerably higher quality. Mine is the Drop-Zone 223, and it's the lowest tier of the Bushnell optics.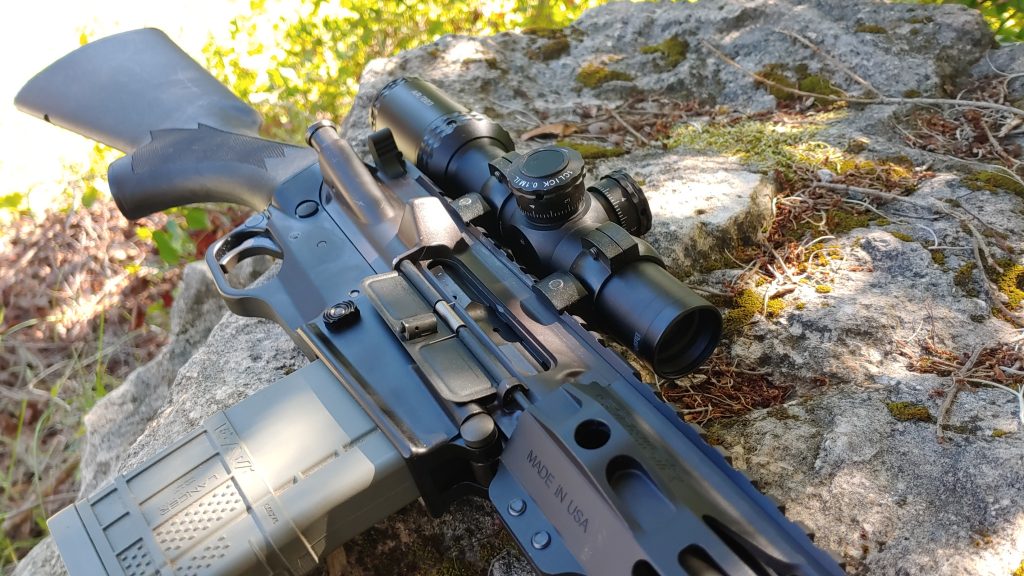 The Drop-Zone 223 is quite compact, but for some reason, it finds a way to weigh more than my Athlon Argos 1-8X optic, which leaves me confused. The optic is relatively short 9.4 inches and uses a 30mm tube and 24mm objective lens. The Drop Zone reticle has a built-in BDC with drop dots out to 600 yards. This is an optimistic range, but it's here for you.
The point of LPVOs is to be versatile, and they almost universally sport illuminated reticles that make them useful for rapid, both eyes open shooting at close ranges. They can act as a red dot at close range. The AR Optics Drop Zone 223 has no such illuminated reticle. It's just a crosshair with four drop dots. That kills a lot of the versatility that LPVOs offer.
One feature I do enjoy is the exposed tactical turrets. This does making zeroing your weapon convenient. Although I'm not sure how often I'll be making field adjustments with a 1-4X optic. However, it's still a nice touch if you want rapid adjustment. The magnification ring is highly textured and easy to grip, and the ring itself does glide enjoyably.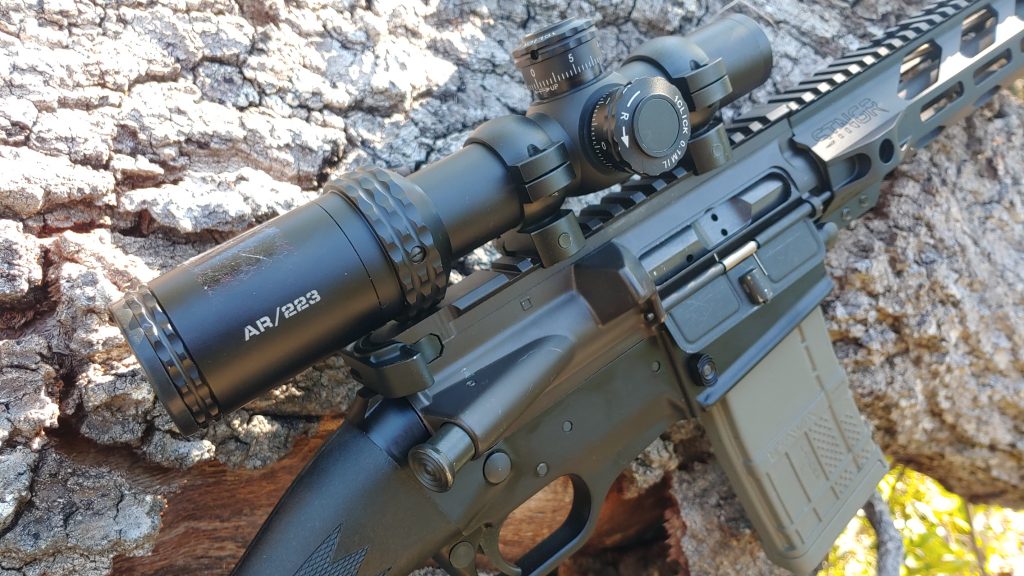 The 3.5-inch eye relief is very forgiving and very comfortable, and I do appreciate that.
Bushnell's AR Optics At The Range
I mounted the AR Optics Drop Zone 223 to my Aries/Fightlite SCR rifle with some affordable Vortex low rings. The nature of the SCR means an AR mount is too high, and low rings are just right. Protip, get an extended charging handle if you run this setup because the low mount makes it tough to reach.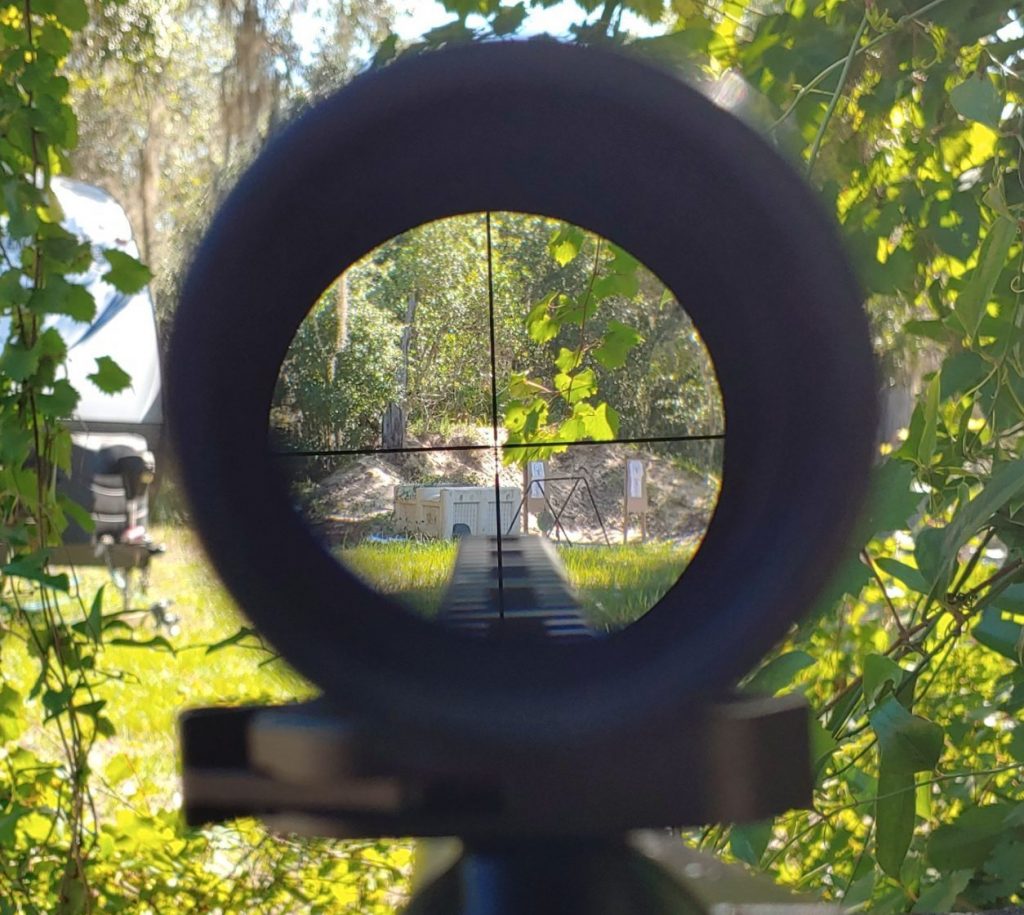 The AR Optics Drop Zone 223 has surprisingly clear glass for the price of the optic. Keep in perspective for the price, the glass is good. At 400 yards, I could see my big open black silhouette target easy enough, but I doubt I could ever make a positive identification of a threat at this range. I might be able to see a rifle or some type of long gun, but identifying someone based on description would be difficult.
The crosshair and reticle are thin and relatively unobstructed to your field of view. Speaking of field of view, it narrows down quite a bit at 4X, giving you 27 feet at 100 yards. At 1X, you get a wide 112 feet.
The BDC is tuned to both 55 and 62 grain 223/5.56 loads. There are differences in drop between those rounds, but the dots will give you a reasonable estimation of where the round is going to go. Between human error and bullet variability and the fact you are using a cheap 1-4X scope, you aren't going to get a dead-on BDC.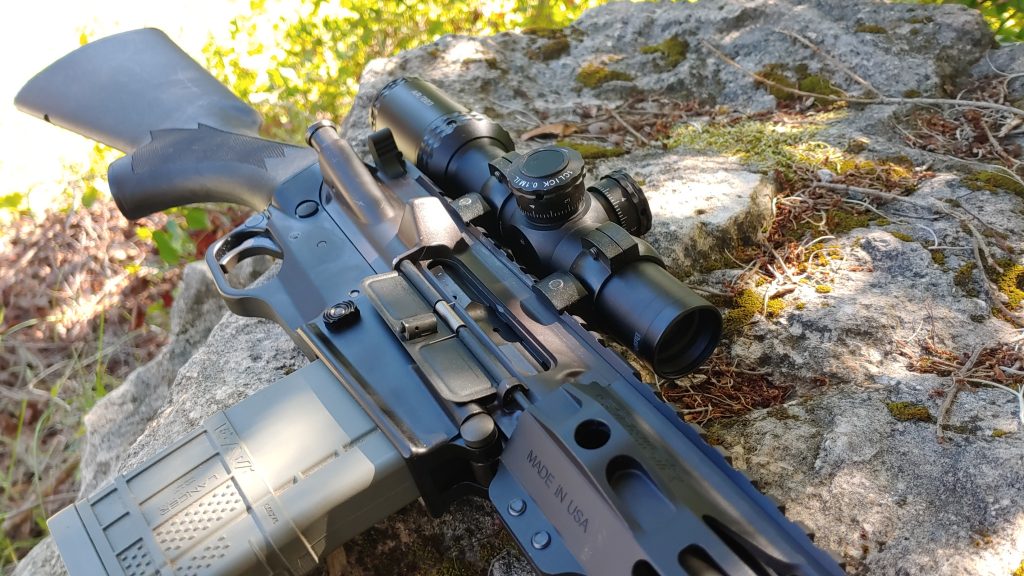 The good news is at 400 yards, when I placed the 400 yard marking on the target's chest, I hit in the chest of the target. Maybe it was a few inches off, but I hit the thing close enough.
Getting Close
Dialing back to 1X and stepping up to ranges within 25 yards is where we see some cracks. Without an illuminated reticle, that semi-occluded two-eyed open shooting style is a lot less intuitive. Nothing grabs the eye outright, and the plain old black reticle doesn't stand out.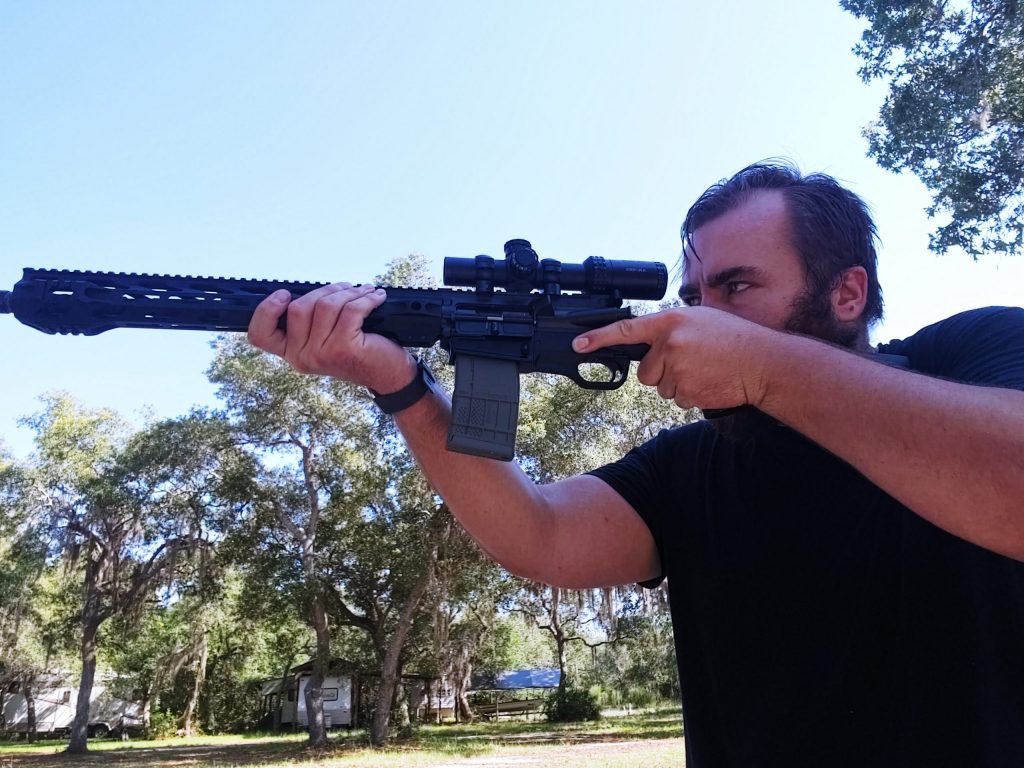 Getting on target rapidly and moving between targets and all that fun stuff.. isn't as fun. Maybe I'm spoiled by those big three-quarter circles with their illumination settings in most prism and LPVO optics. The AR Optics Drop Zone 223 and its small reticle makes close-range shooting a little trickier, but not necessarily 'difficult'.
It can be done and done quickly, but when it comes to chasing time, I will always be faster with an illuminated reticle. This is especially true when shooting at odd or in uncomfortable angles and positions.
Them Turrets Though
The exposed tactical turrets are somewhat easy to move, and I'm not sure that I like that. I feel they could be easily bumped in the field. A little paint marking allows you to see if the turrets have bumped. The turrets also offer very little feedback when making adjustments, so you have to pay attention to each click.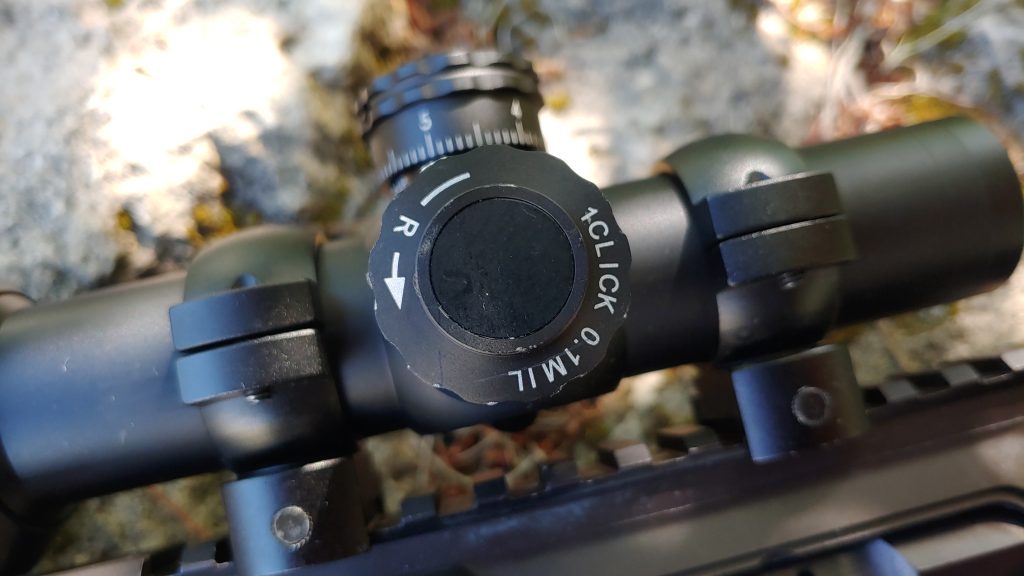 Speaking of the AR Optics Drop Zone 223, use some exact adjustments. Each click is .1 mil, and that is rather nice, kind of. It's unnecessary on a 1-4X rifle and makes zeroing take a lot longer travel than normal. That kind of precision is typically reserved for precision rifles. .5 MOA would make a bit more sense. I'm not sure if I consider this a detraction, but it's silly.
So What's It Good For?
I don't want to sound like I hate or despise this optic. It's not that bad, especially for its price point. Throughout testing, I kept reminding myself it's an optic you can find for under 150 bucks. As a budget optic, I've seen a lot worse. The Bushnell AR Optics Drop Zone 223 holds zero, has seemingly good QC, surprisingly decent glass, and okay ergonomics. If you were strapped for cash, I could see why this would be your choice.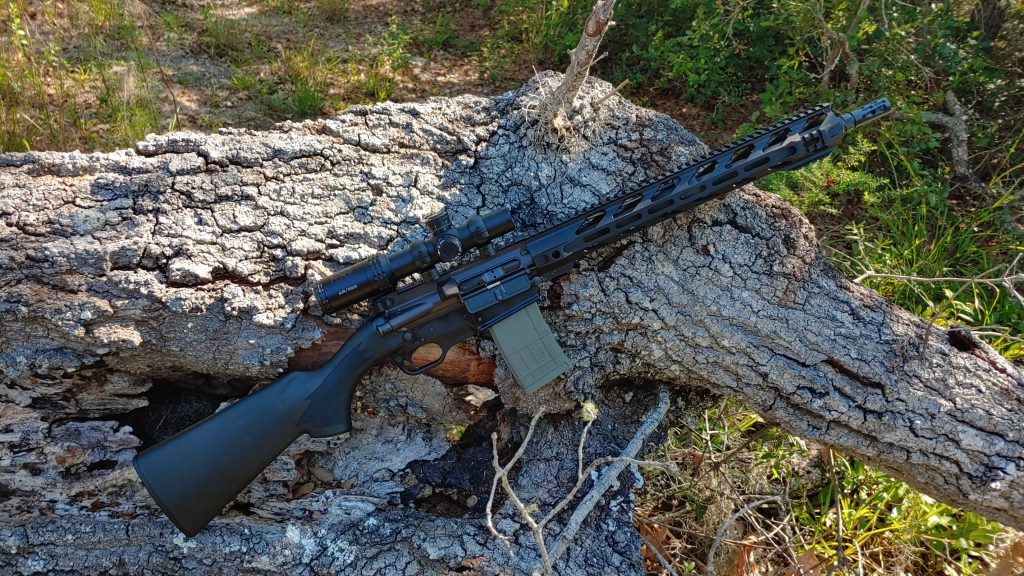 Since I've already tossed it on my hunting AR, that's the role it will serve. As a hunting optic for whitetail in Florida, the AR Optics Drop Zone is a perfect contender. I don't take long shots, and I'm also not drilling deer with snapshots and Mozambique drills, so the illuminated reticle isn't an issue.
Love or hate cheap optics, they do have a role, and this one fits a minimally acceptable standard. It's not perfect, but it's not junk either. It's a healthy okay.