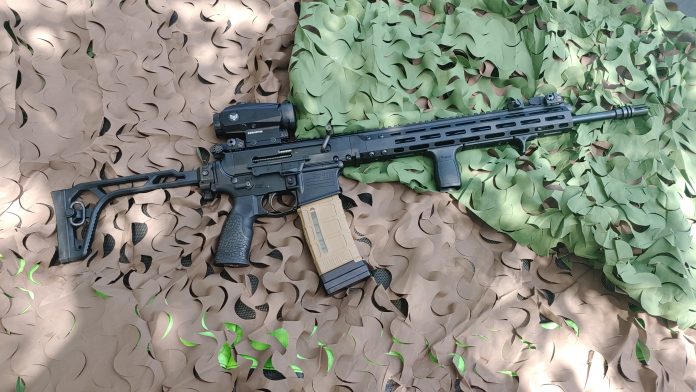 Did Eugene Stoner ever imagine how far his rifle would go? Could he picture his gun becoming so beloved, and pushed so far past his original design? The AR-15 is, without a doubt, America's favorite rifle. AR might stand for Armalite Rifle, but it could stand for America's Rifle. You likely know that Armalite made several different guns, including the AR-10, the AR -7 shotgun, and even the oft-forgotten AR-18. The AR-18 was Armalite's other rifle, and it was recently modernized and revised by Brownells in the form of the BRN 180.
The BRN 180 started life as an upper receiver, but Brownells is expanding it to lower receivers. The BRN 180 was smartly designed to work with stock AR-15 lower receivers. The upper is quite modern by design and incorporates an M-LOK rail and flat-top upper receiver for optic mounting. The upper comes in various barrel lengths to scratch all your itches. This includes a shorty 10.5-inch model, a 16-inch model, and an 18.5-inch model.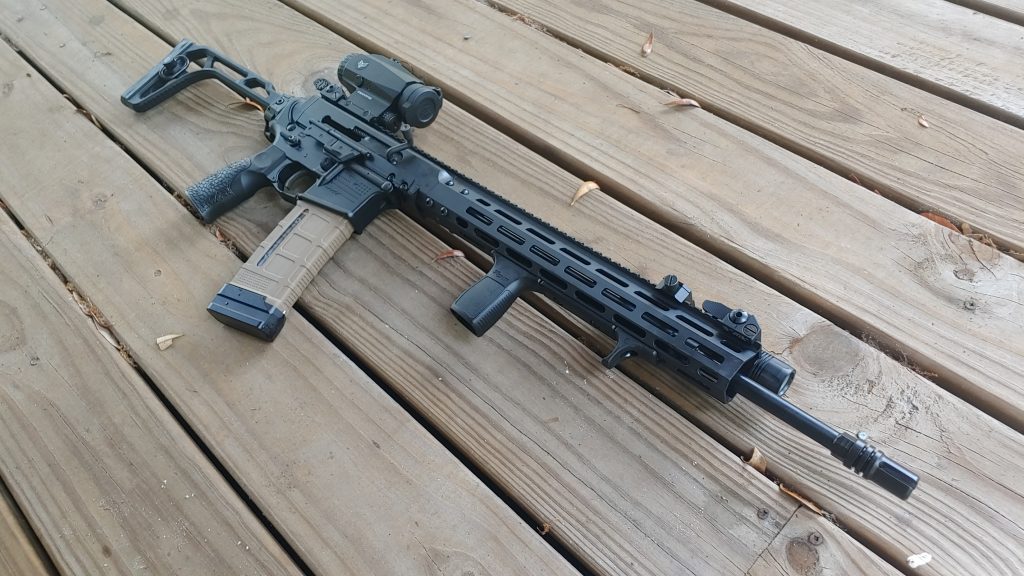 I went with the 18.5-inch model since it is the most historically accurate variant of the AR-18/AR-180. I also like the fact that the 18.5-inch barrel offers a little more velocity and smoother shooting experience.
The Gas Piston Difference
The AR-18 went a completely different route from the AR-15 in the way it operated. Instead of a direct impingement design, the AR-18 went with a short-stroke gas piston design with dual recoil springs and guide rods. These double recoil springs and guide rods are isolated to the upper receiver, eliminating the AR-15's buffer tube design.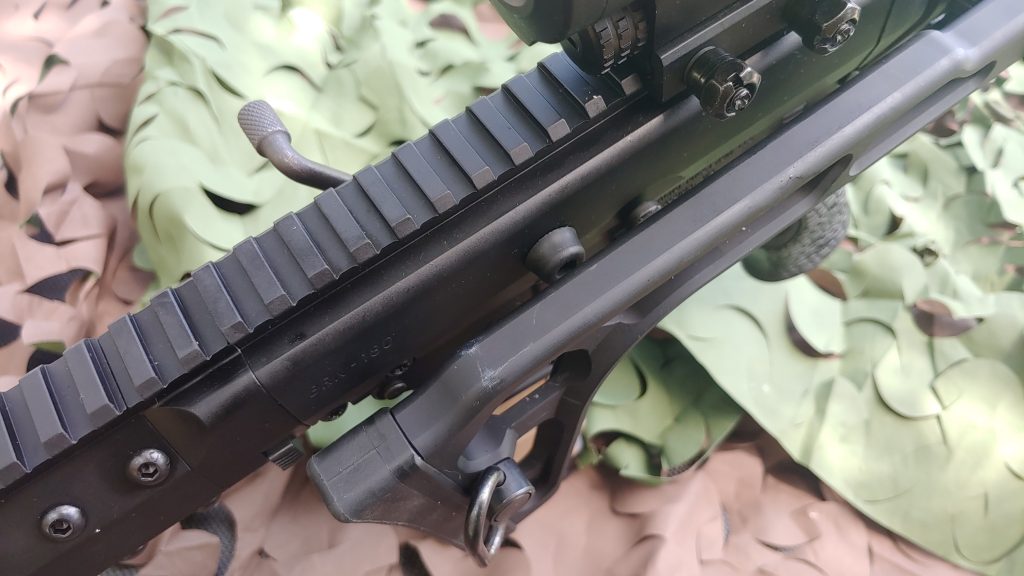 This allows for folding stocks and gives the gun the ability to fire with the stock folded. The AR-18 was initially designed to be very affordable and easy to make. Armalite wouldn't just sell AR-18s and AR-180s, but sell the means for countries to build their own. The AR-18 used a cheap stamped steel design that we all know now to be very reliable and a perfectly fine way to make guns.
From the AR-180 to the BRN-180
The BRN-180 does use a machine upper receiver, and the lowers are forged. It's different, but likely cheaper than creating a factory and tooling for stamped steel AR-180 parts. That's oddly a big reason why the AR-18 and AR-180 never took off. It was cheaper to buy M16s, FALs, G3s, AKs, and so on, for a country to buy the tooling to make their own AR-18s.
The AR-180 design never took off, and no country adopted the AR-18. Japan used the Howa Type 89 as a variant of the AR-18. The AR-180 was a mainstay in the Irish Republican Army during the troubles. It became famed enough to earn a bit of a song about it called "My Little Armalite." The song also referenced AR-15's as the IRA used both weapons.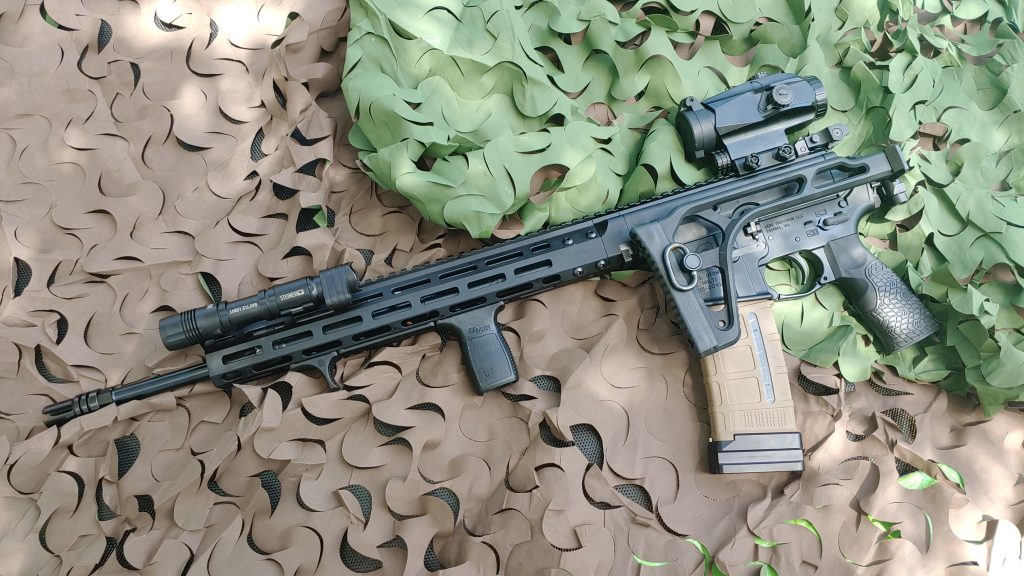 Armalite reintroduced the AR-180B in 2001, and these models used a molded polymer receiver, a different charging handle, different sights, eliminated the folding buttstock, and used AR-15 magazines. It was discontinued due to poor sales.Then Brownells entered the game with the BRN-180, and suddenly the AR-180 design had new life in it. Brownells wisely chose to make an upper that could interact with AR-15 lowers. This compatibility made building your custom BRN-180 possible, and builders could use their imagination to precisely do what they wanted.
My BRN-180
As I mentioned previously, this is the 18.5-inch variant of the upper receiver. It's fitted with a pencil barrel, and the old school AR-180 flash hider. The M-LOK handguard is 15 inches long, and the chamber is a 223 Wylde. The barrel has a buttoned rifled bore with a 1:8 twist rate. Practical and straightforward with a high velocity that gives excellent penetration and range.
I went with an Aero Gen 2 lower receiver, individually the Don't Tread on Me Edition. I went Aero for a few reasons. Primarily because of their threaded takedown detent hole. I wanted a side folding stock and needed an MCX adapter to do so. I used one from KNS, but it doesn't cover the takedown pin detent hole. The threaded design ensured the spring stays put.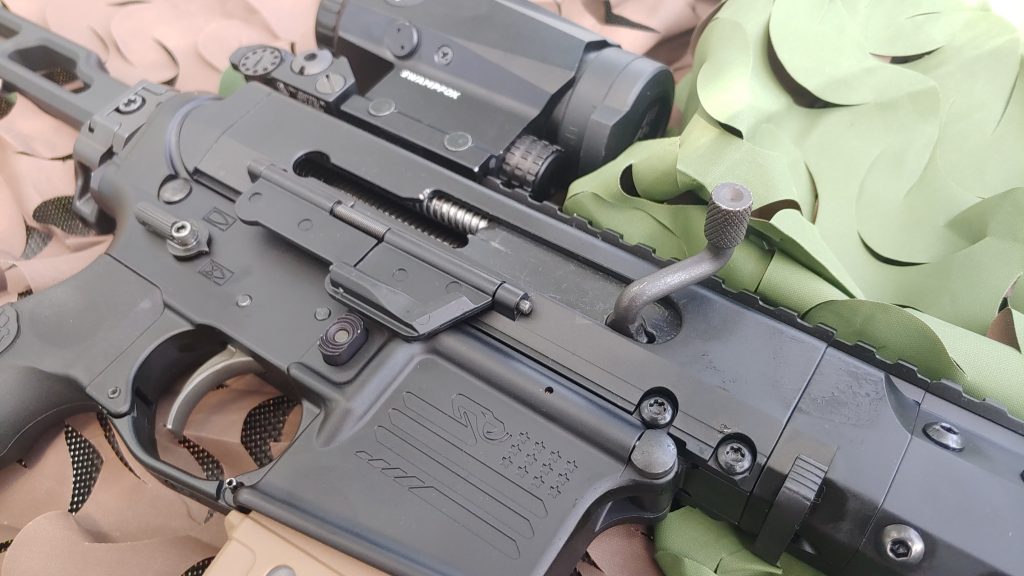 The Gen 2 lowers also feature an increased magwell flare for quicker reloads on top of the ability to use nylon tipped tensioning screw to increase the tension between the upper and lower. This allows you to get one hell of an accurate gun. The Aero Gen 2 lowers give me all that while still being compatible with Mil-Spec uppers, and I needed that compatibility to ensure my BRN-180 upper would work.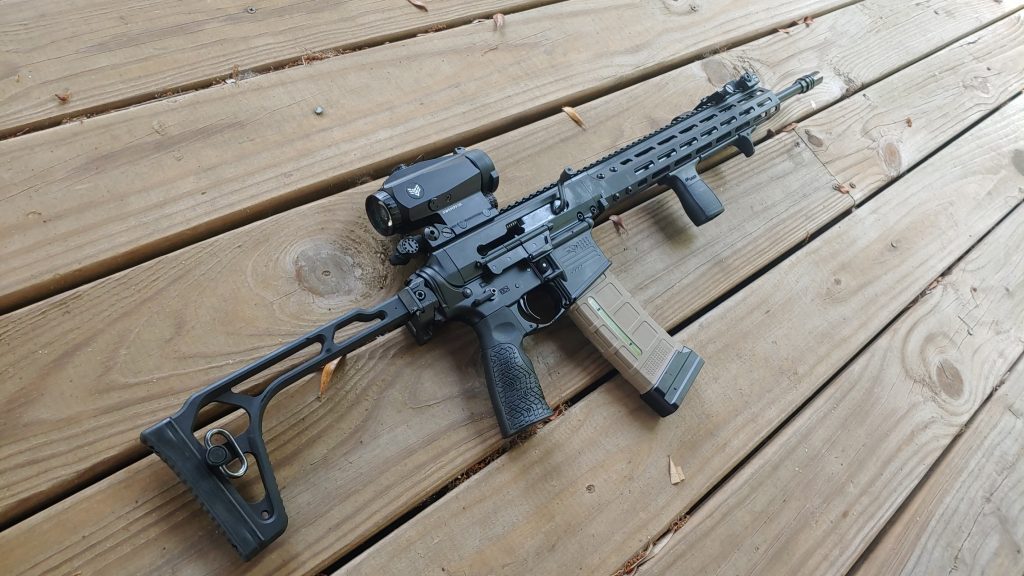 I also happen to have outstanding experiences with Aero Precision guns and gear. They've proved to be a phenomenal value and an excellent company.
The Rest of the Gun
I tossed on a Gen 1 MCX stock for folding capability. It's not a particularly comfortable stock, but it works and is an excellent minimalist side folding design. The gun uses a Swampfox TriHawk 3x prism optic, which I adore. It has a massive 53-foot field of view that is class-leading in prism optics. Then I tossed on a Steiner Mk4 Battle Light and a SIG Tread M-LOK grip kit. It rounded the gun out and was a useful addition. The result made me very happy overall.
Range Time
The best part of my job is shooting, and the BRN-180 is a fun shooting gun. The upper's short-stroke piston system is quite smooth and does an excellent job of reducing recoil and providing a very controllable weapon. The lightweight barrel and handguard make the weapon light and easy handling, even with the 18.5-inch barrel.
That longer barrel also plays a part in taming the gun and does an excellent job at minimizing concussion and muzzle blast.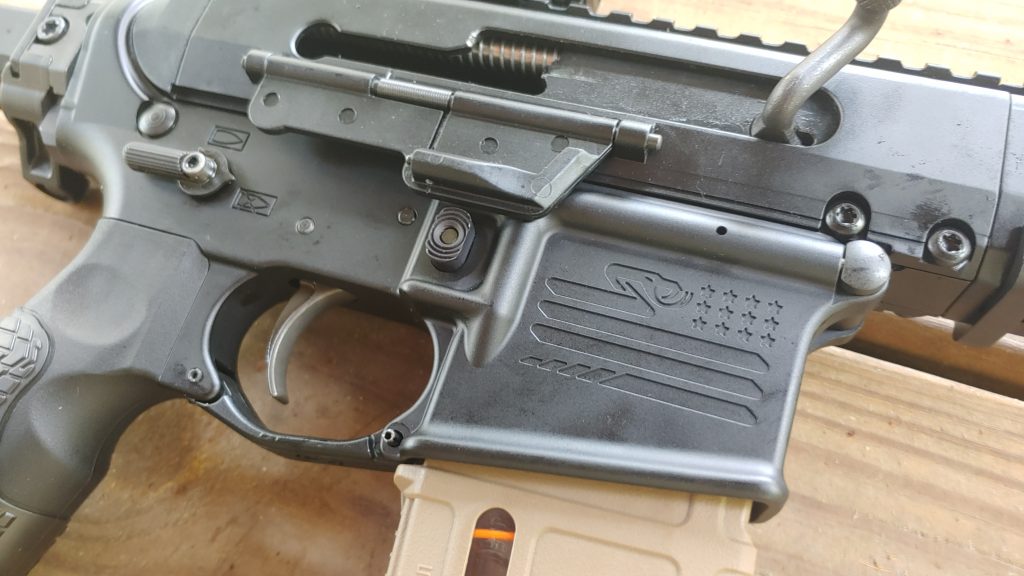 Since it's using a AR -15 lower, most of the ergos translate over seamlessly. One that doesn't is the right-side charging handle. It's AK like and your manual of arms changes accordingly. The crank-style design is exciting and easy to grip from different angles. I understand why they went that route way back when. Would a left side non-reciprocating charging handle be more ergonomic? Yes, without a doubt.
However, using some modern AK techniques, I never felt under gunned. Since this gun has a bolt release, the charging handle is reserved for malfunctions and loading the initial magazine.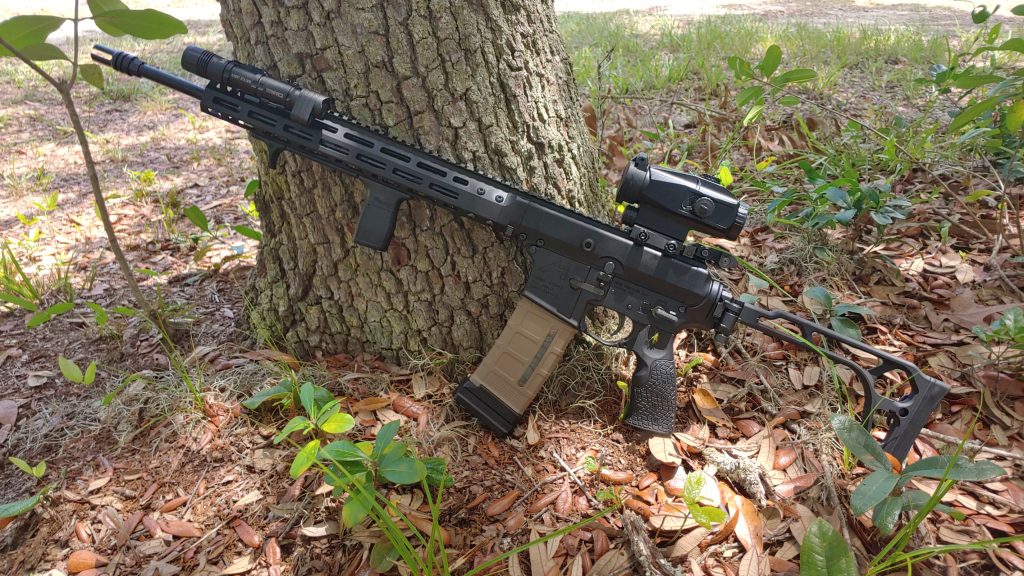 The BRN-180 upper is compatible with all AR-15 magazines, and I used P-MAGs, Lancers, and even a D-60 drum without issue. The gun ate everything from every magazine without malfunction. Running reload drills made me appreciate that handy little magazine well flare from upper. It gives a more intuitive feeling.
The handguard gets hot quickly, and after a long-range day, it's uncomfortable to the touch. That SIG M-LOK grip kit was a wise addition and kept my hands nice and cool throughout my testing. Lord forbid I grab anywhere else after a few hundred rounds downrange.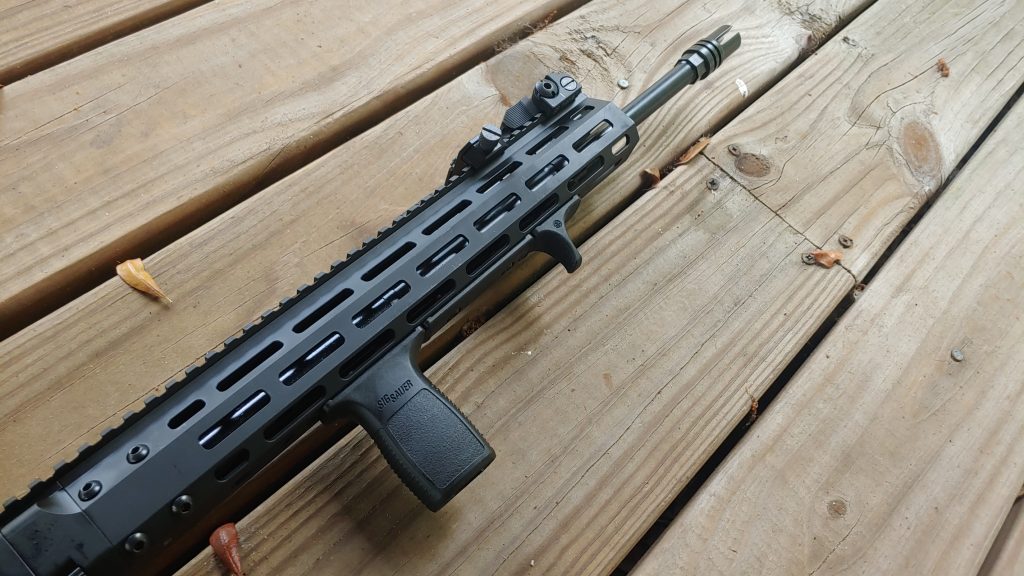 Accuracy was also damn good for a gas-piston gun. I achieved 1 MOA groups with 62-grain Match Grade ammunition from Hornady. Cheaper ammo opened the groups up a bit, but never more than 2.5 MOA. I had good results with standard 62-grain stuff with groups around 1.8 MOA. Needless to say, it's more than accurate for practical use.
Boom Bang Pow
The BRN-180 is a worthy successor to the old Armalite AR-180. It's well designed and most certainly well thought it out. Interaction with AR-15 lowers opens up so many parts and customization options that its hard not to love. The BRN-180 also satisfies the contrarian in me and my need to be different from the slew of AR-15s out there, and that's worth something. Check out the BRN-180 here, and the AERO Gen 2 lower here.