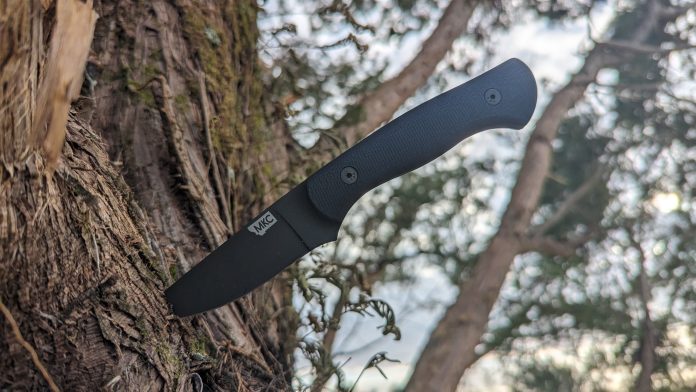 There is something to be said about the handiness of a small fixed-blade knife. The tiny nature of these tools makes them extremely handy in the field, but they also won't weigh your belt down and turn ounces into pounds. Fixed blades are more durable than any folder, and small fixed blades are excellent bushcraft tools. Knives like the Montana Knife Company Blackfoot 2.0 are the perfect example of what a small fixed should be.
The Blackfoot 2 packs a 3.5-inch blade and an overall length of 7.75 inches. The knife only weighs 3.6 ounces, making it quite light for packing in and out. MKC uses 52100 ball-bearing steel, which isn't your typical knife steel. It's a very rugged and strong steel that can get quite sharp. It can rust, so take care of your knife. The handles are made from G10, which offers a comfy but firm set of handles.
As you'd expect from a premium bladesmith, the Blackfoot is a full-tang knife. The grips are just scales that are bolted on. You can pry, twist, and work hard with the Blackfoot, and you won't run into any problems.
Demands of the Blackfoot 2.0
The Blackfoot 2.0 aims to be the toughest little knife you've ever owned. It's no chopper designed to clear a campground, but it's light, handy, and perfect for everyday tasks. The blade has a nice big belly for deep cuts. A drop point blade makes it quite versatile for a very wide variety of tasks.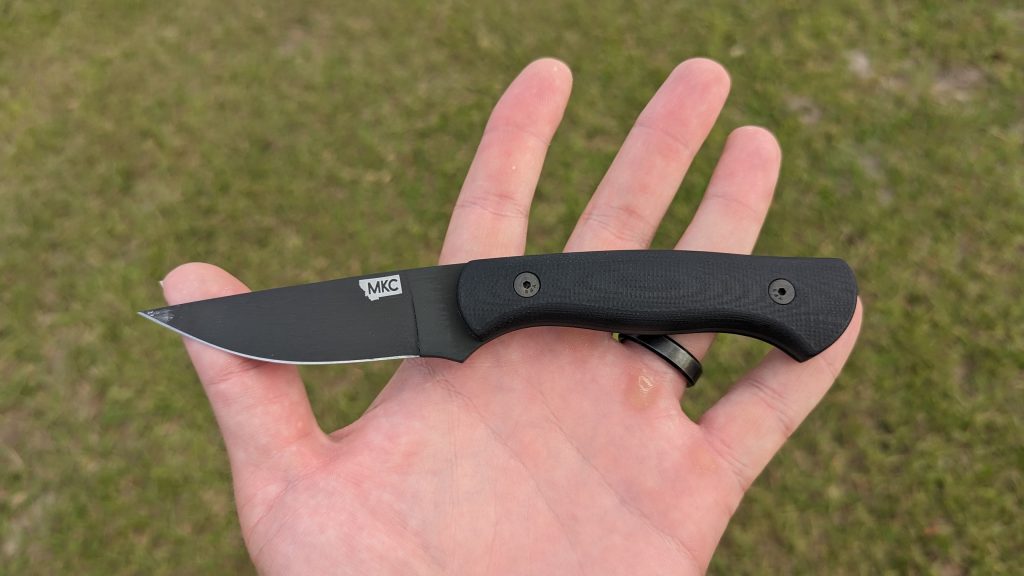 The Blackfoot 2.0 delivers a working knife. It's perfect for skinning games and butchering animals. Since it's bow season in Florida, I'm waiting patiently for the right whitetail to break down with this thing. Until then, it's chopped up chicken into bite-sized, taco-appropriate pieces very quickly. That curved belly allows the blade to glide through meat very efficiently. The thin nature of the blade allows it to slide between bones and remove meat without leaving much behind.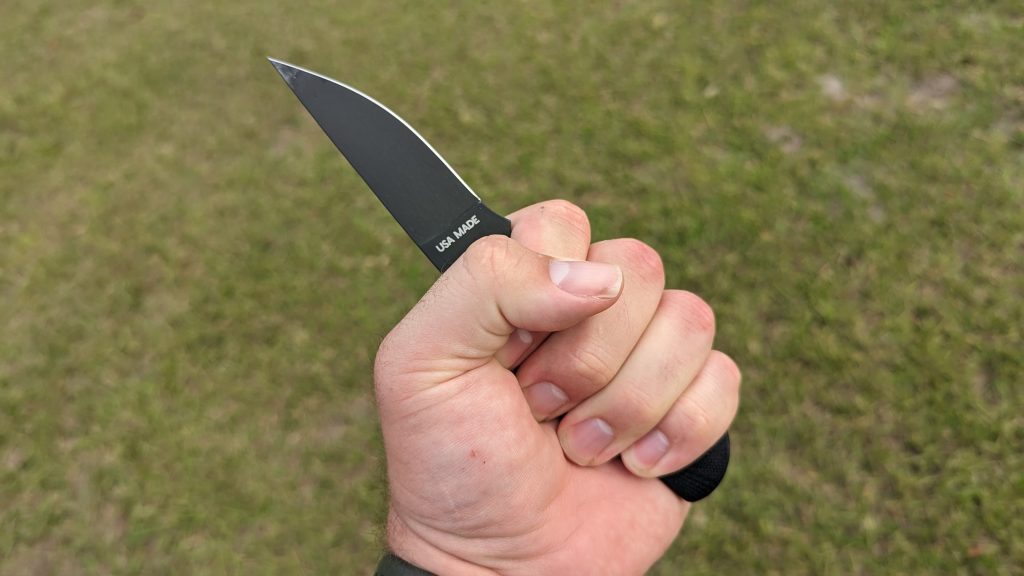 The blade comes from MKC insanely sharp, impressively so. It saddens me because I doubt I'll ever be capable of getting it this sharp again. That's on me and my lack of knife-sharpening skills. I'll probably just get it professionally sharpened when the time comes, which doesn't seem soon. It's remained quite sharp over the last few months.
In the Hand
The shape of the Blackfoot's grip is curved just right to lock your hand between the rear of the knife and the blade. The slight inward humps keep the knife positioned between your pinky and pointer finger. Your pointer is positioned perfectly to work with your thumb to help steer the knife for clean and stable cuts. It's a comfy grip, and your hand doesn't fight with an unnatural shape. This keeps your hand comfortable and prevents fatigue.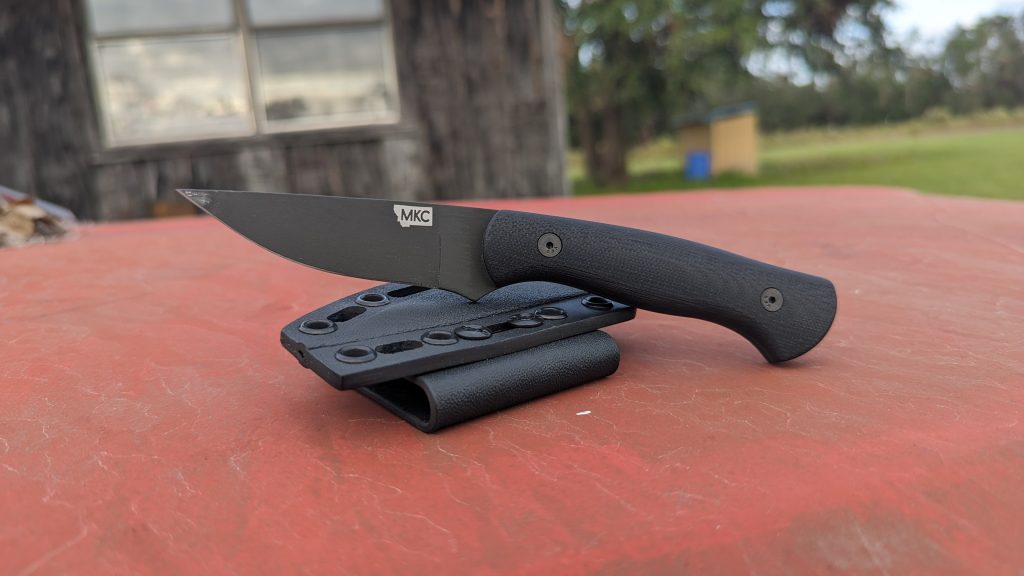 The Blackfoot comes with an awesome kydex sheath. It's lightweight and well-made. The sheath comes with a belt mount, and the belt mount can be manipulated to mount the knife at nearly any angle. It's made in America, too, which is a nice touch from another made-in-America company.
Slice and Dice
MKC makes some excellent knives. They are a small business making excellent tools for hard-working people. As you'd imagine, this isn't the 30-dollar knife you order on Amazon. It's a premium knife with a rightfully premium price tag.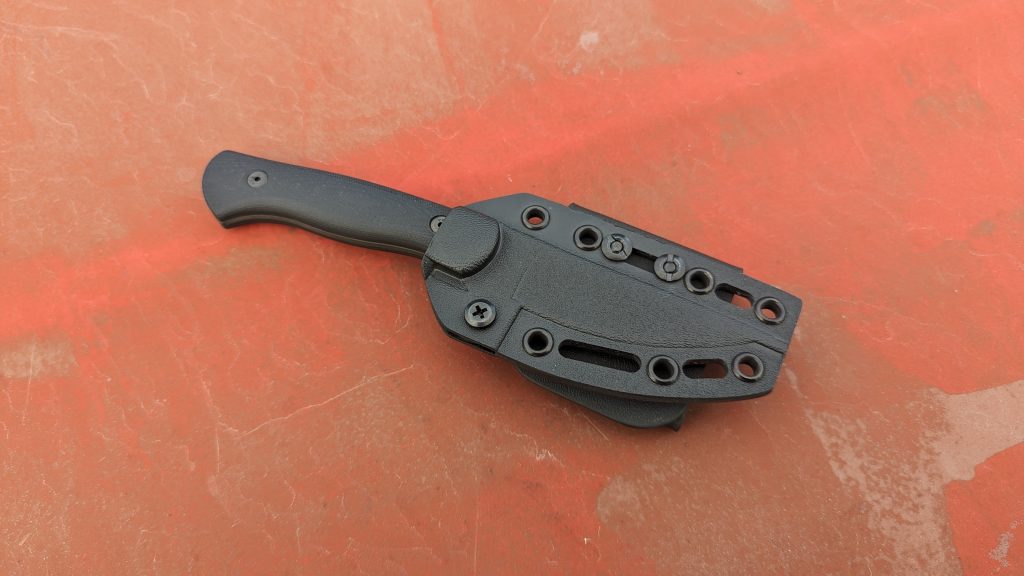 Overall, you can see the care and attention to detail that went into the Blackfoot. It's very well made and thought out. It feels like every curve and sweep was well-planned and executed properly. The Blackfoot is an excellent bushcraft knife and is a solid option for hunters, fishermen, and hikers who need something small and tough.