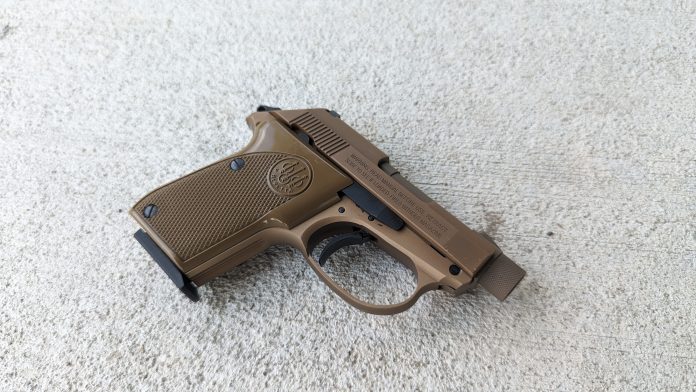 The Beretta tip-up barrel series is all kinds of cool. The tip-up barrel action is just neat, and the fact they look like miniaturized Beretta 92FS pistols lends to a sense of cuteness. The fact they have names like Tomcat, Bobcat, and Minx lends to their cool factor as well. Of those three guns, if I had to suggest one to the masses, it would be the Bobcat. The Minx is out of production, and the Tomcat just isn't for everyone.
The Bobcat is a .22LR pistol with a tip-up barrel, various finish options, and even threaded barrel designs. To be fair, there was a .25 ACP bobcat, but it also seems to be out of production. The .22LR variant is very soft shooting and overall a ton of fun, so what's wrong with its bigger brother, the Tomcat? The little .32 ACP pistol is seemingly just as cool and unique.
How the Tomcat Stands Out
The pistol came out in 1996, and for that era, it was fairly small. This was well before the rise of the polymer frame pocket pistol. We didn't have the LCP, the S&W Bodyguard, or any other pocket .380 ACP on the market. Compared to those guns, it's a bit large and heavy but still pocketable.
Beretta had been using the tip-up barrel design since 1952 with the advent of the Beretta 950. That old .25 ACP laid the groundwork for the various Beretta mini pistols. The Tomcat wears the famed tip-up barrel.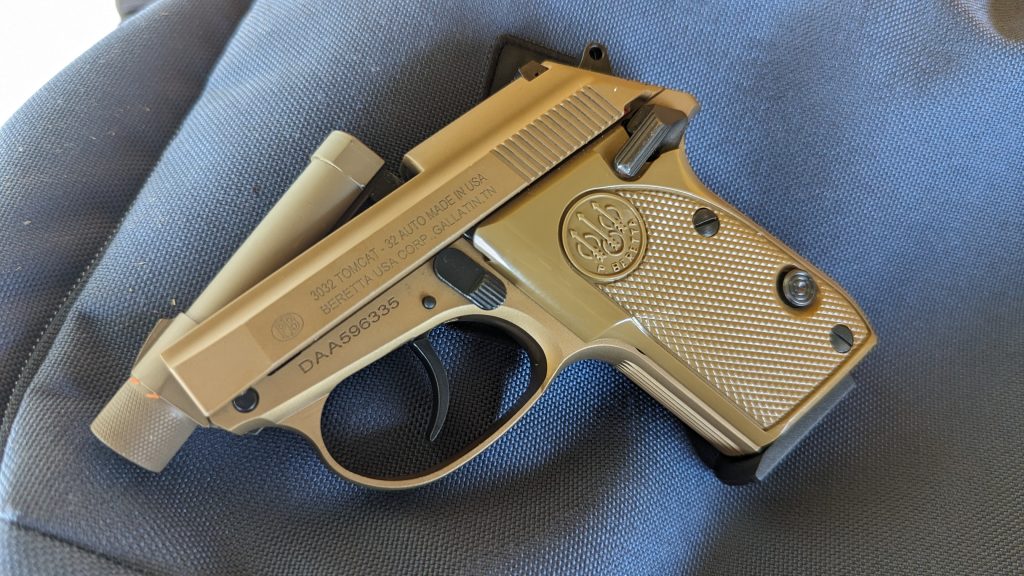 This provides shooters with an easy way to load the first round into the chamber. These guns utilize a straight blowback design with a very stiff recoil spring. A stiff recoil spring paired with a teeny tiny slide makes the gun tougher than average to rack.
The Tomcat is also a .32 ACP handgun, which is fairly rare for this era. We've seemed to settle on hurting our hands with pocket .380s for no real gain in ballistic potential. I have a whole rant on why .32 ACP is a better option than .380 ACP.
The Tomcat is one of the few pocket pistols that use a DA/SA trigger system. That's likely why the grip is so thick for such a small gun. We have a manual safety, and the gun can be carried, locked, and cocked. The magazine release is a button, but it's placed on the bottom and rear of the grip.
At the Range
Direct blowback guns are never fun, and the Tomcat could be a lot worse if it was in a larger caliber. The little .32 ACP isn't rough, and the 1.1-inch thick grip helps absorb some of that recoil. We get a stiff recoil impulse that's a bit worse than other small .32 ACPs I've fired. The worst part about the shooting experience was the slide bite and the slide cutting my wee little hand open.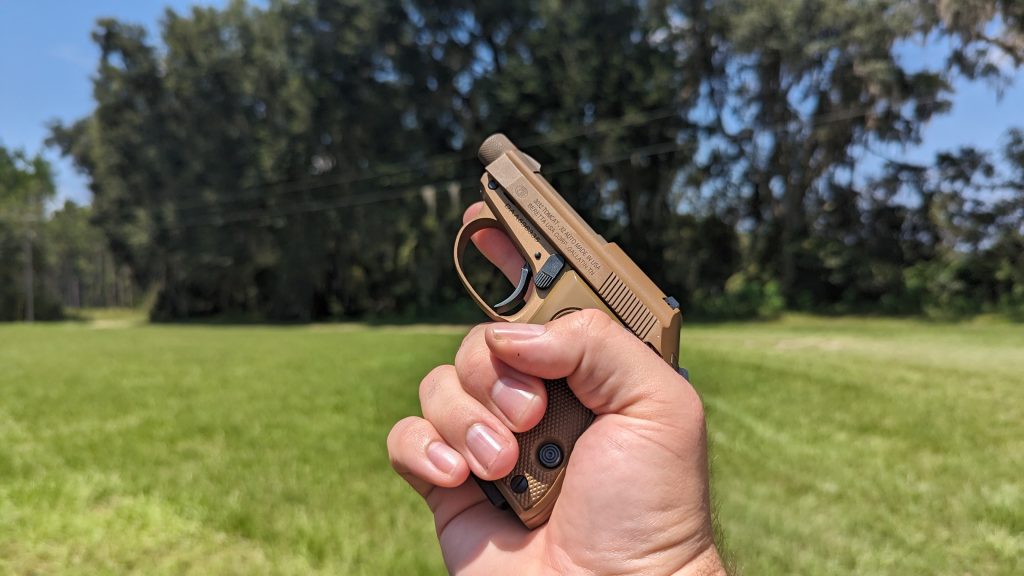 The double-action trigger pull is exceptionally long and heavy. It's not what Beretta is typically known for, and it is a bit disappointing. Luckily, if you like the extra security of a double action trigger to help avoid negligent discharges, you get it in spades.
The single action is nice, and paired with actual sights, we get a fairly accurate handgun that makes it easy to put those 32 ACP pills right where you want them. Every B8 gets the black shot out of it! You can keep shooting because the gun is plenty reliable. I never ran into any malfunctions, and the blowback operation is well known for its reliability.
Why It Isn't For Everyone
Ultimately, it sounds like a gun with some quirks, like a heavy trigger and slide bite, but why isn't the Tomcat a gun I'd suggest for most shooters? There are a few reasons. First, it's a bit out of date for practical carry. It's 1.1 inches wide, making it thicker than my P365. It also weighs 14.5 ounces, making it only three ounces lighter than my P365.
It is smaller, but it's a bit awkward with most pocket holsters. It's too thick for the smallest but too small for bigger options. You have to search around a bit to find one that works.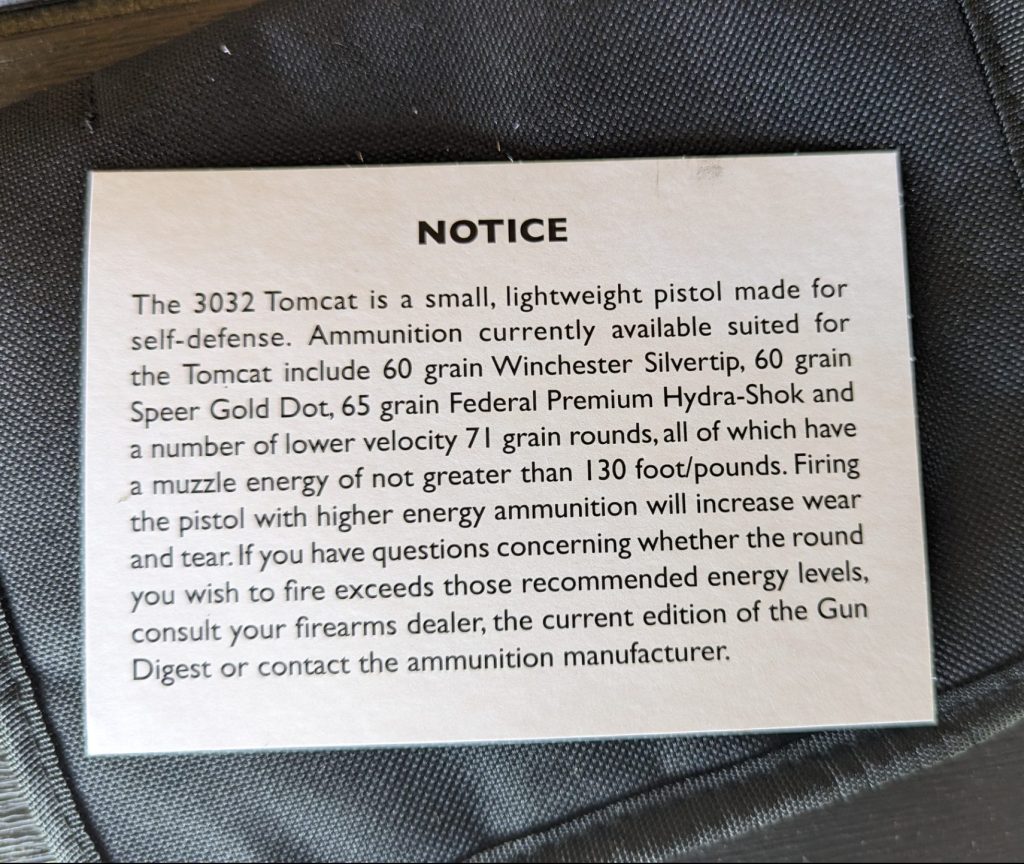 It's also ammo-sensitive to a degree most aren't accustomed to. Beretta includes a little flyer in the box stating that if you use 32 ACP ammo that exceeds 129 foot-pounds, your gun will break. Tomcats have long had frame cracking issues if you aren't careful what ammo you put through the gun.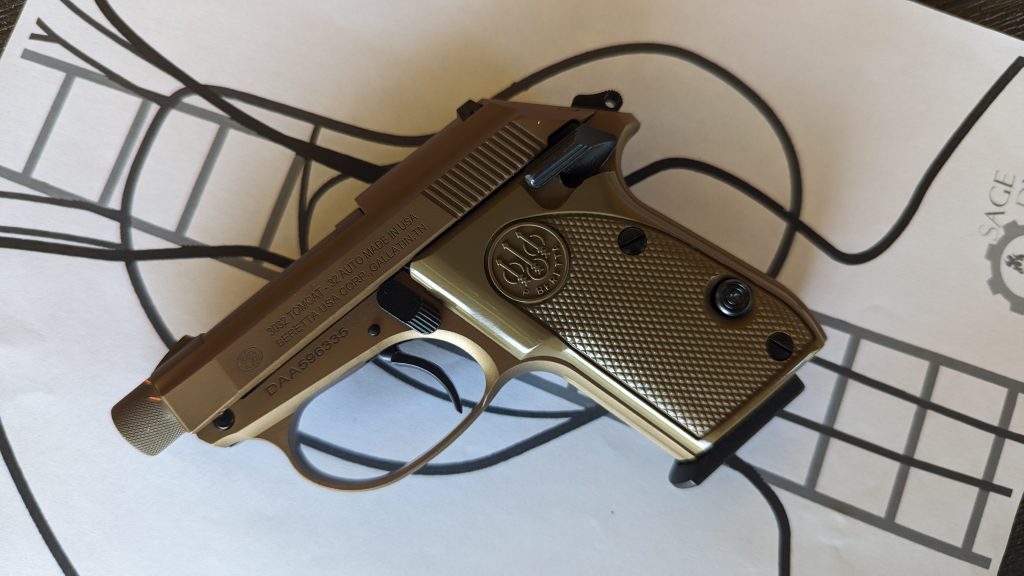 On top of a rather high price point, I don't suggest this gun to many people. If you're a gun nerd, it's an interesting oddity. If you're looking for a serious self-defense and concealed carry firearm, there are better options. This certainly isn't for new gun owners. If you really want a Tomcat, I would suggest the .22LR Bobcat instead.
If you remain convinced you want a Tomcat because you love the look, feel, and uniqueness, then you won't be disappointed.