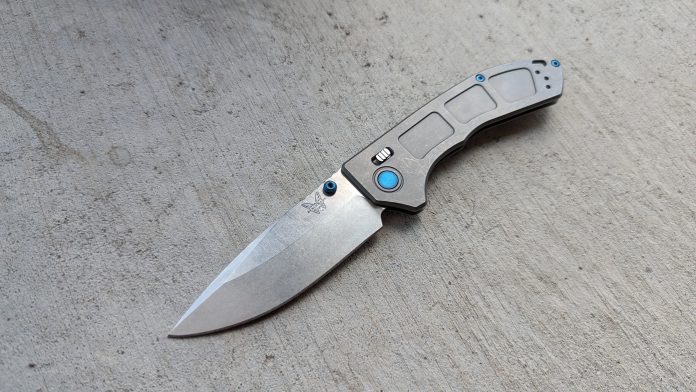 I've been trying to find a way to best describe the Benchmade Narrows. What can I compare it to easily and adequately describe how I feel about it? I settled on cars. If your normal pocket knife is a truck, then the Benchmade Narrows is a luxury sedan that's also four-wheel drive with great clearance. It packs a variety of features that not only make it rugged and useful but also comfortable and luxurious.
Also, like both a good truck and a luxury sedan, the Benchmade Narrows has quite the price point to it. At over 500 bucks, it's certainly within everyone's budget, but it's also well worth the money.
What Makes the Narrows Stand Out?
That's a pretty simple answer: the amount of premium materials used in its creation. The handles are made from solid titanium. Titanium packs a whole lot of strength in not much material. This allowed Benchmade to make a very lightweight and incredibly thin knife. The Narrows lives up to that name.
How narrow? It's just a hair over a ¼ inch at 9/32 inches thick. That's crazy thin for a full-sized pocket knife. Titanium is also lightweight, and the knife weighs a mere 2.4 ounces. The blade is 3.44 inches long, and the closed length is 4.6 inches. This takes lightweight EDC to a new level.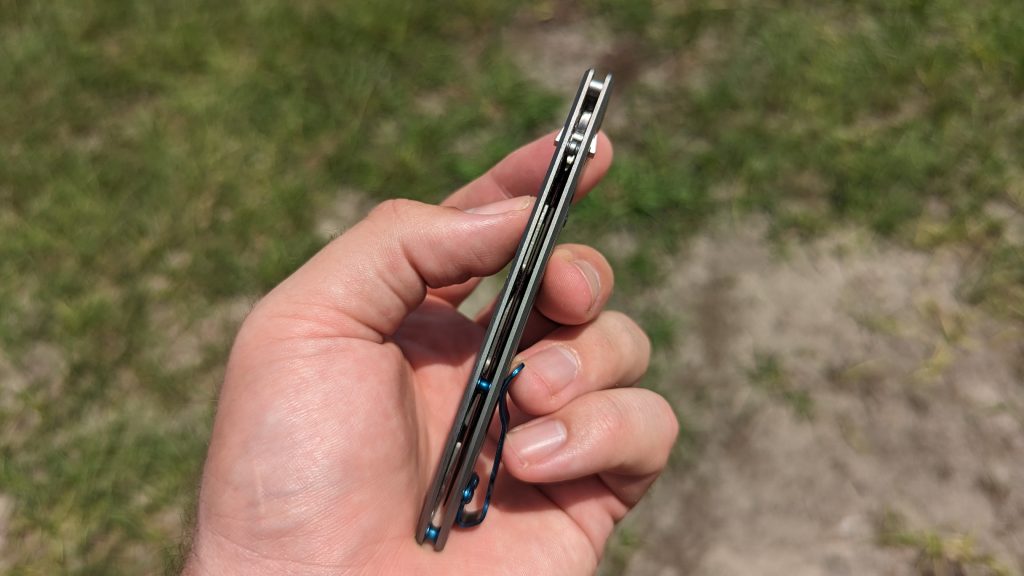 The blade uses an M390 Super Premium stainless steel. I wasn't super familiar with this steel, but M390 tends to be well-loved by knife makers. The steel was developed for injection molding molds and just so happened to have great knife qualities. As you'd imagine, metal made for being used as a mold thousands of times is pretty tough.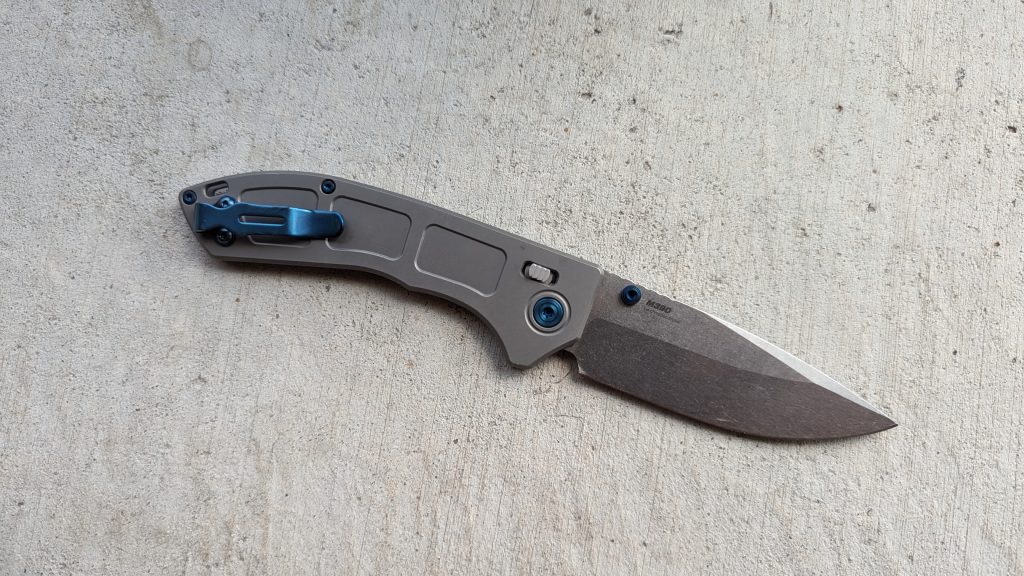 M390 is a tough metal and can withstand tons of abuse. That's great for a knife, especially when you are trying to make it as thin as possible. If you're going thin, you need a strong metal. Outside of just being strong, the steel gets very sharp and holds an edge very well. The only downside is that it's a little tougher to sharpen.
Lock Up
The Narrows uses the Axis lock system. This was somewhat necessary to make the system as thin as possible. The Axis lock uses a lock stud and torsion spring assembly. This system eliminates the need for steel liners and omega springs. Those types of liners and springs would make the system thicker.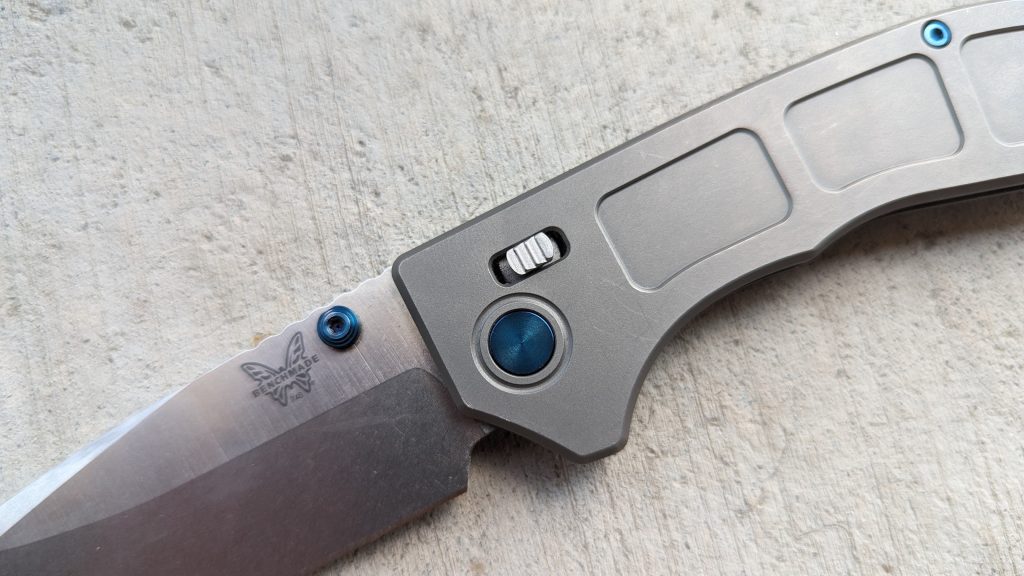 The lock-up is quite solid, and you see the lock stud in the back is quite dense and rugged. You have two ways to open the knife. We have a set of ambidextrous studs on the blade. They are small and wisely do not exceed the width of the scales. You can also pull the locks downward and use gravity to release the knife with a swing of your hand.
Getting the blade in action and out of action takes a single hand, and it can be done very quickly. It's a smooth action that's fun to just fiddle with.
Slicing and Dicing With the Narrows
The Benchmade Narrows comes extremely sharp. The M390 is no joke. It cuts wonderfully. The clip-point blade is very versatile and super handy for your average person. The top of the blade comes with a swedge that makes it very easy to slice through thick material. I used it to cut through tomatoes, and it glid right through without ever getting stuck.
The handle features great scales and textures to ensure you have a great grip and a comfortable one as well. As a pocket knife, the thing design doesn't matter too much. If you start using it as a survival knife, then your hand is likely to find itself tired. That's the case with any pocket knife.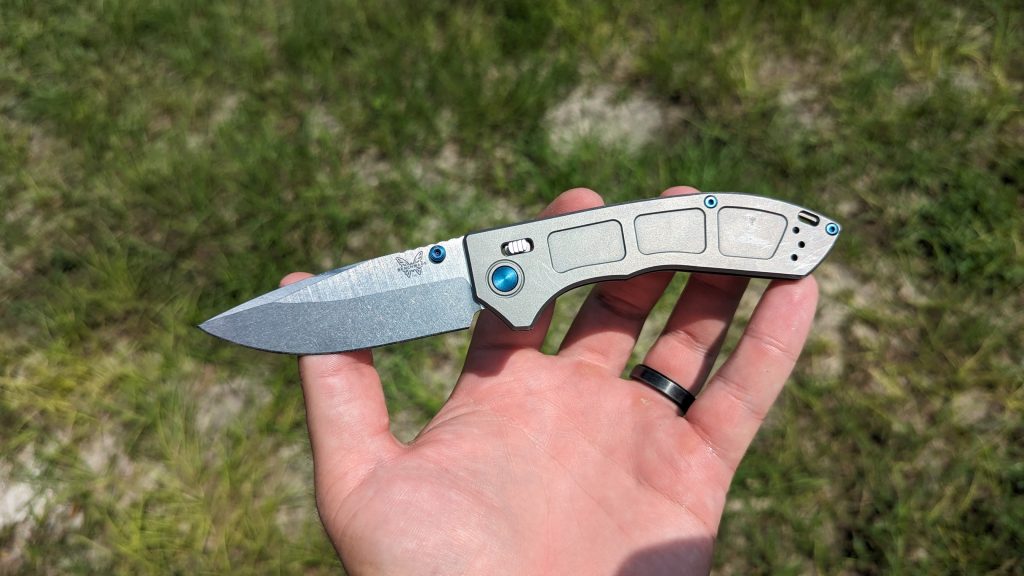 The Narrows comes with a short pocket clip that's removable and reversible. It's electric blue, as are a few other small controls. They are striking and do look good against the grey finish. The Narrows looks as good as it performs. It's an excellent EDC knife and has since become at home in my pocket. It's now a permanent resident of that front left pocket.
Benchmade has a real winner with the Narrows, and it provides a very premium experience if you are willing to part with the money.