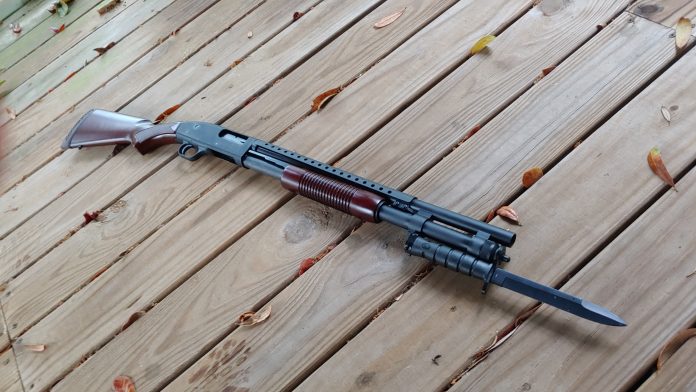 You can't beat a classic. A shotgun outfitted with wood furniture is a real American classic, I mean, as long as it's made in America. Mossberg must have realized the market for tactical shotguns outfitted with black polymer furniture is big but crowded. Last year they released the Retrograde series, which took the Mossberg 590A1 and Mossberg 500 and released them in more classic configurations. This year they expanded the line with the gun we got now, a standard Mossberg 590 Retrograde.
The 590A1 is a sweet gun for sure, but it's a heavy gun, and the 590A1 is an expensive gun too. The Mossberg 500 Retrograde is also a sweet gun, its light and small, but is a plain jane five-shot shotgun. If you want to Goldilocks it and want a gun that's just right, the Mossberg 590 Retrograde might be the sweet spot for you.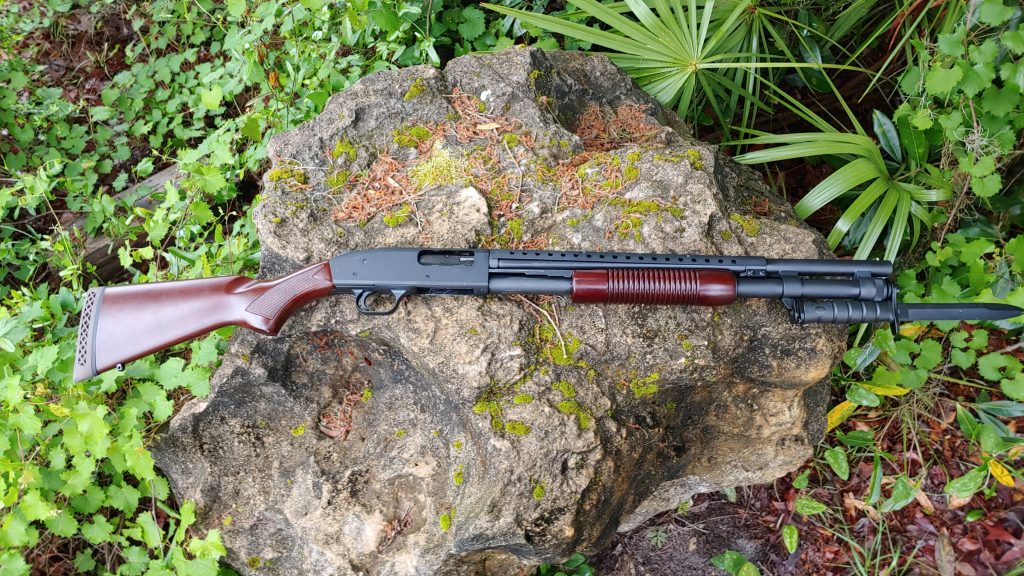 The 590 Retrograde lacks the heavy-walled barrel and ghost ring iron sights and goes with a standard profile barrel and a bead front sight. It keeps the eight-shot tube, the heat shield, and a bayonet mount. It's a little lighter, especially on the front side of the weapon. It's also a good bit cheaper with a $573 MSRP versus the 590A1's $900+ MSRP.
The 590 Retrograde – 2020's Social Distancing 12 Gauge
Topping off the 590 Retrograde with a bayonet makes it well suited for the trenches of 2020. Speaking of trenches, what does a shotgun with wood furniture, a heat shield, and a bayonet remind you of? If you said Winchester 1897, then you and I are on the same page.
Unfortunately, it has a disconnector, so you can't pump lead into the Kaiser's troopers at a pump-action cyclic rate. You can beat them to death with an American made walnut stock. Speaking of, the furniture is gorgeous. It looks fantastic and is finished with a dark coating that's gorgeous.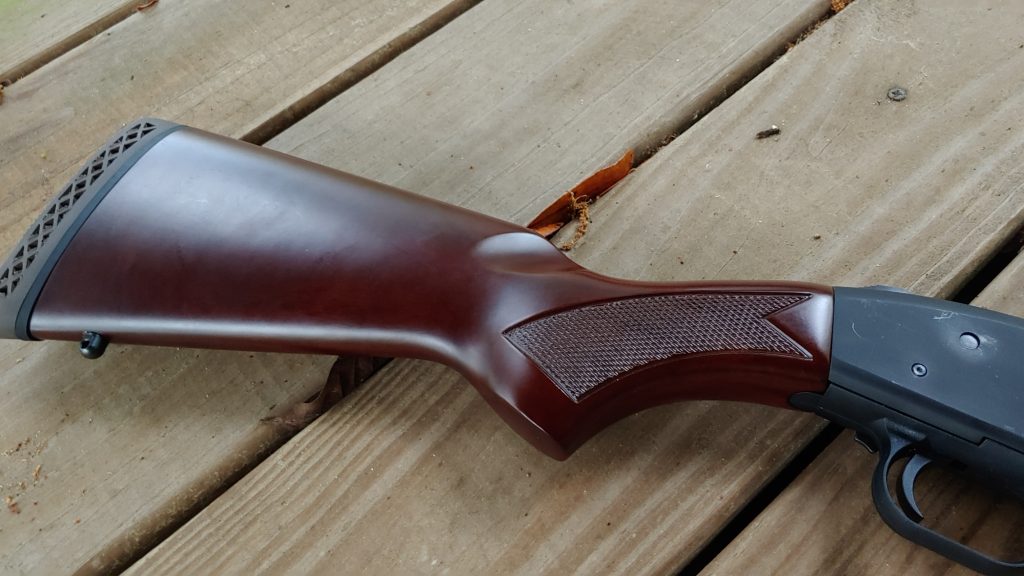 The stock has a checkered pistol grip, and the pump is a honeycomb style design that reeks of classic American shotgun.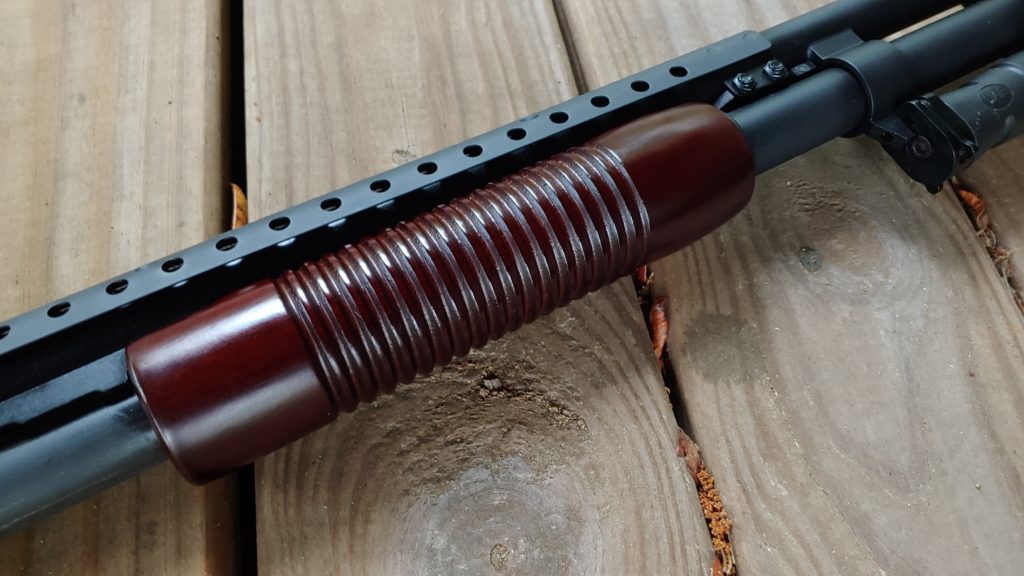 The gun has a matte blue, which is also a new finish for the Retrograde series. The 590A1 is parkerized, and the Mossberg 500 is a rich blueing. The heat shield is parkerized but matches the look well. The finish seems a bit weak, especially on the magazine tube. It's already beginning to rub away where the pump moves.
Retro Ergos
The Mossberg 590 Retrograde changes no controls because the Mossberg 500 series controls have always been the same. It's inherently retro, and the reason it's never changed is that it never needed to.
The safety is Mossberg's always brilliant tang design that's ambidextrous and placed absolutely perfectly for quick and easy use. The action release is situated right behind the trigger guard is easy to reach for both left and right-handed shooters.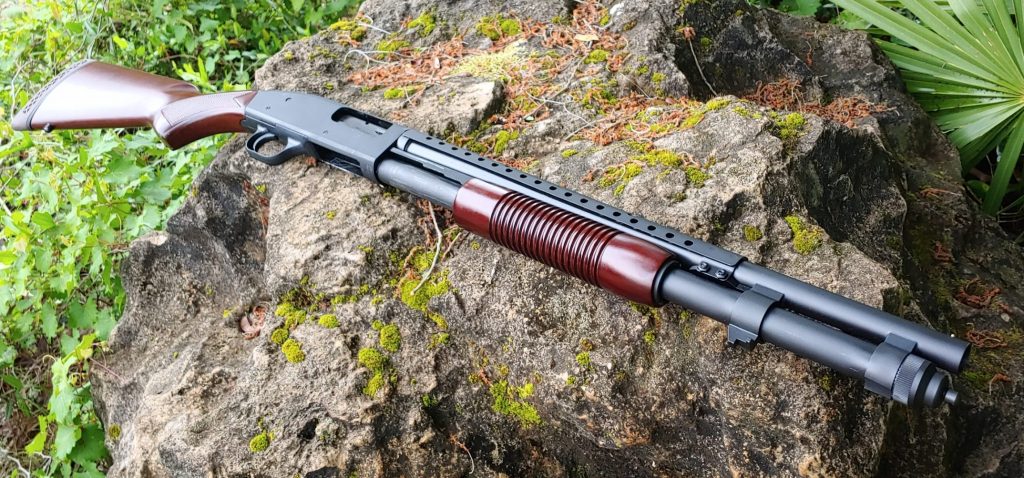 The length of pull is an excellent 13.87 inches. Mossberg makes some models with these crazy 14.5-inch LOP stocks that are ridiculous even for my massive frame. 13.87 inches is likely going to be a bit long for some smaller shooters. You should know that before you go with a Retrograde shotgun because changing the stock defeats the purpose.
A big reason why a lot of shooters like Remington's over Mossbergs is due to the Mossberg pump slop. It admittedly moves and wiggles a bit more than necessary. The action itself is a little gritty and bumps and jumps along the way. That's the standard Mossberg pump, and it's a minor complaint that in no way affects the function of the shotgun.
Retro Shotgun, Modern Shooting
The Mossberg 590 Retrograde is a fun gun to shoot. All shotguns are fun, but the wood, the heat shield, and the bayonet you must add to the end of the weapon give it a classic look and feel. It's like LARPing with a tactical rifle, except your gun is from the 1970s at the earliest.
The 590 Retrograde is a defensive or tactical shotgun, and I shot it that way. The gun is quite light for a combat shotgun, and it can be driven between each target without you the shooter getting a shoulder workout. It weighs 7.25 pounds and balances well with the thinner barrel.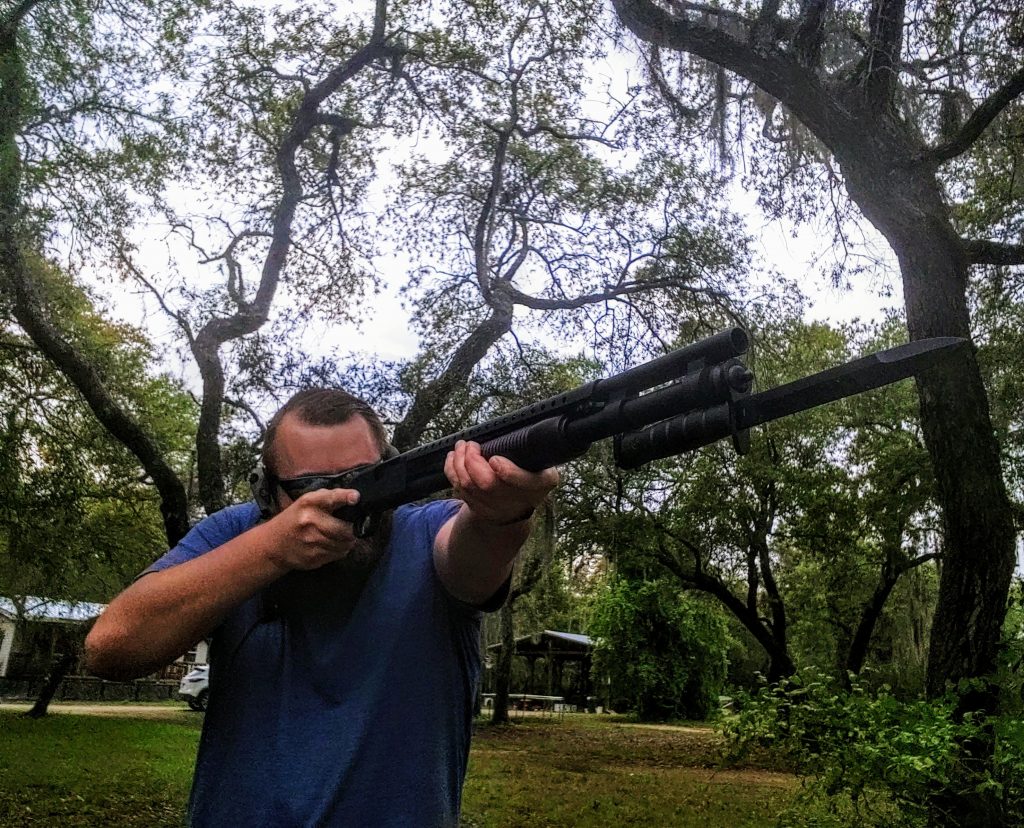 The 20-inch barrel is a little long, and an 18.5-inch model exists. That extra 1.5 inches of barrel does give you the eight-shot tube, though. The bead sight is ideally suited for speed and buckshot. It's a bright gold thats quick and easy to see and get on target. Speed is a necessity with a shotgun, and a bead means speed.
The Retro Bead
A bead also means your long-range slug shooting capability will suffer. Past 50 yards and your slug accuracy will be questionable. The 590 receiver is tapped for an optic's rail if you want to add a high tech option to a Retrograde shotgun.
The texture of the pistol grip and honeycomb pump is excellent for using the Rob Haught push-pull method for recoil control. You can dig in deep to both the pump and stock and fight the recoil very well. I like to work the pump using the recoil from the last round, and the honeycomb stock also gives you positive control over the pump when running it rearwards.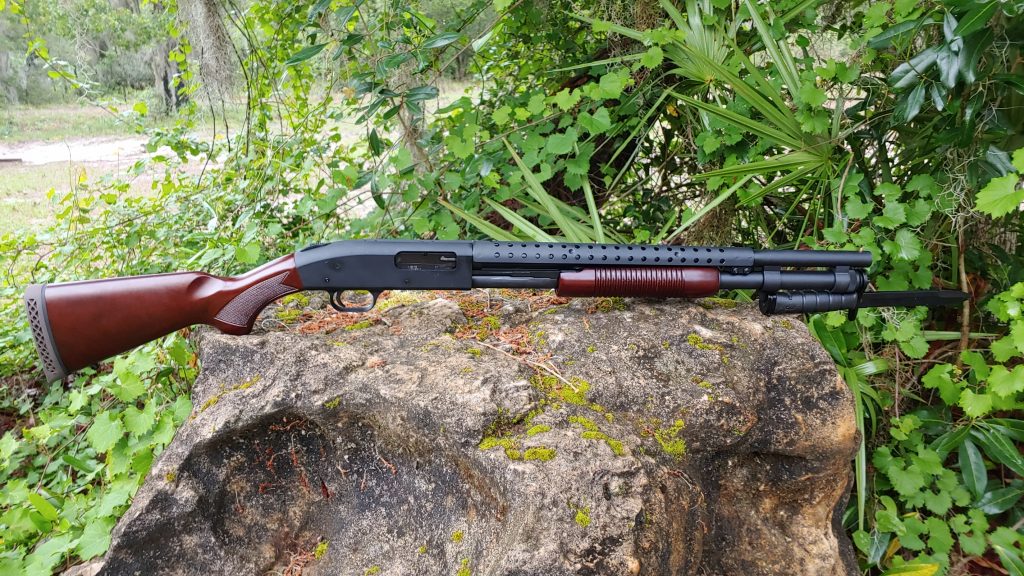 The 590 Retrograde comes with a built-in recoil pad that gives you a little cushion for recoil control. The recoil pad is very soft and does an excellent job of soaking up recoil. It's also very well textured and sticks to the shoulder very well.
It's an American made pump-action shotgun so yeah its damn reliable. The shotgun serves up buckshot brilliantly. It has a cylinder choke bore and gives a decent defensive spread. Of course, different ammo patterns differently. Basic buckshot gives you an approximate 10 to 12-inch pattern on average at 15 yards. FliteControl and Hornady Black produce a much tighter pattern that's about the size of a fist at 15 yards.
Who is the 590 Retrograde for?
It's most certainly for shotgun nerds like me. It's also for the tactical hipster, which I also am. This 590 is a solid defensive shotgun that offers you a novel look and feel. The wood furniture may not be tactical, but it doesn't have to be. If you want Magpul furniture, then buy the Magpul model and tac it out. If you appreciate a classic shotgun with a classic look and feel, but also want a good defensive shotgun, then this is a gun for you.
Should you want a shotgun for defensive purposes but want one to play with, then the Retrograde is also a perfect gun. It's stylish, funs to shoot, and gives you that boomstick feel.