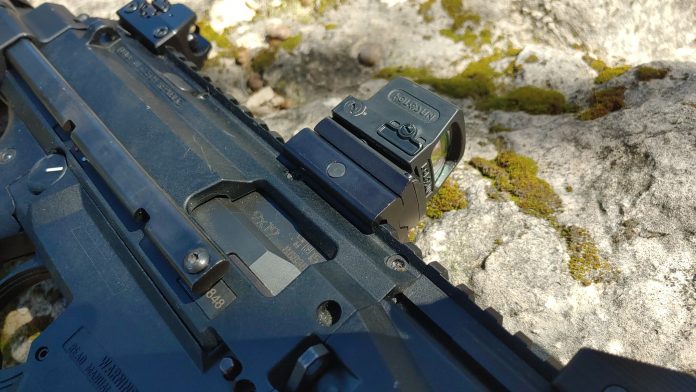 Holosun, love 'em or hate 'em, it doesn't matter because they are sticking around. Holosun's 509T is a relatively new model that has made big waves. The 509T is an enclosed mini red dot. An enclosed red dot is one in which the emitter is enclosed in the body of the optic. Most pistol-sized red dots are open emitters except for the Aimpoint Acro, and now the 509T.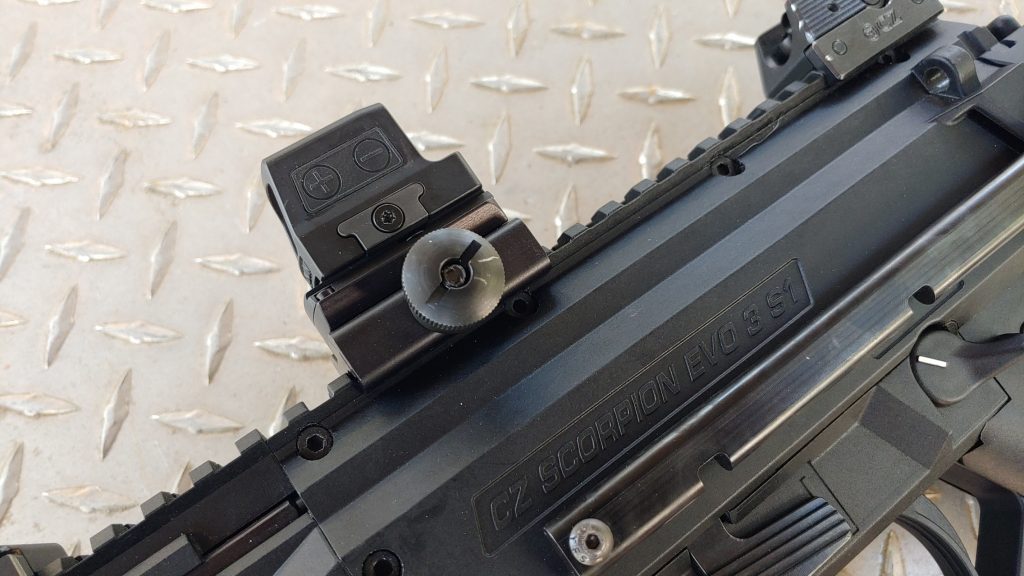 That being said, is the 509T just a cheaper rip-off of the Acro? That's a fair question, but the answer is no; it's most certainly more than a rip-off Acro. The only features they share is an enclosed emitter and the fact they both are red dots. Before we dive into the features that separate the 509T from other optics in this field, let's look at the specifications.
Specs
Height – 1.35 inches
Width – 1.21 inches
Weight – 1.72 ounces
Brightness Settings – 10 Daylight / 2 NV
Battery Life – 50K hours
Breaking Down the 509T
The 509T separates itself from the pack by its numerous features. Famously the T in 509T stands for titanium, which is used in constructing the optic's enclosed portion. Titanium is solid and ultra-lightweight. Perfect for pistol-sized red dots
Next, we get the multi reticle system that gives users either a 2 MOA red dot or a 32 MOA circle with a 2 MOA dot in the center. Two reticles are better than one. More on that later.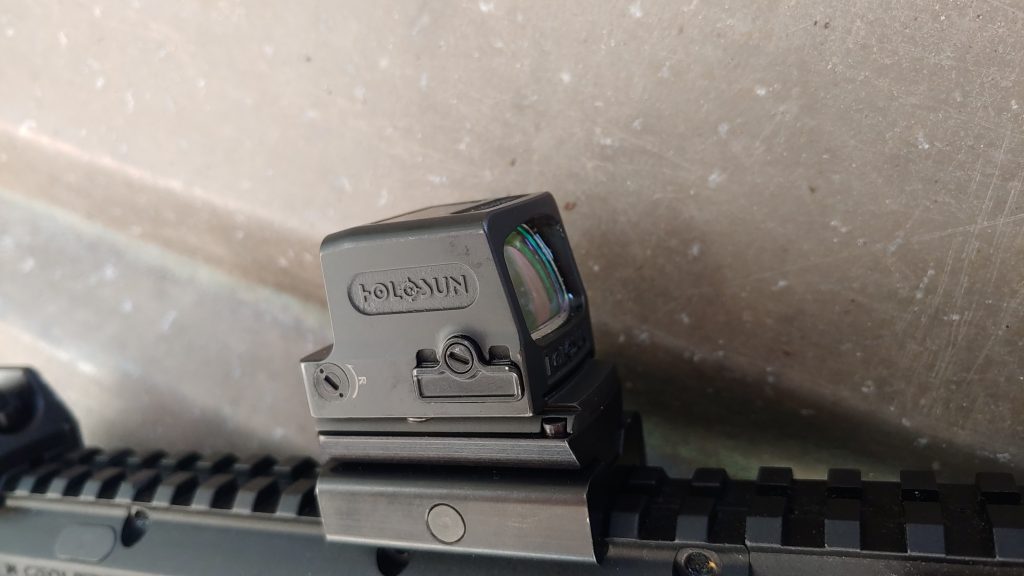 Instead of using an uncommon footprint, the 509T uses the Trijicon RMR footprint. This allows for easy mounting across a broad range of various optic's ready handguns. Trijicon's footprint is as close to standardized as we will get right now, so it's a nice touch. This with an adapter plate.
Finally, the 509T incorporates a solar backup for the battery. This little panel gives you some extra power if the battery dies in your optic.
Holosun did a good job separating the 509T from the pack and not creating just another red dot. The 509T does stand out due to its specs and features, but how does it handle putting lead downrange? 
Spitting Lead
The 509T is small enough to be mounted on a handgun, but it's also well suited for PCCs, carbines, and shotguns. Since the emitter is enclosed, it's convenient for long or longish guns. A pistol with an optic sits safe and tucked away in a holster when not in use. When a long gun is carried, it's more exposed to the elements, and the potential for things to get between the window and the emitter is higher.
My 509T has been living life on my CZ Scorpion. With ammo prices being what they are, 9mm seems to be the responsible ammo to practice with. It's also what I have a large stash of and fits the close-range use of an optic this size. The RMR mounting footprint made finding a mount easy enough. I went with a Trijicon mount, and it was the perfect height for comfortable use.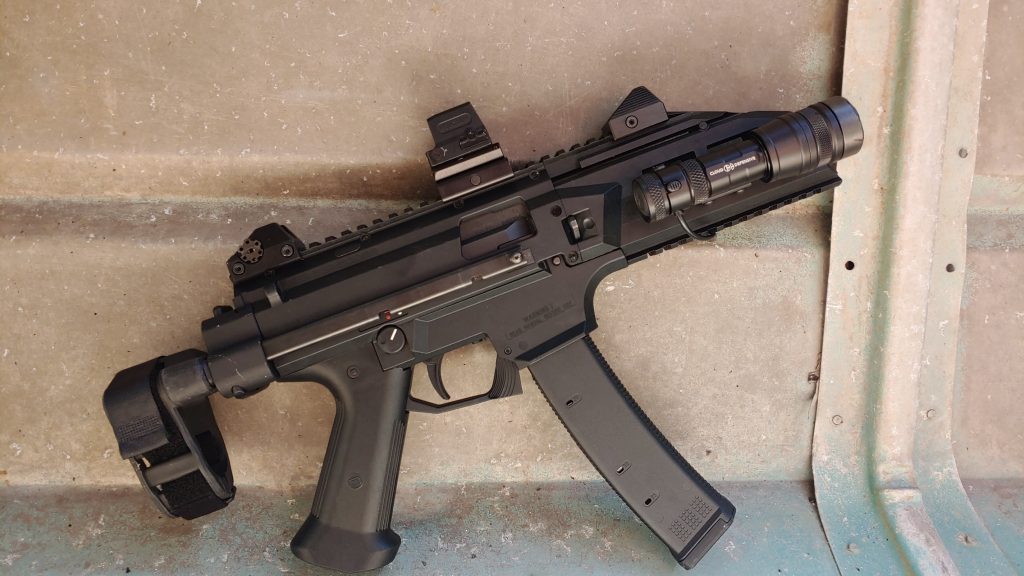 Zeroing is zeroing and is quite easy to accomplish. Holosun includes a little tool that is used to mount and zero the tool with relative ease. Big buttons are also quite handy for quickly changing the brightness reticle and swapping reticles.
We get a nice crisp red dot that's easy to see and focus on from the 509T. Swapping to the 32 MOA circle and dot reticle delivers an even crisper layout. These specific reticles are often a good choice for shooters who have astigmatism. It appears less star-like. The lens delivers a slightly blue-tinted view—common in most red dots, and other than that, the clarity is top-notch. The tint isn't severe enough to cause a colored target to appear anything other than its color.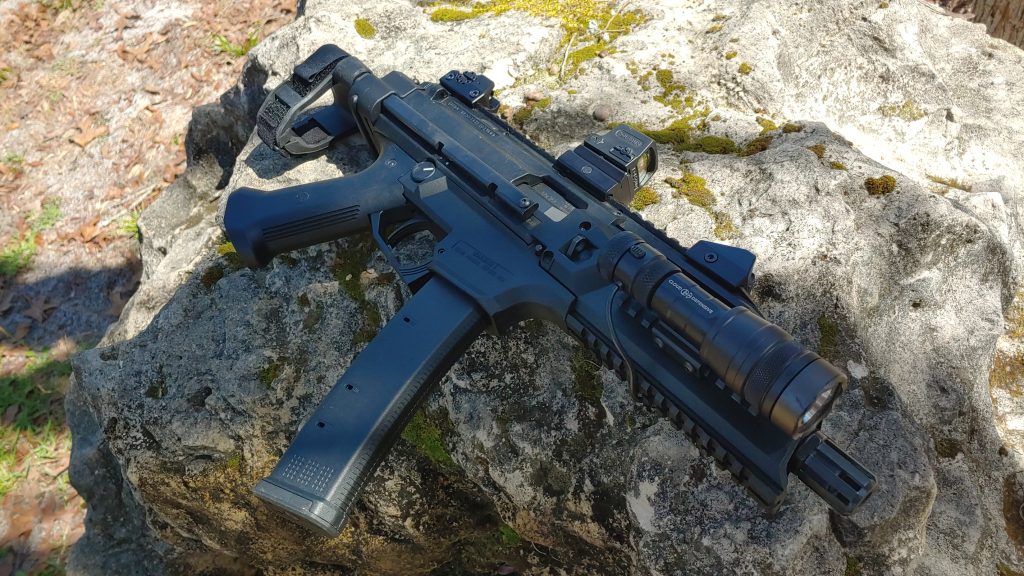 Ting, Ping, Pow
Ringing steel targets brings me a sense of absolute joy. A Scorpion equipped with a Holosun 509T makes for a lethal combination. At least as far as being lethal to steel and paper. That ding is oh so satisfying with various steel targets of various sizes
The little 2 MOA dot really allows for good precision on small targets out to 50 yards or so with a 9mm. I've been hitting a 4-inch steel gong with ease and making it rock and roll with every shot. The bigger 32 MOA reticle is great for bigger targets or closer ranges, or both.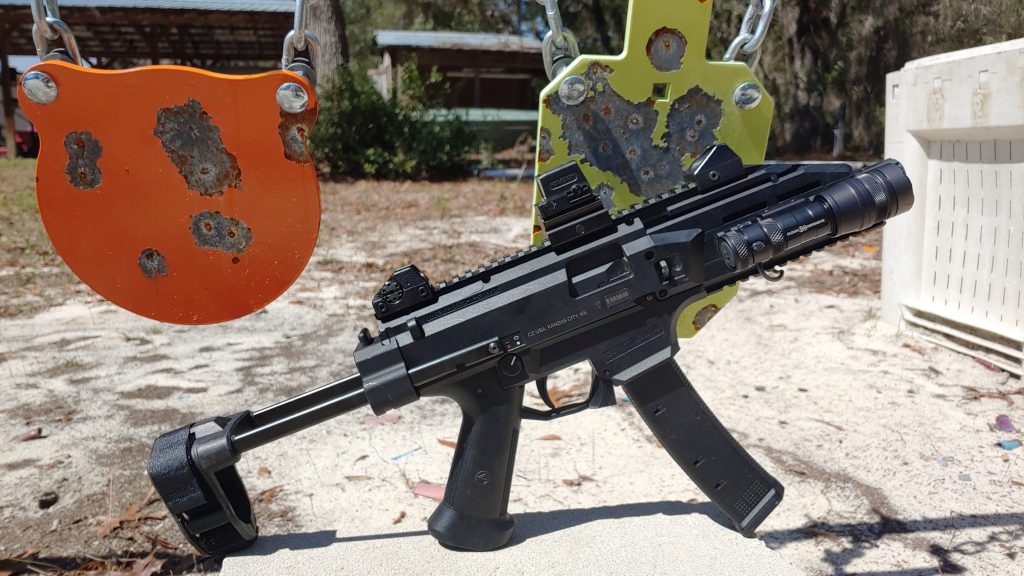 Compared to every other micro red dot on the market, the 32 MAO reticle is massive. A big reticle makes an easy-to-find reticle. You can spot that big red beast easily and find a way to get it on target quite quickly. Once that bit circle touches the target, let the lead fly.
At longer ranges than 32 MOA red dot obscured smaller targets quite a bit. However, against man-sized targets, even 50% reduced targets, the circle is still small enough to see the target at 100 yards.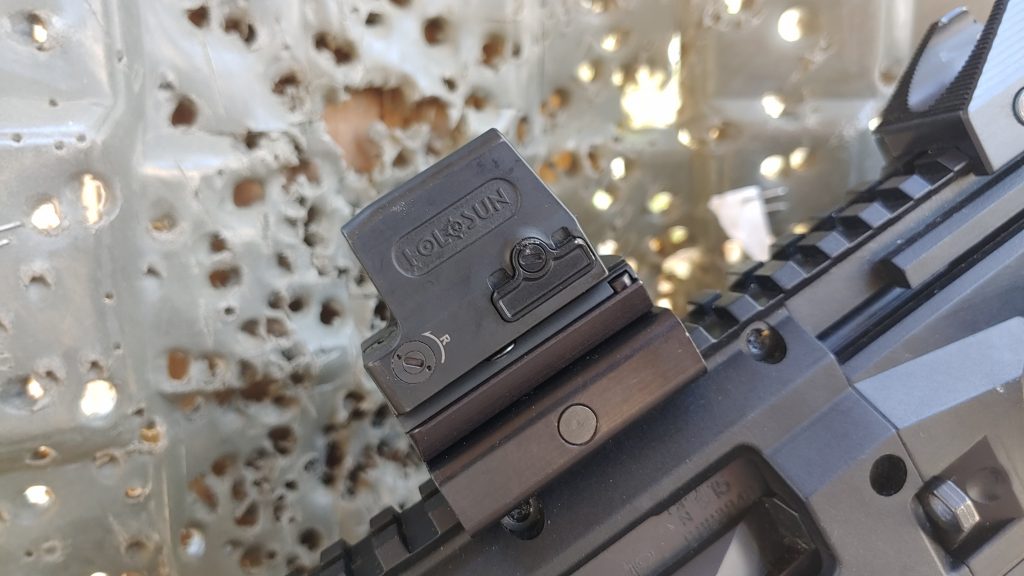 Big Reticles, Big Results
The 32 MOA size can be used for range finding. The height from the top of the head to the waist is 32 to 35 inches on an average man. If you aim at center mass and the top of the circle touches the head, and the bottom touches the waist, the target is roughly one hundred yards from you. With a 9mm, this proved to be handy at 100 yards.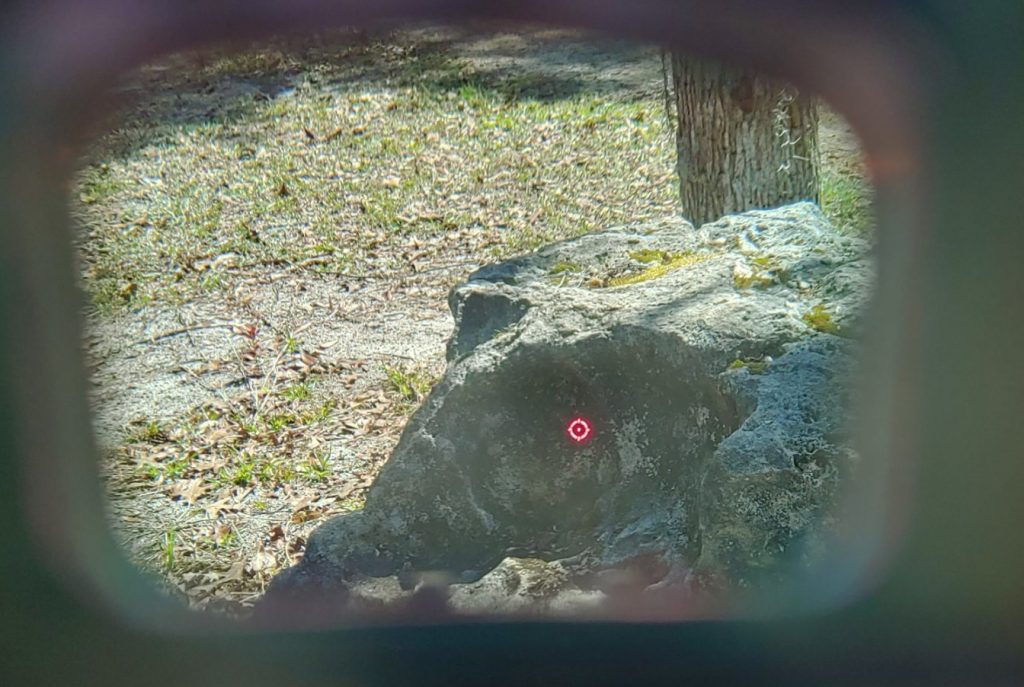 Bullet drop with 9mm at 100 yards varies but was around 12 to 14 inches with my chosen ammo. At 100 yards, I used the bottom stadia of the 32 MOA reticle to aim. This allowed me to compensate for drop and land accurate hits with ease at these long-for pistol-round ranges.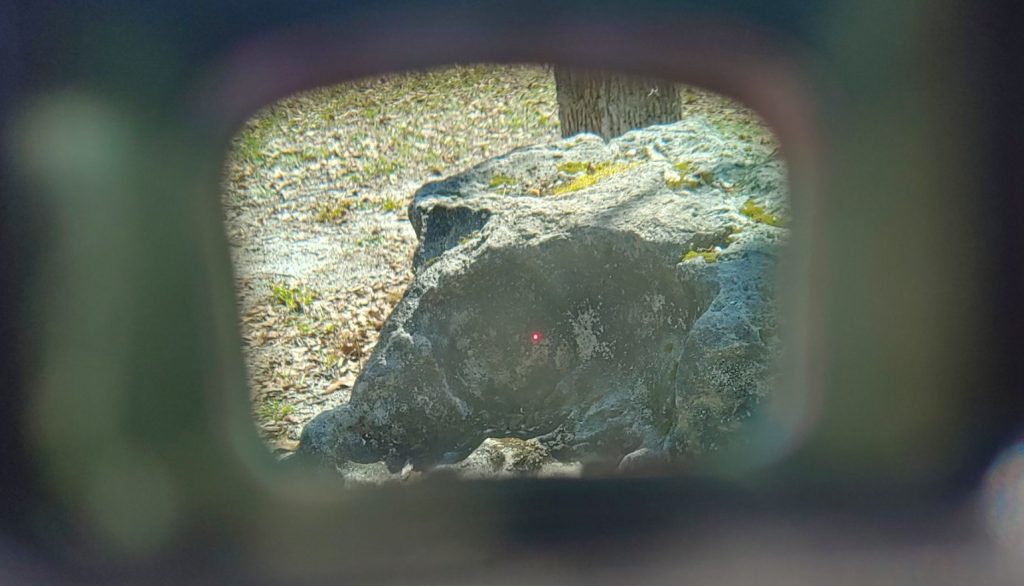 Holosun makes some impressive optics at budget prices. They've not only replicated what works but found ways to innovate as well. The 509T presents shooters with an enclosed optic design that offers multiple reticles and follows an industry-standard footprint. Factor that in with the low price, and you've got an excellent optic.