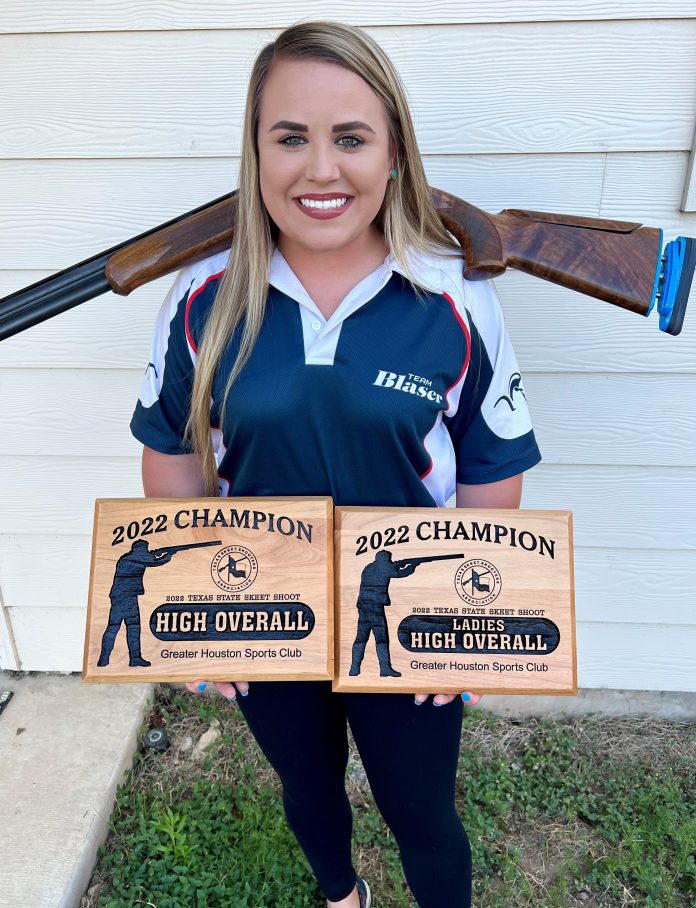 San Antonio, Texas (June 9, 2022) – Team Blaser's Rachel Barringer hit 398 out of 400 clays to win High Overall Champion (HOA) in the Texas State Skeet Championships in a field that included 123 men and women. Her impressive shooting also won her the title of Ladies Champion.
The event was held June 2-5, 2022, at the Greater Houston Sports Club in Houston, Texas. Under sunny skies and temperatures well into the nineties, Barringer started off the week with a 97/100 in Skeet Doubles and 100/100 in 12 Gauge, placing runner-up in both ladies' events. In 20 Gauge, she shot 100/100 and after a long shoot-off, won the Texas State Open 20 Gauge Championship and Ladies Champion. She also shot 100/100 in 28 Gauge winning the Ladies Championship. Barringer followed that with a 98/100 in .410 placing third in the ladies' division. The combined performance led to her state championship title. She is the second woman in the history of the Texas Skeet Shooters Association to win this title in the last 50 years.
"I am so honored to hold the Texas State Skeet HOA Champion title," said Rachel Barringer, Digital Manager, Blaser Group. "This has been a goal of mine for many years, and I am truly humbled. This would not have been possible without the endless support I've had from my employer and sponsor, Blaser USA, or the confidence I have in my Blaser F3 shotgun and other products I'm using."
Other Team Blaser members had very impressive performances as well. Cody Sergeant of Clifton, Texas won Doubles Champion, placed third in 20 Gauge, and shot 396/400 in HOA. Melissa Barringer of San Antonio, Texas won Doubles Ladies Champion and place third in ladies 12 Gauge. Kaleigh Lawson of Dallas, Texas was 12 Gauge Open runner-up, 12 Gauge Ladies Champion, and 20 Gauge Ladies runner-up. John Barnes shot an impressive 396/400 HOA and Georgie Seagraves shot her first 100 straight in 12 Gauge competition and won her class.
"We are so proud of Rachel's incredible accomplishments in these competitions," said Jason Evans, CEO, Blaser Group USA. "She is dedicated to excellence, both in her shooting and profession as our digital manager. We salute her hard work, and also the grit and dedication of the other Team Blaser members who put in outstanding performances at these championships."
About Blaser Group                 
The Blaser Group is the official U.S. importer for iconic German firearms brands Blaser, Mauser and J.P. Sauer; English gunmaker John Rigby & Co.; Minox optics and Liemke Thermal Optics. Established in 2006, the company which is based in San Antonio, Texas works with distributors, wholesalers, and over 200 authorized Blaser Group dealers across all North American states, with this figure continually growing. Today the Blaser Group's industry-leading product portfolio includes bolt-action, combination rifles and over-and-under shotguns designed specifically for game hunters and competitive target shooters. Its custom shop offers exclusive engravings, design work and custom finishing for bespoke guns. With recent innovations, Blaser Group has gone on to expand its product portfolio into cutting edge optics and accessory lines. For more information about the company and product lines, visit: www.blaser-group.com.