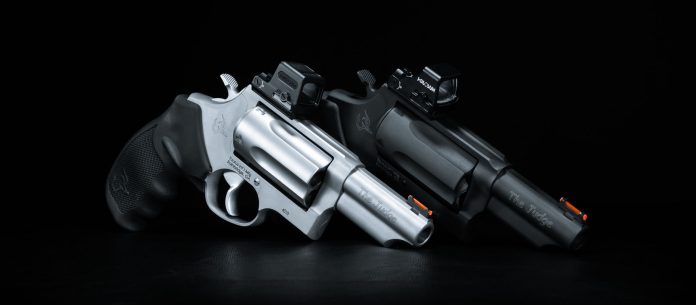 October 2023, Bainbridge GA – When Taurus USA launched the first ever optics ready defensive revolvers, the 856 and 605 Taurus Optics Ready Option (T.O.R.O.) revolvers, consumers loved them. Now, Taurus launches the first extension to the T.O.R.O. revolver line: The Judge T.O.R.O. The most popular multi-caliber revolver on the market is now optics ready.
The Judge T.O.R.O. is available in four different models, all of which feature a 3 inch barrel, smooth double action trigger, and a fiber optic front sight if you don't want to use the included optics plate. The four available models will be a stainless or matte black model with a cylinder that accepts 2.5 inch 410 shotshells, and stainless and matte black models that accept 3 inch 410 shotshells. The standard Judge T.O.R.O. and Magnum Judge T.O.R.O. optics plate accepts sights that fit the Holosun K-series or Shield RMSc footprints.
"What's better than a Judge? A Judge with a dot on it," said Caleb Giddings, General Manager of Marketing for Taurus USA. "The Judge is without a doubt our most popular revolver, and adding a red dot to it just enhances its capabilities."
The new Taurus Judge T.O.R.O. is shipping now, and MSRP will start at $615.99.
For more information on the Taurus Judge family of firearms, visit: https://www.taurususa.com/revolvers/taurus-judge
About Taurus:
Taurus Holdings, Inc. ("Taurus") and its subsidiaries continues to evolve and produce revolutionary new products. In addition, new standards for quality and efficiency help deliver reliable and affordable guns to the market. Taurus is based in Bainbridge, Georgia. Taurus is owned by Taurus Armas, S.A. which is a publicly traded company based in Brazil. Taurus Armas S.A. manufactures a wide variety of consumer and industrial products that are distributed worldwide.
For additional information, visit www.taurususa.com.