I've covered snub nosed revolvers and how they can still be useful in spite of their lower capacity and their basis on older handgun
technology. Taurus' 856 line of compact framed revolvers has been getting a lot of attention lately. Not only was Taurus the first company to sell optics-ready carry revolvers this year, but the 856 revolver family is proving itself as a solid value proposition. The industry has been responding in kind, whether its holster companies supporting 856 models with holster fits, spring upgrade kits, or aftermarket sights. Not too long ago, Fort Worth, Texas based XS Sights began offering a "big dot", tritium-powered front sight aftermarket upgrade that fits both the Taurus 856 and 605 models. XS Sights has been known for their Big Dot sights for some time now, and people seem to either really like them or really hate them. In the context and use case of the snub nosed revolver, a bright and bold "big dot" front sight is ideal.

THE CASE FOR THE XS SIGHT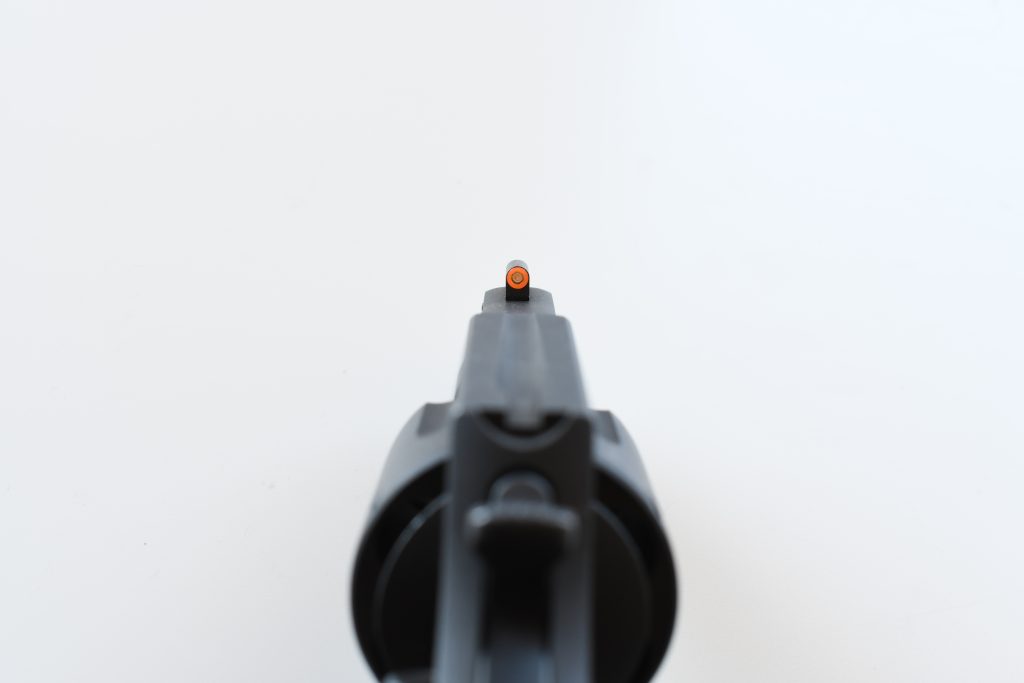 Even though this pieces is focused Taurus 856 revolver and the XS aftermarket front sight upgrade available for it, the reasoning below can easily apply to almost any snub nosed revolver, as these compact revolvers mostly come with smaller and low profile fixed sights. Typically, complaints against "big dot" style sights is that they are very "wide" or "coarse" and cost the handgun shooter a good deal of precision. And this can actually be true in certain instances…
However,
Snub nosed revolvers are primarily carried for close range personal protection. Their mission is to "break contact" or get an assailant off you.
Because these guns are smaller, they are harder to shoot. They have short barrels and even shorter sight radiuses.
Unless your gun is an expensive custom or semi custom model, chances are the rear sight will be cut into the top strap of the gun's frame. This rudimentary "rear sight" will have a fairly narrow channel and isn't the easiest to see.
Even with a 6th round (compared to other snub designs which only hold 5), a Taurus 856 is still a low capacity handgun.
Reloading this or any other small framed revolver is relatively slow. In other words, these guns are not built to keep providing carefully aimed sustained fire.
All that said, what the Taurus 856 or any other snub are optimized for is quick and immediate action. No one carries a small revolver expecting to get into an extended gunfight or to take only precise shots. And this is why a "big", bright and bold front sight on a gun meant to the lengthwise distance of a parking space isn't unreasonable. After all, if a concealed carrier needed to use his or her snub nosed revolver defensively, their eyes are ideally going to be focused on the threat and not those dinky little sights. So why not lean on the benefit eye-grabbing bright green or bright orange front sight? Also, while the Taurus 856 is a great value for the price, the factory sights do leave something to be desired. It's easy to loose them in challenging light/ambient conditions. Moreover, sometimes light bounces off the rear sight in strange ways which also makes it difficult to get a good sight picture. This is why a bright glow-y, eye-grabbing dot for quick target focused shots makes a lot of sense.
XS 856 FRONT SIGHT OVERVIEW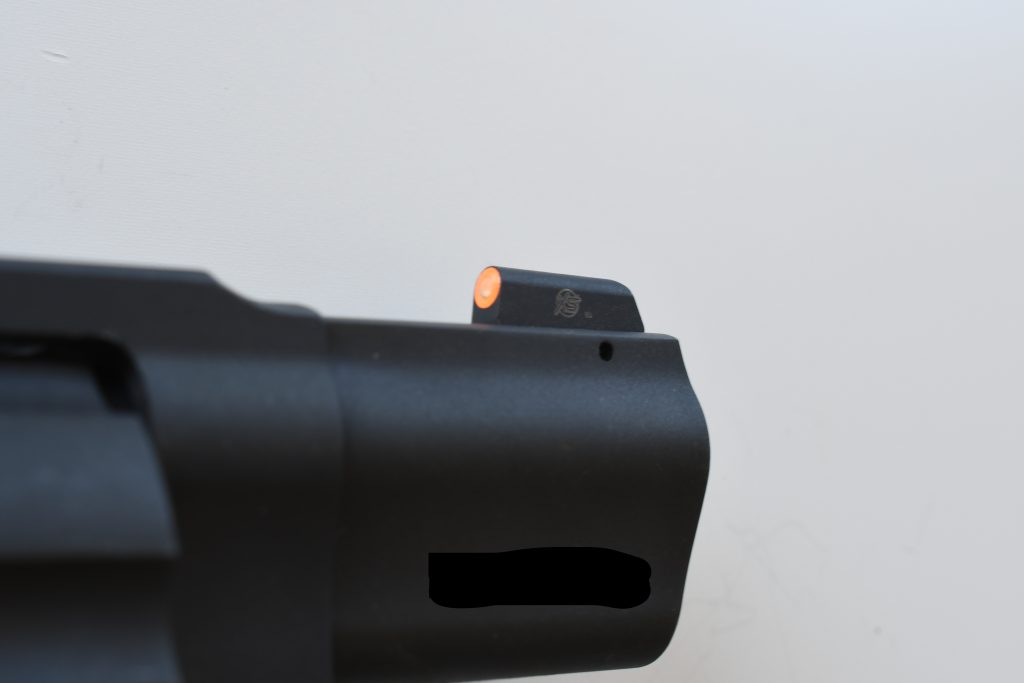 The XS Sights Standard Dot Revolver Front Sight (as it is called on their catalog) comes with two standard color options—bright orange or bright green. These green or orange hues are photo-luminescent and are able to absorb ambient light to appear brighter in less than ideal conditions. Finally, for use in very low light or outright dark environments, the tritium vial found in the middle of the sight will give off a familiar green glow. A clear convex cap that seals off both the photo-luminescent material and the tritium vial also helps catch light by virtue of its shape. While not necessary when installing this specific sight to a Taurus 856, XS Sights also includes a small amount of Vibratite VC3 compound which is very nice of them. It should be conveniently set aside because it's very useful for securing optics screws, red dot mounting plates and the like on firearms. XS Sights machines the metal for their sights on CNC mills in Texas and the fit and finish is very good. In fact I couldn't help to notice that once the front sight was installed, the black finish was a perfect match to the black finish on my 856.
INSTALLATION
Removing the factory front sight and installing this XS upgrade turned out to be easier than I expected. Ill admit that I don't have a gunsmithing bench or specialized tools at home. However, that didn't stop me. I put the revolver behind a piece of 2×4 to support it, and then proceeded to use a finishing nail and a small hammer to drift out the roll pin, remove the factory front sight, replace it with the upgrade and drift the roll pin back into place. This actually a positive on the 856's behalf, as all compatible sights for the 856 family are installed or removed this way.

Part 2 Of This Review Will Cover The Live Fire and Practical Aspects Of This XS Front
Sight.