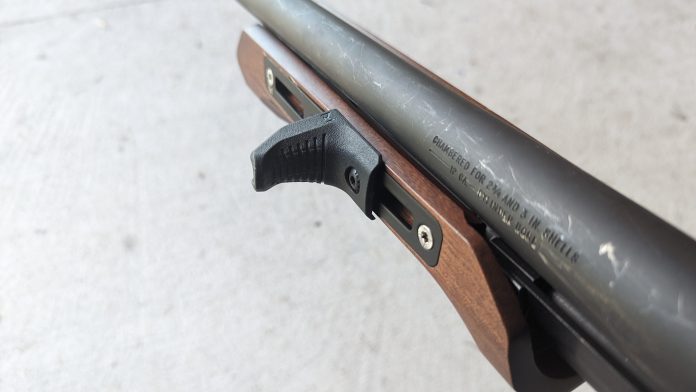 I'm always looking for a way to improve my control with shotguns. I love shooting shotguns, and they tend to be heavy recoiling. The best recoil mitigation technique you can use is the push/pull technique created by Rob Haught. My efforts typically revolve around making the push/pull more efficient and easier to do. My latest shotgun technique revolver is around trying to mitigate the recoil of stock shotguns or firearms by adding a hand stop. I've tried vertical grips, and they work well, but they tend to add a lot of bulk to a fairly lithe weapon. 
A hand stop is that device you'll commonly find on short carbines and subguns. It's designed to keep your hand from drifting in front of the barrel. I tried the technique before by mounting a hand stop to the bottom of the pump and bracing my hand against the stop leading with my pointer finger. What I got was the bite of recoil, all focused on my pointer finger. It worked, but it hurt.
It really hurt. Recently, it dawned on me: what if I moved the handstop from the bottom of the gun to the side of the gun? On an M-LOK pump, I was able to easily attach a hand stop to the side of the pump. My thought process was that the meaty part of your hand could absorb the recoil better than a single lone finger. I strapped the hand stop up, grabbed some various strength loads, and hit the range.
Hand Stops and Shockwaves
I started with mini-shells. They have fairly low recoil and should give me an idea if this will be more painful with other loads. Prior to firing, I did notice that the gun felt quite stable, and I could push harder against the stop than I normally can with just a good grip on the pump. I helped the rear grip fairly close to my face, ready to accept the punch I might get if it didn't work.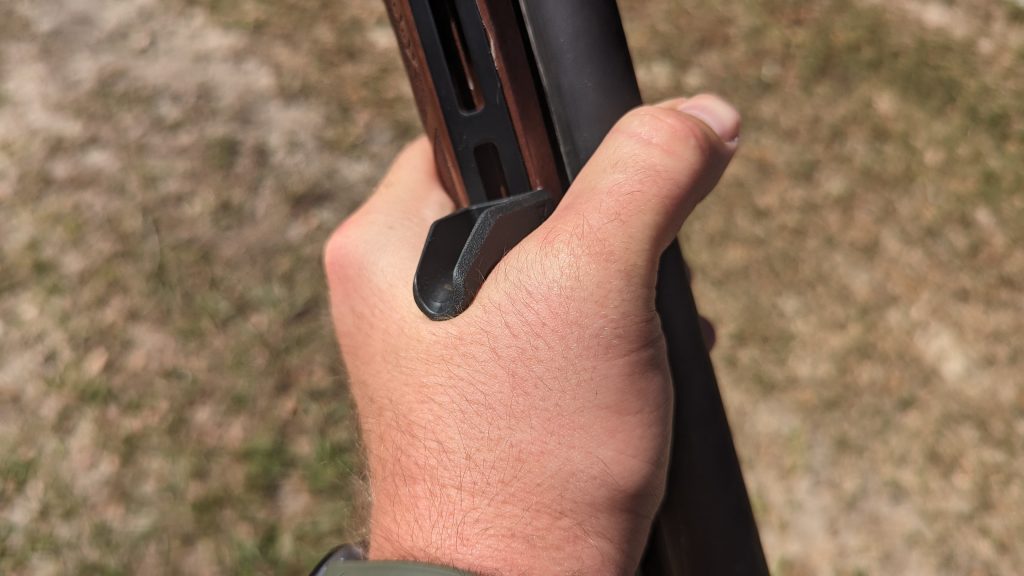 Mini shells proved not to be a painful problem, so I switched low recoil buckshot and let it fly. Oops, it proved not to be super comfortable, but nowhere near as painful as the original hand stop on the bottom of the pump. It was a solid hit to the meaty part of my hand. The hand stop still made my push-pull more efficient and kept me from getting punched in the face. The gun barely moved upward, and there was a big difference between using the hand stop and not with a Shockwave.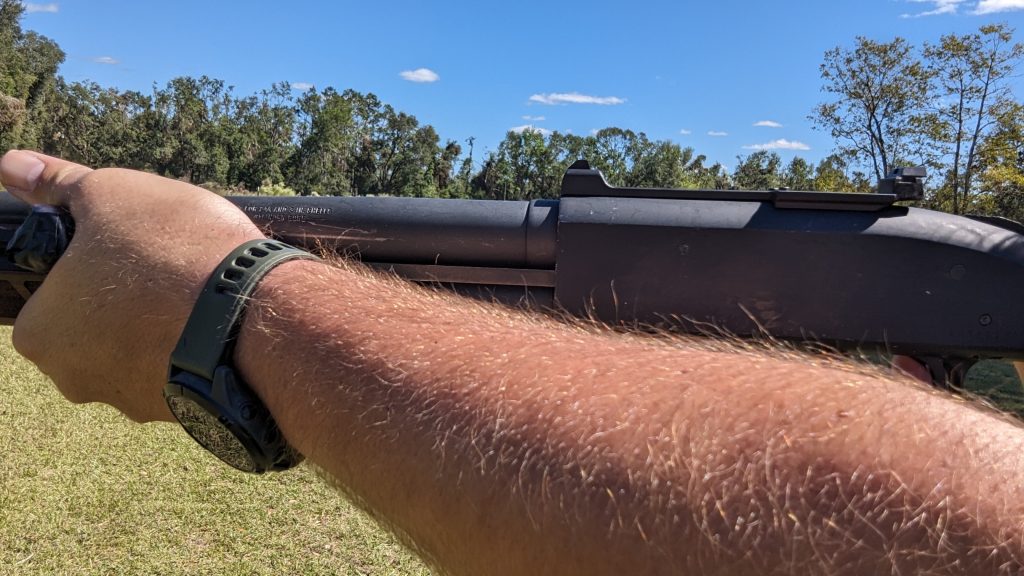 It's still painful. It's not great for more than a few rounds. I began to conspire about how to make it a little comfier, which led me to a roll of electrical tape and some packing foam. I cut out thin layers of packing foam and stacked it against the hand stop. I secured the foam with tape and went back out the foam.
Packing Foam and Tape
I grabbed the same low-recoil buckshot and my Shockwave and gave it another try. The foam massively reduced pain and discomfort and made shooting the gun much easier. It wasn't perfect or without its discomfort. Your wrist and hand are still eating the entire recoil impulse. However, it's much easier to stretch the gun outwards a bit to control the gun and keep it on target.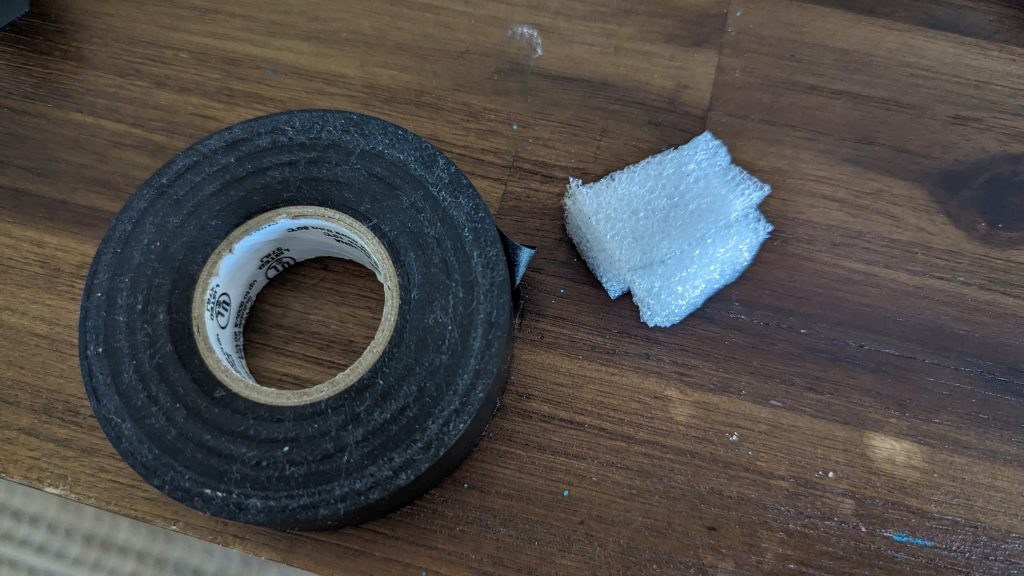 I didn't receive a bloody lip, either. I could quickly and easily put multiple rounds on the target quite quickly with little difficulty. It will tire you out a bit, and your wrist will start to feel the impact. Plus, the foam and tape start to work their way off the hand stop. It's far from perfect, but it's a start.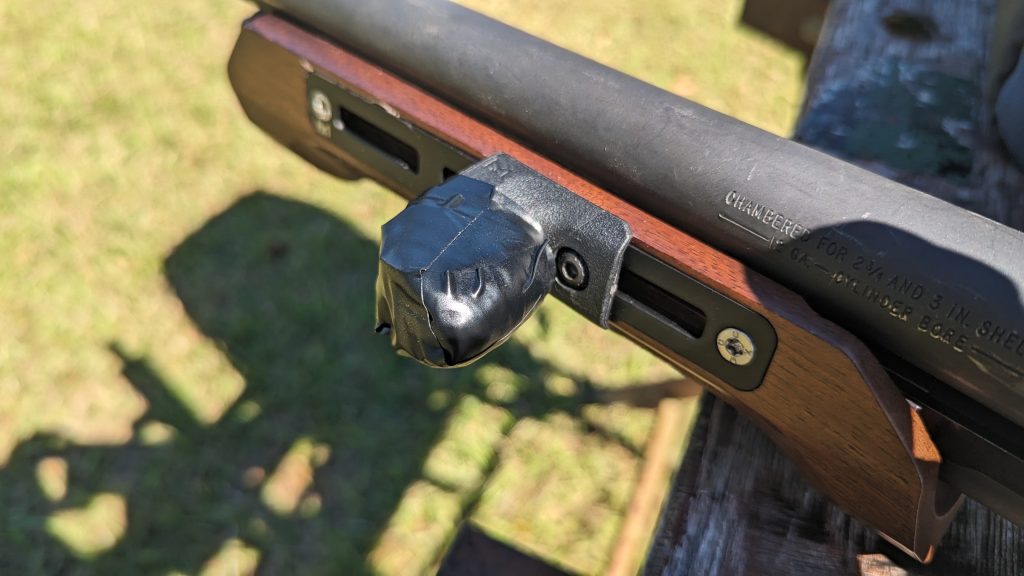 I feel like a better option would be a soft pad thick enough to press against the pump. This helps mitigate hand and wrist pain while adding to the ability to stretch the gun. I'm back to the drawing board, and part 2 of taming the Shockwave might involve some concocted pad design, but you'll have to wait and see.