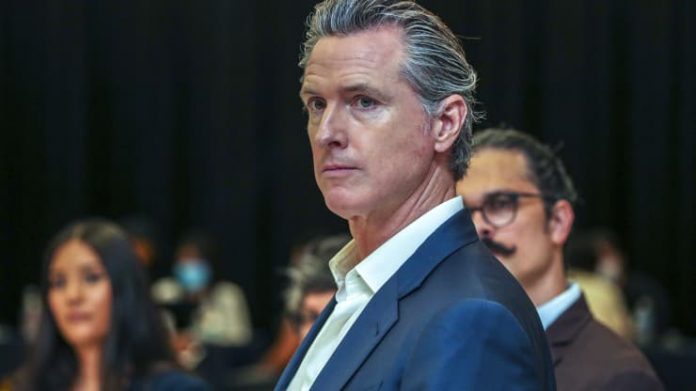 To say that Gavin Newsom's response to the Cook's Corner shooting feels a little light on details would be putting it far too mildly.
California is huge on the cop exemptions. Cops are the ones to be trusted. Unless they aren't, so defund them. But they totally are, so give them the dangerous weapons. But…
ORANGE COUNTY — In the wake of last night's mass shooting in Trabuco Canyon that left at least three victims dead and six individuals wounded, Governor Gavin Newsom today issued a statement regarding the incident and urged all Californians to use the state's "red flag" laws. Red flag laws allow victims of domestic violence, family members, coworkers, and others to seek protective orders to prohibit potentially dangerous individuals and abusers from possessing guns. 
The retired police officer who was the shooter serviced from 1986 to 2014 if I recall correctly.
"Once again, a siege of bullets has shaken a community and torn families apart," said Governor Newsom. "California mourns for the victims of last night's horrific shooting at Cook's Corner.
"As we continue to learn more details about this act of violence, there are early reports that this horror was related to a domestic dispute. 
Yes, that appears true. The estranged wife of the retired officer was among the victims.
"This type of trauma is unfortunately not isolated. Two-thirds of mass shooters in America have a history of domestic violence. Victims and survivors in California should know they are never alone — we have tools and resources to support and protect you. Our state's red flag laws allow victims, family members, coworkers, and others to work with local law enforcement and the courts to safely remove guns from those who may be a potential threat. 
So they are already prohibited possessors, right? So two thirds of mass shooters in America got weapons anyway despite it being extra illegal to mass murder with a domestic violence background?
"We must continue to strengthen, defend, and use these laws. If you see red flags, say something — and in doing so, save lives." 
We will once again gloss over any negative outcomes or problems with using these red flag laws, go back to your lives and everything is fine.
In California, Gun Violence Restraining Orders were used to prevent 58 threatened mass shootings between 2016 and 2019 and have shown immense promise in reducing the incidence of firearm suicide.
That is taking a hellacious amount of credit and then rolling it back immediately. Immense promise? So nothing. Just the theory that, despite it being the law already, that it might work, maybe, eventually, we are hopeful… They claimed 58 prevented mass shootings with GVROs, and I am certain they are claiming any possible mention of violence as a prevention, but they can't even reach that far to say it helps with suicide. They just feel that it does, or will.