From our phones to digital watches, GPS and just about everything else electronics are a vital part of our lives. Many of us have outlets dedicated to charging a wide range of devices in our kitchens and bedrooms. What do you do when you're out in the woods, in the middle of a power outage or god forbid struggling to connect to loved ones after a disaster.
Sunjack has developed a solution that works for that long day on the range, the trip to the woods or the emergency power source during a disaster. The SunJack 14W+8000mAh Battery system is what you need when you're far from an outlet.
The system includes:
4 solar panels that fold out from what looks a Trapper Keeper.
On the back of the panels is a mesh zippered pocket with 2 USB ports
8000mAh battery.
2 carabineers to mount the panels facing the sun.
1 mini USB charging cable (for the battery)
What are Watts and mAh?
To put Watts and mAh into perspective a small iPhone charger is 5W with the larger Ipad charger is 12W think of this as the amount of energy that is being transferred at a time. mAh represents the volume of power that is stored. The 8000mAh is enough to fully charge 4 iPhones or 1 tablet based on it's specs. I found it charged my iPhone 6 twice before it depleted the battery when not attached to the solar panel.
Charging ratings on solar panels is based on the full sun so you want to make sure that any panel you purchase is at least 30-40% more than your required drain. It is best to go 100% more if possible. With this in mind, if tablets are your primary concern, you might want to go with the larger 20W 16000mAh version.
What's That Mean to Me?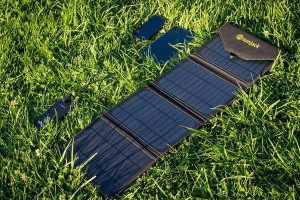 Our usage during testing was for powering my cell phone as well as charging up a GoPro during long trips to the range documenting a review and camping . For these purposes, the panel worked fantastically. With 2 ports attached to the solar panel, you can direct charge a device as well as the 8000mAh battery. The Battery is removable so after a full charge, you can take the battery with you to use on the go.
Some things to note, the folding solar panels are black and designed to be laid in the sun so if you lay your phone on top of it while charging it will get hot. I mean really hot, in my first test I accidentally activated my phone's safety shut down. This is easily fixed by placing the phone under the panels flap keeping it shaded but it is something you need to be aware of. The rear mesh pouch is perfect for this, you can move around while charging without losing your device or getting tangled in cords.
The Sunjack website claims that the 8000mAh battery will charge in 5 hours. This is based on the full and optimized sun. In the real world of the cold north, we found this to take closer to 7 hours. However, even 7 hours to charge a battery that will charge 4 phones is damn impressive when outlets are not an option. Charging of devices from either the panel or the battery was in line with wall charger times which is really impressive for such a small device.
Portable For On The Go
For those of you on the move the Gallery section of Sunjcak shows plenty of people walking around with the panels carabineered to their backpacks, or attached to their bikes and even climbing equipment.
The battery pack that comes with the system is also capable of being charged via a wall jack. While this sort of defeats the purpose it makes it easy to pre-charge the battery so that your not relying on the solar panels alone to get you through the day for your devices as well as charging the battery.
The long cycle of 1000 charges makes this battery ideal for a long usage life. This makes the Sunjack the ideal solution for both regular campers and preppers who need to know the battery will work when they need it. The battery will hold a charge for 3 months when in storage. This 3-month charge life cycle is an issue for long term bug out bag storage if you're counting on the battery and not the charging panel. Not a huge deal as you will have the solar panel to charge it from but something to be aware of.
Durability
As for durability testing, the kit was in my range/class Tupperware with armor, ammo and lots of other things getting banged around. It was exposed to light rain when I left it on the hood of my car and forgot about it and it was dropped from about 4 ft twice in a closed state. This is far from durability testing but it is inline with typical abuse for a device like this. The case itself is black and showed dirt fast but no harm has come to the battery or panels as of yet. If that changes we will update the review.
Conclusion
The Sunjack 14W+8000mAh Solar panel plus battery system is affordable and of a better quality than it's cheaper competitors. A quick look on Amazon will net you several look-alike options in the 20-21W range. One look at the reviews will show you that these net 14-15 Watts with complaints of breakage or poor solar conversion. The Sunjack boasts 92% of its 215 reviews at 5 stars and an overall score of 4.5 stars.
If your looking for a quality solution to power you on the go we suggest the Sunjack series of solar charges. You can find you're here: http://www.sunjack.com/collections/shop-portable-power with the 14W version we reviewed listed at $139.00.