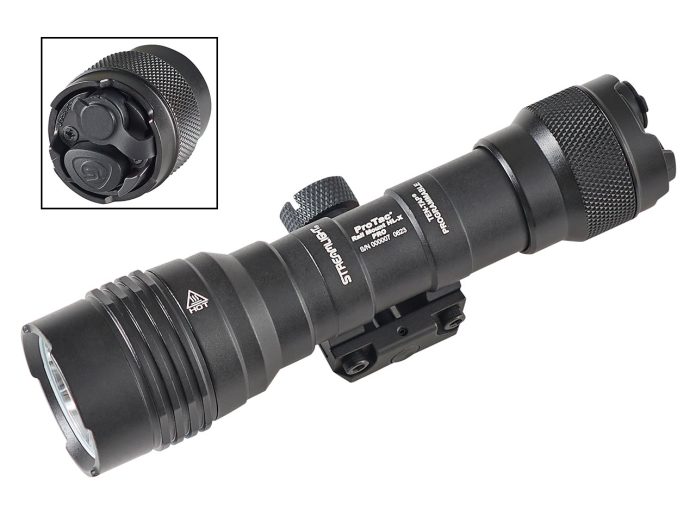 EAGLEVILLE, PA, October 19, 2023 – Streamlight® Inc., a leading provider of high-performance lighting tools, introduced the ProTac® Rail Mount HL-X Pro gun-mounted light, providing up to 1,000 lumens, 50,000 candela, and an extreme beam reach of 447 meters. The new light features an innovative Jack-Cap™ tail cap switch that offers both push-button or remote pressure switch operation, and also offers battery versatility, allowing users to choose between two different battery types.
The lightweight, low-profile ProTac Rail Mount HL-X Pro features a rugged, integrated rail clamp designed to rapidly and securely attach to rifles, carbines and sub-machine guns with a MIL-STD 1913 (Picatinny) or, by using the included M-LOK® mount, to M-LOK or M-LOK compatible rail systems. It is powered by either two 3-volt CR123 lithium batteries or one Streamlight rechargeable SL-B26® lithium-ion rechargeable battery pack. This multi-fuel option allows for use of primary disposable batteries if the rechargeable cell is out of power.
"This newest addition to the ProTac family of weapon-mounted lights is the 'whole package,'" said Streamlight President and Chief Executive Officer Ray Sharrah. "It not only functions as a high lumen light, but with its 50,000 candela and long beam reach, it also puts more light on a target at a distance. This makes it a powerful tactical tool for law enforcement professionals, military personnel and other first responders as they perform room clearing, search operations and other maneuvers under low-light conditions. Its innovative tail cap switch provides switch redundancy, offering both a push-button switch and a port for a remote pressure switch. And users can choose between rechargeable and disposable batteries, depending on preference or availability."
The new light mounts to a broad range of weapons safely and securely by means of a one-handed, snap-on and tighten interface that permits users to keep their hands away from the gun muzzle. The light's multi-function, push-button tail switch offers momentary and latching constant on operation; the optional remote switch is available in momentary only and momentary/latching versions. Both allow for one-handed operation of the light's momentary, constant on or strobe modes. The light is also TEN-TAP® programmable to allow for selection of three different programs: high/strobe (factory default), high only, or low/high.
The ProTac Rail Mount HL-X Pro uses the latest in power LED technology for extreme brightness. When using the SL-B26 battery pack, the light delivers 1,000 lumens, 50,000 candela and a 447-meter beam distance on high. On low, it provides 60 lumens, 3,100 candela, and a beam distance of 111 meters.
When using CR123A batteries, the new light runs for up to 1.25 hours on high and 21 hours on low. With an SL-B26 battery pack inserted, the light's run time is up to 1.75 hours on high and 24 hours on low. The run time for the strobe feature is up to 3.5 hours depending on the type of battery used.
The new light is fabricated from 6000 series machined aircraft aluminum with Type II MIL-Spec anodized finish. It measures 5.43 inches in length and weighs 6.6 ounces with two CR123 batteries and 7.2 ounces with the SL-B26 rechargeable battery pack. When using the standard push-button switch, it is IP67-rated for waterproof operation to one meter for 30 minutes, and is IP54-rated for water-resistant operation with the remote pressure switch installed. Extensively live-fire tested, the light is impact-resistance tested to two meters.
The ProTac Rail Mount HL-X Pro is available as a Light Only or as a System, which includes a remote pressure switch, Jack-Cap tail switch, remote retaining clips, double-sided tape, zip ties and a M-LOK® mount.
It has an MSRP that ranges from $210.00 to $266.00 depending on the configuration and includes Streamlight's Limited Lifetime Warranty.
About Streamlight
Based in Eagleville, PA, Streamlight, Inc. is marking 50 years of manufacturing high-quality, durable flashlights designed to serve the specialized needs of professionals and consumers alike. Since 1973, the company has designed, manufactured and marketed high-performance flashlights, and today offers a broad array of lights, lanterns, weapon light/laser sighting devices, and scene lighting solutions for professional law enforcement, military, firefighting, industrial, automotive, and outdoor applications. Streamlight is an ISO 9001:2015 certified company. For additional information, please call 800-523-7488, visit streamlight.com or connect with us on facebook.com/streamlight; twitter.com/Streamlight; instagram.com/streamlightinc; linkedin.com/company/streamlight-inc./; and youtube.com/streamlighttv.