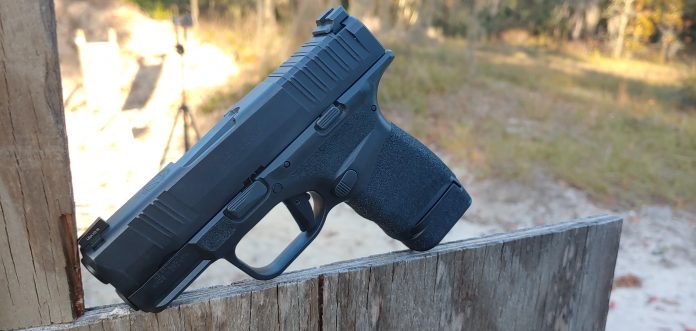 The SIG P365 threw down the gauntlet when it came to producing small pistols with lots of firepower. Since the P365 was introduced, the market has been playing catch-up, and the Hellcat is the first real challenger. The Springfield Hellcat is an evolution of the XD line of polymer-frame striker-fired pistols. The Hellcat is a micro-compact 9mm that rivals the SIG P365 in size while packing an additional round in it's flush fitting 11 round magazine. On top of that, the Hellcat has a 13 round extended magazine included.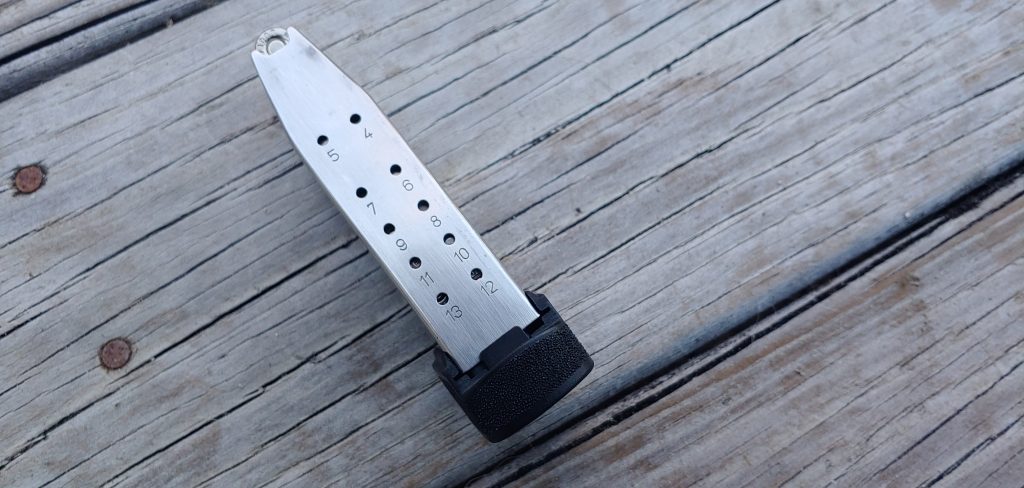 The Hellcat is a class-leading firearm when it comes to measuring size and ammo capacity efficiency. The Hellcat has met with much fanfare, and I'll say as an owner since launch I've become a big fan of this little gun.
Hellcat Specs
Size matters, and with concealed carry guns, there is a fine line to walk between too big and too small. A weapon that's too big will often be harder to hide and more uncomfortable for daily carry. A gun that's too small is too hard to shoot and manipulate. The Hellcat is just right. It's small, but not too small. You can get a full grip on the gun and carry in comfort and concealment. Here's the size by the numbers.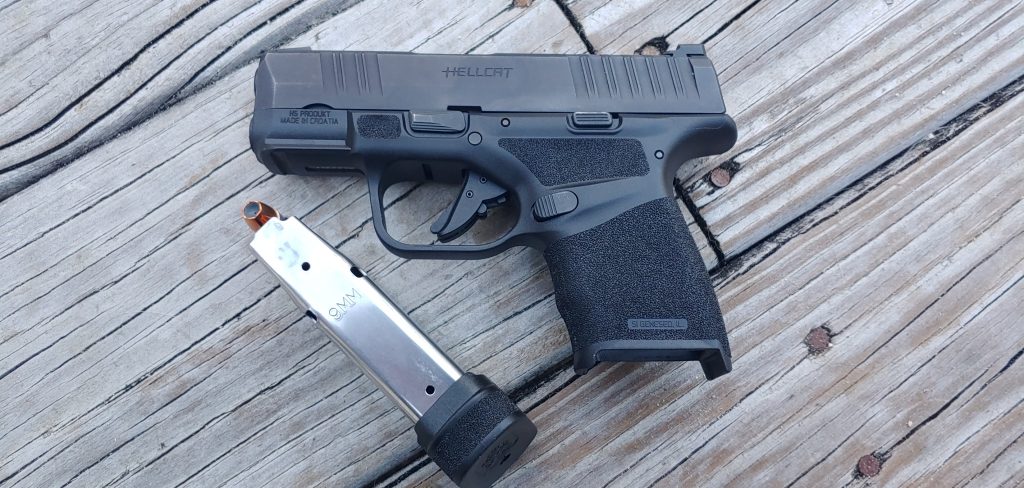 Length – 6 inches
Barrel Length – 3 inches
Width – 1 Inch
Capacity – 11 or 13 rounds
Height – 4 inches with the flush fit magazine, 4.5 with the extended magazine
Weight – 17.9 ounces
As you can see, the gun is size efficient without being too small. It's easy to carry regardless of the shooter's size. From my 250 pound frame to my girlfriend's petite 114 pounds, we can both comfortably conceal the weapon and manipulate its controls. The Hellcat is sized for everyone, and it works well size-wise for the majority of shooters, both big and small.
Ergonomics
One of the more challenging aspects of small gun design is making an ergonomic grip. It's all about space efficiency, and the Hellcat does a beautiful job of creating an efficient and comfortable grip. The trigger guard has an excellent undercut that allows for a high grip. There is also a slight beavertail that protects your hand from slide bite when you take a high grip.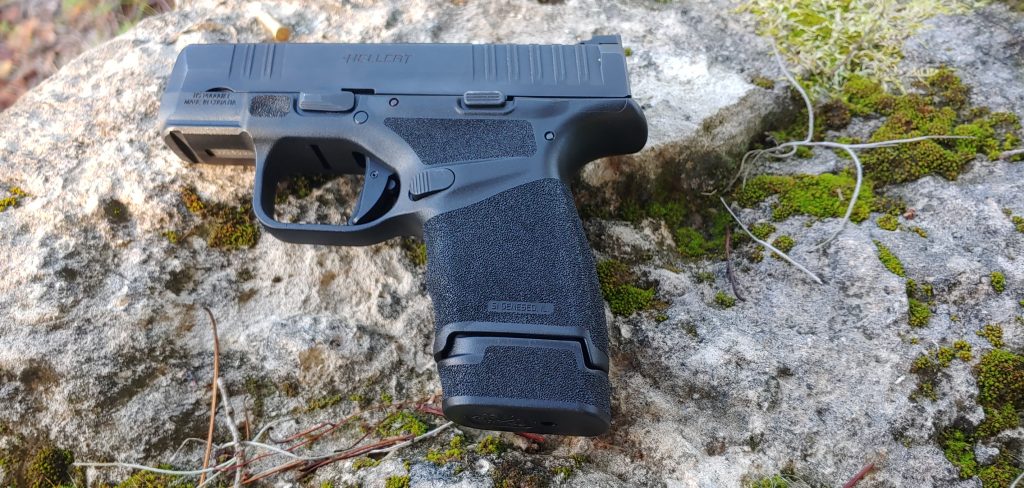 Without the included pinky extension, I did have a hanging pinky. I hate that, so I added the extension and found it to be well worth the additional height. The Hellcat uses a new grip texture called the adaptive grip texture. This texture's design allows it to be grippy and aggressive when gripped hard and aggressive like. It's soft when left alone and doesn't rub your body raw. The grip texture goes quite high and gives you a very secure grip.
Speaking of texture, the serrations on the Hellcat's slide are aggressive and easy to grip. I've heard concerns they are too shallow, but I find them perfectly cut. The rear serrations even go over the top, which I appreciate. With the small slide, the over the top serrations make a big difference when racking the weapon.
Handling the Hellcat

One notably effective control is the magazine release. This magazine release is slightly extended compared to most, and it's intuitive and easy to engage. I love the magazine release and find it easy to drop an empty or partially filled magazine. Running through drills like the El Presidente is simple, and the reload can be one of the biggest challenges.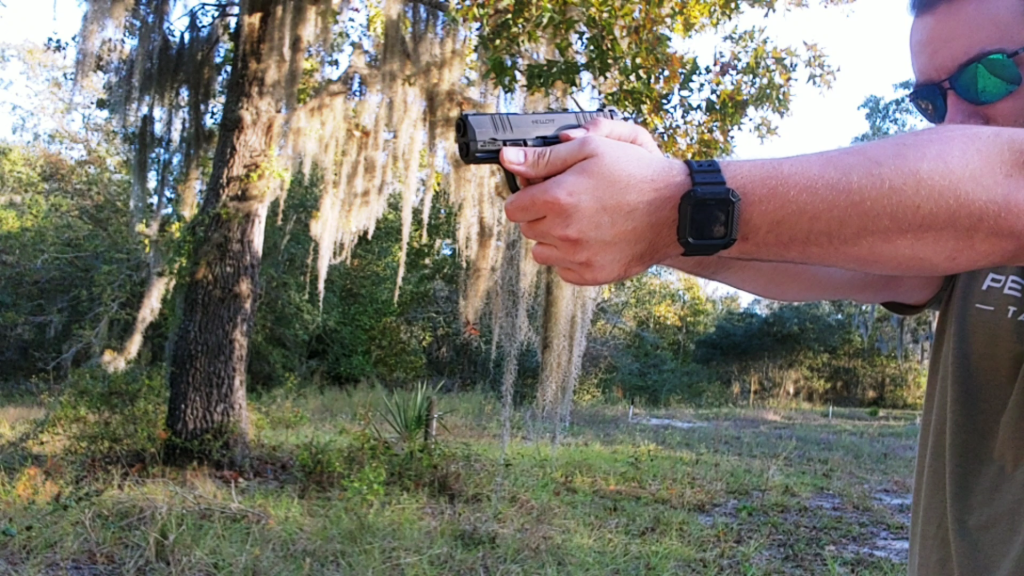 The gun foregoes a manual safety, and it also does away with the grip safety found on it's predecessor XD series. The trigger safety has a central lever piece, like many striker designs utilize. If your finger is not on the trigger, this gun is not going bang. The trigger is a flat-faced trigger with nickel boron coated components to increase the smooth nature of the trigger's pull.
The slide lock is like most small guns in my big hands. It's largely useless. My thumb sits on it, and this disengages it. It's something I face with most weapons, and it's certainly present here. Oh well.
Range Time with the Hellcat
I've been putting hundreds of rounds through this gun in a short period. I hit 1,000 rounds of 9mm just last week. This includes 500 rounds of Winchester's American Steel, which is quite likely the cheapest, dirtiest ammo on the market. In that time, I've run lots of drills and gotten in tons of practice. Before we talk about the drill, I ran, let's talk about how the gun handles.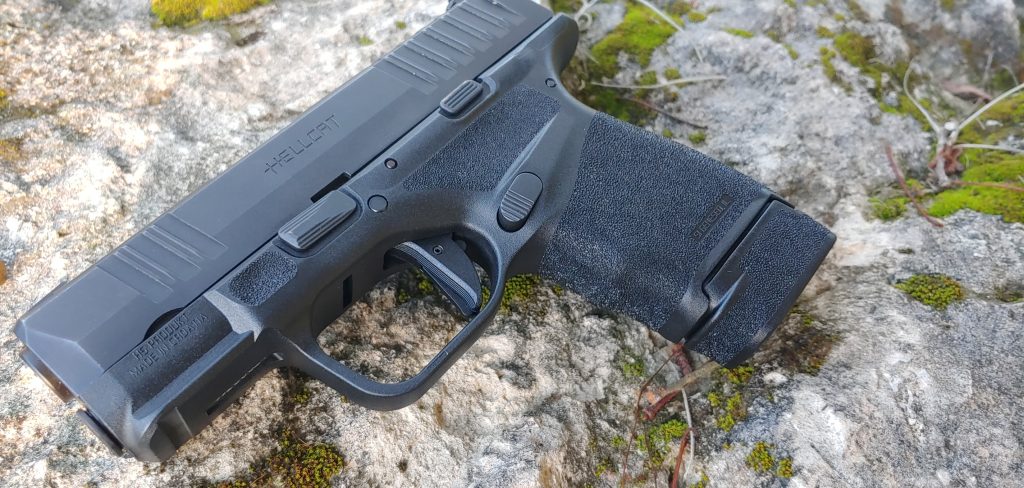 First off, recoil is plenty controllable but still present and noticeable. Small guns are like that. This one is pain-free and controllable. It doesn't slap your hand or cause discomfort.
You'll feel the gun raise as it recoils and climbs with rapid-fire. At ranges inside of 15 yards, it's still easy to keep a magazine's worth of rapid-fire on target. By rapid-fire, I mean all 11 rounds in 6 seconds or less.
These Wonderful Sights
The Hellcat is made for speed and close-range engagements. That's just the nature of concealed carry guns and situations. The Hellcat's sights are a brilliant addition for rapid and accurate shooting. The front sight is a bright yellow high visibility dot with a tritium vial in the center. The rear sight has a white U painted on it.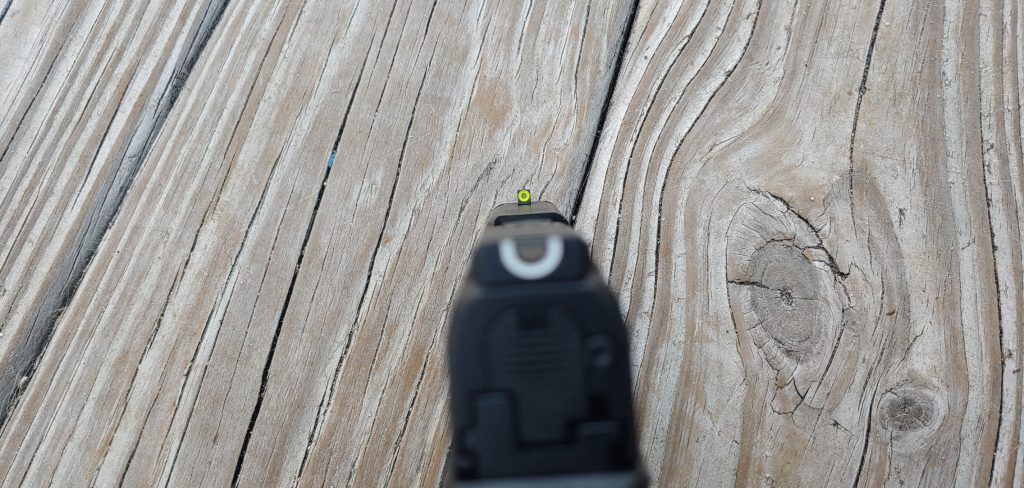 The effect is a set of sights that is very quick to align and straightforward to get on target. Getting the sights in line and on target becomes a natural part of your draw. This dramatically reduces the time it takes to get on target and makes it easier to land accurate shots.
When it came time to shoot timed drills, I found it quite easy to pass whatever exercise you tossed at me. I did so cold and started well before I had close to 1,000 rounds down the pipe. My first El Presidente was passed with ease, as well as my first iHack, Dot Torture, and many more.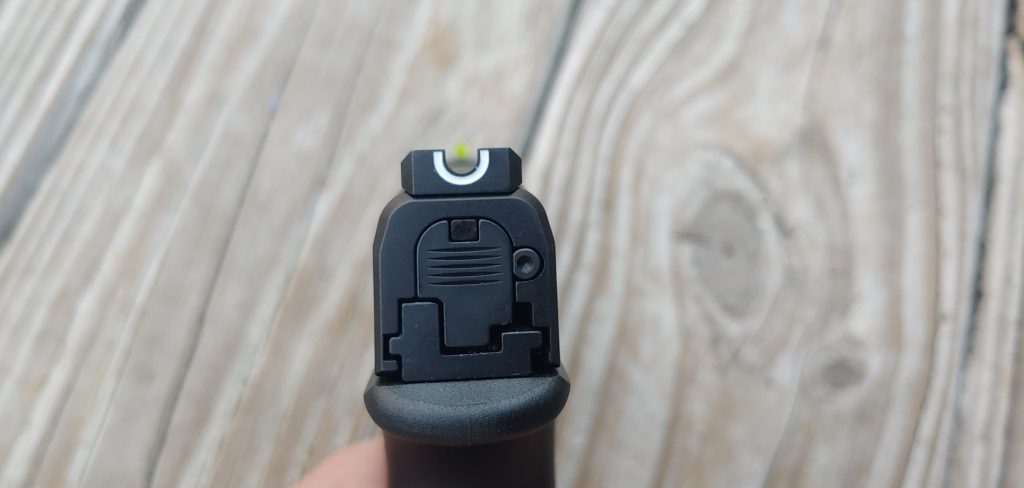 With a timer, I was able to pull off a 1.9 failure to stop drill at 7 yards. The second chest shot went a little wide but still hit. In my 2.1 times, I was a bit more accurate. Taking on Box Drills, which is essentially two failure to stop drills on two targets, I skated by with a clean 3.05….once. My more typical speeds were 3.15 and 3.20ish.
Both drills fired from concealment with a Desantis Inner Piece 2.0 holster.
Reliability
As I mentioned before the gun fired 500 rounds of the worst ammo I could put through it, and then another 500 rounds without a single malfunction. The Hellcat has never been cleaned either. It's still chugging along without issues. Not only has the gun been filthy dirty, but the magazines have also been dropped in sugar sand over and over while practicing reloads and executing different drills.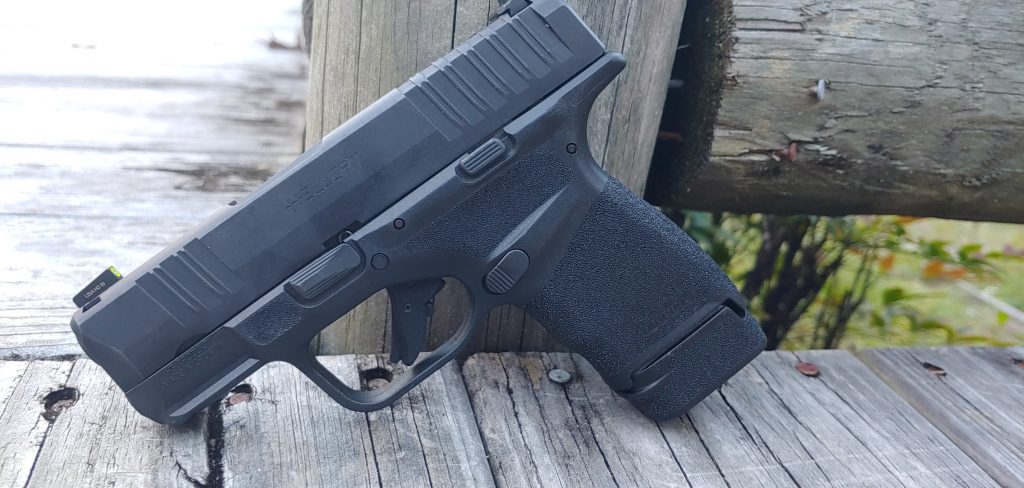 Springfield has a winner on its hands. Clay Martin recently put 10k rounds through a single Hellcat. They filmed every round fired and it's worth checking.
The Hellcat comes in both a standard model and an optics ready model. Springfield also refers to the gun as the Hellcat 3 inch leading me to believe there is going to be another one out soon with a longer barrel. We'll keep our eye peeled to be certain. The Hellcat is moving in on the competition and I can't wait to see what comes next.