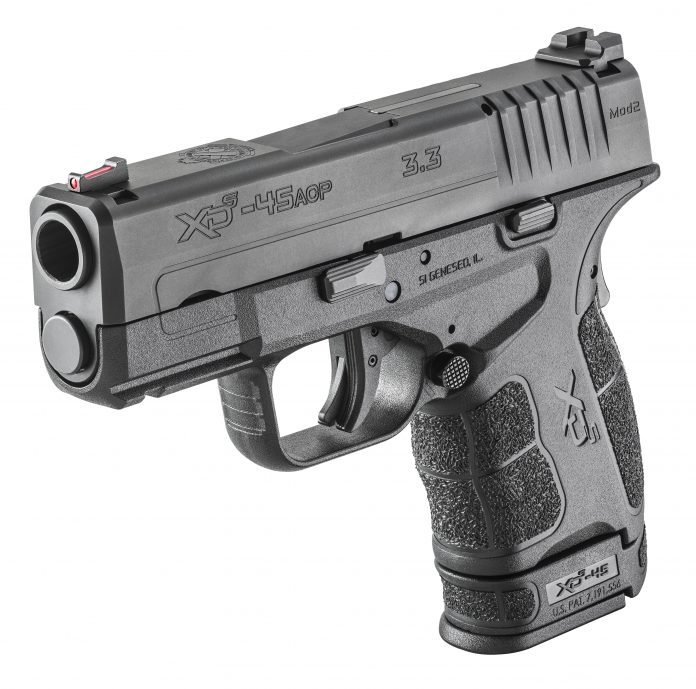 The next evolution of the acclaimed XD-S pistol is here. (and isn't a blatant Sig clone)
The latest edition of Springfield's most popular pistol is engineered in a slim, single-stack frame, holding 6 rounds of .45 ACP and offers upgrades from the inside out. The XD-S Mod.2 features a higher hand position, enhanced grip texturing, thinner slide, an Ameriglo® Pro-Glo™ front sight with tactical-rack rear sight, and an enhanced trigger that advance this polymer-framed pistol's acclaimed "point and shoot" ergonomics. Other features include a loaded chamber indicator and a grip safety that immediately readies the gun for action yet renders it virtually incapable of firing if dropped.
The width of the grip is a mere .975", and the Mod.2 grip texturing gives the operator a solid feel and secure hold of the pistol – especially important in defensive encounters. Longer Posi-Wedge™ serrations make the slide easier to grab and rack. The enhanced short-reset and consistent trigger is the perfect choice for a defensive carry pistol.
SPECS
---
RECOIL SYSTEM: Dual Captive Recoil Spring w/ Full Length Guide Rod
---
SIGHTS: Fiber Optic Front & Tactical Rack Serrated White Dot Rear (Steel)
---
WEIGHT (WITH EMPTY MAGAZINE): 21.5 oz w/ Flush Mag, 22.5 oz w/ Mid-Mag
---
HEIGHT: 4.4″ w/ Flush Mag, 5″ w/ Mid-Mag
---
SLIDE: Forged Steel, Melonite® Finish
---
BARREL: 3.3″ Hammer Forged, Steel, Melonite®, 1:16 RH Twist
---
FRAME: Black Polymer w/ Enhanced Grip Texture
---
MAGAZINES: (1) 5-Round Flush, (1) 6-Round Mid-Mag, Stainless Steel
OPTIONS
---
XDSG93345B3.3″ SINGLE STACK .45ACP
---
XDSG93345BT3.3″ SINGLE STACK .45ACP W/ TRITIUM SIGHT
---
XDSG93345BVR3.3″ SINGLE STACK .45ACP W/ VIRIDIAN® LASER