When it comes to the slimmer 9mm striker fired polymer pistols, I do not have any particular favorite, nor have I really shot anything else besides a stock Glock 48 and the original M&P Shield. For the most part, it's fair to say that all sub-compact striker fired 9mm pistols tend to be on the snappier side of felt recoil due to their smaller size and more diminutive weights; as result, they require a more assertive shooting grip. But recently I got to help a friend take his brand new Springfield Armory Hellcat Pro OSP on its maiden voyage at a local indoor range.
Hellcat Pro OSP First Impressions
The Springfield Armory Hellcat Pro is a 9mm Luger chambered striker fired semi automatic pistol originally made in Croatia. As a member of the Springfield Armory Hellcat product line, the Pro version specifically differs by virtue of its slightly larger frame, a longer barrel (3.7 inches vs 3.0 inches), accessory rail and the fact that it ships with 15 round magazines. Its slide is also optics ready from the factory, and it ships with a footprint for sights like Springfield's own Hex Wasp or the Shield RMS-C (four lugs, two screws). Looking over the whole package, Springfield Armory is blurring the threshold between a sub-compact pistol and the slightly larger "Glock 19" form-factor pistols. The Hellcat Pro's dimensions clearly stop at that margin allowing shooters to get the benefits and handling of those slightly larger pistols while remaining extremely easy to carry–with a total capacity of 15 + 1. Although the Pro is the largest member of the Hellcat family, this pistol is still only one inch wide. The Hellcat Pro's closest rivals in terms of form and function are going to be the two larger members of the SIG-Sauer P365 family: The P365 XL and the P365 X-Macro. In my geographic area, the Hellcat Pro has a real world retail price at most gun shops and big box sporting goods stores of about $600 dollars not including tax.
For my normal sized hands, the Hellcat Pro's grip did not feel too small, and the grip's contouring is certainly geared towards every day carry and it seems like the Croatians did their homework on it. I was able to comfortably build a two-handed freestyle grip. Mild texturing that feels fairly grippy without being overly coarse or sharp wraps this grip, and it lacks any finger grooves. Like other modern striker guns in its class, the fact that such a pistol uses a magazine that crams 15 rounds of 9mm Luger into such a compact package is still something I marvel at. The pistol ships in in a small soft sided foam case and includes two magazines.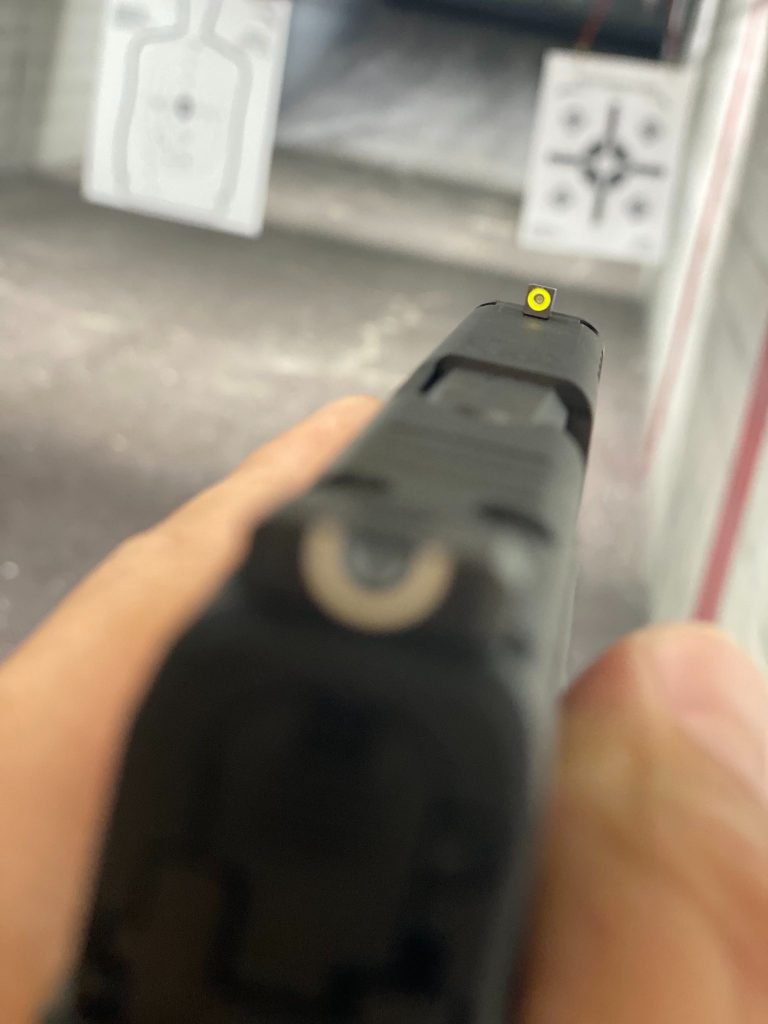 At a glance my single favorite thing about this pistol in particular are its factory night sights. The front sight is a thick and has a luminescent eye-grabbing laser yellow ring that surrounds a vial of tritium. The rear sight is a very generous U-notch with a white outline. Lining up the sights takes little effort and these make a lot of sense on carry gun. I have a minor reservation about the white outline of the rear sight. I think it is too busy, can be distracting to the eye and completely unnecessary. I found that when using either target focused or a front sight focused shooting technique, the white outline simply did not add anything. If I were to own and carry one of these pistols, I would personally use a permanent market to cover up this outline.
The Springfield Armory Hellcat Pro On The Firing Line
During our impromptu range session, we christened this new Hellcat Pro with three boxes of 115 grain 9mm CCI Blazer range ammo. I'm very comfortable using this cartridge across pistols and find it to provide very reasonable accuracy. Again, due to its smaller overall size and weight, the relatively mild Blazer round starts to feel somewhat warmer when fired from this pistol. It is not a big deal and it is only part of the territory of slimline 9mm pistols optimized for carry. At least it is easier to shoot than an Airweight J-frame! The Springfield Hellcat Pro's trigger break is very reasonable and easy to manage; it does not have any spongy feeling or creep. I took some shots at 3, 5, and 7 yards just to get a feel for things. At one point, I decided to hang a clean target with an NRA B-8 sized ring and have the indoor range's pulley system move it all the way back to their 25 yard line. I must admit that the result of my 10 round group at 25 yards using "range ammo" and a pistol I had never handled or fired before impressed me. More so because the Hellcat Pro's night sights are great for defensive carry and shooting scenarios but are not necessarily ideal for precision shooting. Honestly, the Pro's "shootability" is what prompted this review.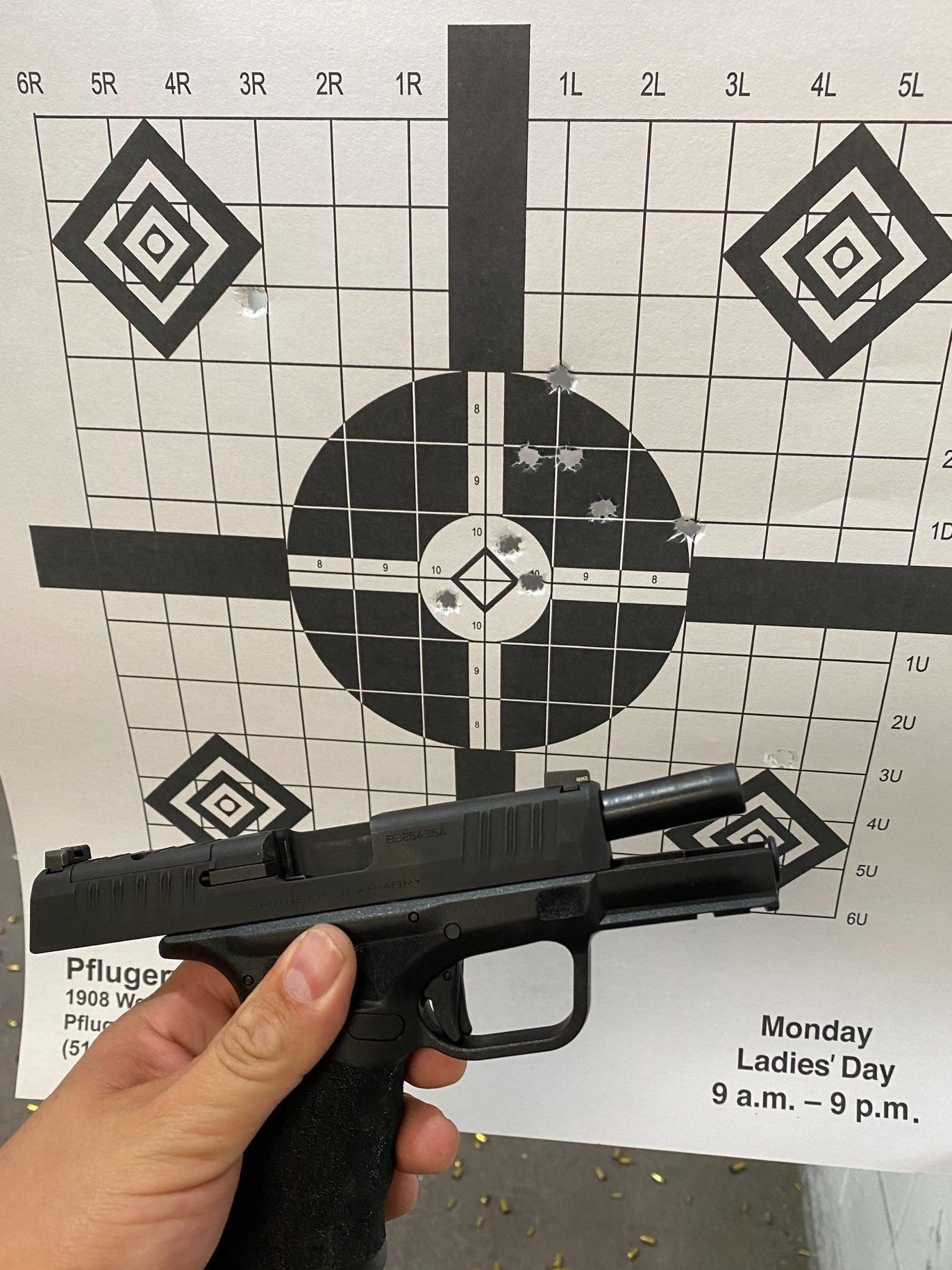 The Springfield Armory Hellcat Pro And Its Rivals
My review only covers first impressions and 3 boxes (150 rounds) of shooting should not be considered in-depth. This specific pistol appears to be extremely competitive against its SIG-Sauer P365 rivals, the XL and X-Macro versions. I've never shot any P365 so I cannot comment, but compared against a stock Glock 48, the stock Hellcat Pro not only comes with better sights and a better feeling trigger, not to mention the five extra rounds of magazine capacity and the fact that it includes an accessory rail. From a general real world retail price standpoint, this pistol is competes against the the P365 XL and the Glock 48, maybe with a marginally higher price. Compared to the real world retail price of the P365 X-Macro There are many holster companies that support this specific Hellcat variant. One of my favorite, Dark Star Gear, is currently developing an Apollo holster shell that is compatible with the Hellcat Pro's slight larger frame.