Sneaky Bags is taking 2016 by storm with new products, new partnerships and new reasons to fall in love with them. We will be reviewing the full line of bags they offer over the coming weeks. Today we are starting with the Sneaky Bags Trick Or Treat bag. We picked the ToT bag to start off, as it is the one I would personally get the most use from. This messenger style laptop bag is everything you could want in a covert highly functional laptop bag that does double duty as a utilitarian tactical bag.
Laptop Compartment: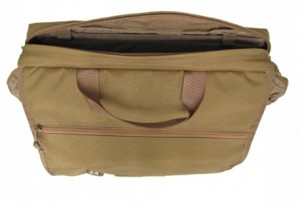 At its core, the ToT is a laptop bag for Every Day Carry (EDC). As such, it has all the features you would expect. It is more than capable of holding a 17" laptop in its padded laptop compartment. This is a lockable compartment to secure your valuables or to safeguard a weapon.
Main Flap:
The main flap that covers the secondary compartment offers multiple storage options. From the outside of the flap, you can access a series of small organizer containers to store pens, flashlights, electronics, cables, external drives, a mouse and any other commonly used office items. You can fit a bunch of gear in here and still access them quickly. This space is also large enough to fit a full-sized iPad, maps, papers, etc.
Internal Compartments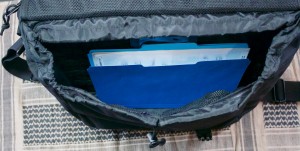 Opening the flap the entire inside of the flap is a mesh zippered pocket. The pocket is large enough to secure up to a 15-inch laptop. It also works perfectly for carrying winter necessities like hats, gloves, umbrella, etc.. Once the flap is lifted, you can also access the main "dump pouch". This generous space can be synched down to provide a firm hold on items of various sizes if required.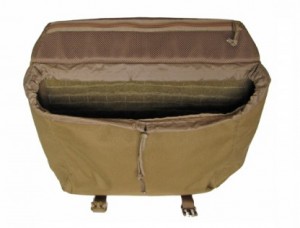 The rear interior of this pocket is lined in MOLLE Velcro. The bottom line is if you use MOLLE style pouches or kit you can attach that as the panel is cut to accept it. However if you have updated to all hook and look style attachments those will Velcro directly to the pouch wall. No more adapters!
To the front of the pouch is two more mesh pockets. On the outside is another two small hidden pockets that I didn't even find until taking pictures of the bag for this article.
Store & Go: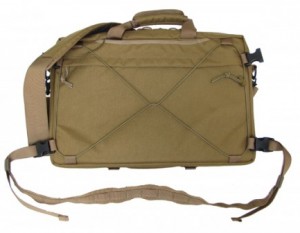 The rear of the bag has crossed bungee cord perfect for securing larger items like a windbreaker, fleece or light jacket. Making this the perfect bag for the ever so unpredictable Michigan or Seattle weather.
While all these features are well made and certainly on par with higher end EDC bags there is not much unexpected. So what makes this a sneaky bag?
What it Doesn't have: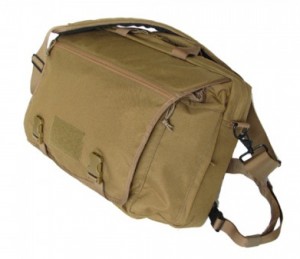 The biggest problem in the tactical bag world is that most of these bags stand out like a fat guy in drag at Kroger. Military styled patterns, external MOLLE and Velcro scream, "hey look at me I love to carry gun!" It reminds me of 80's off duty cops in their photographer vest in the middle of summer.
The entire Sneaky Bag lineup of bags takes this into account. The ToT looks like a basic, typical, mundane, boring messenger bag. In this case, what the Sneaky Bag ToT doesn't offer is one of its advantages.
Armor:
Inside the main weapon/laptop compartment, we find our first sneaky feature. Both sides of the pocket have hidden panels. These panels come packed with a soft foam that would protect your laptop. These are designed to be removed and replaced with soft or hard body armor inserts. Since I am unlikely to encounter rifle fire in my day to day life, my inserts are replaced with AR500 backpack panels. These will stop handgun rounds and are soft enough to still provide protection for my laptop.
 Handgun & Magazine Access:
On the outside rear (body side)of the bag is a unique concealed carry pocket. The pocket is lined with hook and loop to accept a broad range of accessories. Mine is set up to take two full sized mags and an adjustable holster that would fit whatever gun I'm carrying that day. In addition to the spot for securing my concealed carry weapon, I often keep my HK VP9 in the as a backup gun. The pocket is sewn so that it is very tight to the bag making it look almost invisible. It is accessible with a full-width zipper so you can access the space to set up you kit as needed. Also, there is an always open quick access spot so that a correctly positioned pistol can be accessed without having to unzip the pocket.
Plate Carrier:
On the outside of the rear (body side) of the bag is a unique attachment system. 4 Buckles and two specialty straps can connect here. While it is common for bicycle messenger bags to offer a secondary strap to hold the bag closer to the body during transport, I have not seen one set up like this before. Not only can these buckles be used to secure the bag to your body at either a higher lower or cross position when properly configured these buckles can turn the bag into a backpack.
Turning a messenger style bag into a backpack is as useful as tits on a bull to most of us. If you want a backpack buy a backpack, don't build one out of a messenger bag. However when you take all of the features we discussed and put them together, you realize the purpose of this is not a backpack, it's a discreet plate carrier.
With a hard plate and soft plate backer in their associated hidden pockets, the easy access secondary weapon pouch, and the capability to fit a full size broken down M4 you have a quick response kit to deal with immediate issues like workplace violence or domestic terror attacks.
Since the San Bernardino attack, I have read countless mall ninja's discuss how this why they carry a rifle and body armor in their vehicle. When gun shots ring out and you're in your office, your truck kit will do you no good. However a bag that turns into body armor with either a rifle or handgun accessible will give you protection to handle the situation that has developed, be it advancing or exiting from the environment.
Usage
A typical load out for me includes:
• Laptop and accessories for daily office use.
• Dual soft body armor plates in the laptop section.
• Large full sized pistol and two spare mags in the handgun pouch.
• Flashlight and tactical pen in the compartmentalized section.
• IFAK, EPIK, Med Kit including tourniquet
Even with all this gear, the bag is still light enough for everyday usage. I had a person comment on the bag recently "I see you gave up on carrying all that tacticool crap you used to lug around". The funny thing is this bag offers more tactical functions than my previous military styled bag.
The Sneaky Bags Trick or Treat (ToT) are available direct from the manufacturer http://www.sneakybags.com/ and some local retailers. The ToT retails for $220 for the large size we reviewed here and $195 for the medium.
Source Article from http://248shooter.com/index.php/sneaky-bags-trick-or-treat-bag-tot-review/