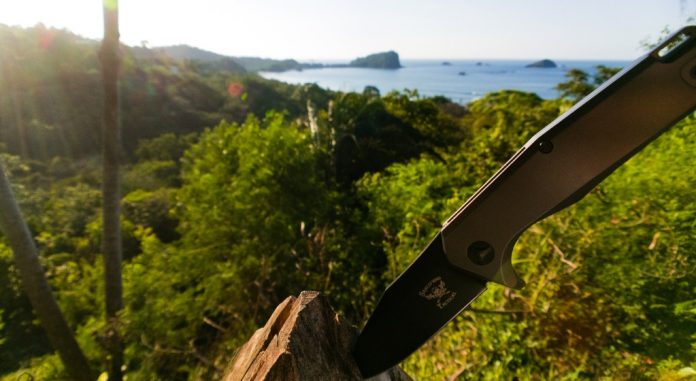 This week, Brian takes a look at Skallywag Tactical's Privateer EDC Folder. If you are a fan of folding knives, keep reading and let us know what you think? Folder? Fixed? Both?
If you're not familiar with Skallywag Tactical then you need to educate yourself. Admittedly I am a fan and have been for some years now. It is hard not to be a fan of a pirate themed company that makes no nonsense high quality defensive blades. The Privateer is the first folder in their line up and the first that did not have a combat focused design. The knife is decidedly an EDC focused folder. Which is just fine in my opinion because with very few exceptions I do not consider a folding knife a viable option for defensive purposes. That's a job for fixed blades.
Getting the boring stats out of the way, The Privateer weights in at 6 ounces. The blade is 3.5 inches of D2 tool steel coated in a durable black titanium coating. Everything else but the bearings are gray titanium coated D2 steel, even the reversible pocket clip. The flipper style deployment is smooth as silk and the frame lock is solid. The blade is a drop point design with a mostly full flat grind.
Skallywag Tactical's stated goal was to provide a high end folder experience at a mid-tier price. Value is always subjective but for the $165 MSRP you get a nicely styled display case and a well built folding knife. The big compromise to provide that lower price point seems to be the choice of D2 tool steel over something more exotic like S35vn or Elmax. The heat treatment given to the D2 I am told has it between 58 and 60 on the Rockwell scale. Personally I think it's a smart choice. The drop point and full flat grind is my favorite choice for an EDC blade. The geometry provides great cutting ability for slicing rope, fruit, or opening boxes. In my testing it made it through a surprising amount of feed bags and cardboard boxes before the edge needed touching up. I was also pleasantly surprised at how easy it was to restore that edge. Through smart design and good heat treatment Skallywag Tactical was able to take the big compromise point and turn it into something of an advantage for an EDC focused blade.
The very ergonomically designed steel body gives the knife presence. That is a nice way of saying it is a bit on the heavy side. I know a few popular blade reviewers obsess about ounces when it comes to EDC blades but that is not me. Granted I love my SOG Aegis with the minimalist design and barely there 3 ounces. I keep it with my backpack where I am much more weight sensitive. In my pocket for daily activities, 6 ounces is completely doable but you do not forget it is there.
My one complaint comes is with the pocket clip. The D2 steel used was probably not the right choice for materials there. I get it as a cost savings measure. The stock is already being cut and there is probably enough spare material that would be discarded anyways to turn into a pocket clip. The problem is that particular steel is not exactly flexible. A trait, at least in a certain amount, that is desired in a pocket clip. The result is a clip that is a little too difficult to clip in and out of your pocket. It also accelerates wear on that part of the pocket.
That one relatively minor complaint aside the system for reversing the pocket clip and the placement of it is well executed. A counter argument a friend made while discussing this review was that it will not fall out. If that is a concern you have then you may appreciate the pocket clip as is.
In conclusion I think Skallywag Tactical should be proud of their first entry into folders. They achieved their goal of creating a premium knife experience for a mid market price. Those in the market for an EDC blade should give it some serious thought. Especially since at the time of this writing the Privateer is on sale for $100. No promises for the future though at the MSRP of $165, in my opinion it is still a solid value.
Skallywag Tactical Privateer Folder, 5.0 out of 5 based on 1 rating