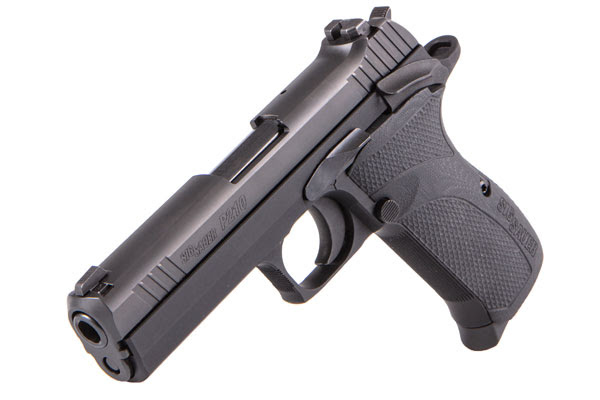 Announced a little while back, and then delayed due to COVID and raw material problems, the much anticipated P210 is here!
"But, Keith!?" you may inquire, "Why would I buy an 8 round single action, alloy single stack when I can get a P365?"
Fair question. That is something only you can answer. Why would you carry a 5 shot J-Frame when a Glock 19 exists? Why does anyone carry something someone else doesn't consider optimal?
Simple.
Comfort and aesthetics. The P210 is a pistol designed to cater towards both of those, but aesthetics especially. I carry a P365 12 shot when I need both optimal and convenient, but most of the time I carry a P229 Legion. Why? Because I like that gun. It fits me. The P210 Carry is a gun that is just going to fit people. They don't need 13+1 or something similar in the frame, 8 fits them. They don't need the lightest polymer because allow fits them. It all just fits.
Simple as that.
NEWINGTON, N.H., (February 10, 2022) – SIG SAUER is pleased to announce the latest release in the historic line of P210 pistols – the P210 CARRY.  This pistol combines the historic lineage of its iconic Swiss predecessor with the ideal characteristics and necessities the modern consumer expects in a carry pistol. 
"The SIG P210 is regarded as one of the most legendary, reliable, and accurate firearms in the world; the P210 CARRY pays homage to the foundational craftsmanship of its forerunner while maintaining the features, weight, and balance of an ideal carry pistol," said Tom Taylor, Chief Marketing Officer and Executive Vice President, Commercial Sales, SIG SAUER, Inc.  "The alloy frame lightens the weight, the slim low-profile grips with wrap-around checkering allow for an ideal purchase, and the shortened slide features the hallmark P210 signature reverse rail design bringing the premium P210 shooting experience to a carry gun."
P210 CARRY:
Caliber: 9mm
Overall length: 7.75 inches
Overall height: 5.63 inches
Overall width: 1.44 inches
Barrel length: 4.1 inches
Sight Radius: 5.6 inches
Weight (w/magazine): 29 oz.
The SIG SAUER P210 CARRY is now shipping and available at retailers.  To learn more about the P210 CARRY or watch the product video with Phil Strader, Director, Product Management visit sigsauer.com.
About SIG SAUER, Inc.
SIG SAUER, Inc. is a leading provider and manufacturer of firearms, electro-optics, ammunition, airguns, suppressors, and training.  For over 250 years SIG SAUER, Inc. has evolved, and thrived, by blending American ingenuity, German engineering, and Swiss precision.  Today, SIG SAUER is synonymous with industry-leading quality and innovation which has made it the brand of choice amongst the U.S. Military, the global defense community, law enforcement, competitive shooters, hunters, and responsible citizens.  Additionally, SIG SAUER is the premier provider of elite firearms instruction and tactical training at the SIG SAUER Academy.  Headquartered in Newington, New Hampshire, SIG SAUER has over 2,700 employees across eleven locations.  For more information about the company and product line visit: sigsauer.com.