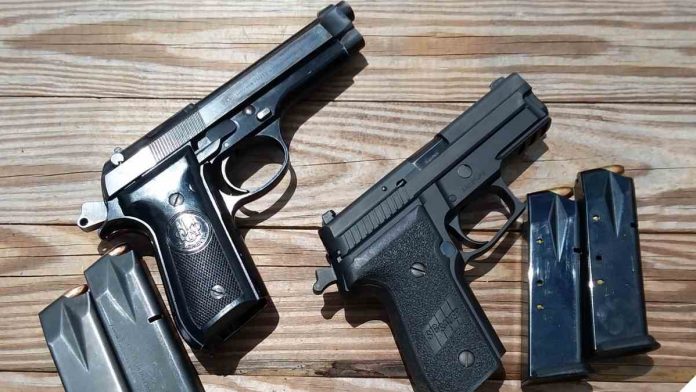 Two of the most watched shows on television are NCIS and NCIS: Los Angeles. The 2nd spinoff show, NCIS: LA features covert NCIS agents based out of Los Angeles investigating things that have nothing to do with NCIS and regularly getting into gunfights and leaving bodies all over LA. And each week, they're correctly depicted using the Sig Sauer M11, the standard issue pistol for NCIS, Army CID, and a number of other special units of the US military until the update to the Sig M17/18.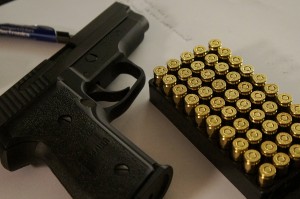 The Sig Sauer M11-A1 is a commercially available version of the military sidearm; upgrading the slide to stainless steel and adding Sig's excellent Short Reset Trigger. The Sig M11-A1 comes standard with three 15-round magazines, and SigLite night sights. It does not have an accessory rail, so adding a WML is out, however it does use the standard Sig P229 grip profile, meaning you can swap the grips out for Crimson Trace lasers if you want, which I highly recommend on a carry gun.
That's really what this gun is designed to be – a carry gun. The phosphate coated internals are more resistant to corrosion, and since it's priced competitively with the rest of the Sig P229, this would actually be my first choice of the family of P229 sized guns to ride in a holster. Since I know you're going to ask, my 2nd choice would be the P229 SAS Gen 2. Back to the Sig M11-A1 and it's performance as a carry gun. I've been carrying this gun exclusively since it arrived; for every day carry I use a Blade-Tech Nano that I've modified a bit for appendix carry. The Sig is definitely a bit more difficult to conceal than the M&P Shield I've been carrying, but it also holds twice the ammo and is much easier to shoot well, thanks in no small part to the Short Reset Trigger.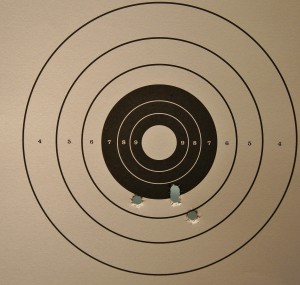 At 25 yards in slow fire, it shot the above group using Winchester 147 grain FMJ, which the gun seemed to like quite a bit. The hardest part about going from a striker fired gun like the Glock I shot at Steel Challenge to a DA/SA gun like the Sig is managing the first shot. When drawing from concealment, there are a couple of ways to do this, the most effective for me to is draw the gun up to my eyeline then begin pressing the trigger as I drive the gun to full extension. Doing a press-out like that gives me a slower first shot than I get when I press the trigger at full extension, but it also increases my first shot accuracy on low percentage targets. If I was going to shoot the Sig M11-A1 exclusively, I'd spend a lot of time working on the first shot from concealment. After the first shot, shooting the gun is comically easy, again because of the SRT. In my opinion, the Sig SRT is the best factory DA/SA trigger on the market, and if you're carrying a Sig, you owe it to yourself to have one set up in your gun.
A carry gun also needs to be reliable, and the Sig nailed that category as well. I've fed it a diet of pretty diverse ammo:
147 and 124 grain Federal Hydra-Shoks
147 grain Winchester Ranger/PDX bonded (my favorite carry load)
Armscor 115 grain FMJ
S&B 115 grain FMJ
Federal Range and Target 115 gr FMJ
Winchester Super-X 147 gr FMJ
Those rounds in addition to a bunch of stuff I had lying around the office have brought the total round count without malfunction to over 500. That's a sufficient trial for me to consider the gun good to go for carry; for once I don't feel the need to shoot 2,000 plus rounds out of a gun to feel comfortable carrying it.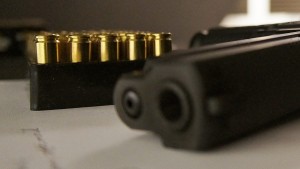 The Sig M11-A1 is a great carry gun. It's accurate, it's reliable, and it's just as easy to carry as any other gun in its class. Which brings us around to the one point of the gun that is a bit hard to swallow: the price. The MSRP on the gun is over $1100, and while it's the same MSRP as the P229 SAS Gen 2, that is a lot of cheddar to ask for a carry gun. So if all you want is a Generic Gun 9mm, the Sig isn't for you. But not everyone wants that, just like not everyone wants a Toyota Camry. So if you want a reliable, accurate carry gun with a little bit of military heritage and just a little bit more class than a Generic Gun 9mm, give the Sig M11-A1 a look. It's like the difference between buying a suit at Target and a suit from Nordstrom. Sure they'll both due the same thing, but one does it while looking a hell of a lot better than the other.