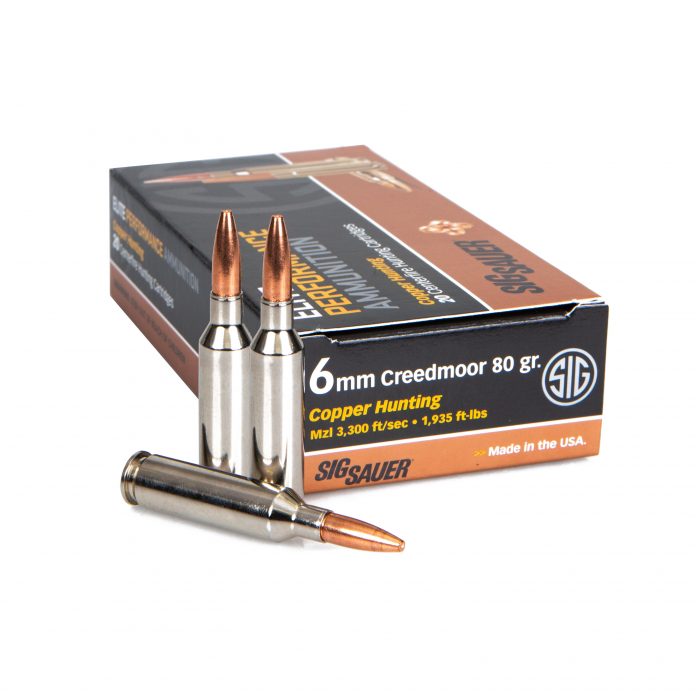 NEWINGTON, N.H., (February 10, 2020) – SIG SAUER, Inc. continues to expand its line of premium-grade Elite Copper Hunting ammunition with the addition of 6mm Creedmoor. Featuring an 80gr all-copper bullet that delivers deep penetration and consistent 1.8x diameter expansion with maximum terminal ballistic performance, the 6mm Creedmoor Elite Copper Hunting ammunition is a highly accurate load for hunting numerous species of medium-size game.
This fast, flat-shooting cartridge has a high ballistic coefficient allowing it to push through wind with less drag and drift, increasing accuracy at longer ranges. Muzzle velocity is 3,300 fps and muzzle energy is 1,935 ft-lbs.
"6mm Creedmoor ammunition is in high demand as is the 6.5 Creedmoor load," said Brad Criner, Senior Director, Brand Management and Business Development, SIG SAUER Ammunition. "Our customers have been asking for both and we are happy to now offer these two hot hunting cartridges in our Elite Copper Hunting line."
SIG SAUER Elite Copper Hunting Ammunition is currently available in the following calibers: 223 Rem, 243 Win, 300BLK, 308 Win, 30-06 Springfield, 300 Win Mag, 6mm Creedmoor and 6.5 Creedmoor.
All are available for purchase at commercial retailers and online at sigsauer.com.
SIG SAUER Elite Ammunition is manufactured by SIG SAUER at its state-of-the-art ammunition manufacturing facility in Jacksonville, Arkansas to the same exacting standards as the company's premium pistols and rifles. For more information, visit www.sigsauer.com/ammunition.
Get Social: follow SIG SAUER on Facebook, Twitter, Instagram, and YouTube for the latest news, product announcements, events, and updates.
About SIG SAUER, Inc.
SIG SAUER, Inc. is a leading provider and manufacturer of firearms, electro-optics, ammunition, airguns, suppressors, and training. For over 100 years SIG SAUER, Inc. has evolved, and thrived, by blending American ingenuity, German engineering, and Swiss precision. Today, SIG SAUER is synonymous with industry-leading quality and innovation which has made it the brand of choice amongst the U.S. Military, the global defense community, law enforcement, competitive shooters, hunters, and responsible citizens. Additionally, SIG SAUER is the premier provider of elite firearms instruction and tactical training at the SIG SAUER Academy – a world class, state-of-the-art, 140-acre training facility. SIG SAUER is
headquartered in Newington, New Hampshire, and has more than 1,700 employees across eight locations, and is the largest member of a worldwide business group that includes SIG SAUER GmbH & Co. KG in Germany. For more information about the company and product line visit: sigsauer.com.