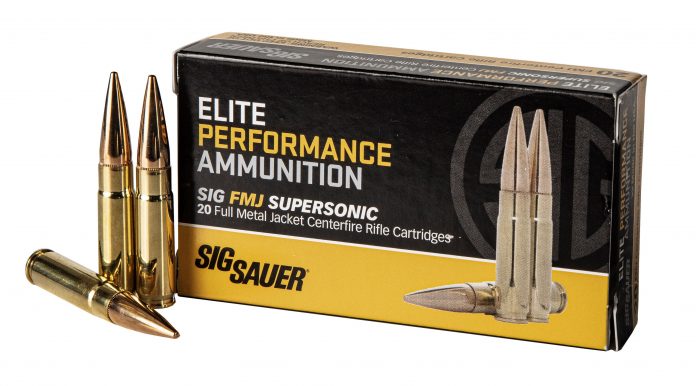 NEWINGTON, N.H., (December 9, 2019) – SIG SAUER, Inc. is pleased to add 300BLK to its Elite Performance line of full metal jacket (FMJ) rifle ammunition for training. SIG FMJ ammunition is ideal for those seeking cost-efficient, high-quality training rounds. The 125gr 300BLK load has muzzle velocity of 2,145 fps.

"There is huge demand for 223 Rem and 308 Win FMJ training ammunition, and we've had many requests for 300BLK as well," said Brad Criner, Senior Director, Brand Management and Business Development, SIG SAUER Ammunition. "These premium training loads are designed to offer high-level performance at affordable prices."
The SIG SAUER 300BLK FMJ ammunition is now available for purchase at the sigsauer.com/store.
All SIG SAUER Elite Ammunition is manufactured by SIG SAUER at its state-of-the-art ammunition manufacturing facility in Jacksonville, Arkansas to the same exacting standards as the company's premium pistols and rifles. For more information, visit sigsauer.com/ammunition
Get Social: follow SIG SAUER on Facebook, Twitter, Instagram, and YouTube for the latest news, product announcements, events, and updates.
About SIG SAUER, Inc.
SIG SAUER, Inc. is a leading provider and manufacturer of firearms, electro-optics, ammunition, airguns, suppressors, and training. For over 150 years SIG SAUER, Inc. has evolved, and thrived, by blending American ingenuity, German engineering, and Swiss precision. Today, SIG SAUER is synonymous with industry-leading quality and innovation which has made it the brand of choice amongst the U.S. Military, the global defense community, law enforcement, competitive shooters, hunters, and responsible citizens. Additionally, SIG SAUER is the premier provider of elite firearms instruction and tactical training at the SIG SAUER Academy. Headquartered in Newington, New Hampshire, SIG SAUER has almost 2,000 employees across eight locations in the U.S. and around the world. For more information about the company and product line visit: sigsauer.com.