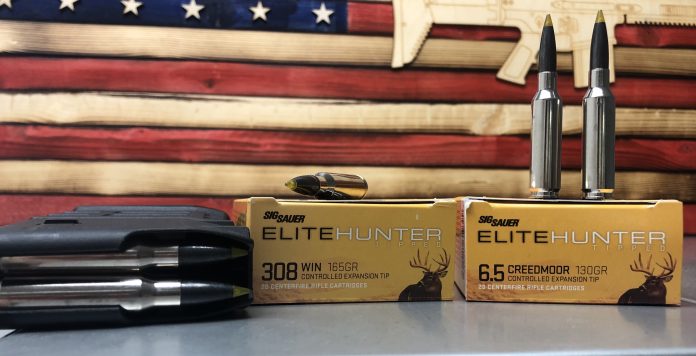 It's that time of year again and Sig Sauer has the ammunition to feed it, Elite Hunter Tipped. Around the nation, deer seasons and other medium and large game hunts are opening with the autumn. That means grab a box of ammo, confirm zerom and be ready to wander into the woods and fields.
SIG SAUER ELITE HUNTER TIPPED™ ammunition gives the serious sportsman unmatched, long range accuracy, with devastating on-target performance. Massive expansion delivers instant knockdown and terminal energy on small to medium game. -Sig Sauer
Sig has been doing great things with their ammunition line and the attention to detail is paying off. Their 77gr OTM is among my favorite home and social rounds, boasting incredible accuracy and consistency. Their EHT line is looking to capitalize on that attention to detail, but with a line of high ballistic coefficient polymer tipped rounds instead of soft points or open tipped match designs.
Translucent yellow tip increases ballistic coefficient, improves terminal performance, and aids in consistent reliable chambering.

Exclusive jacket design delivers devastating on-game performance for small to medium game at extended ranges.

Concentric blackened jacket ensures reliable expansion.

Enhanced boat tail design provides superior flight characteristics over a wide range of velocities.

Custom formulated and precision loaded powders deliver consistent velocities regardless of atmospheric conditions.

Nickel plated cases aid in extraction while providing significant anti-corrosion qualities.

Industry leading primers are matched to proprietary powder blends to ensure dependable ignition.

We have some here in the testing chute and we're not done with it yet. Preliminary results have it running in any semi-auto .308 that we have tried. That that covers 2 SCARs, 4 .308 AR-10's, a M+M11, and a Tavor 7. Like the .308 Elite Copper Hunter before it the ammo has had no issues cycling and striking anything I've asked of it. I'll have it haul home some food to the freezer come November.