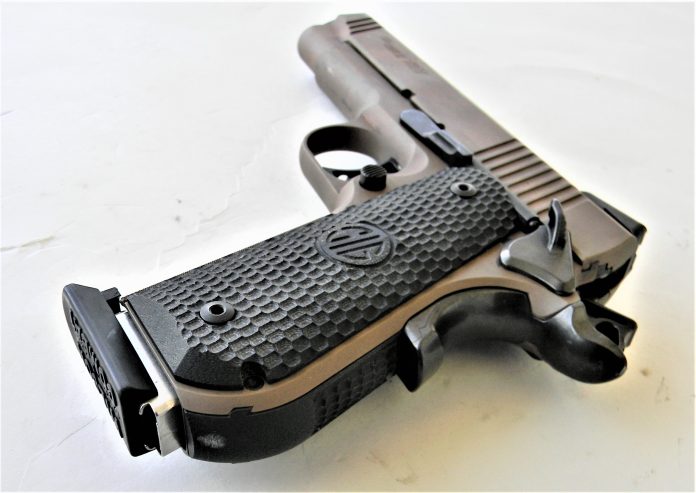 The first time I went on patrol as a peace officer I carried a Commander .45 in a thumb break holster. In the intervening years I could not always carry my first choice on duty but I owned a Commander .45 of some type. A stint with one of the finest agencies I have served with provided me with a great deal of experience with the SIG P226 and SIG P220, all positive.
Now carrying on my own dime and time I most often carry a pistol that combines the good qualities of SIG manufacture and Commander .45 effectiveness. The SIG 1911 is about as far as you can get from the original pistol and still call it a 1911. The improvements are many and worthwhile. 
I have owned quite a few SIG 1911 handguns. Among my favorite carry guns have been the SIG Fastback Nightmare Carry and an original GSR Carry Stainless. The blocky slide of the GSR was designed to resemble the SIG P series guns. While distinctive, this slide demands a specific holster. SIG now offers a traditional slide that slips comfortably into standard 1911 holsters.
The carry gun illustrated is a stainless steel pistol with a flat dark earth finish. PVD technology makes for a durable and long lived finish. The pistol features black G10 grips and a contrast with black controls. The pistol features an ambidextrous safety, forward cocking serrations, three dot tritium sights, and a front strap with custom grade checkering. The slide lock safety features a positive indent. The grip safety is a modern beavertail type. This safety helps lower the bore axis and also spreads recoil out in the palm of the hand. The mainspring housing is nicely checkered. Trigger compression is a clean sharp 5.0 pounds even in the .45 caliber version illustrated. 
The handgun is light enough at about 36 ounces loaded. The pistol uses a barrel bushing and disassembles in the standard 1911 manner. One of the most interesting features is the fastback grip frame. Carry in SIG parlance denotes the 4.25 inch barrel Commander version. Fastback indicates a mainspring housing that is cut at an angle in the fastback type, sometimes called the bob cat or bob cut. This aids in concealment and makes the pistol fit the hand better for some shooters. A contradiction is that the pistol is supplied with two eight round magazines with bumper type base pads. If you wish to take full advantage of the bob tail cut you should use flush fit magazines. 
I have owned two of these handguns, one in .357 SIG and the present pistol in .45 ACP. While a .357 SIG pistol is a formidable handgun, ammunition supply and personal preference have led me back to the .45.
The .45 ACP operates at low pressure. The cartridge exhibits a full powder burn with practically any loading. A full powder burn makes for consistent accuracy and muted muzzle signature. The cartridge is effective based on bullet weight, frontal diameter, and penetration. Recoil is there but may be controlled by anyone of average physical strength using the proper technique.
Most of the rounds fired in this pistol have been the Remington UMC 230 grain FMJ. This is a clean burning load that exhibits excellent practical accuracy. I like the load as the bullet nose is slightly flattened. While it is debatable if this makes for more wound potential I believe it does. A flat nose will not push flesh away but rather cut through. A flat nose will not bounce on bone. For outdoors use and hiking I am very comfortable with this proven loading. For town carry the Remington Golden Saber is carried. This is among the most accurate loads in the world, proven in hard institutional testing by the FBI. The pistol has proven more than accurate enough for any conceivable chore with five shot groups at 25 yards clustering into two inches or a little more or a little less.
I use the MTM Caseguard K Zone shooting rest for such demanding accuracy testing. 
Carrying the SIG Commander isn't difficult. For different chores I use different holsters. Among the most useful in my day to day life is a cross draw holster from Bullard Leather. The holster is out of the way when driving or hiking and yet offers instant access- even when seated or from beneath a buttoned vest. For more discreet carry I use the belt clip type inside the waistband holster from Bullard Leather. This is well designed holster that conceals the handgun inside the pants for the most part. The handle is easily concealed by a light garment. 
The SIG 1911 with its Emperor Scorpion, Carry, and Fastback improvements is a great all around 1911. You can pay more but you may not get a lot more in performance.
Specifications: SIG Sauer 1911 Fastback Emperor Scorpion Carry
Caliber: .45 ACP
Capacity: 8+1 rounds
Overall Length: 7.7 in.
Weight : 35 ounces 
Width: 1.4 in.
Height: 5.5 in.
Sights: 3 dot SIGLITE tritium night sights
Price: approx. $1,150 retail.