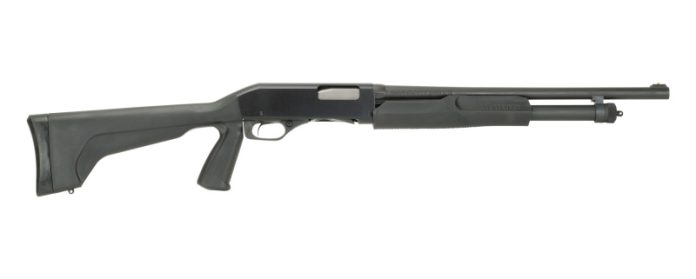 We are truly in an age of affordable shotguns. While I would not fault anyone who choses a Benelli or Beretta for hard use there are functional alternatives. I am not going to posit an inexpensive shotgun for institutional or military use and certainly not for competition. But for defending the homestead and taking game the Savage/Stevens 320 has much merit. The Savage 320 has a worthy ancestor- of sorts. Examining the bolt tipped me off that the Stevens is a copy of the Winchester 1200/1300 shotgun. The 1200 is out of production although the modern FN TP 12 is the same gun with perhaps minor improvement. So- the design is good and Stevens didn't have to spend much on T & E. The work was done decades ago.
While Stevens offers a sporting version with long barrel and choke tubes the home defense versions are the subject of this report. Many of these shotguns are available for less than two hundred fifty dollars. Even the version with ghost ring rear sights and fiber optic front sight is less than three hundred dollars. If you are lucky enough to find a dealer wo overstocked during the great panic- maybe two hundred and used ones have been seen at one hundred thirty five. If you are not a shotgun man here is your chance! While the Stevens branded import is an economy shotgun it may be said to have everything needed. The 18.5 inch barrel home defense pump action shotgun is offered in standard semi pistol grip, pistol grip, and even thumb hole stock options. The thumb hole stock looks odd at first but when moving quickly and holding the shotgun with only one hand I found a credible option for home defense. The Stevens 320 shotgun features a five shell magazine. The standard shotgun features a brass bead front sight. Each version features a long nicely textured forend that makes racking the action and controlling the shotgun fast and sure for those who practice. The Stevens features dual action bars. A feature of its primogenitor is a rotating four lug bolt head. This isn't the easiest machining process but it pays off in speed and rigidity. The shotgun operates like any other pump action. The magazine is loaded with one shell at a time and the forend racked to loads shells. When you fire the action unlocks and you pump again. To unload the chamber or open the bolt from a cocked position a bolt release is located near the trigger guard.

The decision to clone the Winchester 1200/1300 was based not only on the robust design but a reputation for smoothness. The 1200 was known as the Speed Pump for its smooth operation. Rapidity of fire comes quickly for those who practice. It is unfortunate that production from Remington and Mossberg have suffered in quality during the Pandemic with some actions stiff, very stiff. It seems to be getting better. The Stevens 320 is smoother than most. There are no real competitors in smoothness at this price point. So the bedrock of the 320's design is solid. After several years in service the reputation of the type seems watertight.
I took a little pause between spelling out the 320's mechanical aspects and the firing tests and found the 320 WITH GHOST RING SIGHTS for sale at Cheaperthandirt.com for $214. 19. I didn't look for the bead sighted gun after that.
It is difficult to find an unreliable pump shotgun even if it isn't smooth. This one is smooth but it is budget grade. A hollow stock is ligt and has a hollow note when you tap it. The recoil pad gives enough to absorb some recoil. The stock is narrow and the shotgun light so don't 12 gauge Turkey loads or Magnum buckshot! A cross bolt safety is located just ahead of the generous trigger guard. The bolt release is behind the trigger guard. The firing handle has good grip surface and abrasion and so does the forend. It works well in rapid manipulation and allows a shooter with long or short arms to obtain good purchase. While long the forend does not affect quickly loading the chamber with a single shell during speed loads.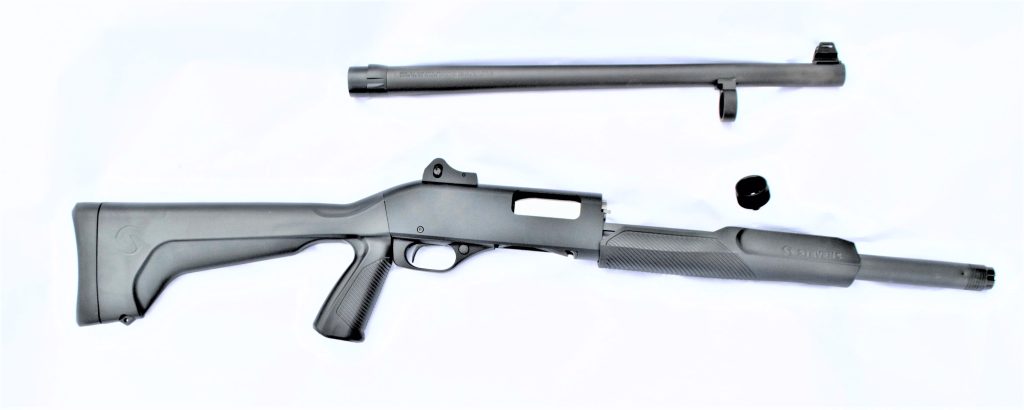 The trigger is a typical shotgun trigger. It is smooth enough but not light. You don't want a trigger to jump off the sear during recoil! The trigger breaks at 6.75 pounds. Reset is audible. The rear sight is an excellent ghost ring/aperture design. If you are primarily a shotgun shooter you may prefer a simple bead. A rifle shooter may prefer a ghost ring. For accurate placement past 15 yards the ghost ring is preferred. If you deploy slugs this set up allows the shooter to properly sight the shotgun. All shotguns fire high or low with slugs and bead front sights. Usually it is only an inch or two. The Stevens 320 allows fine tuning for slug accuracy. A green fiber optic front sight offers rapid sight acquisition. The shotgun is easily disassembled. The magazine cap is unscrewed and the bolt retracted slightly and the barrel is lifted out. Maintenance and storage are quite simple.
Note
On any shotgun with a ghost ring/adjustable rear sight check the rear sight and tighten it occasionally. Whether you have a Benelli, Mossberg or Stevens shotgun recoil occasionally works them lose.
Old habits are difficult to break but then they work. I usually fire a shotgun with birdshot loads first. This allows assessing function smoothness and recoil without jarring myself with more expensive buckshot. As expected function was good but smoothness much slicker than I first imagined. No hitches just smooth operation. I fired a good quantity of buckshot with good results, centering the target to 15 yards. At 20 yards American Gunner slugs from Hornady cut a 2 inch group. The shotgun is reliable, smooth, very smooth, and would make an excellent home truck or camp shotgun.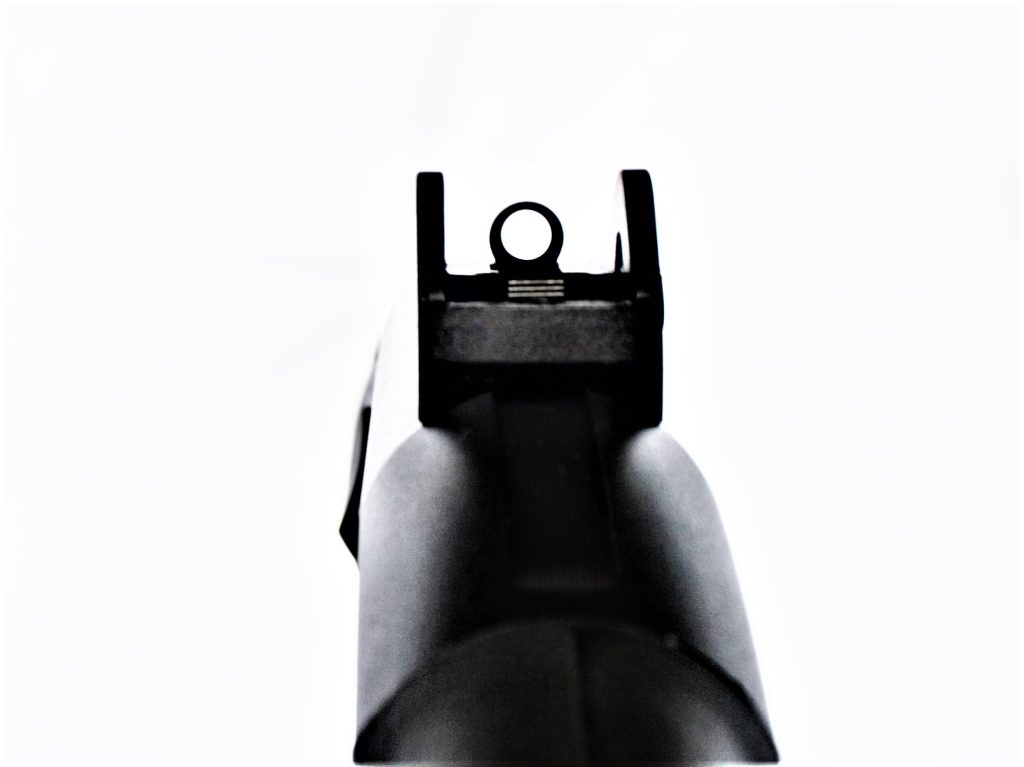 Specifications
Action Type: Pump-action shotgun
Gauge: 12; 3-inch chamber
Capacity: 5+1 (2.75-inch shotshells)
Barrel Length: 18.5 inches
Buttstock: Black polymer with pistol grip
Sights: Bead front or Ghost-ring rear; winged, fiber-optic front
Trigger Pull Weight: 6.75 and 7.1 pounds two test samples
Length: 38.25 inches
Weight: 6 pounds, 14 ounces, 7 pounds with ghost ring gun.