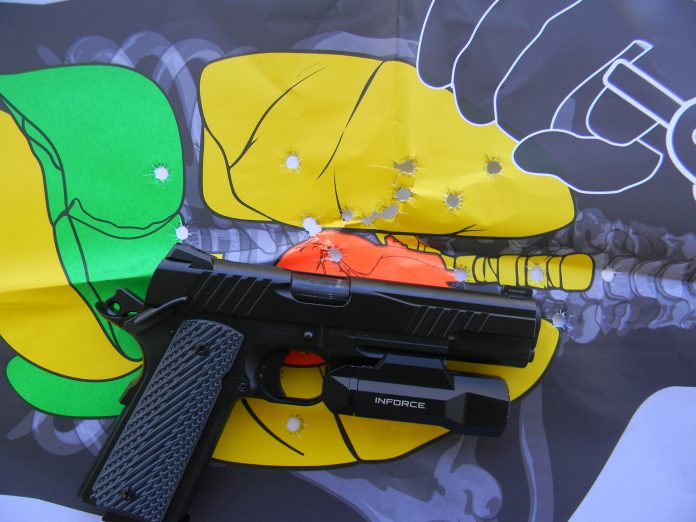 I have quite a few favorite individual handguns and a number of favorite types as well. I really enjoy a good single action revolver, a double action Smith & Wesson, and a quality 1911. I despise cheap imitations and guns that are not reliable. No shortage of those! Folks love to love the 1911 and then some love to hate the pistol. Some had a bad experience with a cheap pistol other just don't quite apply themselves to the piece. That's fine there are plenty of good quality handguns available and you don't need a 1911 if you don't care to train with the piece and maintain it as well. I would never issue the 1911 to a modern institution but regard it today as a personal handgun for those willing to take an immersion class in the pistol.
When Savage introduced a 1911 almost a year ago, I was pretty interested in what they would do with it. Turns out they abandoned the race to the bottom in price and elected to offer a quality pistol at a fair but far from cheap price point. The offerings include both 9mm and .45 caliber pistols, a two-tone version, and stainless and Melonite coated black guns. I think that for longevity service and corrosion resistance a stainless steel pistol is best. Just the same I grabbed the first pistol in the tri county area that became available a blue .45 caliber version. It suits me well. The pistol features a unique slide treatment to give the pistol identity as a Savage. Unlike the original SIG offering which also featured a distinctive slide the Savage fits standard holsters. The slide features a mostly ornamental cut between the sights. The barrel is nicely fitted and slides into battery nicely as the slide is racked. I found the barrel bushing tight, I used a bushing wrench the first time I disassembled the pistol. It loosened with use. The recoil assembly isn't a FLGR. The assembly is a standard recoil spring and guide to a point. The recoil spring is a new item for a 1911 a spring within a spring type. Since the pistol is reliable and functions with a wide range of ammunition I would say Savage made a wise choice. The sights are excellent hands down a great choice for a combat gun. They are Novak Lo Mount. The front sight features a highly visible tritium dot while the rear sight features a bar. This bar dot pattern offer good accuracy in fast shooting day or night.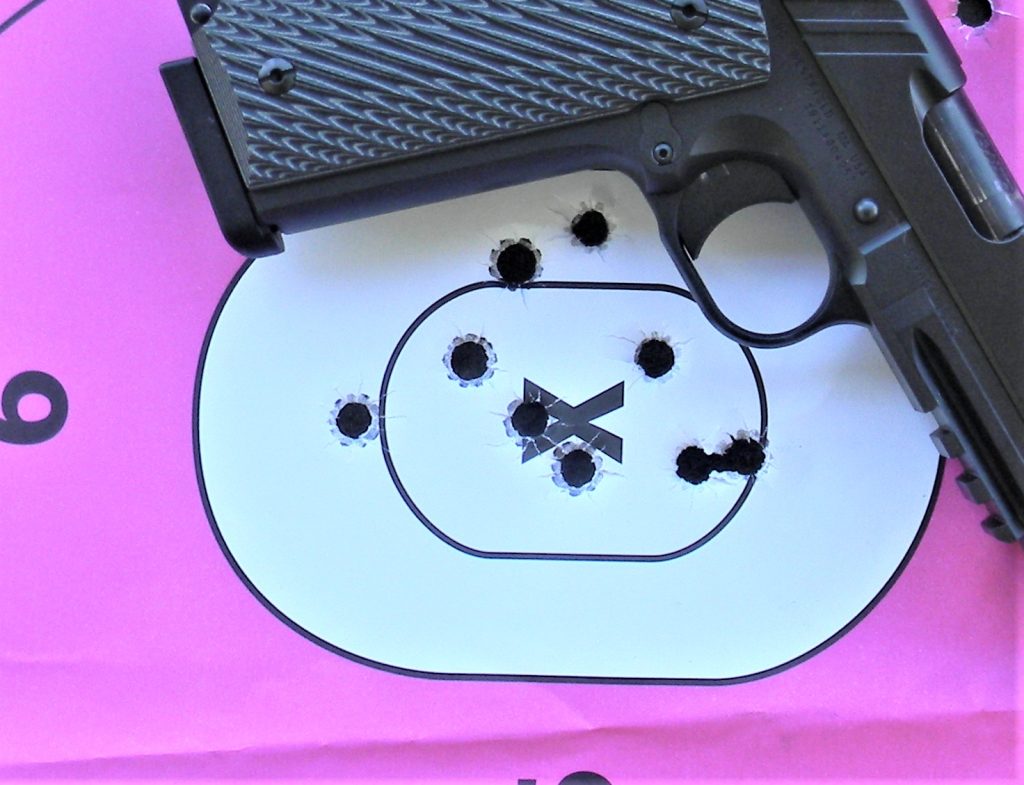 The pistol features both front and rear cocking serrations that work as well as any other. My pistol is a rail gun there is also a standard dust cover version. I suppose this is a good feature but as I said the first gun in town. Let's some at the Savage spec sheet a moment and check off some items. The pistol features forged not cast frame and slide. A 5.0-inch stainless steel barrel. The pistol is a Government Model with five-inch barrel and steel spring. Dual recoil spring system with GI-style guide rod and fitted barrel bushing. The ejection port has been lowered and scalloped. Nitride-coated titanium firing pin for reliable, long-lasting performance. This is a Series 70 type pistol without a drop safety or firing pin block. Novak Mega Dot sights and an absence of MIM or cast parts. An ambidextrous slide lock safety. VZ G10 Grips facilitate a firm grip even with wet bloody or sweaty hands. The 9mm offers 11 rounds total the .45 nine. I am hoping the pistol will be available and less expensive than at first blush but an average price near $1499 seems likely. However- I found a stainless steel model at Cheaperthandirt.com for $1281 and a stainless pistol without rail for $1221 so the pistol is getting traction. If you have an FFL like mine with a good relationship with his distributor (he pays bills on time) maybe you will find one at a fair price.
Savage Handguns | Cheaper Than Dirt
That's the necessary nuts and bolts of can you actually find the gun? Yes, you can. Moving forward the front strap isn't checkered, which it probably should be but I fired the pistol just fine. The slide lock safety locks in place smartly and the trigger is smooth. Smooth enough for some very good shooting. The trigger began as a smooth enough action with minimal take up and a sharp reset. With the RCBS trigger gauge the trigger broke 5.6 pounds for an average of ten pulls. The pistol is supplied with two magazines. A word to the wise- if you bet your life on a 1911 good magazines begin with MecGar. McCormick is good and Wilson Combat my favorite. Cobra mags are great and the super tough D&L Sports are good magazines. I trash canned the number two Savage magazine not a happy moment. I am glad it wasn't the gun at fault causing short cycles.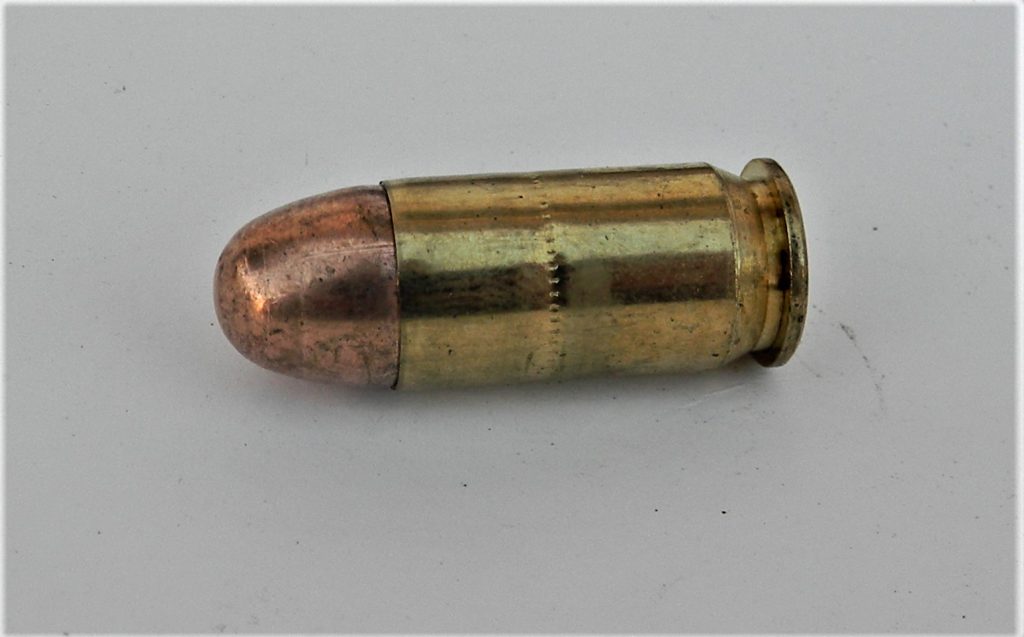 Most of the ammunition fired in the initial test was Winchester 230 grain FMJ. During the first World War Winchester was given a military contract for ammunition. The allowed number of primer failures was one in one hundred thousand unheard of at the time. Winchester met that standard and is even better today. While modern expanding bullet ammunition is good there is no more reliable loading in the handgun world than a 230 grain FMJ .45 ACP with primer seal and a cannelured case. This cannelure prevents the bullet from being pressed backward during the feed cycle. I fired 50 rounds of this load and also 50 rounds of standard Winchester 230 grain ball. A sacrifice really because I don't know when it can be replaced! The pistol stays on target and offers excellent hit probability. Draw, put the Mega Dot on target, and you have a hit. The majority of ammunition as expended from five to ten yards. This pistol is all 1911 in its speed to an accurate first shot. Recoil impulse is muted compared to most steel frame 1911 handguns. The piece runs flawless- once I ditched a junk magazine.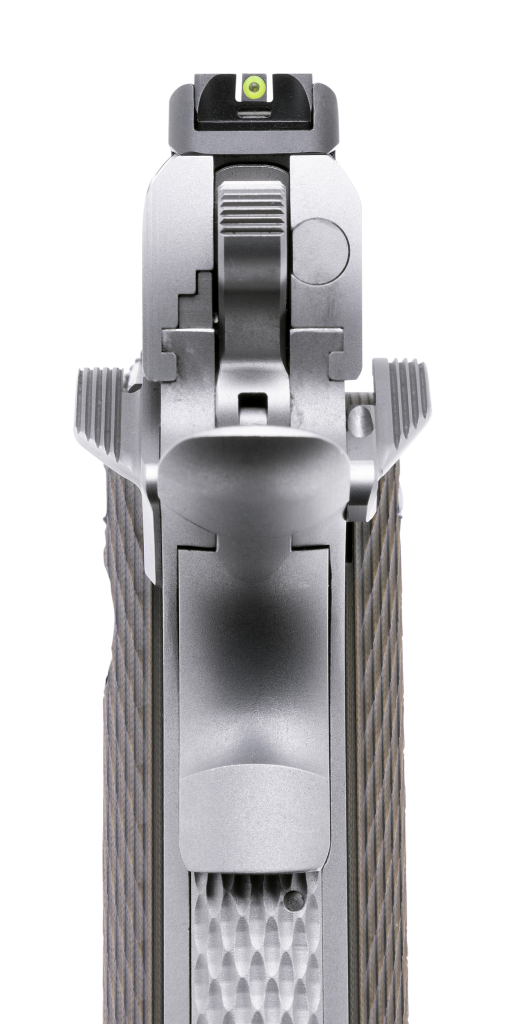 Firing for accuracy may not be as important as combat accuracy but tells us something about the pistols fitting and quality. I broke out a box of 1911 loads from Winchester. One of the least heralded loads is this 230 grain JHP at 840 fps. Basically, a heavier version of the Silvertip this load expands well. Winchester offered this load with a standard copper jacket- the 1911 is flash plated like the 185 grain Silvertip- and that load also expands very well. I moved into a solid bench rest firing position and touched off five shots at 15 yards. The result was a 1.2-inch group. I also fired the 230 grain FMJ G.I. load and this load at 856 fps went into 1.5 inch. I also fired the Winchester USA Ready 200 grain Defense. This is among the best designed and predictably effective load available in .45 ACP. A 200-grain bullet a 1021 fps must be respected. Five shots in 1.65 inch for that one. A few weeks into the test I had the chance to bench rest the pistol at a long 25 yards. I used a shooting rest firing over the range bag. This time I had the Winchester 185 grain Silvertip. At 980 fps is a controllable loading noted for good expansion. It is not particularly revered for accuracy potential. A flash plated aluminum jacket running down a copper washed bore has something to do with this accuracy potential I am certain. Just the same a 2.9-inch group at 75 feet is respectable. I could have adjusted the elevation as the rear sight is screw adjustable, however, I am probably going to deploy 230 grain loads. The Silvertip fired two and one-half inch low. Five shots went into 3.00 inches. Moving to 230 grain FMJ loads five shots cut a 2.2-inch group. That is very good for a quality 1911. I sacrificed a few of my handload using a 185-grain button nose SWC at 1050 fps. Five shots went into 1.9 inch. That was enough concentration and keeping a vise like grip on the pistol. This piece will shoot. During the evaluation there were no failures to feed chamber fire or eject attributable to the pistol. The Savage 1911 should have a bright future.