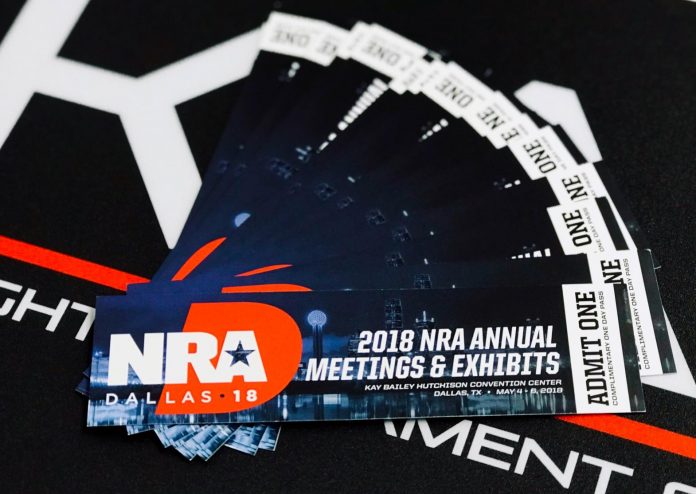 Just two weeks after the A Girl & A Gun National Conference and before I could fully recharge my introvert batteries, I was convinced by a friend that I should attend the NRA's 147th Annual Meeting (NRAAM) because it was "so close" to my hometown this year, so close being a 4-hour drive which included additional unplanned stops at the Buc-ees in New Braunfels AND Temple (the best restrooms in the world), and a missed exit in Waxahachie which added 20 minutes on to our trip.
My friend and I arrived first thing on Saturday morning after staying overnight just south of Dallas. Our GPS took us straight to the Kay Bailey Hutchison Convention Center and, after just a few minutes of discussion, found parking under the convention center for only $15, which is a steal compared to event parking in San Antonio. We worked our way up two levels and were thrown into a well-organized, but enormous, 15 acre playground of all things guns. Since registration was free to NRA members, this made our parking fee our only event expense.
I love traveling with my friend. She has (from what we learned at the AG & AG National Conference using the B.A.N.K. Personality Training System) a "blueprint" personality. She likes things to be planned out, so we made our way to one corner of the exhibit hall and started in an orderly, zig zag fashion walking, and walking, and walking. With probably more than 80,000 other NRA members, we walked for nine hours with a short break for lunch and another for smoothies. Even though I knew I had dozens of friends there at the same time based on their Facebook posts, I only actually came across a handful. But after a full day, we were proud to say we walked past every exhibitor in the hall.
On top of meeting with A Girl & A Gun's leadership team of Julianna Crowder, Robyn Sandoval, and Tatiana Whitlock, I was thrilled to get an opportunity to talk with other top female shooters in the industry. I went fangirl crazy over Kim Rhode and Julie Golob. Kim is one of the most decorated female shotgun shooters in the sport having won 6 Olympic trap and skeet medals in 6 consecutive Olympic events, plus numerous other international competitions. I had a chance to talk with her at the Winchester Ammunition booth. We discussed her favorite Olympic medal – her first – and her grueling competition schedule. I then found Julie Golob at the Smith and Wesson booth. Julie has won numerous World and National pistol events, including World Steel Challenge, US IPSC, and USPSA ladies championships. Not only did we talk about her nonstop shooting schedule, we also chatted about raising children in competition shooting. Both of these women have been fabulous role models in an industry that has been traditionally male dominated. Because of their hard work and dedication at the national level, it has given me opportunities to enjoy my hobby and be accepted as a shooter at a local level.
I would be negligent in my writing duties if I left off the fact that I also saw Lena Miculek, Kay Miculek, Eva Shockley, Michelle Cerino, Dianna Muller, and Becky Yackley meeting with attendees and walking around at the convention. I heard rumors that Missy Gilliland, Candice Horner, and Annette Evans were also in the building. In hindsight, I can't help but realize how lucky I am to belong to the NRA as they embrace women shooting sports and then give us an opportunity to actually meet our role models.
I could write for days on the 800+ exhibitors at the event. My favorite new gun is the Sig P365 with 12 round extended magazine. I can't wait to try it at the range. It has a slim feel for a compact gun that holds a double stack magazine. The extension on that magazine allows me to get all my fingers wrapped around the grip which is a great feature in a small carry gun. I am still shopping for my first 1911 and CZ USA has a product that is in the running with the CZ 75 Shadow 2. I am also drooling over the CZ SCTP Sterling over and under shotgun. I got to speak with Dave Miller, competitive shotgun shooter and world record holder for the most sporting clays shot in one hour (3,653), about the unique features of this shotgun that make it a fantastic fit for women with longer necks and slender faces. I also enjoyed speaking with Andrew Finn and Juli Brayton from Troy Industries about creating ARs and accessories with women in mind. Their SOCC series seems like a winning rifle straight out of the box for women shooters. When it came to gun accessories, I fell in love with the Surefire G2ZX Combatlight. With 600 lumens, the flashlight has just enough power, but not overwhelming power, to find my way in any nighttime situation. Using their convention discount code, I made that online purchase before I left the building. I stopped and talked with Vickie Hoffman at Tru-Spec. They are working on a more complete women's line of clothing starting with 24-7 Xpedition Pants in women's sizes 2-14 coming this summer. Product surprise for the day was the Black Rifle Coffee Company. I loved their Just Black coffee and came away with a beautiful, black coffee mug too. Looks like I'll be joining their coffee club on Monday.
I also had the opportunity to talk with some fabulous representatives from companies that I have purchased products with in the past and who went above and beyond for me in answering additional post-sale questions. Safariland helped me make sure I got the most out of my 578 GLS Pro-Fit Holster. Crossbreed found the perfect magazine holster to accompany my Mini Appendix Carry holster. Shotlock showed me how to adjust my Shotgun Solo-Vault to make sure that my loaded self-defense shotgun could not be fired while secured in the vault.
A convention would not be a convention if I did not talk about the swag. My favorite swag undoubtedly comes from Leopold. For providing your email address, they in turn gave you a blank rubber patch and escorted you to their laser engraver. After entering your name in their magic machine, they created a custom patch with the Leopold logo and your name. Then they did it again. This patch went on the Velcro wall where they pulled for prizes later in the day. At the end of the day, you got to keep your second customized patch. Bass Pro Shop/Cabela's was handing out a pen, knife, bottle opener, flashlight multitool. In exchange for a $1 donation to Eddie Eagle GunSafe Program, EAA gave me a thick rubber gun cleaning mat with compartments to keep your gear from rolling away. I literally stumbled upon a box of TASCO indoor Frisbees/fans that fold up neatly, like the car sun shields that you twist and pancake. This will fit nicely into my range bag for the hot summer Texas heat. I was also amused with the shotshell shaped shot glass from Gearfire.com.
With all the recent anti-NRA movements, one would think the only thing the NRA does is push its legislative issues. The fact is that NRA's Institute of Legislative Action (ILA) is just one aspect of the organization. The NRA is the leader in civilian firearm education with over 125,000 certified instructors who train more than 1,000,000 gun owners a year in a variety of disciplines, including the Eddie Eagle GunSafe Program and Refuse to be a Victim. The NRA Foundation raises millions of dollars annually to fund gun safety and educational projects that benefit the general public, like youth and women's programs on both a national and local level. To be able to produce an outstanding project the size of this year's NRA Annual Convention for their members takes the community support of hundreds of volunteers and exhibitors. Their dedication to this event shows their commitment to the continuing education of their members.
As I crash into bed after my full day of hiking, my mind still hears the low rumble of the crowd and my thighs burn numb. I am glad that my friend convinced me to attend the convention. Next time the NRAAM is within a 5-hour drive of San Antonio, you can bet that I will be there, not for just one day, but for the entire 3-day event.
---
Sandra Kozero is an NRA certified pistol and rifle instructor, along with being an NRA Level 1 Shotgun Coach. She teaches Home Firearm Safety, Personal Protection in the Home, Refuse to Be a Victim and the Eddie Eagle GunSafe Program. Sandy has been shooting with the San Antonio TX Chapter of A Girl & A Gun since 2011. She also dabbles in competitive shooting. She is not only the San Antonio Chapter Facilitator, but she also serves as an AG & AG National Regional Director.
SOURCE ARTICLE: https://www.agirlandagun.org/adventures-at-nraam/