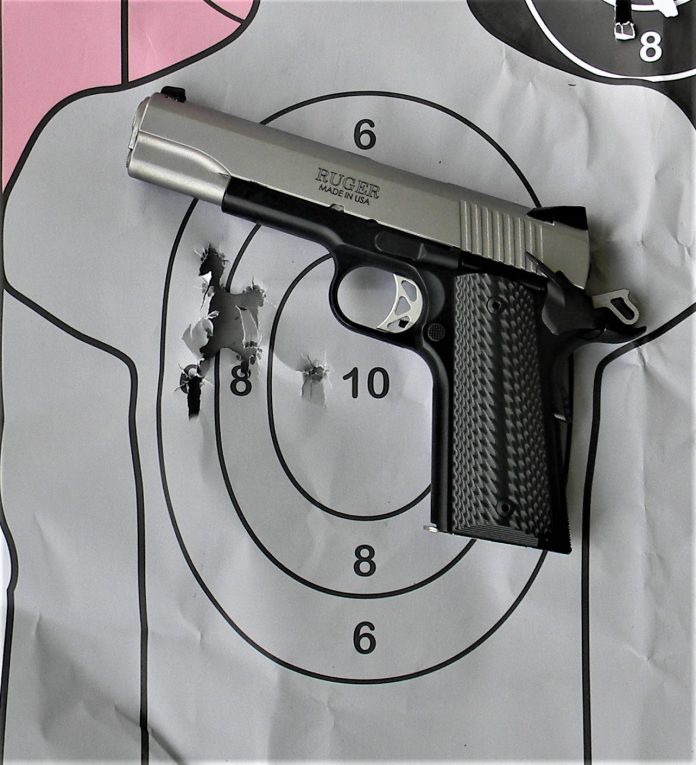 I enjoy firing the Government Model .45. This 1911 is all steel and balances well and kicks little enough for good control. When carrying a 1911 all day I like something a little lighter in the hip. Some compromise is made and the pistol much be reliable but I realize it will kick a bit more than a Government Model .45- which weighs about 40 ounces loaded. Dropping ten to twelve ounces off is noticeable on the hip and also when you fire the beastly kicking piece! But it can be controlled with enough practice. A Commander is a 1911 handgun with the slide and barrel shortened from the original 5 inch Government Model to a 4.25 inch barrel. The dust cover is shorter while the grip frame is the same. An aluminum frame Commander size pistol will weigh 28 to 30 ounces depending on the features and the maker. A steel frame Commander is at about 35 ounces and while popular isn't the best choice for all day packing. Ruger offers their t SR 1911 in steel and LW aluminum frame models. Recently I picked up a new rendition- a LW aluminum frame Government Model. The pistol is about ten ounces lighter than a Government Model with steel frame but retains the long slide and long sight radius of the Government Model. It concealed as well as a Commander- in my opinion- as the slide snugs to the body in a well designed inside the waistband holster. These pistols are also offered at an attractive price. Mine was considerably less than seven hundred dollars at Cheaperthandirt.com. Lets see how the pistol performed.
The slide is stainless a type of matte polished treatment, while the frame is anodized. An extended slide lock safety is fast in operation and locks in in a positive manner. The beavertail type memory groove grip safety properly releases it's hold on the trigger about half way into compression. The pistol is properly carried hammer to the rear and safety on. The grips are G10 and well checkered. The pistol features Novak Lo Mount sights. These are still the world standard with a non snag profile and good sight picture. Trigger compression is smooth at 6.0 pounds even without creep or backlash. The pistol looked like it would be good to go for personal defense and a good fit for the task of packing in and out of the woods and also wearing in town on a daily basis. Ruger means quality rugged durability- but this is a new model so I proofed it well.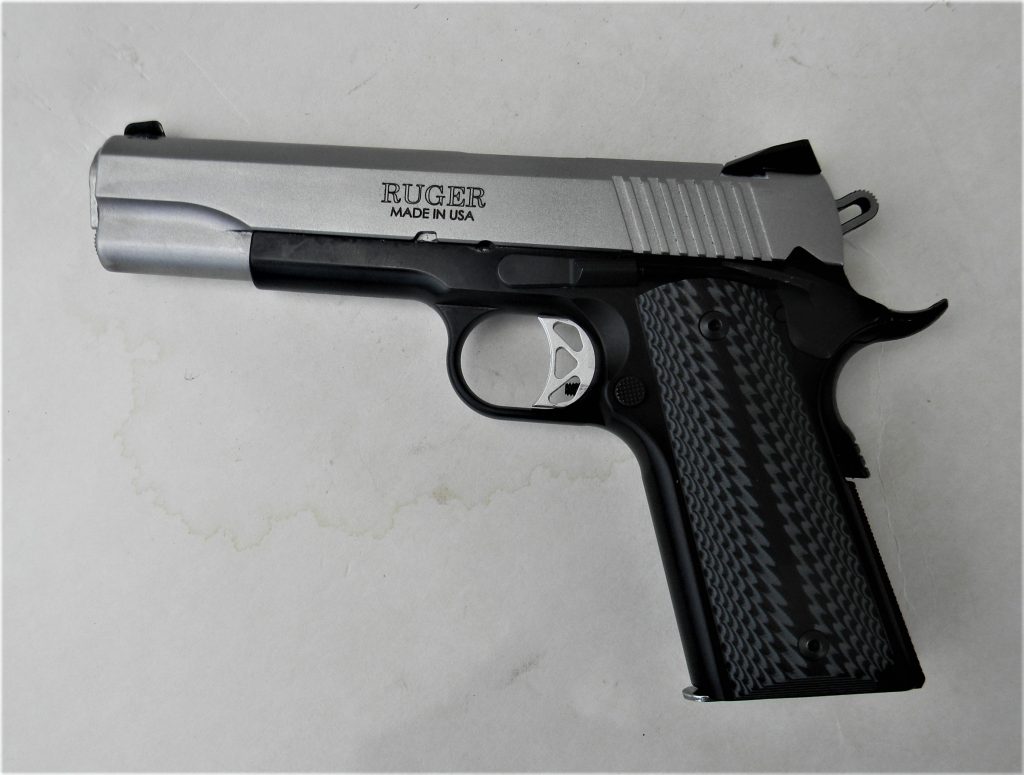 My favorite defense cartridge is the .45 Automatic Colt Pistol. The .45 ACP operates at low pressure compared to many cartridges and offers a full powder burn limited muzzle signature and excellent wound ballistics. Just the same while I handle the .45 well recoil is a factor in the LW frame pistol. Ruger supplies two magazines with the gun, I also used a half dozen Wilson Combat magazines. These are top flight proven magazines excellent design execution and reputation. For the initial firing I used standard 230 grain full metal jacketed ammunition. This is the most affordable .45 ACP loading and the most feed reliable. If the pistol doesn't function and feed with this load something is terribly wrong. I used Federal American Eagle 230 grain loads for the initial test. After lubricating the pistol I began firing at 7 yards. The pistol seems to have less muzzle flip than a Commander .45. The long slide and heavier recoil spring have less snap. Just the same fifty rounds is plenty in a firing test. The first few magazines you don't notice- after four or five magazines the wrist tell you that you are firing a pistol that kicks more than a Government Model .45. When you consider the pistol will be more easily carried and will come out shooting and you will not be in an extended gunfight- I hope not- the LW Government Model is a good trade off. I fired a magazine of the Speer Gold Dot 200 grain +P. This is a formidable loading screaming out of the Ruger's five inch barrel at 1039 fps. It functioned and I controlled the string and I don't care to do it often. I will reserve this loading for steel frame .45s. I also fired two good defense loads for accuracy. Firing from a standing braced barricade position I fired the Federal Hydra Shock 230 grain load and the Speer Gold Dot 230 grain load. Each printed a 2 inch group at 15 yards.
During the course of fire I had two failures to fully go into battery the typical 1911 break in that is seldom seen in modern guns. Today after several range sessions and 240 mixed rounds there have been no further malfunctions. What do I think of the LW SR1911? For recreation and most shooting chores I prefer a Government Model with steel frame. The LW Government Model shoots noticeably better than a Commander .45 and would make a good choice for constant carry. If you don't like the recoil of a steel frame .45 don't purchase this gun. If you don't mind a Commander with LW frame and its recoil the LW Government model will not be a difficult gun to use well. The piece is reliable and accurate and certainly affordable.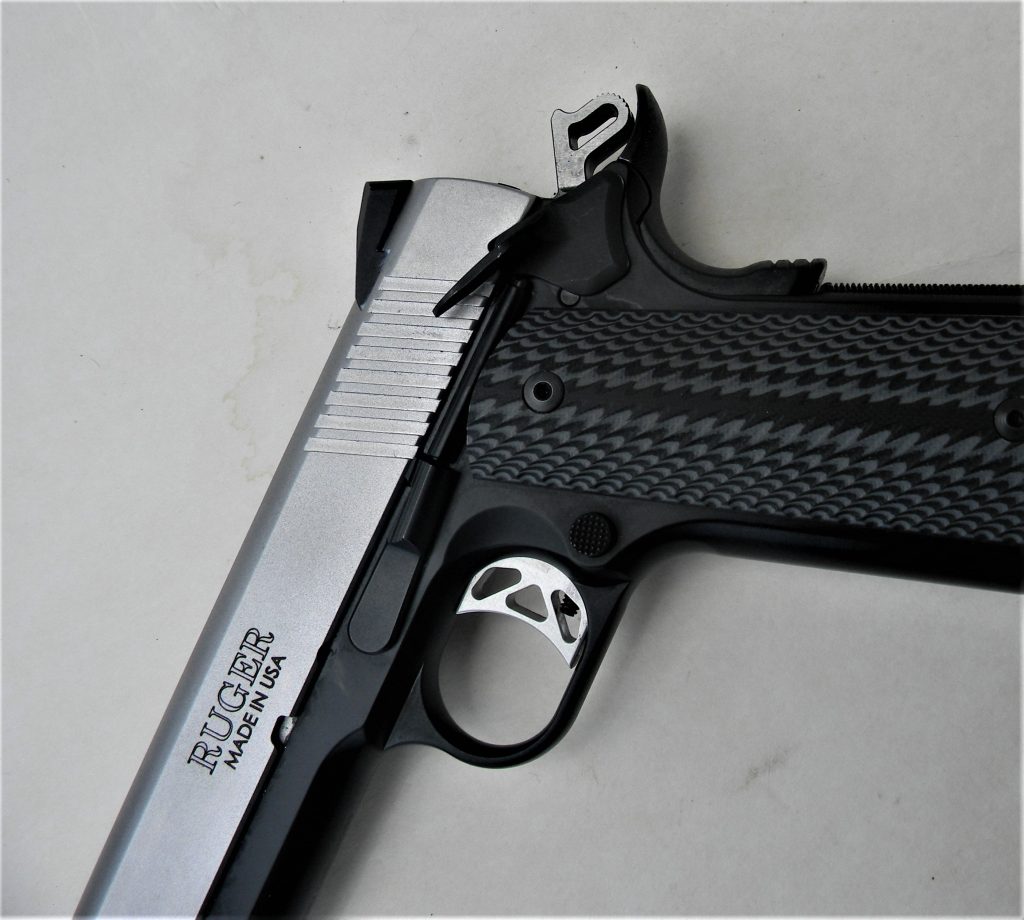 Packing out the LW Ruger .45.
For carry under a pulled out shirt as I wear most of the year an inside the waistband holster is a good choice. The body of the handgun is concealed in the pants. This means the holster isn't visible below the belt line. A modest length covering garment will conceal this handgun. The thin 1911 is a good choice for this carry mode. I deployed the DeSantis Cozy Partner with several of my 1911 handguns with good results. This is a good kit.
Capacity: 8+1
Slide Material: Stainless Steel
Barrel Length: 5″
Grip Frame: Black Anodized Aluminum
Grip Panels: G10
Model Type: Lightweight
Slide Finish: Low-Glare Stainless
Width: 1.34″
Sights: Drift Adjustable Novak® 3-Dot
Weight: 31.1 oz.
Overall Length: 8.67″
Height: 5.45″
Grooves: 6
Twist: 1:16″ RH
Available in CA: No
Available in MA: No
UPC: 7-36676-06792-3
Suggested Retail: $799.00 Actual price much lower!