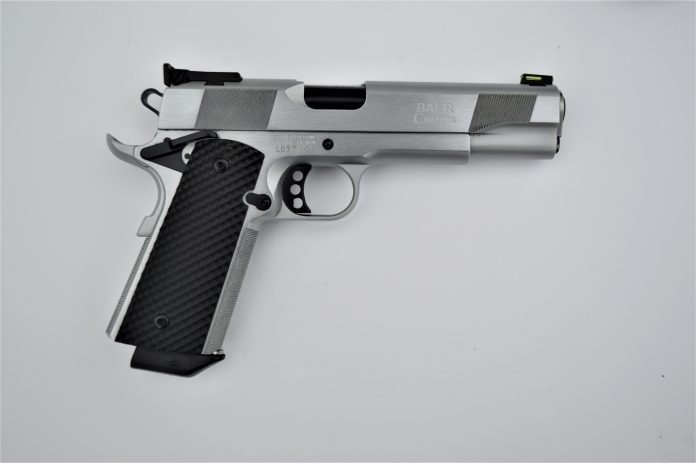 I try to test and evaluate every firearm with an open mind.  I keep in mind the target buyer, the mission, and the capability within the firearm's price. If they fill a certain need they are useful to someone. The pistol illustrated in this review is a handgun made for me, for gun cranks, 1911 enthusiasts and serious handgunners.
The Les Baer Hemi 572 is probably one of Les Baer's favorites as well. The maker named this pistol after his old Hemi 572 drag car. Many of us that appreciate good handguns are also car buffs. One of my sons and the oldest grandson each own vehicles with modern Hemi engines. They are pretty good. I own the Les Baer Hemi 572, which is the best handgun I own and probably the best I will ever own.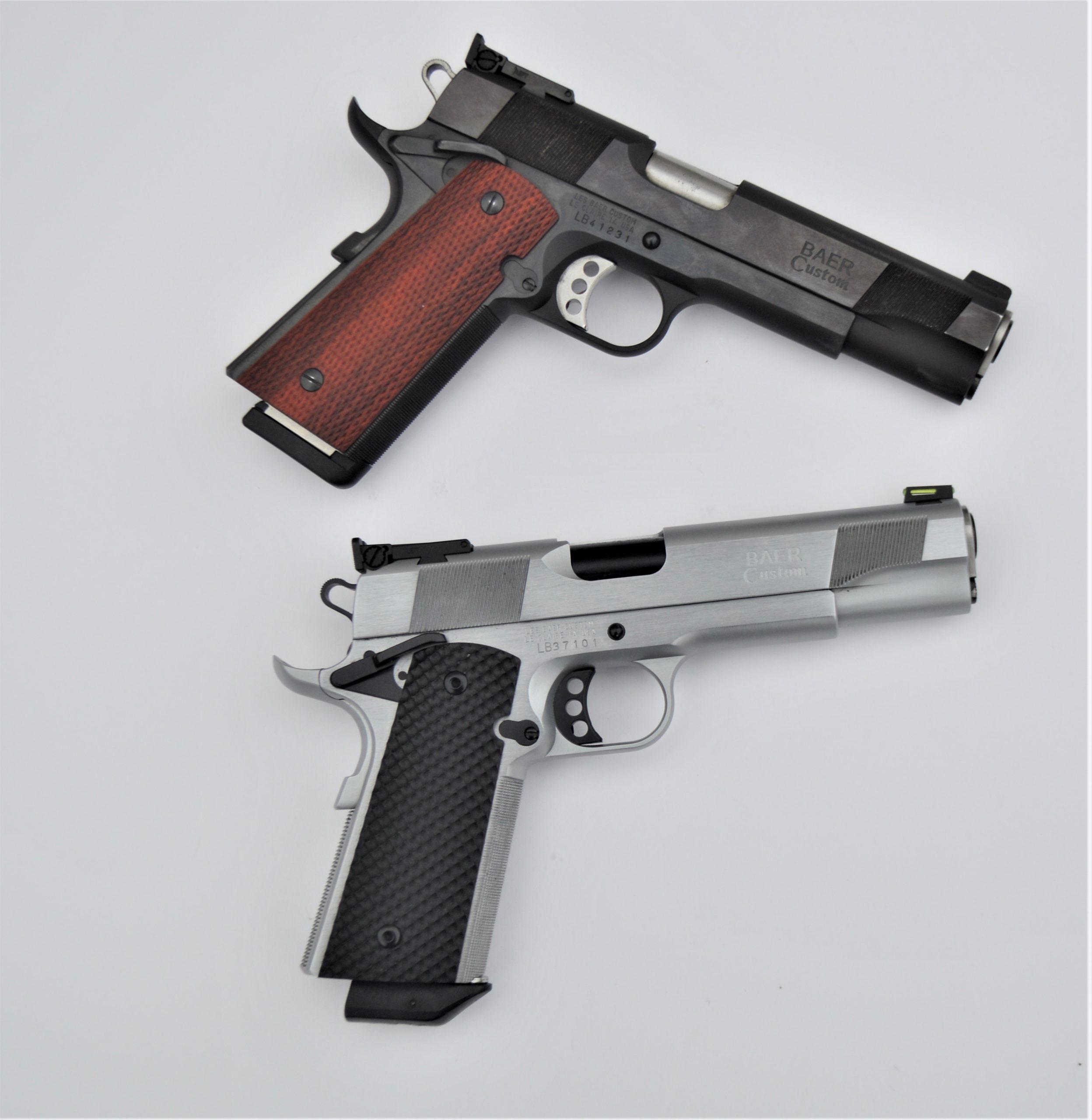 Les Baer handguns are top end pistols. Some say high end, but those are lesser handguns.
His handguns are designed for top end accuracy above all else. I have owned four, including the Stinger, the Monolith, and the Concept VI. The Hemi 572 is by far my favorite. The fit is tight. Precision means a tight fit. Tolerances are close. The less slop the less likely eccentric wear will develop.
The pistols are well suited to competition, service, and personal defense. I would imagine the minority are used for any of these pursuits. Most will be owned for simple pride of ownership and by the shooter that wishes to stretch the limits of practical accuracy and be all they can be. I occasionally carry mine. If I address a challenging handgun that I find I cannot shoot well the Les Baer will get me back up to speed and reinforce confidence in my ability. I don't have room for an unreliable or fragile pistol. The Les Baer is tough and reliable. 
The pistol is manufactured with Les Baer's own high end frames, slides, and barrels. Nothing outsourced here. CNC machinery makes for tight tolerances. Some of the pistols are stainless steel and some are chrome moly. I have no real preference but in the end a stainless steel pistol offers greater resistance to the elements.
The slides are individually fitted to the frames. There is no such thing as slapping one slide onto another frame. While specifications are a great thing for a military pistol and the ability to use interchangeable parts is important, a personal pistol is another thing altogether. If you need an extractor, trigger, or safety you may fit one easily enough. Magazines, springs and grips are easily obtained. Magazines and springs are the only items likely to need replacement in the long term. A good feature of the pistol is the 9mm firing pin channel. This allows the use of a lightweight firing pin and heavy firing pin spring in order to ensure drop safety. 
The barrels are hard fitted. This means the locking lugs are snugged up tight in the slide. The barrel to barrel bushing fit is tight. Les Baer pistols require a bushing wrench for disassembly, although the chore is easier after a modest break in period. On the subject of break in Les Baer recommends a 500 round break in period. Don't call and complain until you have finished this break in. Of the four pistols I have owned only one, the Monolith, that needed a break in. But then most will require this break in, according to the maker. Use a full power 230 grain hardball or the equivalent.
The extractor is properly tuned. The ejector is a Baer extended version. The ambidextrous safety is an excellent design. Indent is positive. I prefer a slide lock safety that isn't difficult to move to the off position and which requires more force to move to the safe position. This is that safety. The beavertail safety is well designed, releasing its hold on the trigger about half way into compression. Along with barrel quality, one of the greatest predictors of accuracy is a smooth trigger action. The Les Baer 572 Hemi breaks at exactly four pounds. Reset is excellent. The rear sight is a fully adjustable low mount. The front sight is a fiber optic type. The front strap is checkered at thirty lines per inch. The mainspring housing is checkered at twenty lines per inch. The grips are G10. The balance of adhesion and abrasion are excellent.
The pistol's slide lock, slide lock safety, barrel and hammer and other small parts are finished in durable DuPont S. The pistol is finished in an attractive hard chrome. Some like the contrast, others do not. It has grown on me. The pistol is a very nicely put together pistol with good features. There is no light rail. I don't need the extra weight and find a rail gun a pain for concealed carry. The pistol handles as quickly as any Government Model 1911.
At just over forty ounces loaded the Hemi 572 is a soft kicker even for a five inch barrel steel frame .45. As for accuracy, well, it depends. I find firing off hand at small targets a greater test of accuracy than paper targets. The pistol handles well. It isn't difficult to connect at ranges to 50 yards for those who have learned sight picture, sight alignment, and trigger press. The pistol will throw its big pumpkin balls into the X ring every time at 25 yards. 
As for absolute accuracy I enjoy testing the pistol with a variety of ammunition. I have used Federal American Eagle 230 grain FMJ loads by the case since they were introduced. Recently I was finally able to replenish my supply. I also obtained a small quantity of the new 205 grain Syntech hollowpoint. This load used modern technology to ensure part of the bullet penetrates 16-20 inches in gelatin testing while three shards break off and create separate wound channels.
There isn't anything wrong with hardball but we should take advantage of modern loads when possible. The pistol was set on a solid bench rest with a comfortable firing position. I fired two five shot 25 yard groups at 25 yards with the American Eagle load. The average was two inches of dispersion. Three shots in one group went into 1.1 inches. I fired two three shot groups with the Syntech hollowpoint. Recoil is modest. The best of the two groups was 1.5 inches for five shots, the average was 1.9 inches, from a load not renowned for accuracy potential. The Les Baer Hemi 572 has never failed to feed, chamber, fire or eject in the several years I have owned it. At least 1,000 rounds, perhaps 1,200 rounds have been fired in the pistol. The level of accuracy with all loads has been high. This is a pistol you can bet your life on. Or win a competition with.