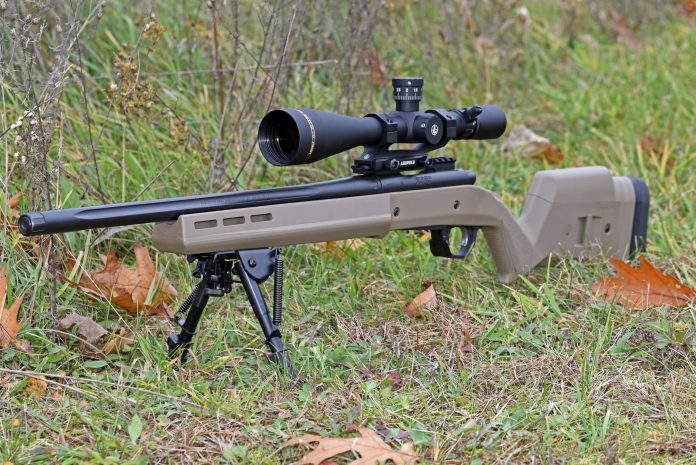 In 1962 Remington released the Model 700 BDL. This was the first rifle chambered in 7mm Rem Mag. 56 years later Remington is still producing the Model 700.  Actually, they are making about 34 variations of this iconic rifle. Just about any rifle caliber you can imagine today has a 700. I wanted one but I wanted a modernized version of this iconic rifle. Remington had that too. The Remington 700 Magpul Enhanced model in the newest round for the rifle, 6.5 Creedmoor.
Remington's Model 700 Magpul Enhanced features an incredible Magpul Hunter stock in a flat dark earth color. Equipped with M-LOK mounting points and a folding bipod. The Magpul Hunter stock uses a reinforced polymer body for stability and durability, without the unnecessary additional weight. Weighing just over 3.0 pounds, the Magpul Hunter stock is much more pleasurable to field. The Hunter stock is designed with an embedded anodized aluminum bedding block to ensure the action is securely in place and ready to perform. This type of bedding has proven to be one of the most effective designs in precision rifle performance. The Magpul stock can be customized to the user in just minutes with different provided cheek rests and stock extensions.

The Enhanced model boasts a 20" heavy threaded barrel with 5R rifling. The muzzle on the 20", fluted barrel is threaded, making the rifle suppressor or muzzle-brake ready. The 700 Magpul Enhanced includes a 10-round Magpul detachable magazine. The rifle uses a butterfly style magazine release that is located on the front of the trigger guard.  For me the mag release was a bit difficult to operate but with a little practice it was not horrible. Lastly, The Remington 700 action is everything one would expect out of a legendary rifle and the oversized bolt handle works great and feels great to throw. The X-mark Pro Externally adjustable trigger felt great right out of the box for me, no creep and a light break at only 3.5 lbs. Remington really pulled out all the stops on the this 700.
6.5 Creedmoor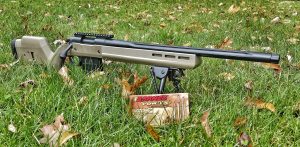 My friends kept asking me why I would choose this rifle in 6.5 Creedmoor rather than 7mm or 308. Well, the superior trajectory, and outstanding terminal ballistics of the 6.5 Creedmoor, have really made me consider this to be the best overall rifle round on the market. The 6.5 Creedmoor round should really excite most center-fire rifle shooters. Target shooters get a round with high ballistics creating a very flat trajectory for extremely accurate shots. While hunters get a round with amazing energy levels over long ranges, and just a slightly reduced bullet diameter to provide acceptable expectations for humane kills.

A precision rifle of this caliber needs a great piece of glass to bring it all together. Atop the Magpul Hunter stock I decided to mount the Leupold VX-3i LRP 6.5-20×50. It has the right magnification and elite optical performance I was looking for in order to get on target quickly and accurately. The Leupold VX-3i LRP features Diamond Coat 2, an ion-assist lens coating that gives the glass higher light transmission and the greatest level of abrasion resistance possible. It is waterproof and fog resistant, which is very important when out in the woods of Michigan where the weather changes every time you blink your eyes.
The VX-3i gives you a 3:1 zoom ratio and a side focus parallax adjustment for fast, easy parallax focusing from any shooting position. The range from 6.5x to 20x is a broad variable that allows the scope to cover a wide spectrum of capabilities.  Crafted from 6061-T6 aircraft quality aluminum and weighing only 21.7 oz.
Upon sighting the rifle in with the Leupold VX-3i I found it to take a little longer than normal to get it where it needed to be but once it was dialed in, I had complete confidence in the setup.
Testing and Performance

Accuracy was impressive. At 100 yards and firing from a rest, my best five-shot group was 0.95 inches with the Remington Premier ammunition. The Barnes Vor-TX ammunition produced several five-shot groups around 0.75 inches, while the Hornady American Whitetail averaged very respectable 1.1-inch clusters for five shots. The more I shot the more comfortable I became with the rifle. Any long-range shooter or hunter who chooses a quality piece of glass and puts in the range time should be able to nail 0.50-inch groups with this rifle with ease.
If you are in the market for a modern precision rifle built on an iconic time proven platform the Remington 700 Magpul Enhanced in 6.5 Creedmoor is a perfect choice.  With an MSRP of $1249.00 it is definitely on the higher end of the price range for a Remington 700. However, you get one incredible rifle that feels like it came out of the custom shop built just for you.  I found the same rifle online for as low as $935.00.  With the proper scope setup, the Remington 700 Magpul Enhanced is ready to go win a long-range shooting competition then out to the woods to harvest a deer pretty much right out of the box.