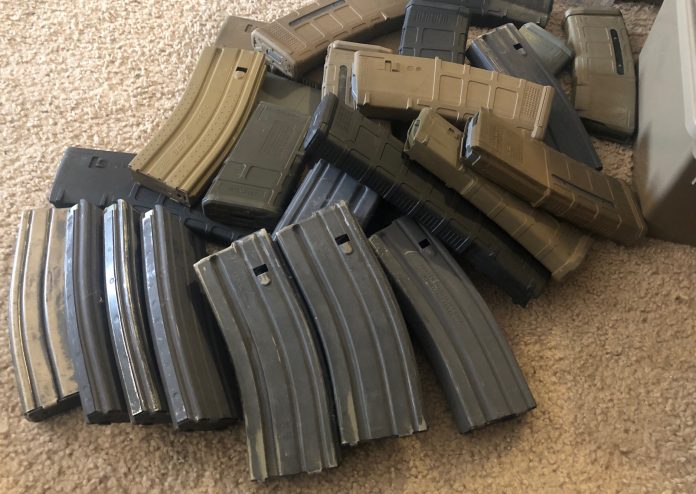 Yesterday afternoon and, around 2:00, law enforcement entered a standoff with Alexander Booth. Alexander, a 28-year old Army veteran who goes by the Instagram name whiskey_warrior_556, broadcast his side of the standoff via IG story updates and posts. Booth did appear and sound inebriated during his video posts, clinking his mug to his phone several times.
In that story he referred to the responding officers as pigs, red coats, and at one juncture posted that he told the LE negotiator there would be blood if he wasn't given a written guarantee of not going prison. Several text exchanges and screen captures all seemed to indicate this whole incident was initiated by an Army peer of his over possession of a 30 round magazine, illegal in New York.
What followed, because of the social media interaction, was a flood of attention to the situation in Putnam County. Alex has over 134,000 IG followers now and digital and physical mobilization of the 2A community rallied to figure out what was going on. Many thought this might turn into another Bundy Ranch type situation. Most just didn't know what was going on and wanted to find out.
After about 7 hours the standoff concluded and Booth was taken into custody, where it was originally reported he was not likely to face charges. But a warrant of both felony and misdemeanor charges was issued stemming around a domestic violence incident and larceny.
Putnam County Sheriff posted the following:
The Putnam County Sheriff's Office has been inundated with calls and social media messages from citizens expressing concern about a police response in the Town of Carmel. The incident was widely reported to be a law enforcement effort to seize firearms under "Red Flag" laws. This information is incorrect. The law enforcement response and subsequent arrest was related to a domestic violence investigation. The citizen involved is safe and in police custody.
The incredibly high volume of phone calls, emails and social media messages has overwhelmed our systems and shutdown our ability to communicate with our community. While we respect the right of all citizens to inquire about law enforcement activity, we urge you to respect the needs of our community and restore our ability to serve them. Thank you.
The Police are saying that the social media response greatly hindered their efforts to resolve the issue with Booth. They know Booth suffers from PTSD and were taking that into account, however constant input from social media disrupted their process and significantly delayed the resolution.
Booth was detained unharmed at around 9:00 pm. No magazines or firearms were found with him. He is, to the best of my knowledge, facing charges related to a domestic incident and larceny or property damage and not possession of a high capacity magazine.
On Edge
What we learned here, more than anything, is just how much distrust the 2A community, or at least segments of it, have towards law enforcement in states unfriendly towards firearms rights. The Community was ready to believe, and many still do believe, that this is about magazines. That the official statement from Putnam County is a lie. And that they rallied to the defense of a patriot falsely accused instead of a man in crisis.
Plain and simple, this story would not have held up in a state where standard capacity magazines are legal. The whole narrative of infringement and jack booted thugs coming for him wouldn't fly where red flag laws and magazine bans do not exist. But they do in New York, and Booth may even believe that was the case. I don't know him. I've seen about 2 minutes of the man from an IG feed. But this whole distrustful climate wouldn't have existed in a pro-2A state. The community wouldn't have been as ready to believe if there was no ridiculous law in place.
I hope Booth is alright and remains so. I hope he gets the help he needs, legally, mentally, the whole thing. But what Alex exposed yesterday should give everyone a good hard pause as to the attitudes surrounding Red Flag laws and just how poorly this can go.
It didn't this time. I hope like hell it never does.