One of the most innovative companies to come along in a many years is Real Avid. Real Avid has put a modern more user friendly spin on firearms maintenance and field care. Back in 2012 I was first introduced their tools. It seemed Real Avid had but a handful of items, now they have dozens of tools to take care of your AR, AK, Glock, 1911, shotgun and most any other firearm. Real Avid was gracious enough to get us preproduction samples allowing The GunMag readers to have the first look at a few items.
At the 2019 SHOT Show Real Avid introduced their largest tool kit to date; AR15 Master Armorer's Kit. This kit will give you virtually everything you need to maintain your AR style rifle or build your own custom AR. When I say everything, I mean everything from cleaning picks to a torque wrench to properly tighten the castle and barrel nuts.
Let's take a look at the kit. First off is the carrying case. Unlike many kits on the market that come in a "case" that lasts about as long as the first use, Real Avid ships this kit in a case built to keep your tools properly stored for years to come. This kit was designed for the anal retentive with ach tool having its own spot. Tools lock into its spot and save for tossing the kit, they stay in place. I feared everything would a shambles when I knocked it off my desk chair. Thankfully all the tools were still in place.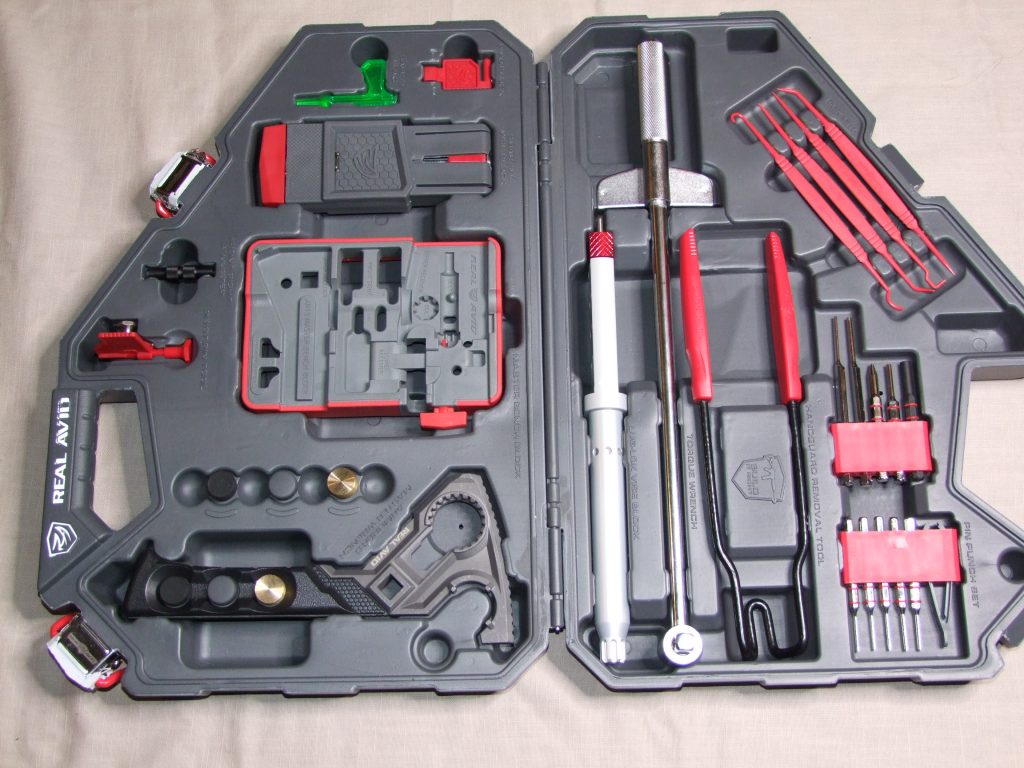 Back in November 2, 2018 GAT Daliy did a review of major items in this kit: Master Bench Bloc, Master Armorer's Wrench and Pin Punch Kit. These tools are all on my bench and get used regularly. The Handguard removal tool makes removing and installing M4/AR15 GI style forearms easy as opening a bottle of pop. The pick set gets into all the nooks and crannies to thoroughly clean your AR.
The most unique item in the kit is the Lug-Lok Vise Block. This block fits into the barrel chamber to give you a solid base to remove/replace barrel nut work on the upper receiver without stressing the pivot pins or indexing pin on the barrel. I have seen bad things happen when you over torque these points. Note to use the Lug-Lok, the receiver extension must be removed.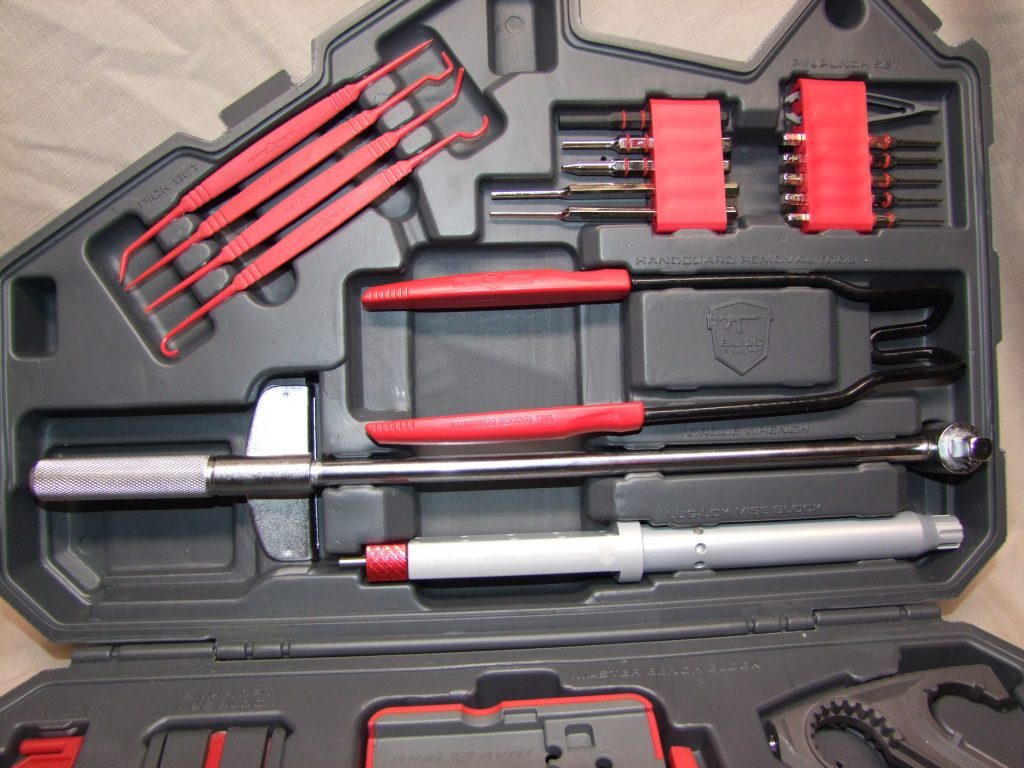 Other handy tools include Pivot Pin Tool and lock, a safety flag, front sight tool and Smart Vise Block. This block is unique because it can be tensioned to fit mag wells to reduce shake when working on the upper receiver or installing new optics. You can invert it to make installing a pistol grip or work on the lower receiver easier. Whoever you give this $249.99 gift to will think of you every time they use it, especially when it makes working on their AR easier.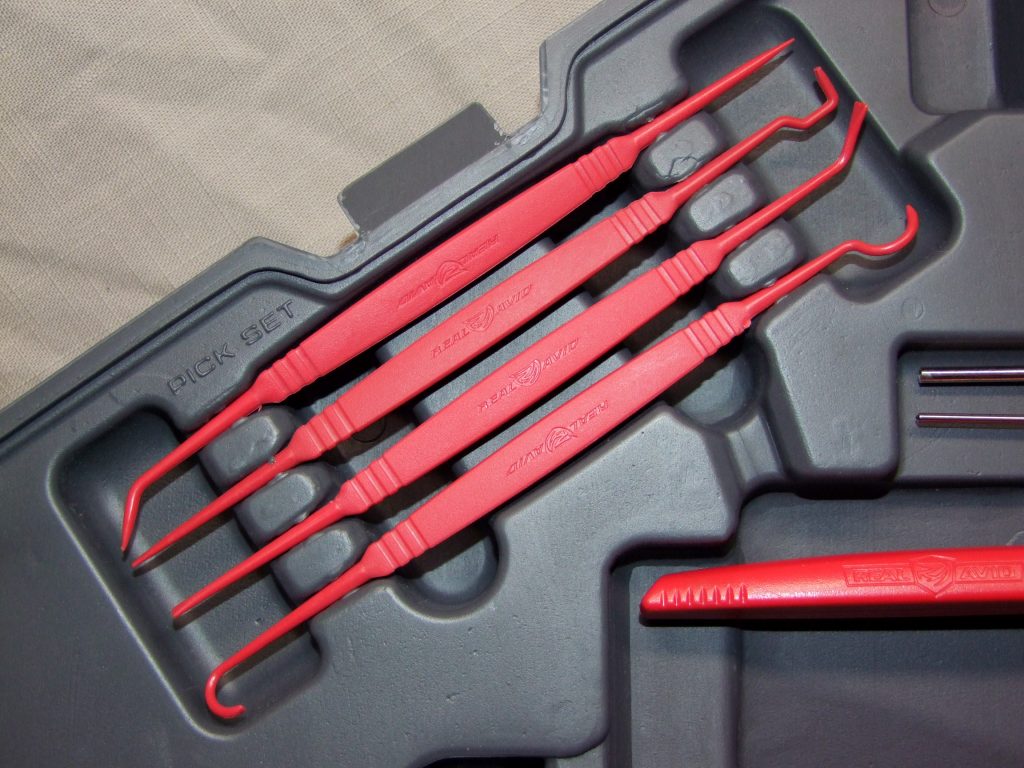 Not everyone owns an AR, perish the thought; but if you are reading this odds are you own more than one firearm. That means you need a tool kit specifically designed for firearms. Yes you can have Allen wrenches and numerous screwdrivers from big box stores but they are not firearms specific. Most Allen sets do not fit the nuts on scopes and various firearms. The screwdrivers you find at big box stores are not designed for screws used in on scopes and firearms. Not to damage these screws you need properly designed tools. The tools found in Avid's Real Driver 90 are built for working on firearms not cars or around the house.
If you do not want to strip firearms screws you need bits that truly fit the screws. When I say fit, they need to be squared not tapered to the tool end like wood working/mechanics tools. Square blades fill the entire screw slot to reduce the odds of stripping the head and evenly applying pressure to the entire screw head. This ensures that you apply even pressure to the entire surface area, helping prolong the life of the screws and screw holes. The same is true for Philip's head screws. They too are generally flat at the bottom of the screw, a pointed it will slip and strip the head.
While you can buy Allen wrench sets, most are not small enough for the screws and bolts that secure scope bases and adjustment screws. I have discussed many mini red dot scopes when I cannot zero them because I forgot the OEM wrench.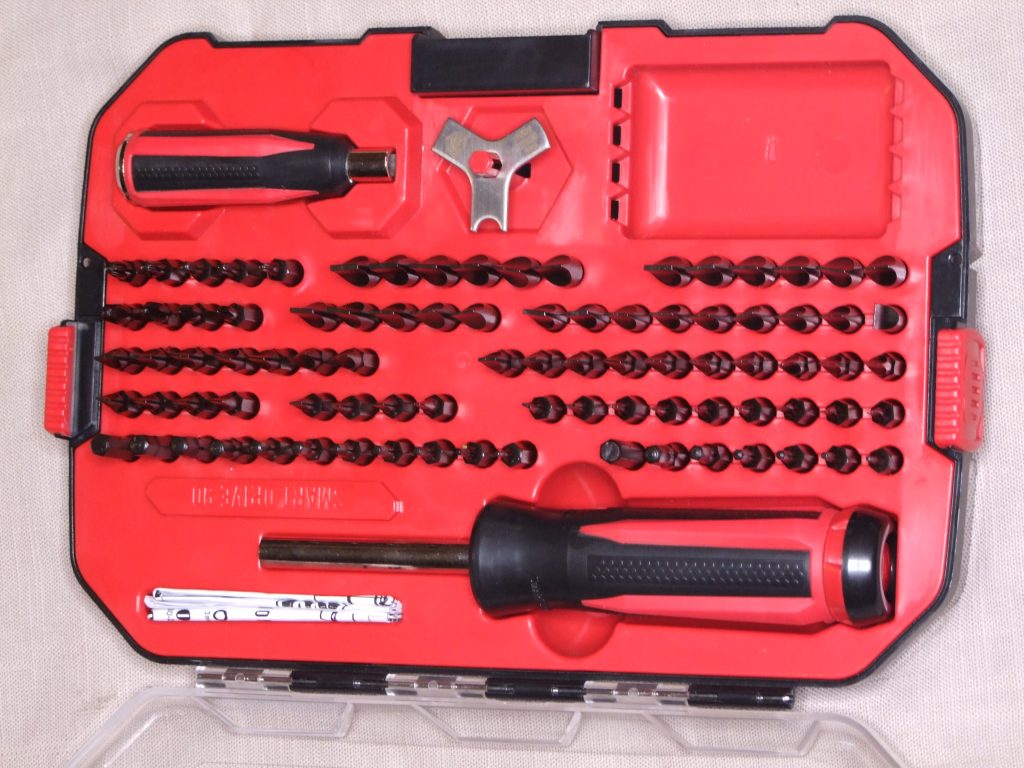 To ensure you keep the screw blade in the slot, Real Avid has a "force assist" which is another driver to fit into the handle. This will allow you to get extra torque on stubborn screws. If you need a smaller driver handle tool bits will fit this grip. The button in the handle of the main driver is a light to illuminate your immediate work area. I found this to be most useful at the range where lighting is not optimal for field repairs and adjustments. The Real Driver 90 is worth every penny of its $99.99 MSRP because it will save time and aggravation.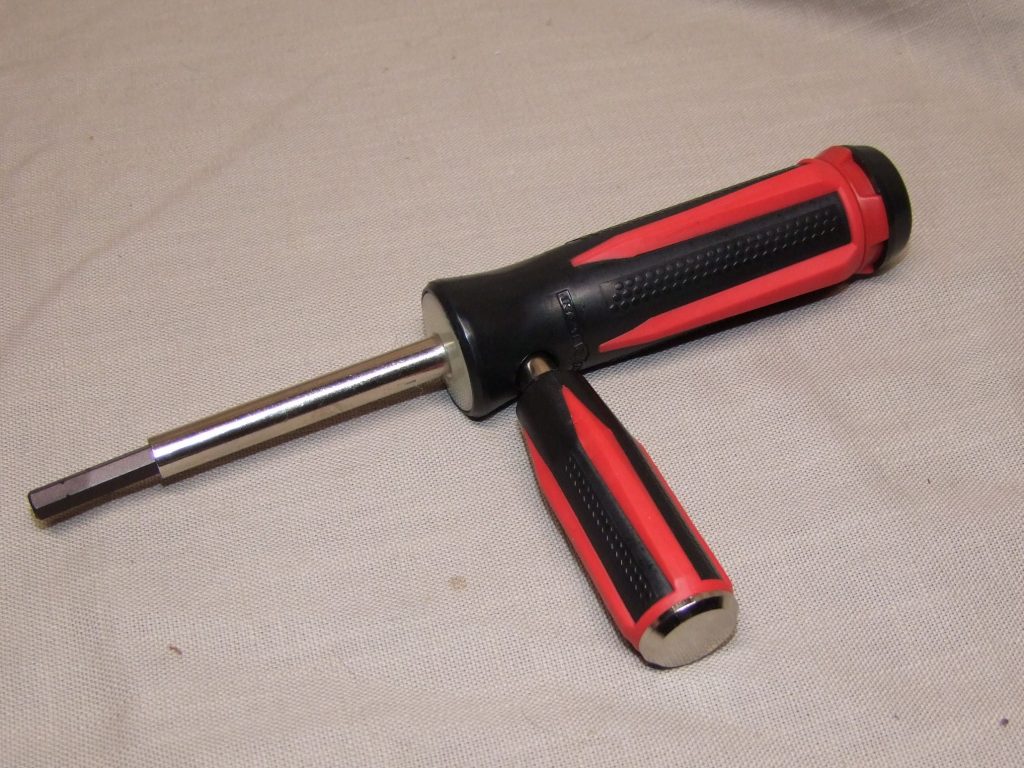 Real Avid's tools generally come in a secure case, while their Glock Tool folds like a pocket knife. Instead of a cutting blade the four blades are tools. There is a punch, front sight driver, flat blade driver and .050" Allen wrench. The 3/16" magnetic hex wrench fits front sight nuts, while the Allen wrench tightens most aftermarket rear sights; the flat blade removes the locking block and works on adjustable rear sights while the punch is to remove pins.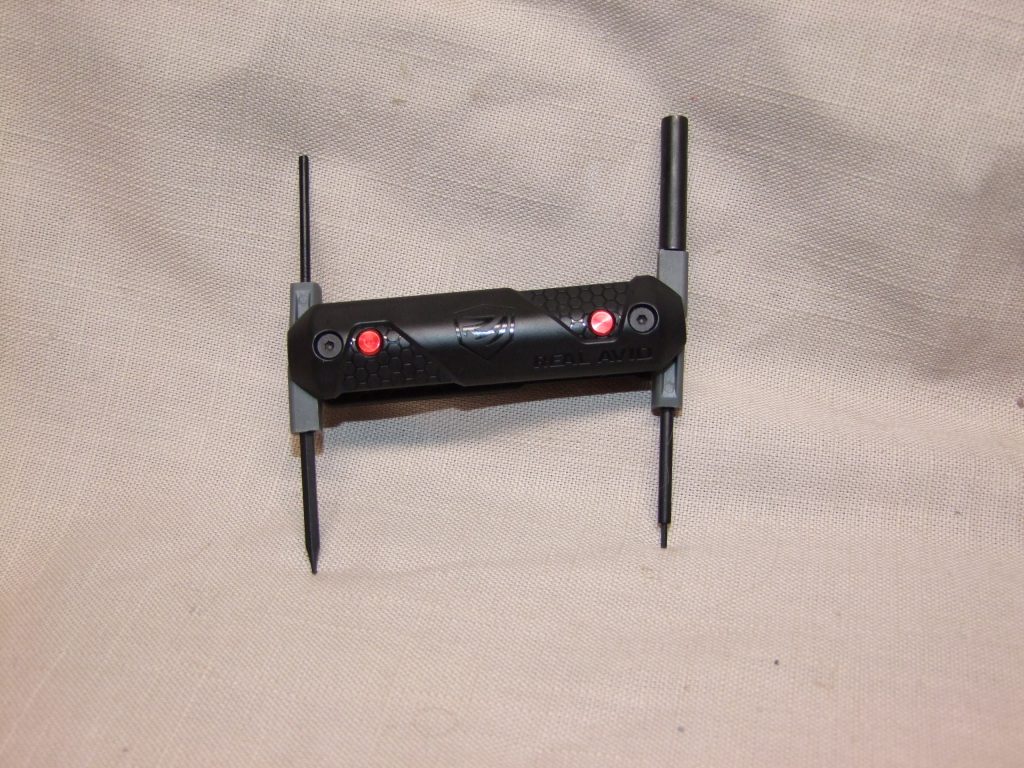 Real Glock Tool literally is a complete tool kit for a Glock in your pocket. I cannot count the number of times this $24.99 tool would have come in handy to help fellow shooters at a match or just plinking at the range. Just saving one loose front sight when it is loose will cover the cost of this tool.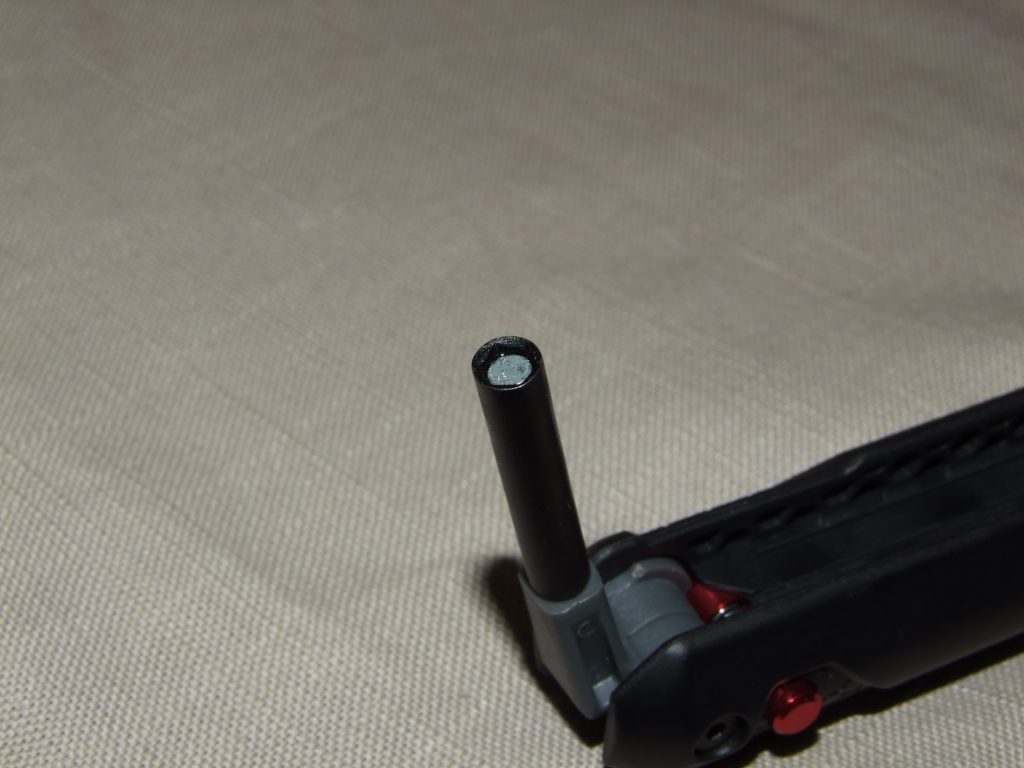 Since using Real Avid's Pistol and Rifle Tools, I have been a fan. They are worth every penny and are tools I use regularly. You will find them to be some of the best and most innovative in the industry.