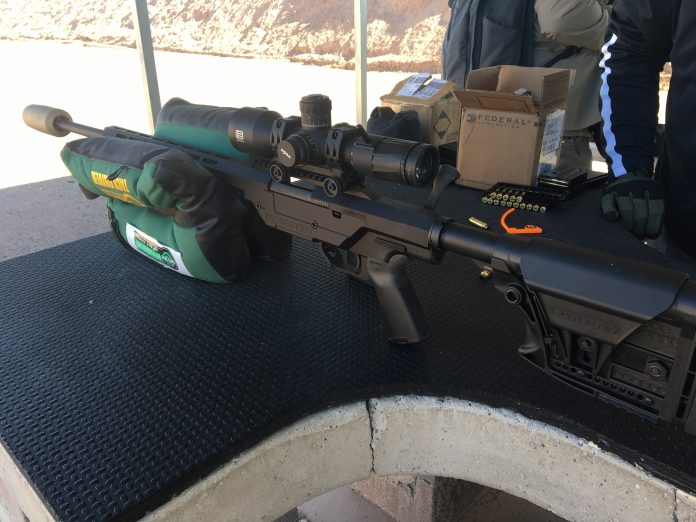 Michigan continues to produce some amazing items for the industry and I hit up EOTech to play with their latest two offerings.
The green reticled HWS are a serious shooting consideration. Why green? Easy on the eyes is the simple answer, the human eye picks the green up quicker in many respects and that makes this quick reflex optic even quicker. Every other standard from their HWS lineup remains, now just easier to see than ever. This is impressive, working with green lasers has in the past presented challenges, power consumption being high on that list.
What really made this stop worthwhile was this optic
It's a prototype VUDU 5-25x front focal plane. While that's not can unheard of project by any means keeping the overall length under 12″ was. Optics of this profile fit so much better on modern tactical platforms, especially shorter ones with limited real estate. I will get my hands on one and get back to you guys.
Two reticles were displayed, a Horus and a TMR. The TMR was mounted up to the Mossberg 6.5 Creedmoor
Glass was crystal clear and the eye box was generous. Even at 25x where things get really tight on most optics finding a clear sight picture was quick. At 5x it's still usable as a quicker optic for more reflexive shooting. Whether on a precision bolt gun or a semi-auto DMR this 5-25x is going to find itself eminently usable.
100 yards on a hostage swinger steel target was a delightfully simple task at 5x and might as well have been cheating at 25x.
If you're in the market for new glass, keep an out for this dropping later this summer!