Every day police, ems, and especially prison guards are at risk to stabs and slashes from assailants wielding knives. Traditional soft body armor is not designed to stop stabbing and slashing threats. Even if it was body armor leaves large portions of the body exposed in the trade-off of protection vs. mobility.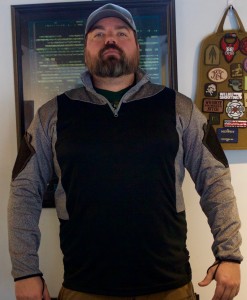 PPS-Group set out to fix this problem for security details, police, and everyday citizens. With over 35 years of combined frontline experience, building protective vests and clothing is part of their mission to keep the good guys safe.
We have been testing out the UBAC (Under Body Armor Combat Shirt). The UBAC is designed to provide slash protection at places left vulnerable while wearing armor and providing enhanced breathability in areas that typically retain heat like under your plates.
As just a combat shirt, it's certainly not as stylish as some of the offerings available on the market, though the website does say they can work with units to develop color or mission specific offerings. It is however highly functional.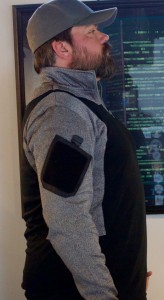 Each sleeve offers a Velcro covered pocket for identification or blood type patches. The pocket will fit a small notepad and pen or other similar sized items. The sleeves are secured with a thumb loop to ensure the sleeves protection does not ride up in hand to hand fighting.
The black front and back are a 100% polyester breathable high-performance fabric much like a pair of yoga pants.
The magic of the shirt is provided in the gray material around the neck, sleeves and side panels that are made of patented Cut-Tex Pro slash resistant material.
How resistant is it?
Blade cut resistance
EN 388:2003 Level 5 (the highest possible)
ISO 13997:1999 Level 5 (the highest possible)
ASTM F 1790-05 Level 4
Abrasion resistance
EN 388:2003 Level 4 (the highest possible)
Tear resistance
EN 388:2003 Level 4 (the highest possible)
Robert Kaiser stands behind his product entirely. So much so that he takes a razor blade to himself in this video:
You can fast forward to 3 minutes if you just want to see him slash himself.
How does it feel?
A lot better than you would expect. The polyester black section stretches breathes and moves like most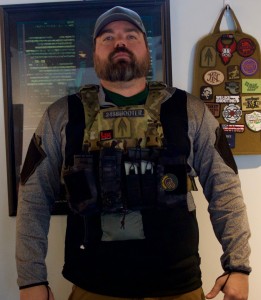 modern, high-quality combat shirts. The Cut-Tex Pro material on the sleeves is a bit rougher on the skin and certainly thicker than an ordinary shirt material. Even with the added thickness, it will not hamper movement, and it does not feel bulky.
One of the more interesting points while researching this shirt was the amount of damage incurred by officers due to mishaps during breaching or via broken glass in the process of arrests. This became very apparent to me personally when breaching doors in conjunction with Ubisoft, 5.11 and Omni explosives. It was evident how dangerous glass and even door splinters can be during entries.
Well, I drank the cool-aid and tried it out myself. I was unable to cut through the material with a razor blade or any of my knives. This thing is hard core strong.
A few things to note. These shirts offer slash and debris protection, not stab protection. PPSS makes a stab resistant vest and gloves for EMT's, but you can still get a sharp point through this material with the force coming straight in.
There is no impact cushioning here so a forceful attack or flying debris can still cause broken bones and such. It is like going from bullets to UTM rounds; you won't die from it but still not going to be fun to be attacked.
How To Get The PPSS Slash Resistant Combat Shirt
The UBAC (Combat Shirt) retails for $169.99 in Small – 2XL and $179.99 for 3XL-5XL. Shirts are available in the USA from http://www.bodyarmorusa.com/
You cna get the AT Armor plates and carrier from: http://store.appalachiantraining.com/
Source Article from http://248shooter.com/index.php/ppss-slash-resistant-combat-shirt-review/