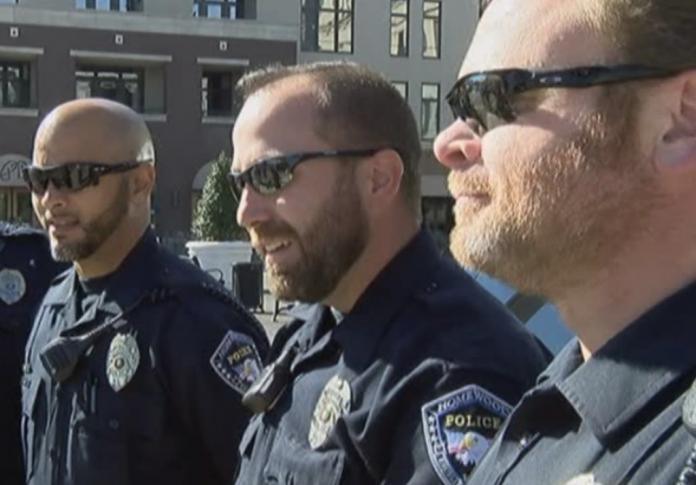 Here are the days of looking at our law enforcement and military less like robots and more like individual people. Policing outreach events within the communities, wearing soft t-shirts to appear less intimidating, removing the militaristic green uniform from some departments all together. Many citizens within our cities want to look at our first responders as people just doing another job. Agree or disagree with those ideals, it is a true change of the times. With all of these changes within policies, why the fight against officers with facial hair?
Turns out beards within Law Enforcement (LE) are more prevalent than we think.
After reaching out to some agencies across the country it was shocking to see many are starting to allow beards. Of those agencies that now allow facial hair to be grown the same thing was heard, "we have a new boss" or "there was a lot of push from officers and other departments". Individual law enforcement agencies have a special opportunity, the opportunity to write their own rules and not follow a much larger entity such as the United States Army does with their policies. The change is seeming to be allowed due to open minded individuals within leadership and push from other departments that are steps ahead.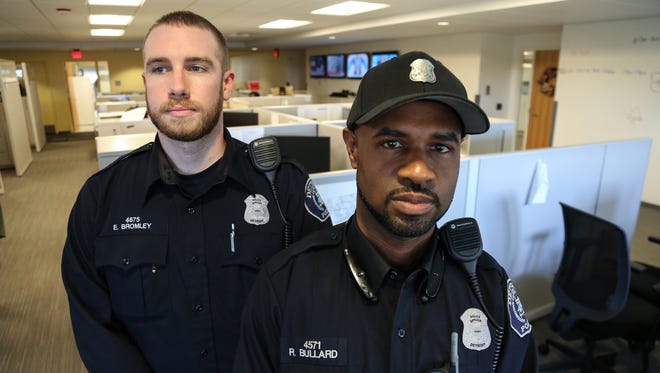 What's Allowed Now?
An officer from Department of Corrections (DOC) stated that they are "now allowed to have groomed facial hair that can pass a respirator test to show a proper seal when dawning a protective mask."
Another agency within Utah stated that they recently had a policy change to allow beards with length no longer than one inch. When asked about why the policy change and the ratio of agencies that allow facial hair and agencies that don't the LEO stated this, "I think it was pressure from officers and surrounding agencies were allowing for beards. It seems in Utah the trend is growing and those agencies that don't allow beards are outnumbered." -LEO
An officer that works for a county within Minnesota stated this when asked about facial hair policies.
"I work for """. It wasn't until our new sheriff was elected in 2019 that we got that (facial hair policy) change. Our new sheriff was from an outside agency. Our previous policy didn't allow any facial hair and also didn't allow any tattoos that couldn't be covered by a short sleeve uniform shirt. So now we allow sleeve tattoos as long as they are appropriate. And facial hair."
What is the new Sherriff like?
"But he's so chill. He's gay, drives a motorcycle, and has tattoos. He's a great guy. Our agency has almost done a complete 180. Unfortunately certain higher ups are protected by their union so we haven't quite purged the old school mentality. In my professional opinion, there's no reason limit facial hair as long as it is neatly trimmed and doesn't interfere with a gas mask."
What is the facial hair policy now?
"No beards. Mustaches and goatees allowed. Must be neatly trimmed. "No handlebar, fu Manchu, walrus, or other such mustaches are not allowed."- LEO
Below is the Saint Paul Police Department policy on facial hair. The SPPD is a very large department within Minnesota.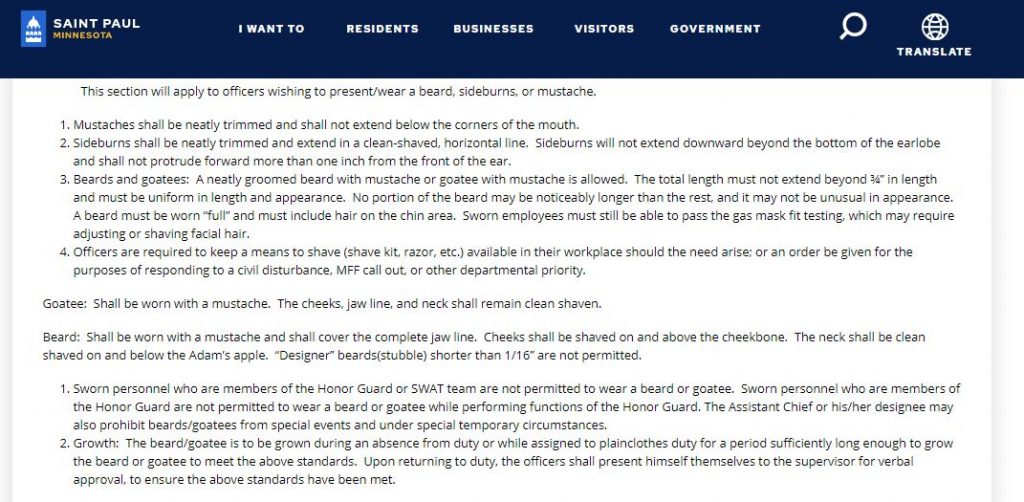 Law enforcement is moving in the right direction when it comes to facial hair and tattoos. Policies are changing completely and not just allowing exemptions for things such as religious freedoms or for a benefit.
Military
So, when is it the Militarys turn? The Military is a different animal. It is a large entity that has one individual on top making these decisions. Recently the United States Army held a board for changes within womens grooming standards. It is foreseen, more so hoped for, that a similar board will be held for men. That we will start listening to ALL of those within the service and make changes that do not directly affect the equipment performance, but directly affect our Servicemens performance.