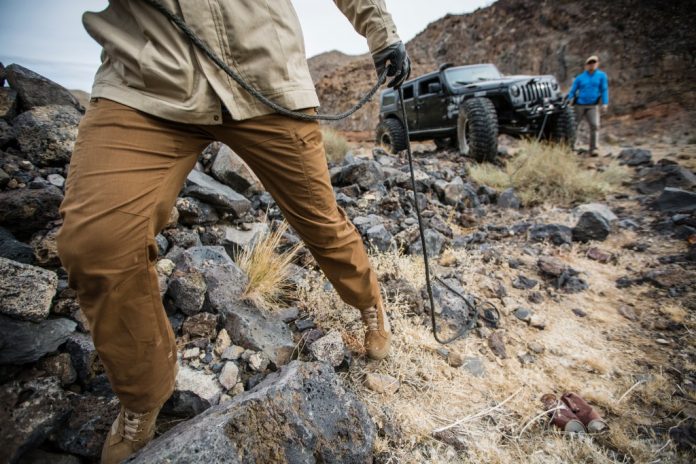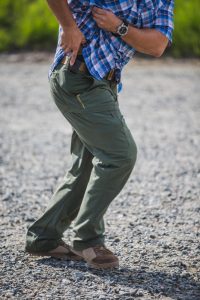 5.11 had lots of new products to debut at SHOT Show but for many the number one question was still. Ya Brah were can I get some of the Apex pant's at.
These magical unicorns of the tactical pants community are still selling out faster than most stores can stock them. Reviewers have been hard pressed to get hands on with these pants, and even the main 5.11 store is out of stock in common sizes.
Having finally gotten hands not only on, but also ass in, I completely understand why. So please, please stop buying them so I can get my hands on more.
Why Are they so Great?
Imagine if you will a cargo pant that looks like a pair of slacks. The cargo pockets are so low profile most people will miss seeing them completely. Add to that a stretch material that moves and bends with even the most aggressive of yoga or tactical poses, bolstered by a gusseted crotch and reinforced knees. Double rear pockets to carry spare mags or separate knives, flashlights, your wallet or cell phone. Then you would want to make sure you have a reinforced belt loops for the heartiest of belts to hold up the most overloaded of kit. Lastly, add a wide open pocket perfect for fitting a RCS Pocket Shield. If done under a full moon at a crossroad in a leap year you can say you have created the perfect pants, the Apex of pants.
I have been wearing cargo pants since the 90's. When the rest of the world moved back to jeans and eventually skinny jeans I held on to my cargo pants the way my dad hung on to his flannel shirts. I laugh when people who didn't know me back in the day, think I wear tactical pants to be tacticool. The truth is when I found tactical pants it was an easy transition from the Eddie Bauer and J Crew cargo's to "Tactical Cargo's". I mention this for one purpose only. If there has ever been a product that I was qualified to review, it's cargo pants. With that firmly established, these are the single greatest product to cradle my balls and caress my ass, ever.
Cargo Pockets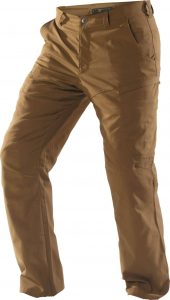 Cargo pants without pockets are, well, just slacks. Some of us need to wear slacks on a daily basis; I am thankful I am not one of these people. Some tactical pants offer cargo pockets that could compete against parachutes and just look ridiculous around town. The cargo pockets on the 5.11 APEX pants are inline with the line of the pant. If you don't look close, the average person will not even notice you have cargo pockets. Each cargo pocket is subdivided to hold 2 AR mags as well. I find they also fit my Trayvax wallet and car key fob perfectly.
Rear Pockets
Need to carry more than the 4 mags you can fit in your cargo pocket? There are 2 mag pockets positioned just above the main rear pockets. Since I don't wear these in a war zone or run personal protection, I have found they work great for pistol mags if you don't have to sit often. The iPhone 6+ fits even with a larger case like Otter or Pelican.
The larger "standard" pocket is cut super wide. So wide you can fit an Ipad mini in the pocket. Mine actually has a keyboard case, and it still fits without stretching the material.
Front Pockets
With the elongated deep cuts, these pockets will allow you easy access to even large items. The reinforced edge is perfect for attaching your clip based gears like a pocket knife, flashlight, pen or a snagmag. I find the pocket material made out of a stretchy material means even oddly shaped items won't tear or pull at your lining. These often roughly used pockets last longer and don't fill with lint.
Wait there's more.
If you act now, we will throw in more pockets at no extra cost. How about a waist line secret pocket to store Flex cuffs. If however you need to evade capture there is a hidden handcuff key pocket in the rear of the waistband. I have seen this in a few pants in the front. Let's face it, if you're handcuffed, chances are your hands are behind your back. Kudos 5.11 for actually thinking about what you do. Well if that's not enough secret pockets there is one inside the left pant cuff as well. It's so secret it's not even listed on the 5.11 website (I destroyed the OPSEC sorry not sorry).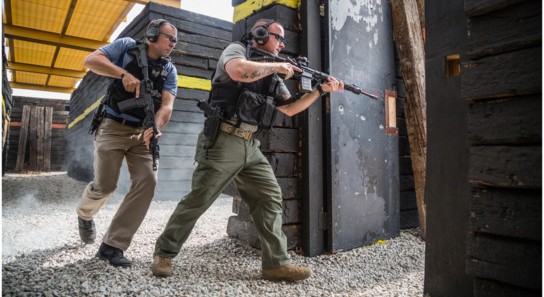 Let's Talk Durability.
The key stress points that wear out on most of my clothes are all well reinforced. Knife clip areas, cuffs, knees, crotch, are strengthened with many areas they deploy bartacking to ensure these will hold up under pressure. Genuine YKK zippers and an advanced button attachment mean these pants aren't popping buttons or coming off until you want them to.
Finishing touches
The Teflon coating used is incredible. I was wearing these pants at a party when a friend accidently spilled a drink on them. He went to wipe it off and was amazed the drink ran right off. By the end of the night, he had to show everyone my "magic pants" that no drink could stain.
While the waistband is not as flexible as the Stryke pants (buffet pants), they have plenty of give to allow for proper sizing when carrying IWB as well as when your OWB or off body. These are order your true size pant no need to upsize.
Conclusion
While these pants offer all the features you would want in a duty or range pant; they are one of the few that fit in the wild without saying. "Hey, yeah I have a gun what up? " these are my new favorite pants, and the only negative thing I have found about them is that everyone knows it and they are so hard to find.
You can get your direct from 5.11, (maybe) via their website.
MSRP is $79.99 and with the moving faster than free crack don't expect to see many discounts on them anytime soon.